These are the 6 outrageous food items you absolutely need to try at Chase Field in 2017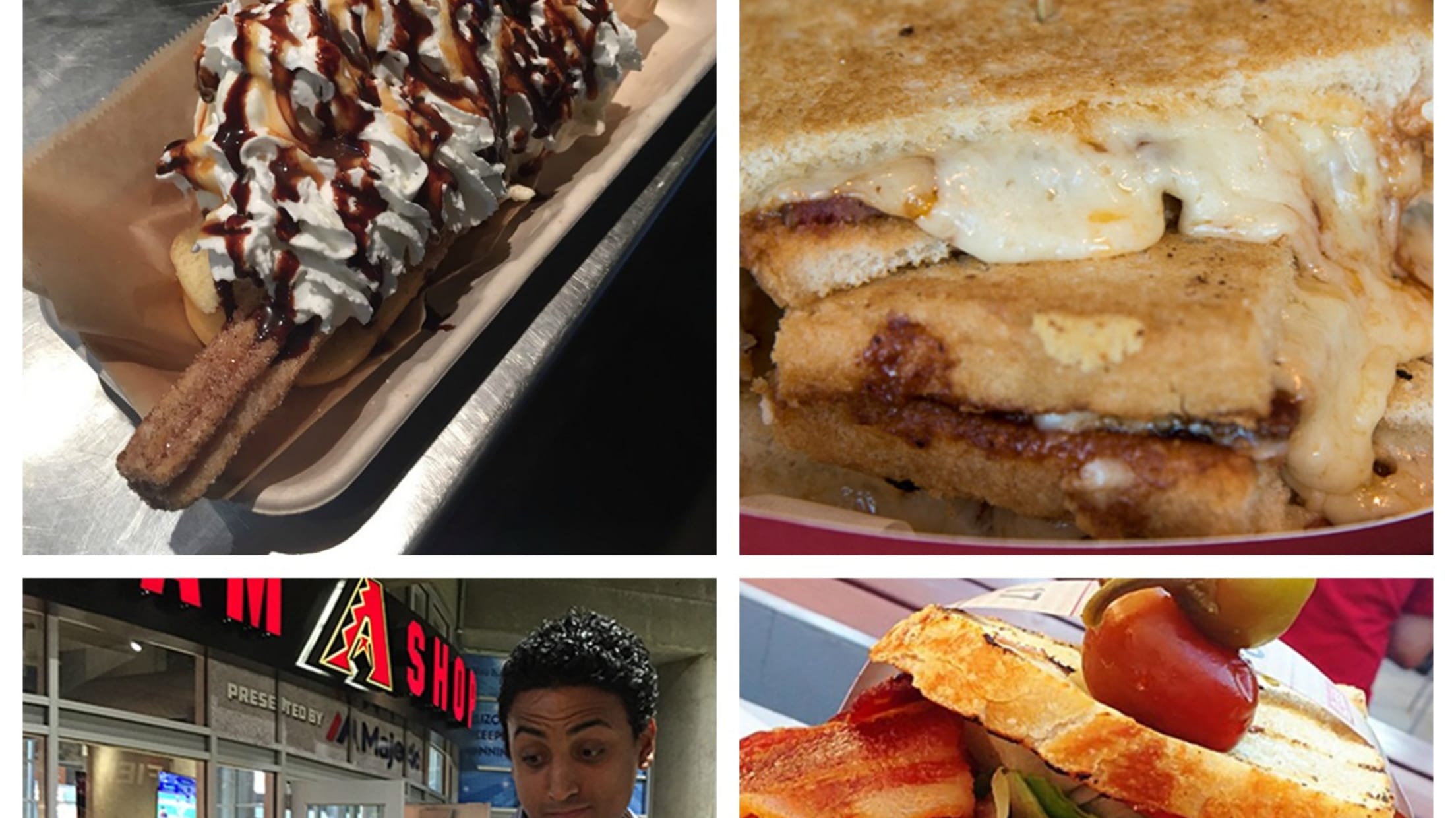 These are high times in the art of the ballpark concession. Rather than a plain old hot dog, you can try a giant fried brat on a stick. Torn between ordering a burger or a pizza? Behold, the Burgerizza.
But, while contributions have come from all across Major and Minor Leagues, one team in particular has led the revolution: The D-Backs. Arizona has given us hot dogs for dessert, hot dogs as burgers and even hot dogs as big as your torso -- all in just the last couple of years. The sheer volume of menu options would be overwhelming if it weren't so delicious, and that's why we're here with a definitive guide to all of Chase Field's crazy concoctions. (It's not all hot dogs, we promise.)
The D-Bat
There are hot dogs, and then there are hot dogs so large that they can only be compared to a baseball bat. The D-Bat doesn't try to reinvent the wheel, but when you've got 18 inches of corn dog stuffed with bacon, cheddar cheese and jalapenos, you don't need to. (Actual humans provided for scale.)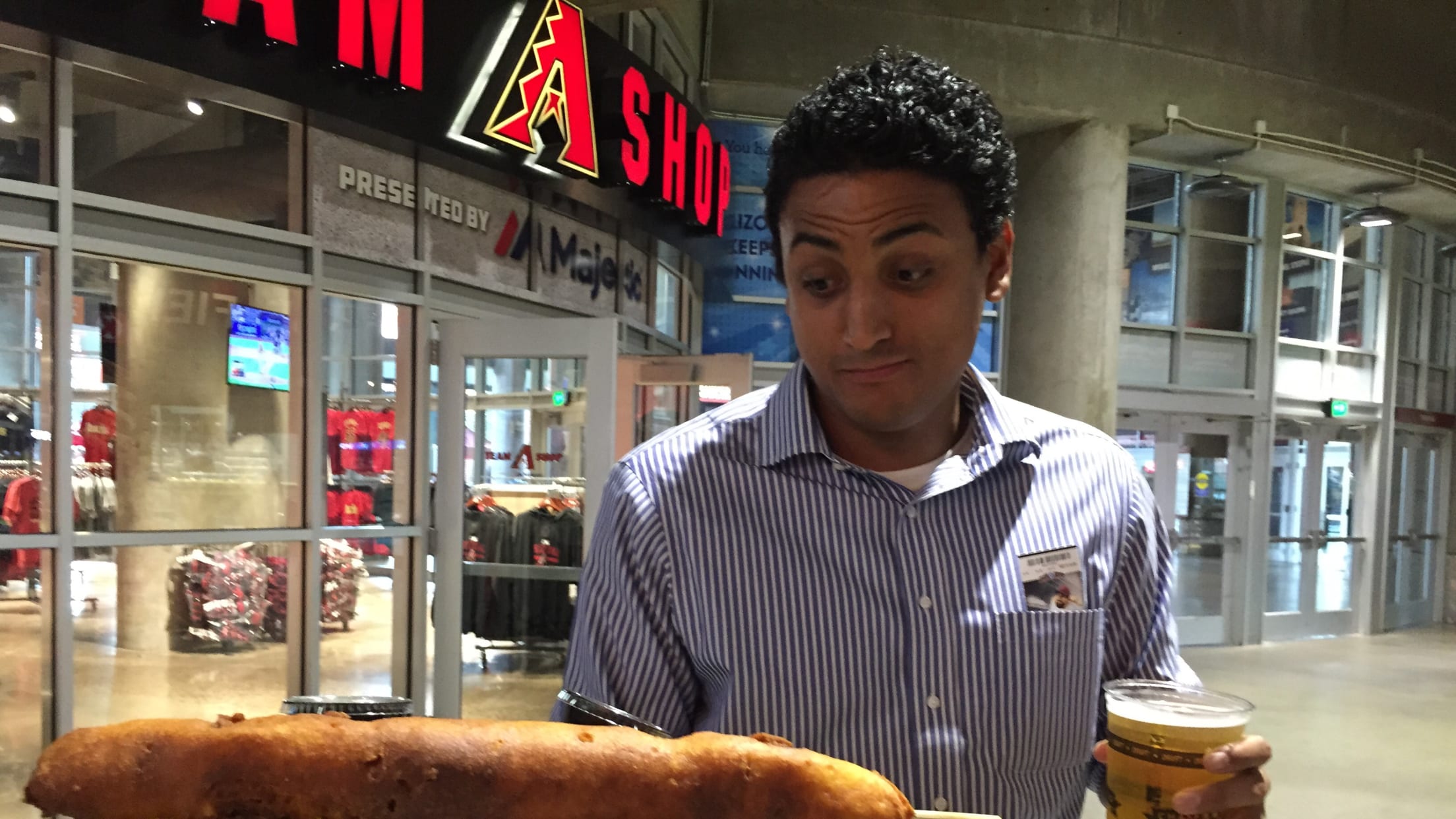 And then #CronkiteSportsCamp counselor @WilsonElaineM conquered the @Dbacks D-Bat Corn Dog... pic.twitter.com/0BwN8pb1zy

— Siera Santos (@SieraSantos) July 25, 2015
Tape Measure Shot BBQ Stacker
The Stacker isn't just any sandwich -- in fact, it's two of them. On the top is some brisket, topped with bacon, lettuce and tomato for good measure. And just when you thought things couldn't get any better, there's a layer of pulled pork awaiting you on the bottom.
Churro Dog
For those who like their hot dogs more on the sweet side -- and by "sweet," we mean a cinnamon churro nestled in a chocolate-glaze donut topped with frozen yogurt, whipped cream and caramel and chocolate sauces. Behold:
This is a #ChurroDog. It's officially the greatest ballpark food ever. @Dbacks #Dbacks @Padres pic.twitter.com/EpIRW6kWo7

— Jared Aarons (@10NewsAarons) October 2, 2016
Wait, hold on, we need another look:
When at Chase Field... @Dbacks #ChurroDog pic.twitter.com/v1rDvQb6hT

— Rudy Rivas (@RudyRivasAZ) August 7, 2016
Grilled cheese cart
Yes, a cart -- complete with not one, not two, not three, but four different sandwich options. A brief rundown:
- The Arizona Cheese, stuffed with Arizona colby, because you can't beat a classic
- The Southwest Cheese, featuring pepper Jack and pico de gallo
- The Applewood Bacon Cheese, with the aforementioned bacon covered in garlic-black pepper cheddar:
New applewood bacon grilled cheese at #Dbacks games h/t @onbaseunit pic.twitter.com/cu35dTOVyD

— William Boor (@wboor) April 5, 2016
And, last but not least, the Pit Smoked Cheese, combining an abiding love of cheese with an abiding love of smoked BBQ brisket: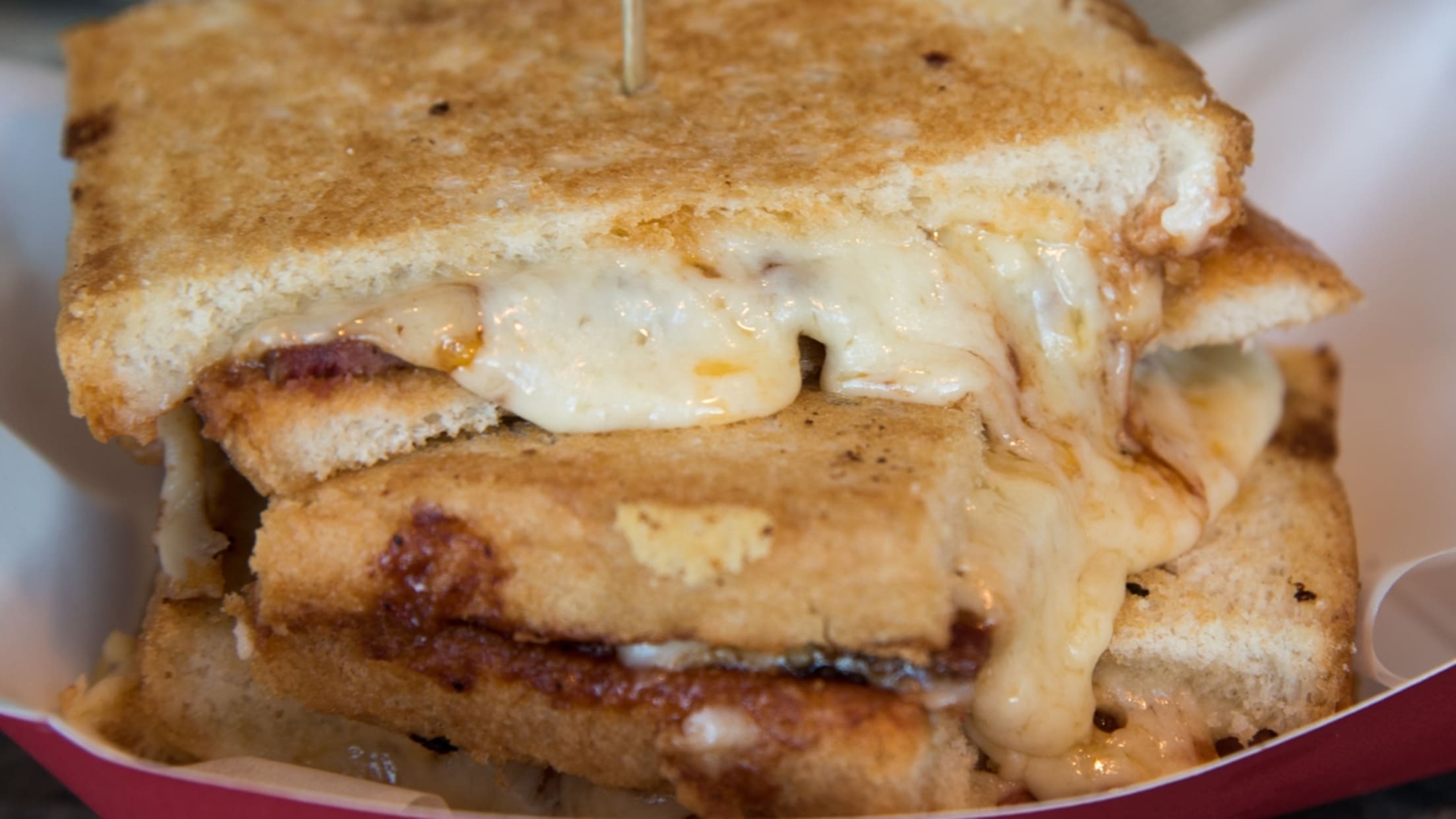 If you'd like to make this deliciousness at home, the team has even prepared a helpful video:
Happy #FoodFriday! Check out the #Dbacks Pit Smoked Grilled Cheese, new this season.https://t.co/NDWmWXsQFv

— Arizona Diamondbacks (@Dbacks) July 29, 2016
Venom Dog
Can't decide if you want a hot dog or Mexican at the game? Thanks to the Venom Dog, you don't have to choose. It's a habanero sausage with beans, guacamole and sour cream, and it begs the question: Is a hot dog a taco?
They teased me saying they were out of the venomdog - fortunately one was found @dbacks #godbacks pic.twitter.com/1cqcKghwZc

— paolohu (@paolohu) August 24, 2014
Brewski Dog
Last but not least, the hot dog that will make you question whether you're in Arizona or Wisconsin. Thanks to a whole bunch of beer cheese, the Brewski Dog more than lives up to its name -- and adds on some crispy onions and bacon for good measure.
Try our Brewski Dog yet? Tweet #DbacksEats + your seat if you're coming to tonight's game and we might bring you one. pic.twitter.com/QfSjJZm2xN

— Arizona Diamondbacks (@Dbacks) June 18, 2014