Which lineup of players born in the same year would be the most unstoppable?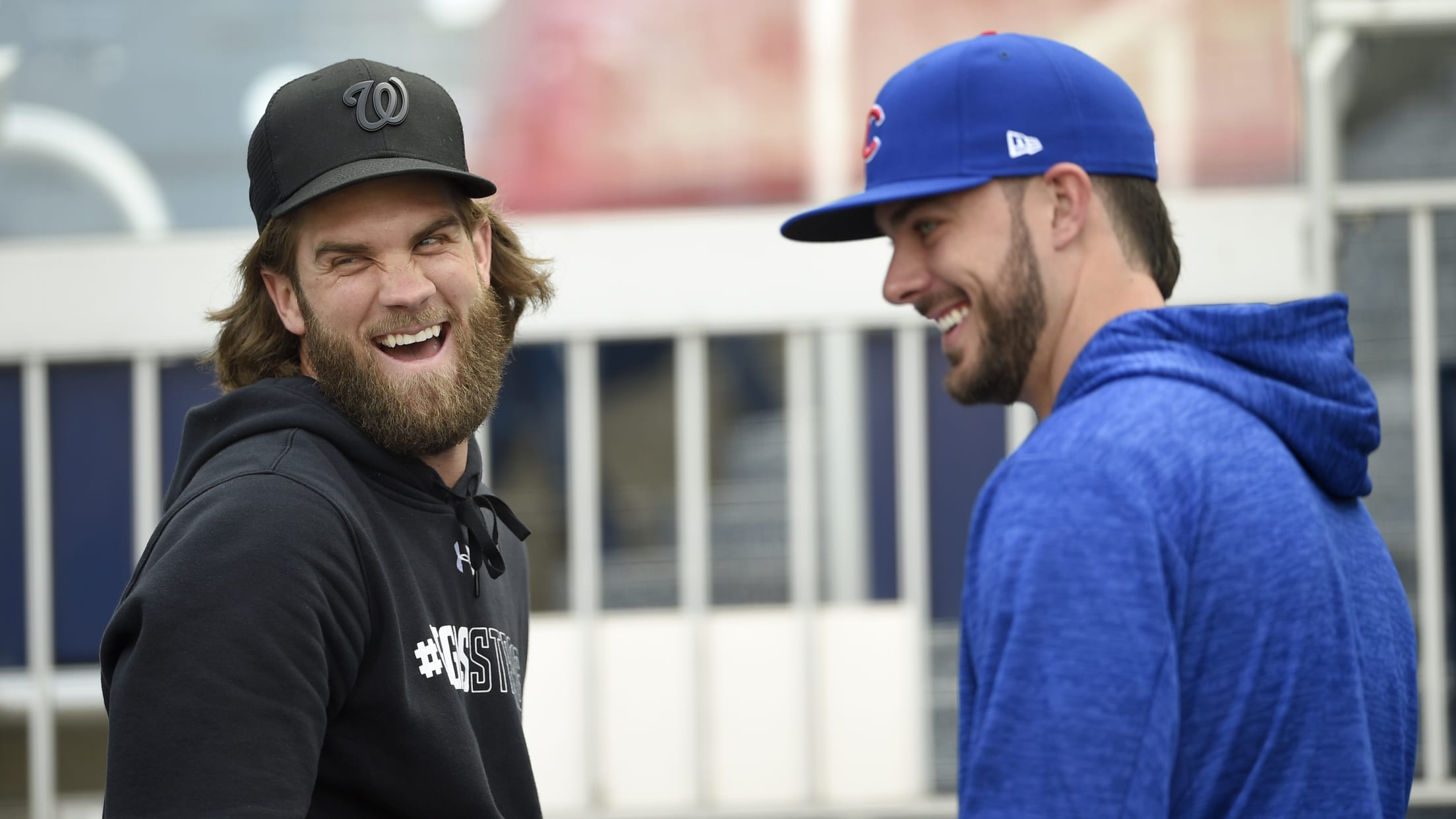 Washington Nationals' Bryce Harper, left, laughs with Chicago Cubs' Kris Bryant, right, at Nationals Park, Thursday, Oct. 5, 2017, in Washington. Game 1 of the National League Division Series is on Friday. (AP Photo/Nick Wass) (Nick Wass/AP)
As fun as it is to cheer on our favorite Major League teams, some of the most fun moments come when we get to see players from different teams compete on completely reorganized and reimagined rosters.
The All-Star Game and the World Baseball Classic are the two best examples of this: The Midsummer Classic gifts us the opportunity to see Mike Trout and Aaron Judge in the same lineup, while the WBC gives fans the chance to see a team of childhood friends and current superstars like Carlos Correa and Francisco Lindor compete together for Team Puerto Rico.
We are fortunate to have these real events in our lives, but it can also be fun to imagine what kinds of teams would be fun to watch play together. For example: how would the rosters look if teams were made up of players born in the same year?
Let's find out. (Click on the graphic below to enlarge it.)


Team: 1992
Combined All-Star Games: 17
This roster is more stacked than your average real-life All-Star team, which seems wild to consider until you see what kind of talent fills this lineup.
Bryce Harper and Kris Bryant -- both born in Las Vegas, roughly 10 months apart -- would get to team up. Red Sox and Yankees fans would see Mookie Betts and Aaron Judge share an outfield. Jose Ramirez is a very skilled ballplayer, but he would probably have to hit 7th on this team. Oh, and Thor is on the mound.
Good luck, other years!
Team: 1988
Combined All-Star Games: 34
Dee Gordon and Elvis Andrus would set a speedy pace at the top of this lineup, but Team 1988 is all about the pitching staff. Clayton Kershaw would headline an outrageous rotation of Cy Young-caliber arms, while the bullpen would boast two spectacularly different, yet similarly dominant closers in Aroldis Chapman and Craig Kimbrel.
Team: 1995 and younger
Combined All-Star Games: 2
The true babies of the big leagues, this group of the youngest Major Leaguers would certainly be able to compete with their elder counterparts.
We've already seen what the dynamic duo of Ozzie Albies and Ronald Acuña Jr. can do for the Braves -- now add them to a roster that features a guy who has already done big things in the postseason (Cody Bellinger), two rising superstars on rival teams (Gleyber Torres and Rafael Devers), and a fireballing right-hander who just might be the hardest throwing pitcher on the planet (Jordan Hicks).
You've got yourself a pretty exciting team.
Team: 1982 and older
Combined All-Star Games: 60
On the flip side, the 35-and-up crew is not too shabby either. It's no surprise to see this veteran squad boast the most combined All-Star games of any of these imaginary teams -- a ridiculous 60 appearances between the 17 guys on this imaginary roster -- but this team could still pack a serious punch in 2018.
The 3-4 combo of Robinson Canó and Nelson Cruz has done wonders for the Mariners in recent years and would probably do the same for this team. But you've also got a cool 6,000-plus hits elsewhere in the lineup with Albert Pujols and Adrián Beltré, and you can always count on a quality start from CC Sabathia.
Let's be real, though: the key to this team is how many perfect games Bartolo Colon can carry into the eighth inning.