Celebrate the late Stephen Hillenburg with some of MiLB's very best SpongeBob SquarePants uniforms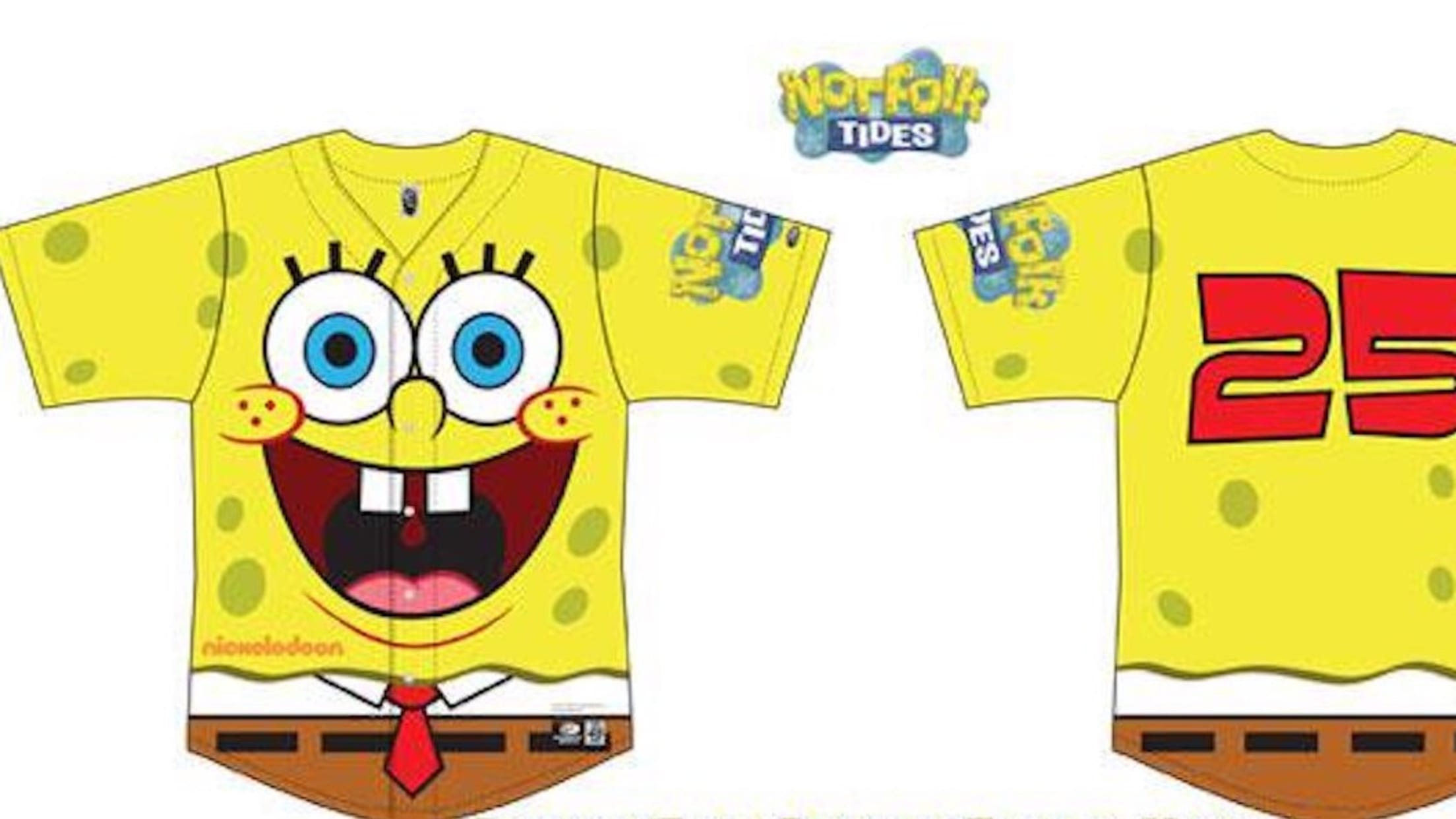 SpongeBob SquarePants creator Stephen Hillenburg passed away on Tuesday at the age of 57, leaving behind one of the boldest and wackiest legacies in the history of children's television. As anyone who hasn't lived under a rock (sorry) for a couple decades could tell you, though, Hillenburg's signature creation has reached far beyond the small screen since debuting in 1999 -- like, for example, into the Minor Leagues, which never saw a SpongeBob character that it couldn't put on a novelty uniform.
So, in between revisiting your favorite episodes, let's enjoy some of Bikini Bottom's finest work on the diamond.
Norfolk Tides, 2015
Why settle for a Spongebob-themed uniform when you can just make an entire uniform out of SpongeBob (and his pants?):
If nautical nonsense be something you wish, you'll love our SpongeBob SquarePants uniforms! http://t.co/FPapux22j9 pic.twitter.com/cXBTV4KLT6

— Norfolk Tides (@NorfolkTides) July 27, 2015
Tri-City ValleyCats, 2016
Bonus points for the inclusion of Gary:
Inland Empire 66ers, 2016
The person who coined the phrase "less is more" clearly never laid eyes on these bad boys:
SpongeBob night! Hutton, Jared, and Ryan sporting the SpongeBob themed jerseys tonight! 🍍🍍#nicksports @nicksportstv pic.twitter.com/Nph2N8amBR

— Inland Empire 66ers (@66ersBaseball) July 30, 2016
Bakersfield Blaze, 2016
We particularly like the jellyfish fields on the back:
It's Pokemon Go Night, but it's also Spongebob Night! Bid on these jerseys for a great cause (the League of Dreams)! pic.twitter.com/A9duH2oFgl

— Bakersfield Blaze (@BakoBlaze) July 29, 2016
San Jose Giants, 2016
While the Giants wore a truly dizzying array of SpongeBobs, their opponents, the Lake Elsinore Storm, went with Patrick:
Come to #Muni tonight for @NickSportsTV Night ft #SpongeBob! #SJGiants & @Storm_Baseball jerseys to benefit @SFWish! pic.twitter.com/zhdLMNV8NP

— San Jose Giants (@SJGiants) May 7, 2016
Fresno Grizzlies, 2017
The Grizzlies have done a lot of ambitious things over the years, from turning themselves into tacos to channeling the Three Amigos. So it's no surprise that, when the team decided to hold a SpongeBob night, they didn't settle for any old uniform -- they came up with a uniform that you could color in:
Tonight's #SpongeBob jerseys and coloring contest images! First 5,000 fans get a set of colored pencils and SpongeBob & Patrick will be here pic.twitter.com/6UhHivqfmR

— Fresno Grizzlies (@FresnoGrizzlies) July 21, 2017
Kane County Cougars, 2018
The only team to portray SpongeBob and Patrick actually playing baseball, which is canon from now on.
Who lives in a 🍍 under the sea *and will be at #YourCougarsgame tonight? SPONGEBOB SQUAREPANTS! That's right kids. It's Nickelodeon Night ft. SpongeBob SquarePants at the ballpark! The team will hit the field wearing these specialty jerseys too.

🎟: https://t.co/hmYmT6QfCN pic.twitter.com/zYkpOQBANs

— Kane County Cougars (@KCCougars) June 29, 2018