Tip your cap to Twins icon Joe Mauer with some of the best moments of his career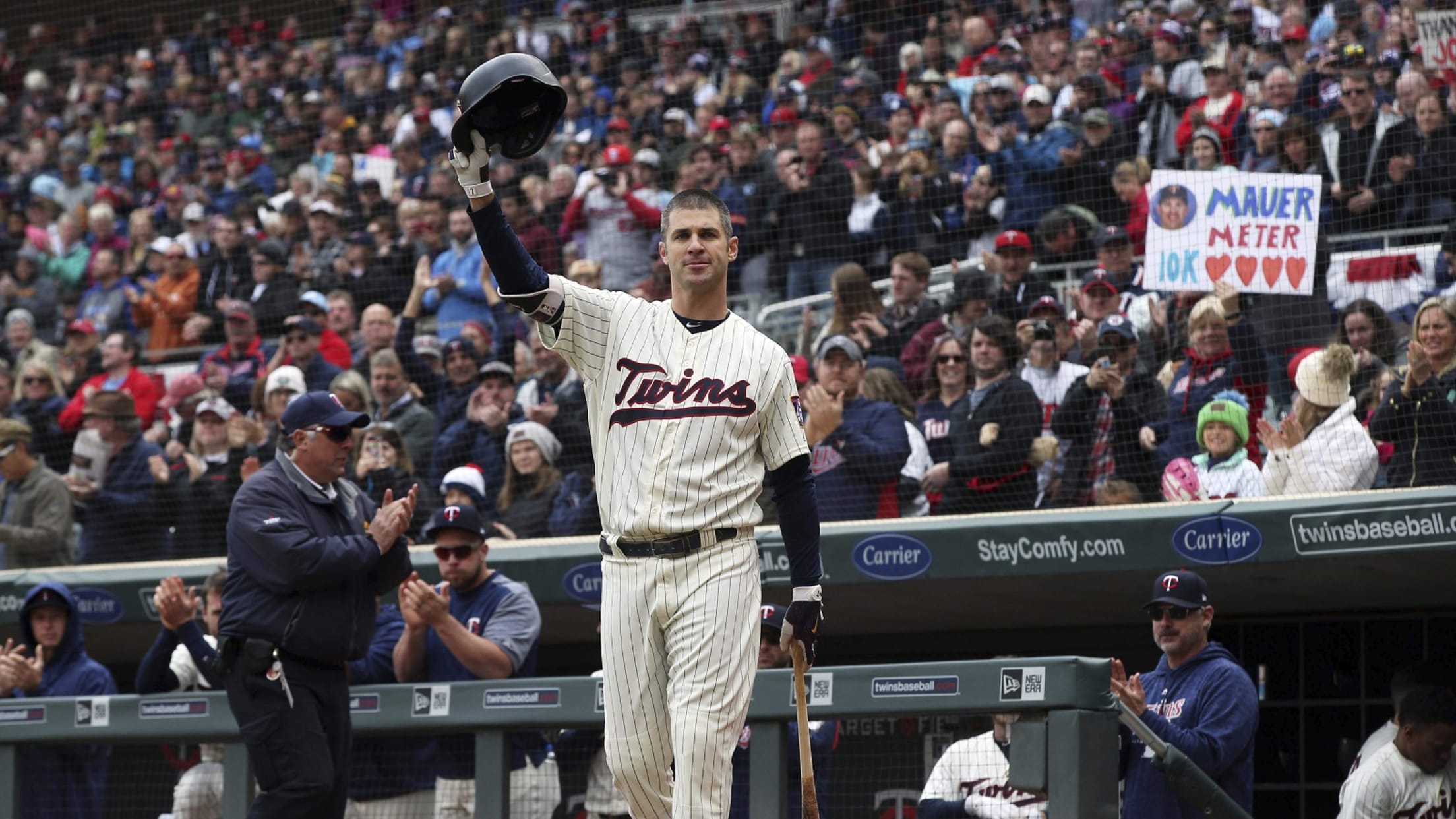 Minnesota Twins' Joe Mauer, the subject of retirement talk, acknowledges a standing ovation before batting against the Chicago White Sox in the first inning of a baseball game Sunday, Sept. 30, 2018, in Minneapolis. (AP Photo/Jim Mone) (Jim Mone/AP)
It's the end of an era in Minnesota, as on Friday Joe Mauerofficially announced his retirement. In typical Mauer fashion, he did so by penning a heartfelt thank-you letter to Twins fans, who rooted him on for the entirety of his 15-year tenure in the Majors.
Joe Mauer pens personal letter to #MNTwins fans: https://t.co/sSC7u1PZbf pic.twitter.com/QS8L55kLrL

— Minnesota Twins (@Twins) November 9, 2018
You're surely well aware of how rare it is to see a player stick with one team for the entirety of his career, something that makes Mauer's time with the Twins so impressive. Also impressive were the stats he put up year after year, figures that will likely carry him into Cooperstown a few years from now.
With Mauer's career in the rearview mirror, it's time to appreciate the man's accomplishments on the field. Ones like ...
His first career hit
Before collecting 2,123 base hits, Mauer was a fresh-faced No. 1 Draft pick looking for his first -- and he picked it up on April 5, 2004, with a bouncer up the middle on a 1-2 pitch:
His MVP Award
As he settled in as an everyday difference-maker in Minnesota, Mauer put forth campaigns that earned him sixth-place American League MVP status in 2006 and fourth place in 2008 -- leading to his career year in 2009. After hitting a ridiculous .365/.444/.587 with 28 homers and 96 RBIs (both career highs), Mauer turned that (and his 7.8 WAR) into his first and only MVP Award.
He also became the first catcher to win a batting title three times, after pulling it off in both '06 and '08. The MVP Award was definitely deserved:
His MVP season led to a now-iconic "MLB The Show" commercial that still gets quoted on the internet today -- well played indeed, Mauer.
His double in the '09 All-Star Game
Is it a surprise that Mauer laced a sweet opposite-field double in the All-Star Game that season, marking the only extra-base hit he'd get in the Midsummer Classic in his career?
His 1,000th career hit
In 2010, Mauer was ready to reach the 1,000 hits milestone, which he did in Chicago with a slapped single to left field:
His first-base era
Though he'd take over first base duties mostly full-time in 2013 after concussion concerns limited his time behind the plate, Mauer first appeared there two years earlier -- and, of course, he was a natural:
His first walk-off homer
Though he had collected walk-off hits on a couple occasions in the first decade of his career, Mauer didn't hit a walk-off home run until 2017. Talk about saving the best for (almost) last, right?
His 2,000th career hit
Mauer came into the Twins' game with the White Sox on April 13, 2018, two hits shy of 2,000 -- and he picked them up with ease, of course:
His final hit
Sept. 30, 2018, was a special day for Mauer. His coming retirement all but a foregone conclusion, he was the toast of Target Field that afternoon -- and, in his final at-bat, picked up another easy double to left-center field ... a totally perfect final base hit:
His send-off
The top of the ninth inning of that final game was emotional. Mauer, who had played the game at first base, went behind the plate just one last time for a special one-pitch appearance and hero's ovation afterward:
Truly a stellar farewell to the fans who adored him for so long.
Enjoy your retirement, Joe!
Teams in this article:
Players in this article: