These are the 100 people who will influence the 2018 season the most (Part 2)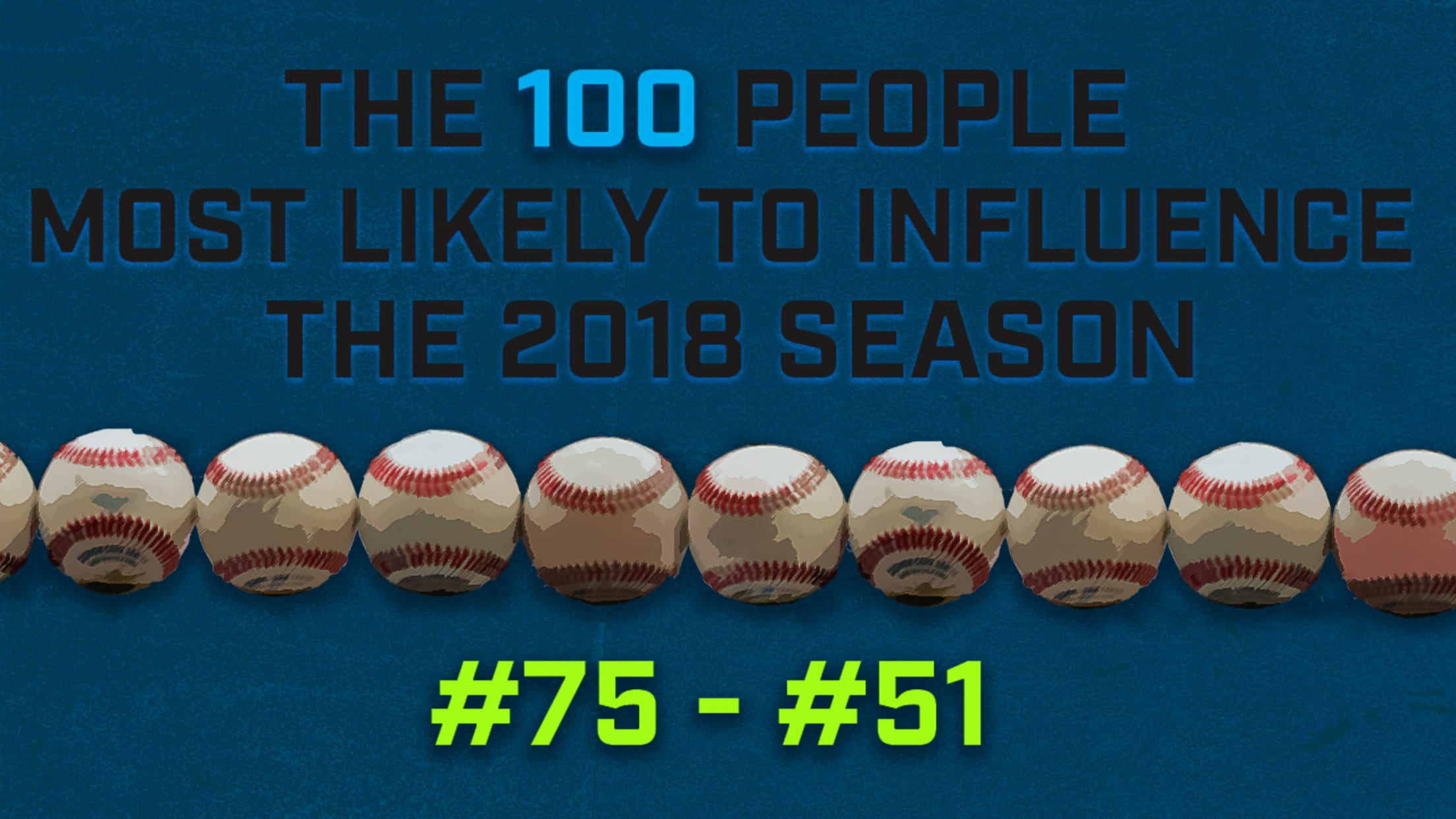 We've got a doozy for you folks: the 100 people most likely to define the 2018 baseball season.
What follows is not a ranking of the 100 best players, but rather the individuals that we believe will have the greatest impact on the general storyline of the season to come. Now there may be moments where you'll see a name and a ranking and disagree, and that's fine. But sorry, these rankings are ours and no one else's.
This post is Part 2, you can find Part 1 here. Parts 3 and 4 will be released over each of the next few days before Opening Day.
So without further ado, buckle up, put on your baseball mind and please enjoy The Cespedes Family BBQ's Top 100 People Most Likely To Impact the 2018 Season ... Part 2.
#75 / #74: Eric Hosmer / Jake Arrieta
It's no secret that the Padres and Phillies haven't won a whole lot of baseball games over the last few years. Hosmer and Arrieta, on the other hand, have -- including some of the biggest baseball games that exist. In the case of these two teams, it was clear that things are moving in the right direction (see: Rhys Hoskins and Fernando Tatis Jr.), so bringing in guys like Hosmer and Arrieta indicates a distinct switch from "rebuilding" to "building."
#73 / #72: Daniel Murphy / Justin Turner
If not for their respective injuries, Murphy and Turner would have been higher on the list. While both may miss some time at the beginning of the year, there's a pretty good chance we'll see each put up their usual impressive numbers for most of the season and potentially into the postseason. Hopefully both of these Mets castoffs who became stars elsewhere get well soon.
#71: Tyler "Ninja" Blevins
This past offseason, a large number of ballplayers at both the Major and Minor League levels dove headfirst into the current video game craze, Fortnite -- a multiplayer battle royale in which 100 players are dropped onto an island and compete to see who can be the last one standing.
While baseball players are rather good at the game, at the very top of the Fortnite world sits a gentleman named Tyler Blevins (no relation to Mets reliever Jerry Blevins, as far as we know), who goes by the name Ninja. Ninja regularly livestreams his Fortnite games on Twitch, and hundreds of thousands of people tune in to watch him play. Recently, Ninja's Twitch stream flooded the mainstream when over 600,000 people tuned in to watch Ninja play a game with Drake, Steelers wide receiver JuJu Smith-Schuster and rapper Travis Scott. Considering the extent to which Fortnite has taken over the lives of many of our favorite baseball players, we cannot rule out the possibility of a similar party joining Ninja for a few rounds and thousands of baseball fans tuning in to watch J.D. Martinez try to survive Tilted Towers.
#70 / #69 / #68: Kenley Jansen / Felipe Rivero / Craig Kimbrel
Sure, the super bullpen may be in vogue, but that doesn't mean having one insanely nasty closer isn't still cool. Jansen and Kimbrel have been staples atop reliever leaderboards for years now, but Rivero catapulted himself into the elite in 2017 armed with the hardest non-Aroldis fastball from a left-hander in all of baseball. Hitting at the Major League level is already impossibly difficult, but hitting against any of these three closers just seems borderline pointless. At this point, it's really just a matter of how these guys can statistically stupefy us next. Notching 150 strikeouts as a reliever? An ERA under 1.00?
#67 / #66 / #65: David Robertson / Dellin Betances / Aroldis Chapman
The term "super bullpen" does not even come close to describing the devastating late-inning power that the Yankees have managed to assemble. Chapman is the hardest-throwing pitcher the game has ever seen. Although he struggled a bit last year (6.6 BB/9) and wasn't used for much of the ALCS, Betances is a power forward with a curveball from hell. Robertson was literally born to pitch the eighth inning of Major League baseball games. Tommy Kahnle's tree-trunk legs could earn Cy Young votes on their own. And the craziest part: a dude named Chad Green was arguably better than all of them in 2017! Take all of this, and only one thing becomes certain: Adam Warren will be the best Yankees reliever in 2018.
#64: Brendan McKay
Yes, the baseball world will surely have its eyes on Anaheim and the Shohei Ohtani experience all year long. But while Ohtani is busy trying to jump straight to the big leagues from Japan as a two-way player, the Rays are building their own two-way superstar the old-fashioned way.
The Rays took left-handed pitcher/first baseman Brendan McKay fourth overall in the 2017 Draft. In his three years at Louisville, McKay cemented himself as one of the best college baseball players in recent memory -- a 2.23 ERA with 391 strikeouts in 314 IP, and a .328/.430/.536 slash line at the plate. There have been successful two-way college players before, but none as dominant as McKay.
Unlike the Angels, the Rays have the luxury of taking it slow with McKay, delicately managing his innings and at-bats while trying to make sure neither focus is negatively impacting the other. If anyone can pull it off, it's probably the Rays. Let's just say we'll probably be checking the Class A Advanced Charlotte Stone Crabs box scores more often than usual this year.
#63: 50 Cent
By now you've probably seen the infamous 50 Cent first pitch a thousand times. It's a moment that will live forever in baseball lore, but what if I told you that the tale of 50 vs. Baseball is a story yet to be finished.
This offseason, the Mets offered the Queens-bred rapper a chance at redemption, inviting him back out for the 2018 season to give things another go. 50 has yet to respond to the offer, but if he accepts, it'll be one of the most anticipated events of the baseball and hip-hop seasons. Who knows, maybe 50 spent the offsesaon doing a weighted ball program, and he'll throw out the best first pitch of all time.
#62 / #61 / #60 / #59: Domingo Santana / Ryan Braun / Lorenzo Cain / Christian Yelich
We'd like to apologize in advance for the following horrible meme.
If you looked at Milwaukee's roster going into the offseason, the outfield looked like a strength. Between veteran slugger Ryan Braun, Sunday-slayer Santana, laugh-machine/Fortnite addict Brett Phillips, 20-20 guy Keon Broxton and No. 1 prospect Lewis Brinson, things looked dandy out there in the outfield.
Brewers GM David Stearns thought otherwise, trading for Yelich and signing Cain in the span of 24 hours. The Brew Crew are now legitimate contenders in the NL Central, but they also feature the crunchiest position crunch in baseball.
We know that barring injury, Cain and Yelich will play every day, but how Stearns and manager Craig Counsell plan to get the other folks into the lineup consistently remains to be seen. There has been talk about using Braun at first base, mostly against lefties, to open things up.
Will Stearns deal someone away for an arm at the Deadline? Can all six of these talented players work in harmony? Or will it be a case of too many cooks?
#58: Lionel Messi
How Toronto @BlueJays slugger José Bautista became an @FCBarcelona fan -- http://t.co/FtqMHgvLoD #CampNou #Messi pic.twitter.com/C2vVcneWbr

— FC Barcelona (@FCBarcelona) September 27, 2015
Yeah we know that Messi is a soccer player. But, he's the greatest soccer player alive, and he's going to dominate the proceedings in the upcoming World Cup this summer.
Now, unfortunately the U.S. Team didn't make the World Cup, but the tournament is sure to capture the attention of professional baseballers regardless. Expect to see a lot more soccer balls floating around during batting practices, a bunch of national pride from the players whose teams actually made the World Cup and maybe even a bat-kick or something.
#57: Kyle Schwarber
When we were in Arizona last week, there was one sentiment we kept hearing from reporters, scouts and team officials alike: Holy crap, Kyle Schwarber looks like an entirely different human being.
This is what incredible hard work and discipline looks like. Anyone want to bet on Kyle Schwarber not having a big season? I'll take that bet. pic.twitter.com/IRruIjj6zE

— Bleacher Nation (@BleacherNation) February 23, 2018
Every Spring Training we hear stories about guys showing up in the "best shape of their lives," but it's rarely this evident. Not only does Schwarber look significantly trimmed down, but he also looks quicker, more agile and more mobile. For a guy who has struggled defensively in the outfield thus far in his career, the newfound athleticism could be a gamechanger. The new physique could transform Schwarber from a one-dimensional slugger to a more all-around player who still features some of the most satisfying power in all of baseball.
#56: Charlie Blackmon
Though there are many baseball beards, Blackmon's is just the best. Throw in the classic mullet, and you've got yourself a guy who just knows how to style himself. The beard is more than just for show however, as Blackmon's power output at the plate is directly tied to how long of a beard he's rocking. Here's a chart: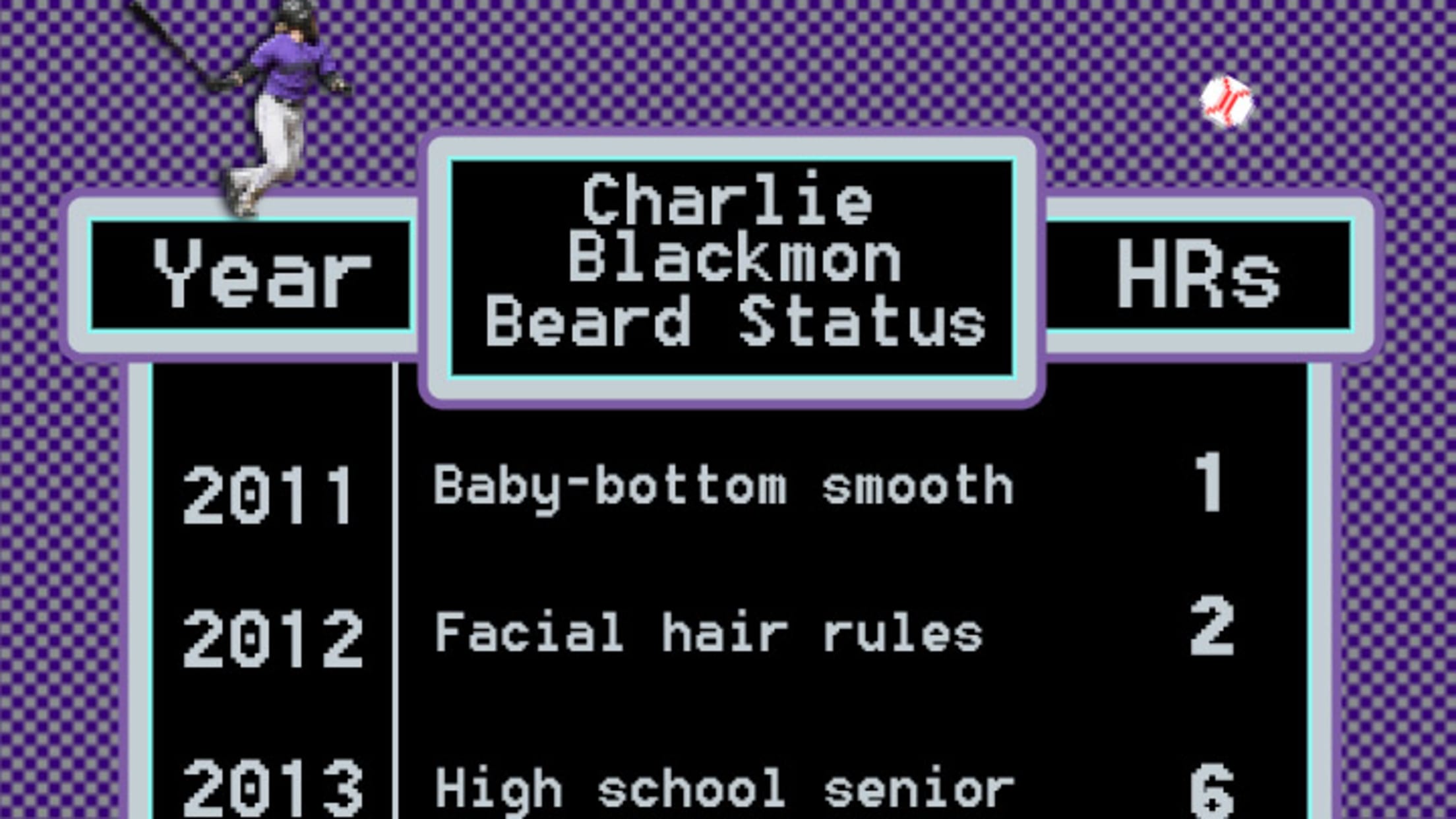 And a wonderful GIF that runs the gamut.
#55 / #54: Vladimir Guerrero / Vladimir Guerrero Jr.
As of right now, Vlad Guerrero Jr. -- the No. 3 prospect in baseball -- is set to spend a good chunk of the upcoming season in Double-A New Hampshire. On Sunday, July 29, the Fisher Cats are set to play in Hartford against the Yard Goats at 5:05 PM. Assuming Vlad Jr. is still with the team on July 29th, there may be a little, shall we say, scheduling conflict: His father, Vladimir Sr., getting inducted into the Hall of Fame.
So the question becomes: Can Vlad Jr. make it to his dad's induction and then back to his game in time? Let's break it down.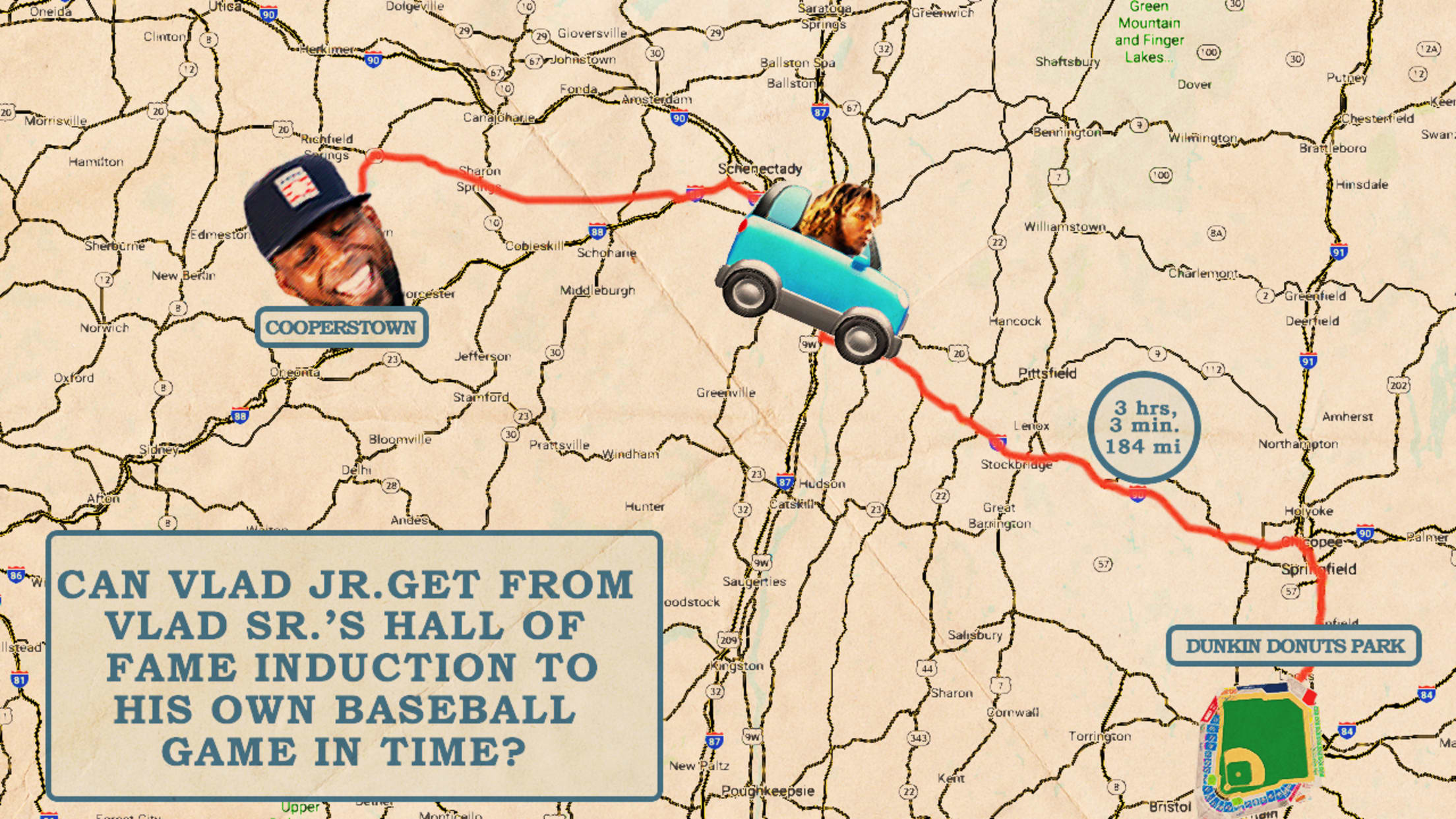 The Hall of Fame induction ceremony is set to begin at 1:30 p.m. ET in Cooperstown, New York. Candidates are honored in alphabetical order by last name and lucky for Vlad Jr., that means his dad will be the first of six inductees (Guerrero, Hoffman, Jones, Morris, Thome, Trammell). So let's say the introductory part of the proceedings takes about 10 minutes and then Vlad Sr. keeps his speech to about 15 minutes. That puts us at 1:55 p.m.
Then it probably takes about five minutes for Vlad Jr. to say goodbye and make his way through the thousands of people in the Cooperstown crowd to a vehicle of some sort. 2 p.m.
Now, according to Google Maps the drive from the induction site to Dunkin' Donuts Park in Hartford takes three hours and two minutes. Let's say that somehow, despite the insane Cooperstown Hall of Fame Weekend traffic, Vlad Jr. makes it happen, he pulls into the stadium parking lot around 5:02 p.m. That gives him three whole minutes to change into his uniform and stretch for the 5:05 p.m. start time.
The more likely scenario is the Blue Jays are more than happy to let him take a day off to see his father get enshrined in Cooperstown, but we thought we'd build out this contingency plan just in case.
#53: Tommy Pham
How old do you think Pham is? Your guess was too low. Pham is older than dudes who have been around forever like Clayton Kershaw, Elvis Andrus and Ben Revere -- yes, he's 30.
After getting drafted all the way back in 2006 (the same Draft as Evan Longoria and Tim Lincecum), Pham spent eight years in the Minors before getting his first callup. Then, it took Pham three more years of part-time play to prove to the Cards he was worthy of a full-time gig.
And then, last season, he became the first player in Cardinals franchise history to slug 20 doubles, 20 homers, steal 20 bases and hit at least .300. Who knows what the encore season could look like? At an age when most Major Leaguers begin declining, Tommy Pham seems to be just getting started.
<p">#52 / #51: Matt Olson / Rhys Hoskins
You probably know the story by now: Hoskins came up in August and immediately turned the Majors into a batting practice session, at one point cracking 18 homers in a 30-game span and becoming Rhys Lightning in the process.
His rookie counterpart across the country was perhaps even better. Known to A's fans as Batt Olson, the rookie clobbered 24 home runs in his abbreviated second-half showing. Though less versatile defensively and less meme-able than Hoskins, Olson is easily of the most exciting and talented young sluggers to grace the East Bay in a while.
If these two can can extrapolate their output from last year over the course of a full season, forget Judge and Stanton -- Olson and Hoskins are ready to take the entire sporting world by storm.
Want to know who else made the list? You can find Part 1, Nos. 100-75 here and we'll continue with Nos. 50-26 on Wednesday and Nos. 25-1 on Opening Day.