Turn the volume up and remember the eight best home run calls in Major League history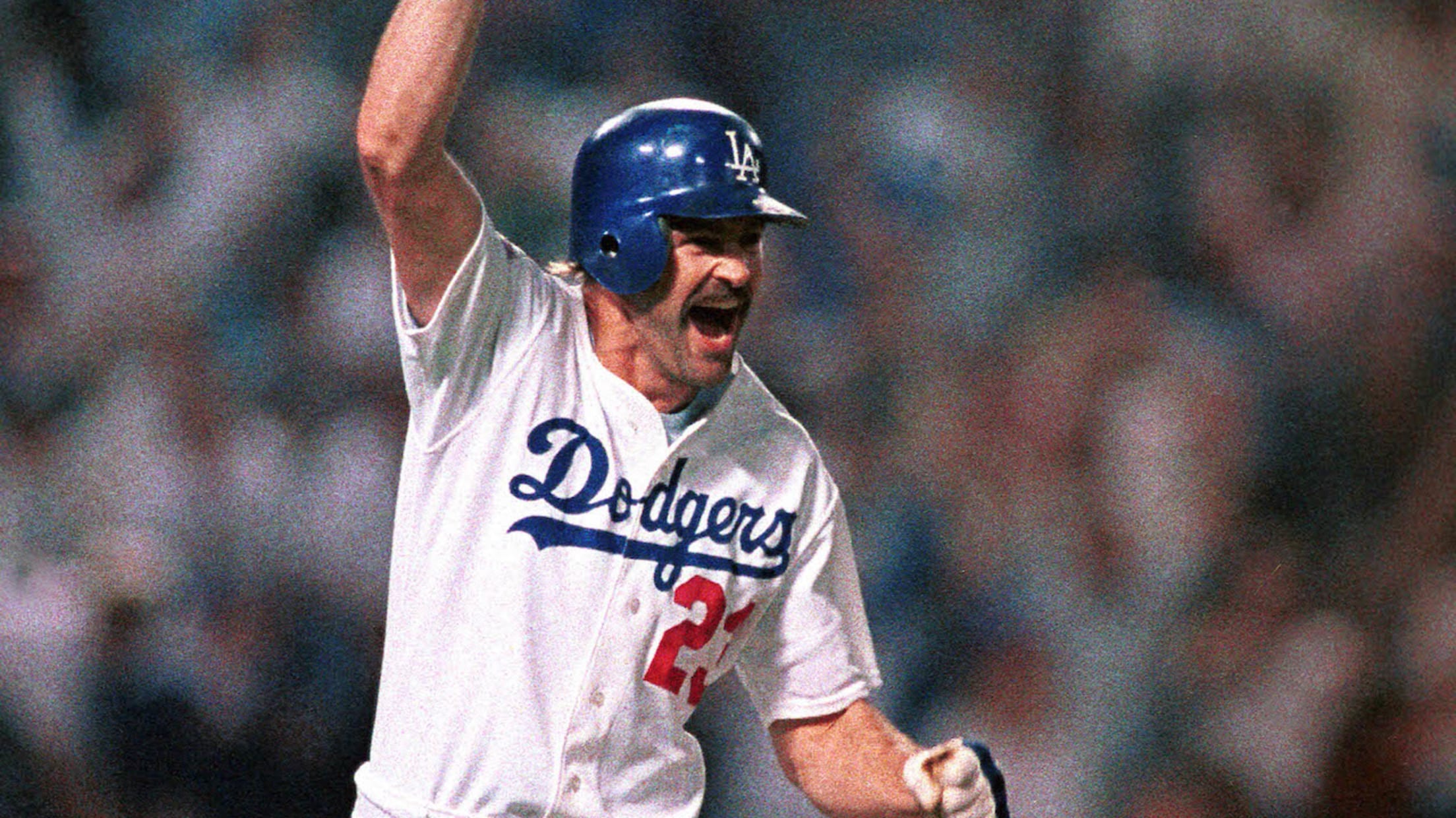 FILE - In this Oct. 15, 1988, file photo, Los Angeles Dodgers' Kirk Gibson celebrates as he rounds the bases after hitting a game-winning two-run home run in the bottom of the ninth inning to beat the Oakland Athletics 5-4 in the first game of the World Series, at Dodger Stadium in Los Angeles. Twenty-two years later, Gibson will sell the bat he used and related items at auction along with his World Series trophy and his NL most valuable player award from that season. Proceeds from the sale of the World Series trophy and MVP award will go to the Kirk Gibson Foundation to support Michigan State athletics and to help fund partial scholarships at the two Michigan high schools where his parents taught. (AP Photo/Rusty Kennedy, File) (Rusty Kennedy/AP)
Baseball's iconic moments don't exist in a vacuum. We remember where we were, what we were doing, the sights and sounds of the ballpark -- and, of course, the broadcaster's call.
But while Major League history has given us plenty of memorable calls, the question remains: Just which of them is the very best? Luckily, our list of the eight best home run calls ever is here to provide an answer once and for all. (But, should you disagree, feel free to let us know in the comments.)
8. Dave Niehaus, 1995 ALDS Game 4
Plenty of announcers have a signature home run call. But only Dave Niehaus, who served as the voice of the Mariners from the team's inaugural season in 1977 until his death in 2010, came up with a nickname specifically for baseball's ultimate scoring play, the grand slam.
Whenever a Mariner cleared the bases, Niehaus would exclaim, "Get out the rye bread and mustard, Grandma, it is grand salami time!" He used that a lot over more than 30 years in the booth, but the call was never bigger or better than in Game 4 of the 1995 ALDS.
Trailing the Yankees two games to one in the series, Seattle faced elimination at the Kingdome, and Game 4 went to the bottom of the eighth tied at 6. With their season on the line, the Mariners loaded the bases for Edgar Martinez, and both he and Niehaus did not disappoint:
7. Phil Rizzuto, Roger Maris' 61st home run
Roger Maris and Mickey Mantle went swing-for-swing in the summer of 1961, taking aim at Babe Ruth's single-season home run record. On Oct. 1 -- the final day of the regular season -- Maris sat at 60 dingers, with just a few chances left to rewrite baseball history.
In his first at-bat, Maris flew out to left against Red Sox starter Tracy Stallard. He stepped up again in the bottom of the fourth, and Stallard greeted him with two balls well out of the strike zone -- as the capacity crowd at Yankee Stadium showered the opposing pitcher with boos. And then, finally, Maris got something to hit:
"Holy cow!" is right.
6. Jack Buck, 1985 NLCS Game 5
Ozzie Smith hit just 28 home runs in his Hall of Fame career. As he stepped to the plate in the bottom of the ninth of a tied NLCS Game 5, a walk-off dinger was probably the last thing on the mind of legendary Cardinals announcer Jack Buck.
So, when Smith actually did hit a walk-off homer and began leaping his way around the bases, Buck could only think of one response: Go crazy.
5. Tom Cheek, 1993 World Series Game 6
Joe Carter got the chance to live out every kid's backyard dream: Ninth inning, down by one, two men on, World Series on the line. Even better, he actually hit a walk-off homer.
So it's only fitting that the call by Tom Cheek -- who was in the booth for a whopping 4,347 consecutive Blue Jays games from 1977 to 2004 -- acknowledged just how much the whole situation resembled a fairy tale. Touch 'em all, Joe.
4. Jack Buck, 1991 World Series Game 6
Buck's first entry on this list is all raw emotion, imploring the fans of St. Louis to go crazy after winning Game 5 of the 1985 NLCS. His call of Kirby Puckett's game-winning homer to force a Game 7 in the 1991 Fall Classic, by contrast, is the epitome of cool. As Braves left fielder Kevin Mitchell runs out of room, Buck lets the ball carry before smoothly delivering the perfect line: "We'll see you tomorrow night."
It's a call so memorable that, exactly 20 years later, Jack's son Joe borrowed it for another walk-off Game 6 homer:
3. Milo Hamilton, Hank Aaron's 715th career home run
Babe Ruth's 714 home runs stood as one of the most significant numbers in the history of both baseball and American sports more broadly. It was the crowning achievement of one of the country's formative athletes, a record most thought untouchable that had stood for 39 years -- until, on April 8, 1974, Hank Aaron hit career home run No. 715.
How could a broadcaster possibly capture the weight of that moment? As it turns out, the answer was surprisingly simple: Hamilton didn't try to do too much, because "There's a new home run champion of all time, and it's Henry Aaron" was all that needed to be said.
2. Vin Scully, 1988 World Series Game 1
A home run so instantly iconic, it's given us two of the greatest calls in baseball history.
On the radio, we have Jack Buck, giving voice to the hearts of Dodgers fans everywhere after a hobbled Kirk Gibson had come off the bench and hit a walk-off homer on one leg: "I don't believe what I just saw."
And on TV, there's Vin Scully, delivering quite possibly the most Vin Scully call of his wonderful career. Scully always loved letting the crowd noise tell the story, and Gibson's homer was no different -- as the ball left the park, Vin let out a quick, "She is gone!" before allowing the sights and sounds of the moment to take over.
And then, after the cheers had almost exhausted themselves, he returned with the perfect bit of poetry, 12 words that encapsulated all the emotion that had led to that moment: "In a year that has been so improbable, the impossible has happened."
1. Russ Hodges, 1951 NL tie-breaker
The call that needs no introduction. The Giants and Dodgers had split the first two games of their best-of-three tiebreaker for the NL crown, but Brooklyn entered the ninth inning of Game 3 with a commanding 4-1 lead and the World Series in sight.
And that's when it all went wrong. Alvin Dark led off with a single. Don Mueller followed with another. Whitey Lockman drilled an RBI double to left, bringing young Bobby Thomson to the plate against Ralph Branca as the potential winning run. On Branca's second pitch, Thomson hit a home run into the left-field bleachers ... and the Giants, well, they'd won the pennant:
While Hodges' call has gone down in history, there was another notable broadcaster calling the game that day: a young Ernie Harwell, calling the game for NBC in what was the first coast-to-coast telecast in baseball history. Harwell's call of Thomson's legendary homer? A simple, "It's gone!"