Every Home Run Derby in MLB history, ranked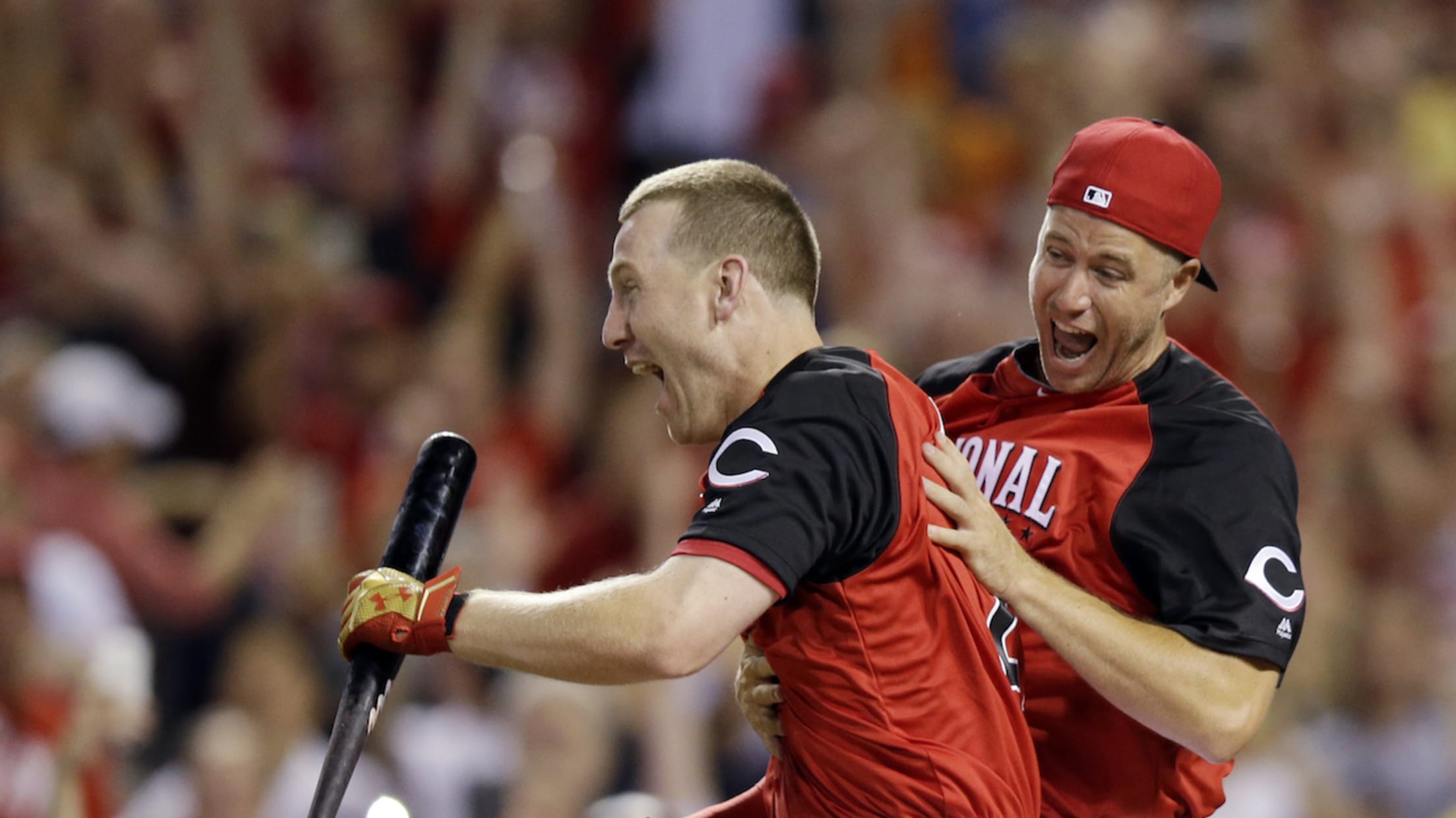 National League's Todd Frazier, left, of the Cincinnati Reds, reacts after winning the MLB All-Star baseball Home Run Derby, Monday, July 13, 2015, in Cincinnati. (AP Photo/John Minchillo) (John Minchillo/AP)
We're now just hours away from the 2017 T-Mobile Home Run Derby, live from Marlins Park in Miami at 8 p.m. ET. And with rookie dinger machines Aaron Judge and Cody Bellinger joining defending champion and probable X-Man Giancarlo Stanton in a star-studded field, it's shaping up to be one of the best Derbies of all-time.
But that got us thinking: What actually is the best Derby of all-time? Griffey off the warehouse? Josh Hamilton's Yankee Stadium barrage? Todd Frazier coming through for his hometown crowd? There are almost too many iconic moments to count, so we're going to have to do this the old-fashioned way -- namely, by ranking every single Home Run Derby in Major League history.
Disagree with our list? By all means, let us know in the comments. (But please remember that this is backed by cold, hard science, and certainly not a methodology that we made up on a whim.)
Note: The 1988 Home Run Derby was canceled due to rain.
31. 1987, Oakland Coliseum
The Derby's format was a bit different in its early years: From 1985 to 1990, four or five hitters from each league were simply given two "innings" of five outs each to hit as many homers as they could, with the league with the highest total declared the winner. Unsurprisingly, this produced some pretty low home run totals -- like in 1987, when the entire field combined for just eight homers. (The individual winner? Andre Dawson, who hit four.)
30. 1989, Angel Stadium
Speaking of which, Eric Davis and Ruben Sierra split the 1989 crown with three dingers apiece -- though Davis' NL hit more homers as a team. At least this time five different players hit multiple dingers.
29. 1985, Hubert H. Humphrey Metrodome
Pirates legend and certified bopper Dave Parker had moved on to the Reds by 1985, but he could still go yard with the best of them: The outfielder hit six homers to top a stacked field -- including Jim Rice, Eddie Murray, Carlton Fisk and Dale Murphy -- and win the first Home Run Derby in Major League history.
28. 1997, Jacobs Field
Tino Martinez wasn't necessarily known for his power, but he managed to take home the title in '97 thanks to a workmanlike effort: five homers in the first round, eight in the semifinals and three to knock off Larry Walker in the finals.
27. 1990, Wrigley Field
On paper, the 1990 Home Run Derby doesn't seem like much: The entire contest featured just five homers, and five of the eight players in the field put up goose eggs. On the plus side, though, hometown hero Ryne Sandberg took home the trophy -- and the event was emceed by none other than Cubs fanatic Bill Murray himself.
26. 2007, AT&T Park
Seemingly every kayak in America packed into McCovey Cove for the first Home Run Derby in the history of AT&T Park, but alas, they would go home empty handed: The field produced a grand total of zero splash landings, while Vladimir Guerrero cruised to a win over Alex Rios in the final round.
25. 1986, Houston Astrodome
The 1986 Home Run Derby featured just 15 homers, but what it lacked in quantity it more than made up for in quality. Eventual co-champion Darryl Strawberry somehow managed to hit a ball off a speaker hanging from the roof of the Astrodome -- some 350 feet away and 140 feet off the ground, a place no one ever reached before or since. "It would have hit the Coke sign [roughly 550 feet away]," Dave Parker said at the time. "It was the longest ball I've ever seen hit to right field anywhere."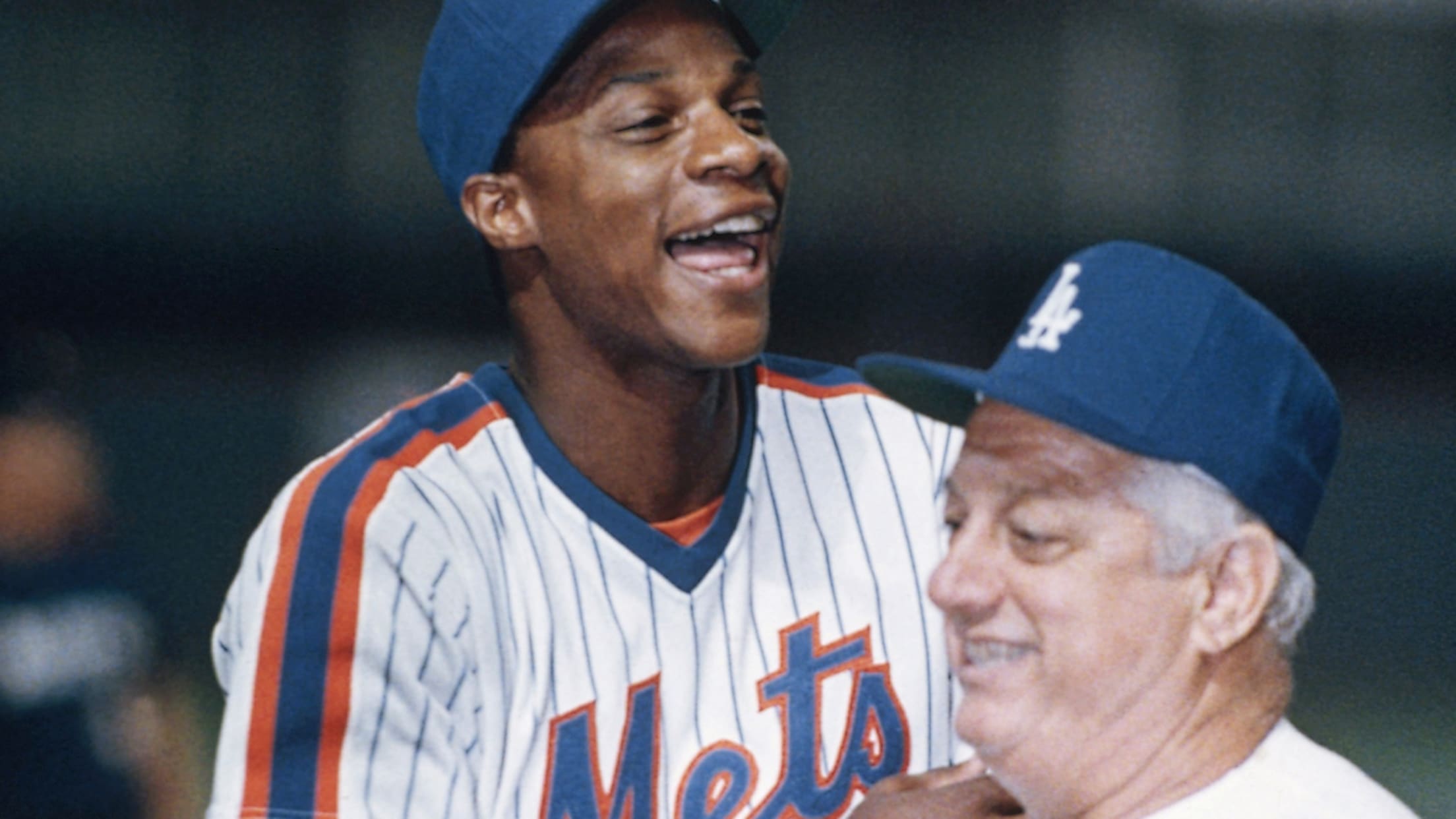 24. 1995, The Ballpark in Arlington
The 1995 Derby quickly turned into a two-man race, with Albert Belle and Frank Thomas going back and forth all night. Finally, the two men met in the final round -- with Thomas coming out on top, 3-2.
23. 2001, Safeco Field
Jason Giambi set Seattle on fire with a then-record 14 homers in the first round, but it was slow-and-steady Luis Gonzalez who emerged victorious thanks to six final-round dingers.
22. 2012, Kauffman Stadium
After a slow start in Kansas City, Prince Fielder was never seriously threatened, hitting 11 in the semifinals and 12 in the finals to cruise past José Bautista for his second Derby win (we'll get to his first later).
The poor Kauffman fountains never had a chance:
21. 2014, Target Field
Speaking of second wins, Yoenis Céspedes notched his back in 2014 -- and he did it in convincing fashion. After escaping Round 1 in a swing-off, Yo hit nine, seven and nine and was never seriously threatened. He ended up with 28 dingers in all, double the total of the next-closest slugger.
20. 1992, Jack Murphy Stadium
In the second year of the Derby's new, three-round format, two of the game's biggest stars decided to put on a show. Making the second of what would be a record eight Home Run Derby appearances, Ken Griffey Jr. hit seven homers, good for second-most in the young history of the competition ... but not good enough to top Mark McGwire, who lapped the field with 12.
19. 2009, Busch Stadium
In 2009, the Fielders became the first father-son duo to each take part in a Derby -- and Prince put on a show, lighting up Busch Stadium with 23 total homers to win the whole thing. He may not have hit a ball over a restaurant, but he did manage to clear the bleachers in right-center on the fly, so that's something:
18. 2010, Angel Stadium
David Ortiz didn't always have the best luck in Home Run Derbies -- we'll get to that -- but he made sure that 2010 was his year. Papi posted 13 homers in the semifinals before routing Hanley Ramirez in the final round, setting an excellent example for his son to follow.
17. 2003, U.S. Cellular Field
Another early '00s Home Run Derby, another scorching performance from Jason Giambi. This time, the first baseman launched 12 in the first round and followed that up with 11 in the next -- but it wasn't enough, as his opponent in the semifinals, Albert Pujols, went for 14 dingers of his own in the one of the most outrageous showdowns in Derby history. (Pujols would go on to lose to Garret Anderson in the final round.)
16. 2000, Turner Field
To this day, no one knows what exactly Turner Field's left-field upper deck did to Sammy Sosa, but he apparently took it very personally. Slammin' Sammy sent eight baseballs either into the upper deck or off the facing en route to a dominating Derby win, and capped things off with a homer over the camera well in dead center as a nice cherry on top.
15. 2006, PNC Park
Since the day it opened back in 2001, PNC Park has been one of the most beautiful parks in baseball. Among its many charms: a scenic view of the Allegheny River, which flows just beyond the right-field seats.
On most days, this is merely part of the ambiance of a day at the ballpark -- the river is some 456 feet away from home plate at its nearest point, after all. For Ryan Howard during the 2006 Home Run Derby, however, it was target practice.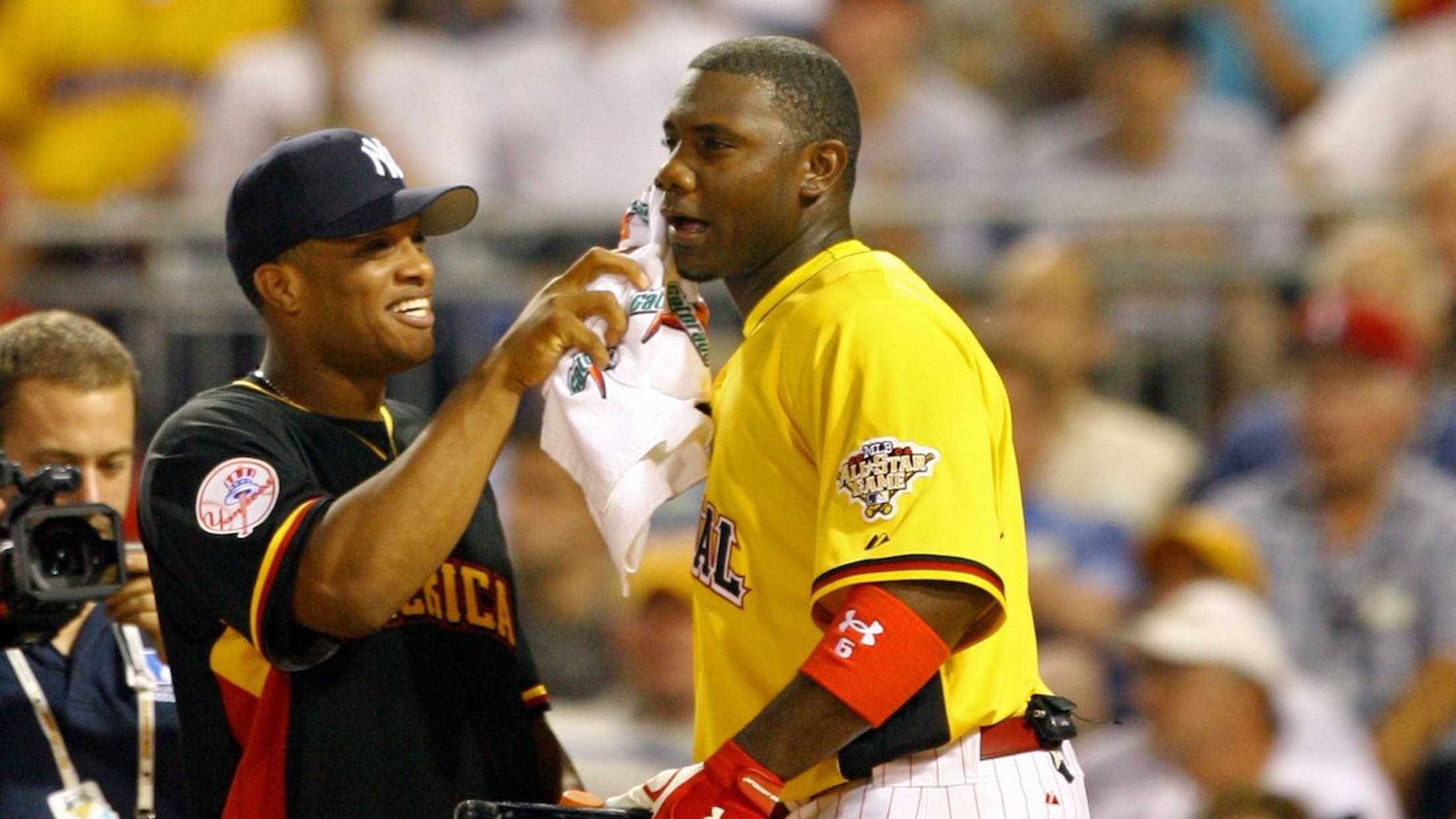 In one of the most outrageous displays of power in Derby history, Howard reached the Allegheny six times -- four on the fly, two on the bounce. "I was hoping he was going to kill some fish out in that river," said his personal Derby pitcher, then-Phillies coach Ramon Henderson. "And he did."
Fate of local aquatic life notwithstanding, Howard ended up with 23 homers on the night, and it could've been a lot more: He topped David Wright in the finals with five outs still remaining.
14. 2004, Minute Maid Park
The 2004 Derby boasted one of the most loaded fields in history, including all three active members of the 500 home run club (Rafael Palmeiro, Sammy Sosa and Barry Bonds) and two more who would eventually join them (Jim Thome and David Ortiz). So, naturally, it turned into a duel between two guys with fewer than 500 career home runs combined.
Lance Berkman and Miguel Tejada put up seven dingers each in the first round, then proceeded to absolutely lose their minds in the semifinals. Playing in front of his home crowd, Berkman launched 10 homers -- five of which wound up on the streets of Houston after the league decided to open the Minute Maid Park roof.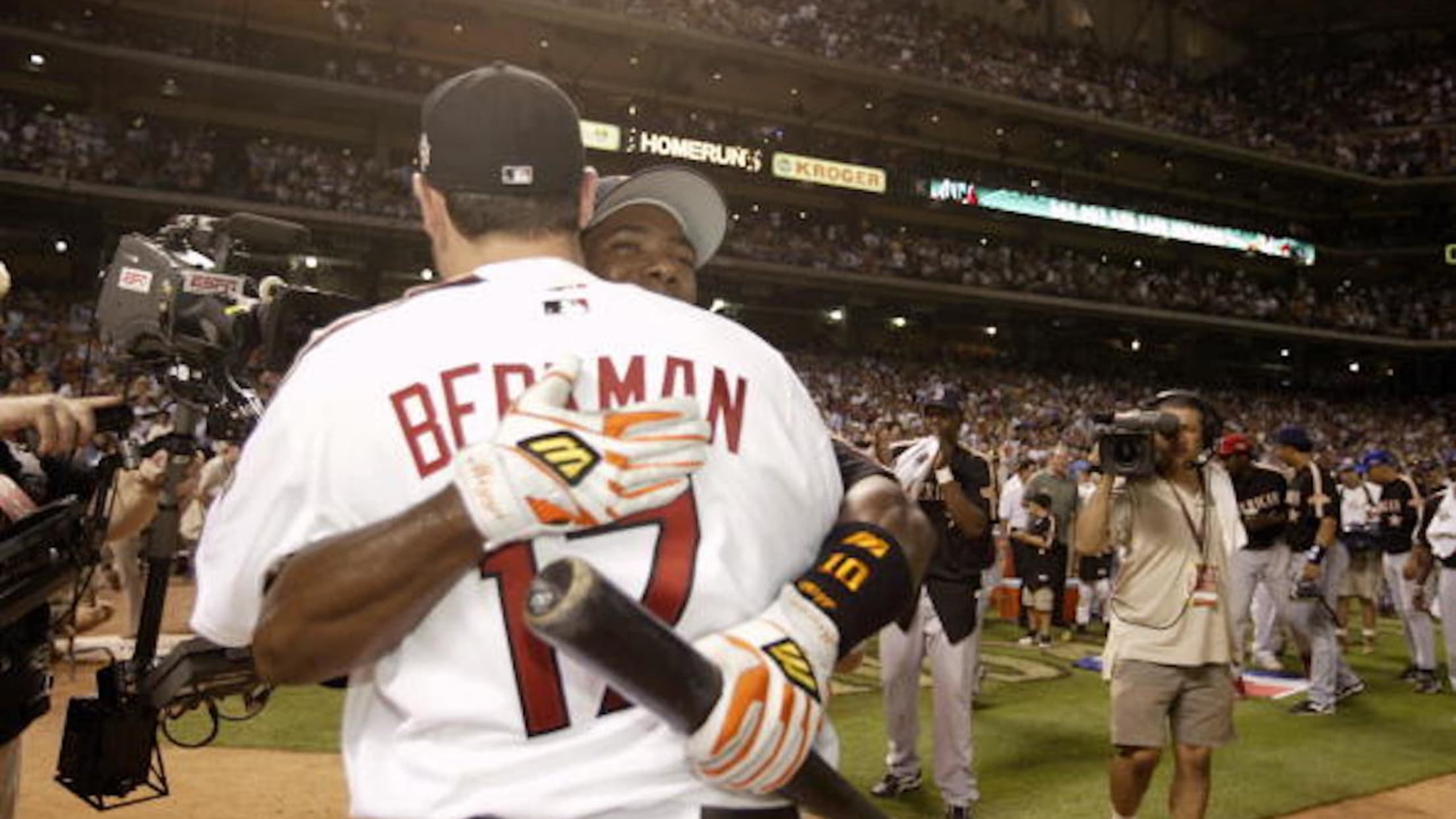 But somehow, Tejada managed to do him one better -- the shortstop saw Berkman's 10 homers and raised him a then-record 15, including one that nearly derailed the train atop left field. And that wasn't the only record he would set: After hitting five more in the finals to top Berkman, Tejada finished with 27 total homers, the most ever in a single Derby up to that point.
13. 2002, Miller Park
There are many ways that one could try to describe just how impressive Sammy Sosa's first round of the 2002 Derby was. One could point out that he hit 12 homers, at the time the third-most ever in a single round. One could note that those 12 homers traveled an average of 477 feet, and seven of them crossed the 500-foot mark. One could simply list the objects that Sosa managed to clear: the scoreboard, Bernie Brewer's slide, even the left-field concourse.
But the best way is probably just to let you watch it for yourself:
Despite that early onslaught, though, Sosa wouldn't walk away the winner -- that honor went to long-time Derby stalwart Jason Giambi, who hit 11 first-round homers of his own and beat Slammin' Sammy in the finals.
12. 1994, Three Rivers Stadium
You know that you've hit an iconic dinger when it lives on well after even the stadium it was hit in has been demolished. Case in point: Frank Thomas, who launched a 519-foot blast during the 1994 Derby that managed to reach the upper deck ... in almost straight-away center field.
We now turn to fellow '94 All-Stars Ruben Sierra and Ricky Bones for their thoughts:
The Pirates put a star on the seat in which the ball landed later that year, and when Three Rivers Stadium was torn down back in 2001, Thomas and his pitcher, pitching coach Rick Donnelly, signed the star and auctioned it off for charity.
Of course, the rest of the '94 Derby was no slouch, either. Ken Griffey Jr. won his second of three Derby crowns, narrowly edging Fred McGriff in the final round.
11. 2013, Citi Field
Just over a year after coming to the Major Leagues from Cuba, Yoenis Cespedes had established himself as one of the game's rising stars and premier sources of jaw-dropping highlights. He finished 10th in the 2012 AL MVP race as a rookie thanks to a .292/.356/.505 slash line. And then the 2013 Home Run Derby rolled around, and he graduated from "very good hitter" to "Immortal Dinger God and Supreme Ruler of All He Surveys."
Yo went bonkers, blasting 17 homers in the first round and putting seemingly every part of the park in play. He hit homers into the third deck. He hit homers out near the Shake Shack stand. He hit homers that may or may not have reached escape velocity. He even came shockingly close to hitting the truck parked out by the home run apple:
Cespedes ended up with 32 dingers in all, including nine in the final in a dramatic win over some kid named Bryce Harper. (And hey, that blue and orange jersey looked pretty good on him.)
10. 2011, Chase Field
Despite entering the event with the second-lowest regular-season home run total in the field, Robinson Canó was a dinger machine in the desert. He put up eight in the first round before going for 12 in the semis and another 12 in the finals -- just barely edging a white-hot Adrián González, who led off the final round with 11.
But that's not why this Home Run Derby is so high on the list, of course. Behind Cano's 32-dinger barrage was a very special pitcher: his dad Jose, a former big leaguer in his own right who loved the game so much that he named his son after Jackie Robinson.
"I don't want to say that I won the trophy," Cano told MLB.com's Ian Browne afterward. "I want to say that my dad has won the trophy."
Father and son shared a big hug after Cano's 472-foot game-winning rocket, just like they were back home in the Dominican Republic.
"That's what I do all the time at home, just throwing BP [to him]," Jose said. "When he called me at home and told me that he wanted me to come to the United States, because he's going to be in the Home Run Derby, I said, 'I'll be happy to pitch to you, because that's what I do at home.'"
9. 1991, Skydome
The 1991 Derby was the first to use a three-round format, and Cal Ripken immediately took full advantage of the extra opportunities. No one had ever hit more than six dingers in a single Derby, but Cal electrified the Toronto crowd with 12 over just 22 swings:
Cal even credited his monster performance with helping him take home the 1991 AL MVP Award -- he hit 16 homers with an .881 OPS in the second half of the season, and felt as though he found a groove with his swing while launching homers during the Derby.
Of course, if that's not your cup of tea, maybe we can interest you in Cecil Fielder hitting not one but two balls into the bar in the third deck in center field -- and inspiring one of the greatest quotes in Home Run Derby history.
"Ever heard that saying, 'There's a fly in my soup?'" Rickey Henderson said afterward. "Well, there was a fly ball in that guy's soup."
8. 1996, Veterans Stadium
There have been a lot of remarkable individual performances over more than three decades of the Home Run Derby. But if it's a duel you're looking for -- two sluggers going back and forth, swing for swing -- 1996 was the year for you, when two of the game's biggest stars helped turn the Derby into the cultural touchstone it is today.
Mark McGwire led off the second round with nine mammoth homers. Barry Bonds stepped up and promptly launched 10. The two then advanced to the finals, where Bonds found himself trailing by two with just one out left ... and proceeded to hit three dingers on his next three swings.
McGwire may have lost, but it wasn't all bad news: He managed to hit not one but two balls into the 600-level at the Vet, where no hitter had dared venture before. For reference, this is the 600-level at the Vet: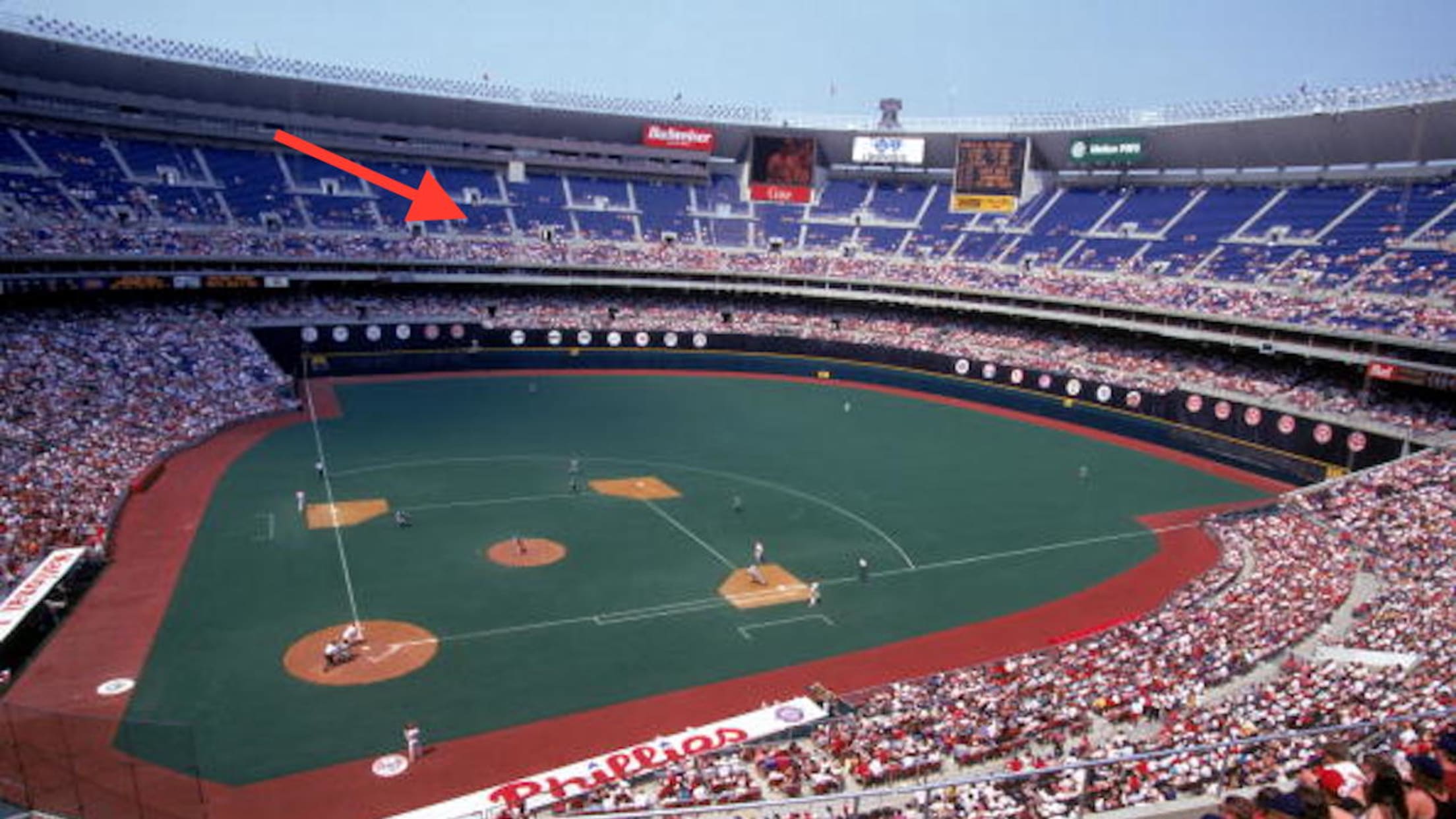 Yikes.
7. 2005, Comerica Park
Bobby Abreu was a very good player -- an All-Star, Silver Slugger and Gold Glove Award winner who racked up 2,470 hits over his 18 big league seasons. For all of his many talents, though, he was never really known as a home-run threat: He hit more than 20 homers just four times in his career, and only reached 30 twice. And then, in the 2005 Derby, he hit 41 in one night.
In our post-Giancarlo age, it's tough to fully appreciate that number, but we're here to help put it in perspective. Abreu shattered the previous record of 27 total homers, set by Miguel Tejada a year prior. Of his first 14 swings, 10 left the yard -- the last of which traveled some 517 feet into a poor fan's plate of ribs across the upper-deck concourse in right field. He then followed that up with 14 more homers ... in the first round alone.
At one point he whipped the crowd into such a frenzy that fellow Venezuelans Miguel Cabrera and Cesar Izturis stopped the proceedings to drape Abreu in the country's flag: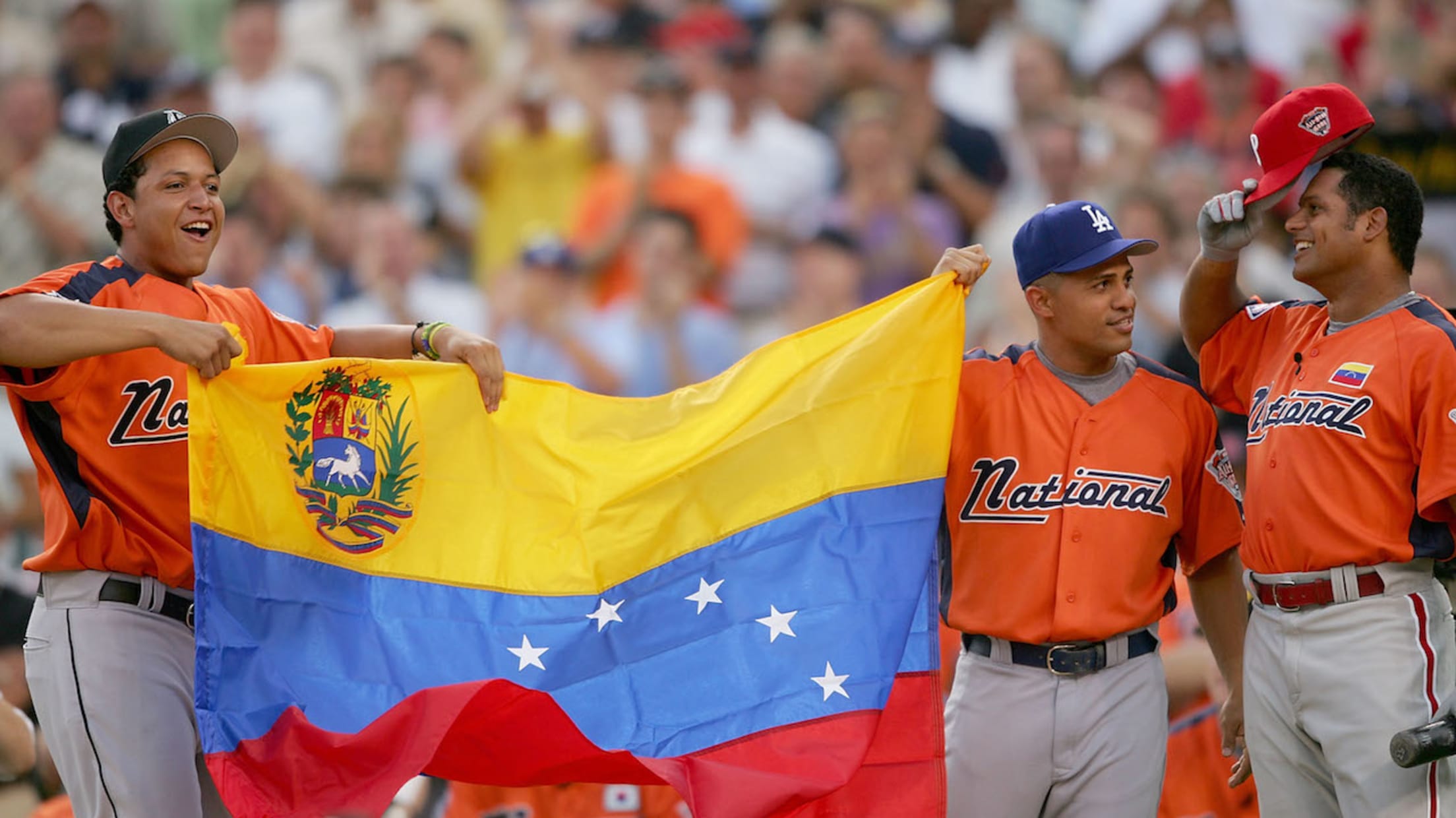 Abreu capped off his historic night with 11 homers in the finals to knock off Pudge Rodriguez. In reality, though, he won something far greater than a Home Run Derby: "He might be the king now," NL teammate Jimmy Rollins said afterward. "The king of Venezuela."
6. 2016, Petco Park
Giancarlo Stanton doesn't just hit home runs. He does things to a baseball that were previously thought impossible, endangering various ballpark structures and breaking the brains of fans everywhere. Combine that with the Home Run Derby, an event designed to allow very strong men to hit balls as far as they possibly can, and what do you get? A whole lot of dingers -- 61 of them, to be precise.
You'd be hard-pressed to find a part of Petco Park that Stanton didn't launch an assault on. He threatened to put a hole in the warehouse:
He nearly hit the scoreboard in left-center:
He even hit one clear over the batter's eye:
Taking full advantage of the Derby's new timed rounds, Giancarlo hit 24 in the first round, 17 in the second -- including six of more than 480 feet -- and 20 in the finals. It raises just one question: What will he do for an encore?
5. 1993, Camden Yards
In its 25 years as home of the Orioles, Camden Yards has hosted more than 2,000 Major League games. It's seen over 140,000 plate appearances during that time -- more than 140,000 opportunities for big league hitters to attempt to hit a ball as hard as they can. But only one of those big leaguers has managed to hit the B&O warehouse across Eutaw Street on the fly: He wore his hat backwards, and he couldn't help but smile.
While you were no doubt aware of that gargantuan blast, what you might not know is that the rest of the '93 Derby was an absolute classic.
In the early '90s, the Derby was a one-round competition pitting the American League against the National League. But Griffey and Juan Gonzalez finished tied for the individual lead with seven homers each, forcing a one-on-one showdown for all the marbles. Well, technically two one-on-one showdowns: Both players hit four homers in the first playoff round, setting up a sudden-death swing-off that was eventually won by Gonzalez.
Still, while Juan Gone got the trophy, Griffey got the plaque:
Longest Eutaw Street HR—does Griffey's derby shot off the B&O Warehouse count?

More: https://t.co/nY6EFqeGrt pic.twitter.com/e0b8bGz9zJ

— Tampa Bay Rays (@RaysBaseball) June 25, 2016
4. 1998, Coors Field
The Home Run Derby came to Coors Field in 1998, which could only mean two things: fantastic mountain views, and a whole lot of dingers.
Despite the opportunity to hit in that thin Colorado air, though, 1994 Derby champ Ken Griffey Jr. initially announced that he wouldn't be participating ... that is, until he showed up for batting practice the day prior and learned that the fans in Denver had other ideas. Griffey was booed all day, so much so that -- in one of history's greatest testaments to the power of persuasion -- he eventually decided to toss his hat in the ring.
"I don't like to get booed," he said. "I don't think anybody does. This is not a time to get booed -- the All-Star Game."
As it turned out, he wouldn't regret that decision.
The mile-high Derby lived up to its promise immediately. A then-record 53 homers were hit in the first round, and several of them were of the tape-measure variety -- Jim Thome hit one halfway up the third deck in right, while Javy Lopez managed to reach an exit ramp in straight-away center.
"Halfway through the first round," said then-Marlins first-base coach Rich Donnelly, who pitched to three of the eight batters, "we had to call Budweiser and say, 'Get that blimp up about 100 feet.'"
Eventually, though, the night would belong to Griffey. After eight in the first and second rounds, the lefty hit three in the finals to edge Thome for his second Derby win.
3. 1999, Fenway Park
The 1999 Derby was special before a single pitch was even thrown, with several living legends (including Ted Williams himself) in attendance at Fenway for the unveiling of MLB's All-Century Team. Thankfully, the actual event didn't come close to disappointing.
Behind a 10-homer outburst in the semifinals -- and despite Fenway Park playing tougher for left-handed hitters -- Ken Griffey Jr. won his second Home Run Derby in a row and record third overall. By the time the night was over, though, all anyone could talk about was Mark McGwire's assault on the Green Monster.
Midway through his first round, Big Mac reached a zone seldom seen in any Home Run Derby. He hit a then-record 13 homers seemingly in the blink of an eye -- one pitch after the other, all to left field, and all absolutely crushed. The highlight: a ball that went over the Monster, over the street beyond, over a parking garage and off the billboards that line the train tracks next to the Massachusetts Turnpike. (Well, that or the homer that nearly broke a light fixture.)
McGwire flamed out in the semifinals, mustering only three homers -- either because he was exhausted or he just wanted to give the fans outside the park a breather.
2. 2008, Yankee Stadium
Even now, it's hard to wrap our head around: In the first round of the 2008 Home Run Derby at Yankee Stadium, Josh Hamilton hit 28 home runs. Since there's no real way for a description to do it justice, here are a few numbers instead:
- Prior to 2008, only one player had ever hit 28 combined homers in a single Derby (Bobby Abreu in 2005).
- At one point, he hit a home run on 13 consecutive swings (and 16 of 17, and 20 of 22).
- Three of his homers went 500 feet or more, including one that threatened to pull a Mickey Mantle and hit the facade at the top of the stadium.
Hamilton didn't win, of course -- that honor went to Justin Morneau, who hit five homers in the finals to Hamilton's three -- but he reached a dinger nirvana that few could even dream of, and he helped close out the old Yankee Stadium in style.
And yet, it still wasn't enough to claim the top spot. Because while Hamilton's outburst was jaw-dropping, this is a ranking of the best Home Run Derbies -- not singular moments, but entire competitions. And no other Derby was as top-to-bottom entertaining as ...
1. 2015, Great American Ball Park
Sure, there might be some recency bias at work here, but the prospect of timed rounds -- and sluggers frantically swinging for the fences as the clock wound down -- gave the 2015 Derby a new jolt of excitement, the kind that only the phrase "buzzer-beating homer" can provide.
The new format brought a white-knuckle sense of urgency almost immediately: In the very first matchup of the night, Albert Pujols knocked off Kris Bryant with a homer that juuuuust left the bat before the clock hit zero.
The star of the night, though, was the hometown third baseman. After sneaking past Prince Fielder in the first round, Todd Frazier nearly brought the house down with a buzzer-beater to get past Josh Donaldson and advanced to the finals:
Somehow, Frazier nearly pulled off a late-clock miracle again. Joc Pederson's 14 homers put Frazier in a tough spot, but a late flurry drew him even, and with time for just one more pitch, the third baseman lifted a high fly ball to left ... that fell just short of the wall, presumably because even fairy tales can't be that improbable.
Don't feel too bad for Frazier, though: He'd still managed to force extra time, and he'd get his soon enough.