Relive the five best moments of Tom Seaver's time with the Mets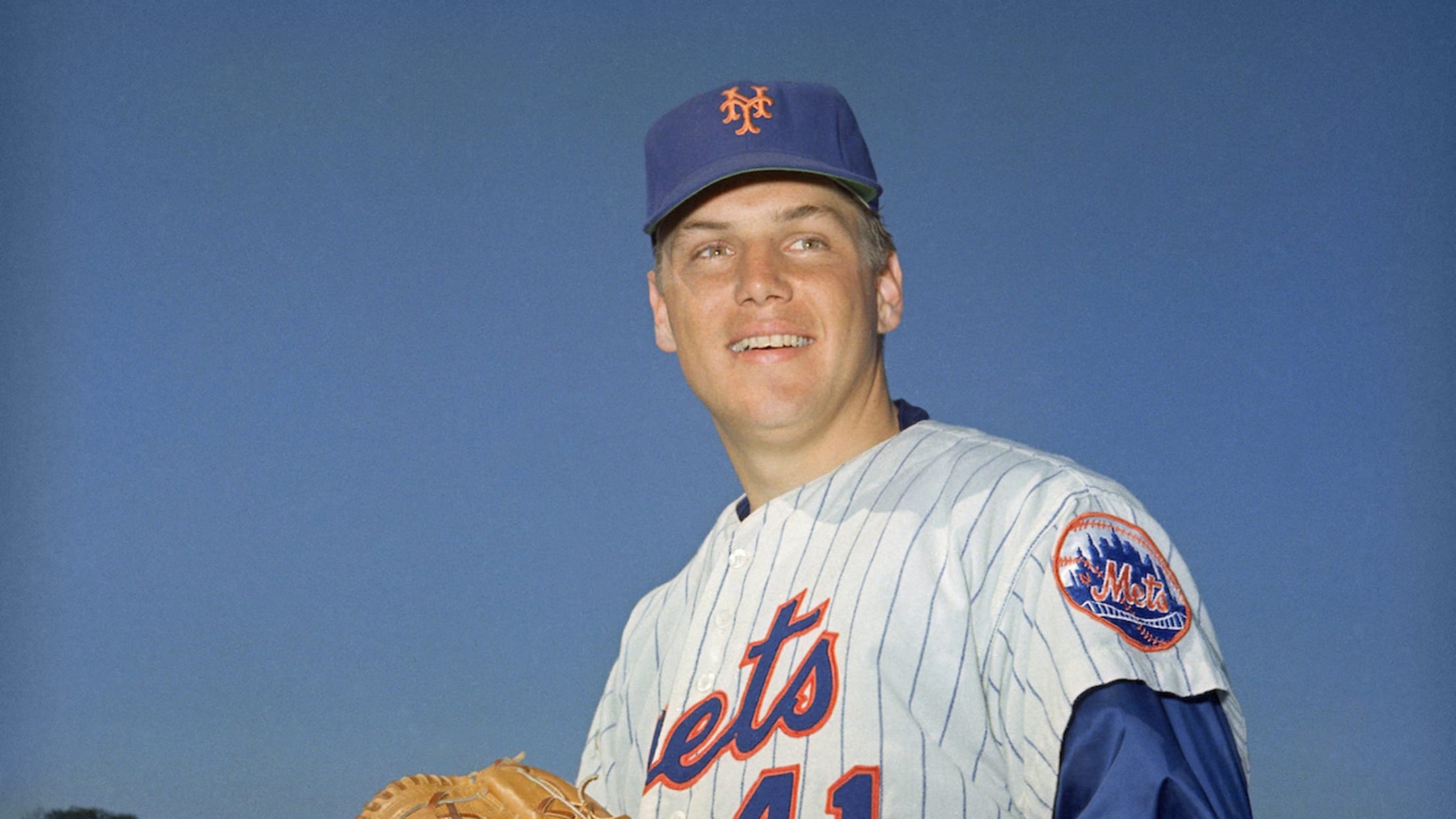 Tom Seaver, pitcher of the New York Mets is shown, is shown during spring training, March 1968. (AP Photo) (Anonymous/AP)
For a generation of fans, Tom Seaver was the Mets. He debuted in just the team's fifth year of existence, and he'd made it through the low times (New York went a combined 134-190 in his first two seasons) to emerge as one of the best pitchers in baseball -- and a magically improbable World Series champion. There's a reason that New Yorkers took to calling him The Franchise: And so, when Seaver called it a career on June 22, 1987, of course he came back to where it all began.
Seaver had been bouncing around for a few years, first with the White Sox and then in Boston. But after the 41-year-old had to labor through four innings against the Blue Jays on a bad knee in Sept. 19, 1986, he knew that it was time. The Mets, dealing with injuries in their rotation, convinced him to attempt one last comeback the ensuing May, but it was clear that Seaver was done. He called a press conference, and rather than feel sorry for himself, Tom Terrific turned it into an occasion for celebration.
"I had an opportunity to see if there were another three months or another 15 games left in my arm," he told reporters. "There are no more pitches there. I've used them all up."
In that spirit, let's honor the anniversary of Seaver's retirement with his five best Mets moments.
5. His return to the Mets
After more than a decade with the Amazin's, a rebuilding New York made the gut-wrenching decision to ship its franchise icon to Cincinnati in June 1977. It was one of the darkest days in team history -- but when he made his return to Queens on Opening Day 1983, it was like a family reunion.
4. The last pitch at Shea
At the end of 2008, the Mets said a bittersweet goodbye to Shea Stadium, the team's home since 1964 and a ballpark that had seen everything from two World Series championships to a visit from Pope John Paul II.
And what better way to send it off than the greatest pitcher in franchise history throwing one last pitch to the greatest catcher in franchise history?
3. The near-perfect game
Before Johan Santana's magical night in 2012, the Mets had gone a whopping 50 seasons without a no-hitter or perfect game. You don't build a streak like that without plenty of close calls -- and no call was closer than Seaver's start against the Cubs on July 9, 1969.
For eight innings, The Franchise was perfect against a Chicago team that led the National League. And then, just two outs away from immortality, Jimmy Qualls stepped up:
2. The 1969 World Series
Nobody expected the Mets to even sniff the World Series in 1969. The team was in just its eighth year of existence, and had only managed to lose fewer than 100 games twice. But New York shocked the baseball world, winning 100 games and the National League pennant.
Going up against the Orioles and their powerhouse pitching staff, the Mets again found themselves heavy underdogs. But Seaver stared down Jim Palmer and company and managed to do them one better, culminating in one of the best performances in postseason history in Game 4: 10 innings, six hits, six K's and one earned run, as New York walked off with a 2-1 win.
1. The entire 1971 season
We'd love to be more specific here, but really, Seaver was so good in 1971 it's tough to choose. Do you go with the 1.76 ERA? The 289 K's over a whopping 286 1/3 innings? The four shutouts, the 21 complete games or the time he struck out 14 in a 10-inning loss to the Padres? Maybe it's just enough to say this: He was so good that, according to Hank Aaron, he was "the toughest pitcher I've ever faced."
Teams in this article:
Topics in this article: