5 years later, relive the 'Cuuueeto' Wild Card Game tweet by tweet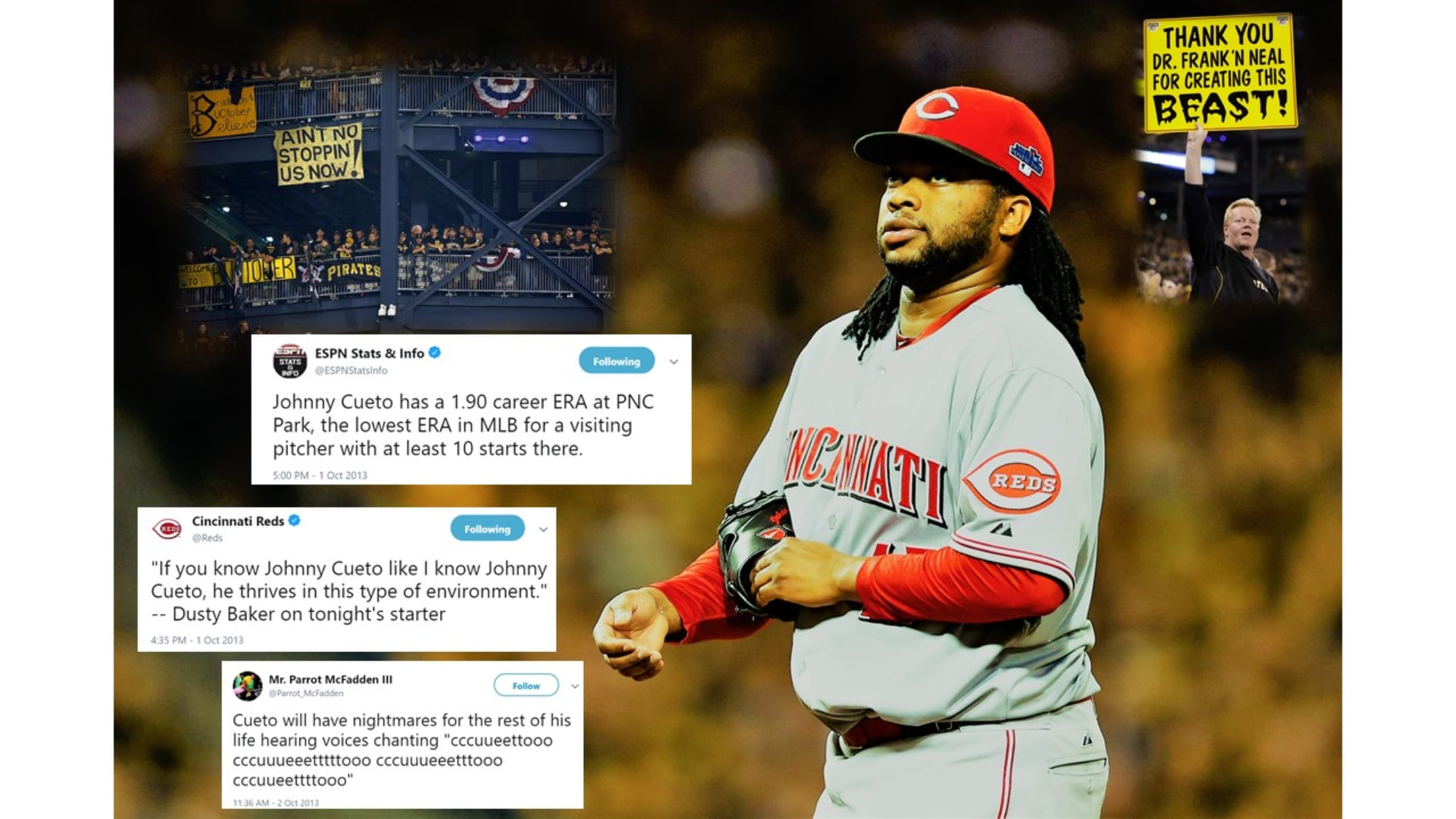 Although it may feel like yesterday for poor Johnny Cueto, it's been five long years since the Pirates defeated the Reds in the 2013 National League Wild Card Game. Or, as any fan watching might refer to it, " The Cuuueeto game."
In honor of the special anniversary and in preparation for the first Wild Card Game on Tuesday, let's relive the madness from PNC Park for those few innings tweet by tweet. Reds fans: Turn away if you must.
---
Going into the night of Oct. 1, 2013, Cueto had been absolutely lights-out at PNC Park. No visiting pitcher was better. Not one.
Johnny Cueto has a 1.90 career ERA at PNC Park, the lowest ERA in MLB for a visiting pitcher with at least 10 starts there.

— ESPN Stats & Info (@ESPNStatsInfo) October 1, 2013
As a result, manager Dusty Baker and Cueto were feeling pretty good before the matchup.
"If you know Johnny Cueto like I know Johnny Cueto, he thrives in this type of environment." -- Dusty Baker on tonight's starter

— Cincinnati Reds (@Reds) October 1, 2013

Although, there was an interesting tidbit from late MLB.com reporter Tom Singer ...
Yeah, Cueto gave up 1 run and 3 hits in 2 PNC Park starts this yr — but #PIrates didn't yet have Byrd [7-for-12, .583 lifetime off Cueto)

— Tom Singer (@Tom_Singer) October 1, 2013


Pittsburgh starter Francisco Liriano set the Reds down in order in the top of the first and, as expected, Cueto was efficient in the bottom half.
Easy first for Cueto: 2-out walk to McCutchen. Threw 13 pitches. #reds

— John Fay (@johnfayman) October 2, 2013

But right away, in the bottom of the second, things began to unravel. And guess who struck the first blow? That guy Marlon Byrd:
Pedro Álvarez lined out, and then, with Pirates fans still in a frenzy from the Byrd dinger, it happened. Turn up your volume before clicking play on the below video.
One tiny drop of a ball, and Pittsburgh fans knew they were in complete control.
The Twittersphere erupted.
The fans at PNC Park just hit that home run. Cueto is a mess.

— Mike Harrington (@ByMHarrington) October 2, 2013
PITTSBURGH BROKE JOHNNY CUETO

— Jesse Marshall (@jmarshfof) October 2, 2013
the CUETO chant, then the bomb is a sports moment i'll never forget. wow. #Pirates 2 - #Reds 0

— Daniel Dudley (@DDisBORED) October 2, 2013


It was the first time Cueto had given up two homers in one inning in three years. And fans continued to pile on the starter, as he gave up singles to opposing pitcher Liriano and Starling Marte.
fans mocking cueto with chants of "Cue-to." now that pitcher liriano has singled, it wont ever stop.

— Jon Heyman (@JonHeyman) October 2, 2013
For the rest of Johnny Cueto's career, every time he goes to PNC Park, they're going to chant "Cue-to, Cue-to, Cue-to" the whole damn time.

— Jeff Passan (@JeffPassan) October 2, 2013


Todd Frazier eventually ended the madness with a highlight-reel catch into the stands.
But the Pittsburgh faithful refused to back down, bothering Cueto during his lone at-bat (he grounded out):
Cueto at the plate now for the first time and the chants continue.

— Alanna Rizzo (@alannarizzo) October 2, 2013
Thou shall continue thy Cueto chant.

— Pirates Jesus (@PiratesJesus) October 2, 2013
Cueto would actually have to be trembling in the fetal position to look less comfortable. Sabo keeps bailing him out.

— Damon Bruce (@DamonBruce) October 2, 2013


The constant chanting even affected Cueto's normal routine the next time he took the mound:
Cueto working from the stretch... wow. Says a lot about his comfort level.

— Buster Olney (@Buster_ESPN) October 2, 2013

The Bucs notched three more hits and another run in the third. Listen to the Cueto chorus on Alvarez's sacrifice fly.
After giving up a double to Marte in the fourth (he would eventually score), Cueto was done. Three and 1/3 innings, four runs, eight hits and one dropped ball heard around the baseball world. Even at the end, the crowd was ruthless:
Standing ovation for Cueto as he leaves the field. And they say Cardinals fans are the nicest.

— DJ Gallo (@DJGalloEtc) October 2, 2013
Bye Cueto - I'm gonna miss that guy!

— Clint's Hurdle's Gum (@ClintHurdlesGUM) October 2, 2013
Cueto is no longer a pitcher.. he is now an Italian chef. serving up meatballs

— Blake Castator (@Bcas27) October 2, 2013
The Pirates went on to win, 6-2, and Cincinnati hasn't reached the postseason since. Baker rejected the idea that the crowd had any impact on Cueto's performance.
Pirates fans, of course, will beg to differ.
Teams in this article:
Players in this article: