The MLB fan's guide to picking a Final Four team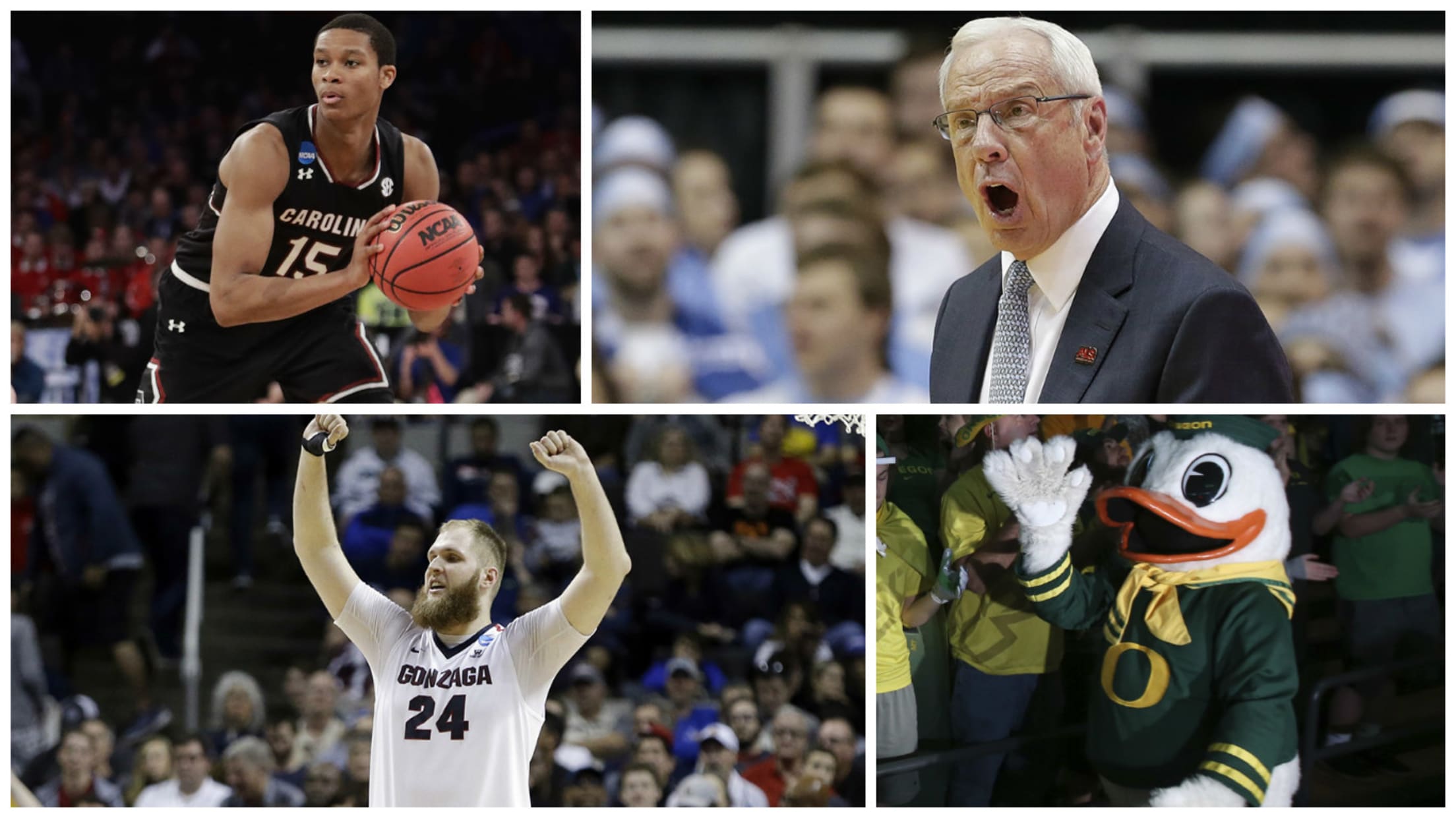 Hey baseball fans, have you been too busy preparing for the upcoming MLB season, reading scouting reports and drafting your fantasy team, to pay adequate attention to the NCAA Men's Basketball Tournament currently taking place?
Well, don't worry. If you're an MLB fan, we know exactly which team you should root for.
Angels: Sindarius Thornwell has put together an MVP-like performance for South Carolina, leading the Gamecocks to the Final Four. Angels fans who watch Mike Trout every day can surely appreciate that.
Astros: Starting at center for Gonzaga is Przemek Karnowski, a 7-foot-1, 300-pound bearded behemoth who is surprisingly quick on the floor. The Astros have their own beefy bearded behemoth in Evan Gattis, who can also be quite speedy on the basepaths -- remember those 11 triples in 2015? -- and whose Twitter handle even identifies him as a bulldog.
Athletics: For fans of Athletic green, may we suggest Oregon green?
Blue Jays: With very-recent Duke graduate Marcus Stroman starting Opening Day, Blue Jays fans can't root for South Carolina, the team that bumped the Blue Devils from the tournament in the second round. Nor can they root for Oregon, which also upset Duke in the second round of the NCAA Women's Basketball Tournament. And they can't root for North Carolina, Duke's archrival. That just leaves Gonzaga.
Braves: SunTrust Park, the Braves' new stadium, is just a 3 1/2 hour drive from the South Carolina campus, so Braves fans have to root for the hometown(ish) Gamecocks.
Brewers: The North Carolina baseball team recently adopted a dog named Remington as its newest teammate. Does that sound like anyone familiar?
Cardinals: Doesn't Fredbird kind of look like The Oregon Duck?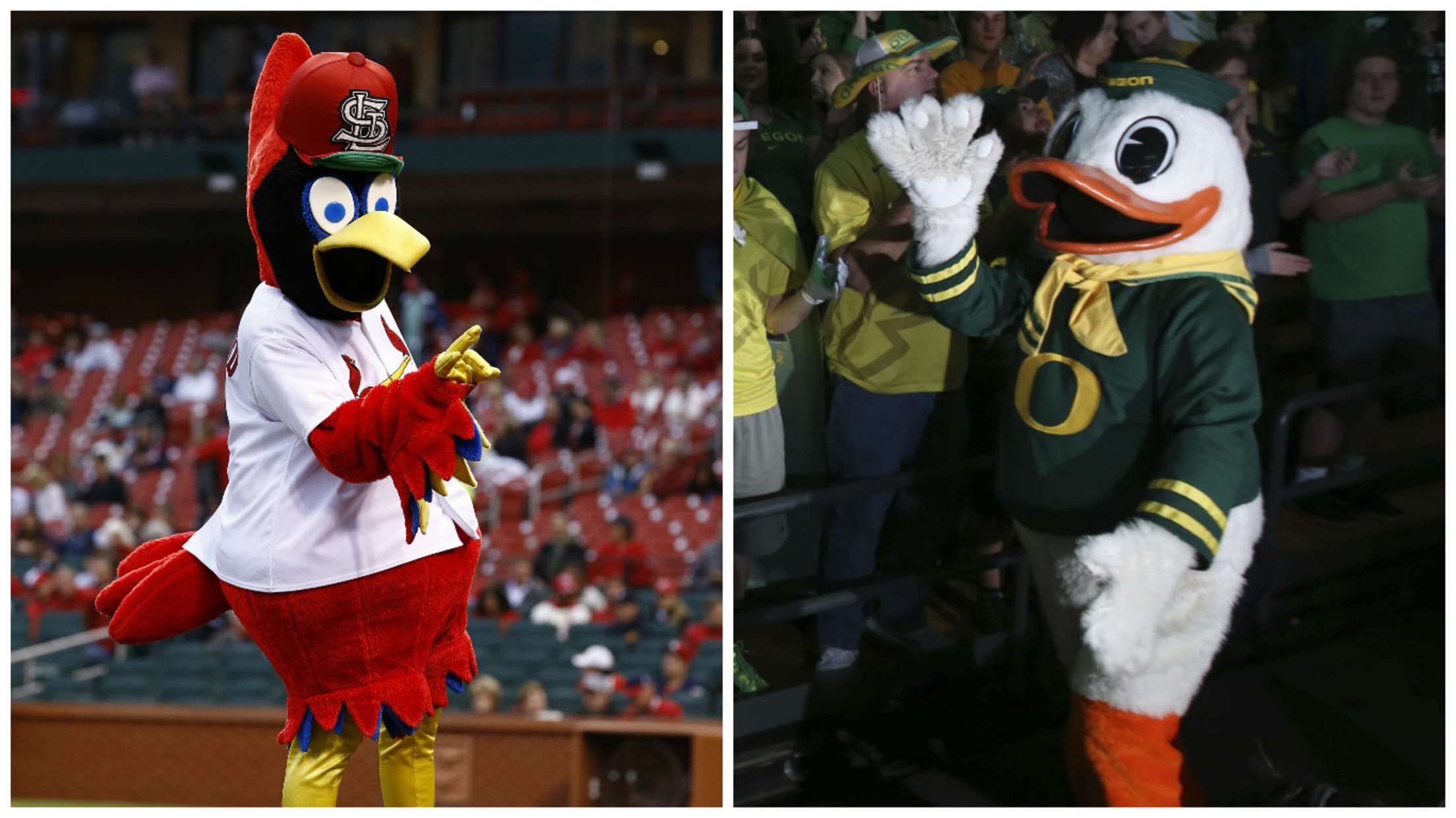 Cubs: Oregon hasn't reached the Final Four since 1939, a drought of 78 years. That's 30 fewer than the Cubs waited between World Series championships, but Wrigley fans can still sympathize.
D-backs: In 1999, Gonzaga won its first-ever NCAA Tournament game. Also in 1999, the D-backs won their first-ever postseason game. Neither ended up winning it all that year, but we'll say the fortunes of both became inextricably linked forever. So, D-backs fans should definitely be rooting for the Bulldogs.
Dodgers: The last time the Dodgers missed the postseason was 2012, and they've won the NL West four seasons in a row. They can probably appreciate the dominant streak North Carolina is on, making the NCAA Tournament every year since 2011.
Giants: Well, if Dodgers fans are rooting for North Carolina, then Giants fans should probably root for Oregon. Plus, it's basically a straight shot from AT&T Park to the Ducks' campus, so Giants fans can be there to help 'em celebrate.
Indians: Between the Indians and Red Sox, Terry Francona has now led two different teams to the World Series. That sounds a lot like North Carolina head coach Roy Williams, who has taken both Kansas and UNC to the Final Four and who Cleveland fans should root for in solidarity.
Mariners: We're pretty sure all of Washington is pulling for Gonzaga anyway, but the Bulldogs appearing in their first-ever Final Four should give Mariners fans some hope that 2017 is the year they appear in their first-ever World Series.
Marlins: South Carolina head coach Frank Martin was born in Miami, so he might be a Marlins fan. Other Marlins fans should root for his team just in case.
Mets: All we're saying is that if North Carolina wins, there's a chance Matt Harvey brings back this mustache for the whole season:
Nationals: Like Stroman's allegiance to Duke, Bryce Harperis definitely rooting for Gonzaga to exact some revenge on the Gamecocks. So should Nats fans.
Orioles: Gonzaga is led by Nigel Williams-Goss, who led the team with 23 points in its Elite 8 win over Xavier. The only Nigel currently active in professional baseball is Orioles Minor Leaguer Nigel Nootbaar, and that's as good a reason as any to root for the Bulldogs.
Padres: If fans in San Diego are going to root for anyone, they're going to root for the team with the balmiest climate. That's South Carolina.
Phillies: Will Phillies fans root for South Carolina to represent departed No. 1-seed Villanova's East Region? We're not sure, but they should.
Pirates: Top prospect Tyler Glasnowcan dunk:
Due to my eligibility status I have decided to pursue my dream playing division 4 basketball in Mozambique 🇲🇿 pic.twitter.com/1kLyvsV8nH

— Tyler Glasnow (@TGlasnow) November 30, 2016
Which means he probably grew up dreaming of dunking in the Final Four. He also had a commitment to the University of Portland, which is in Oregon, before he signed with the Pirates in 2011, so it's not too much of a stretch to say Glasnow -- and Pirates fans -- should root for the Ducks this year.
Rangers: Every time someone touches Adrián Beltré's head, he tries to duck out of the way.
Duck … ducks … Oregon? Oregon.
Rays: Kevin Kiermaier roots for upsets in his bracket, so he and Rays fans should root for South Carolina to go all the way.
Red Sox: Jackie Bradley Jr. is a proud South Carolina alum, and unless they want to end up likeBrian Johnson and Austin Maddox, the Red Sox and their fans should be rooting for the underdogs.
Reds: Gonzaga boasts an unusual number of redshirt players on its roster this season. The Reds will also boast a lot of redshirted players this season, literally.
Rockies: Greg Holland, who signed with the Rockies in January, is a North Carolina native. Rockies fans should make him feel welcome by rooting for his home state in the Final Four.
Royals: When we asked Major Leaguers to give their March Madness picks at the beginning of the tournament, Royals utility man Whit Merrifield predicted that Oregon would make a run. He's been right so far, and Royals fans should be pulling for Merrifield's pick.
Tigers: The timing of this tweet from Justin Verlander suggests it was likely his reaction to the last-second (or last-half-second) North Carolina victory over Kentucky in the Elite 8.
Wowwwwwww

— Justin Verlander (@JustinVerlander) March 26, 2017
He probably wants to see more of that in the Final Four, and Tigers fans want what Verlander wants.
Twins: This is PJ Dozier, starting guard for South Carolina.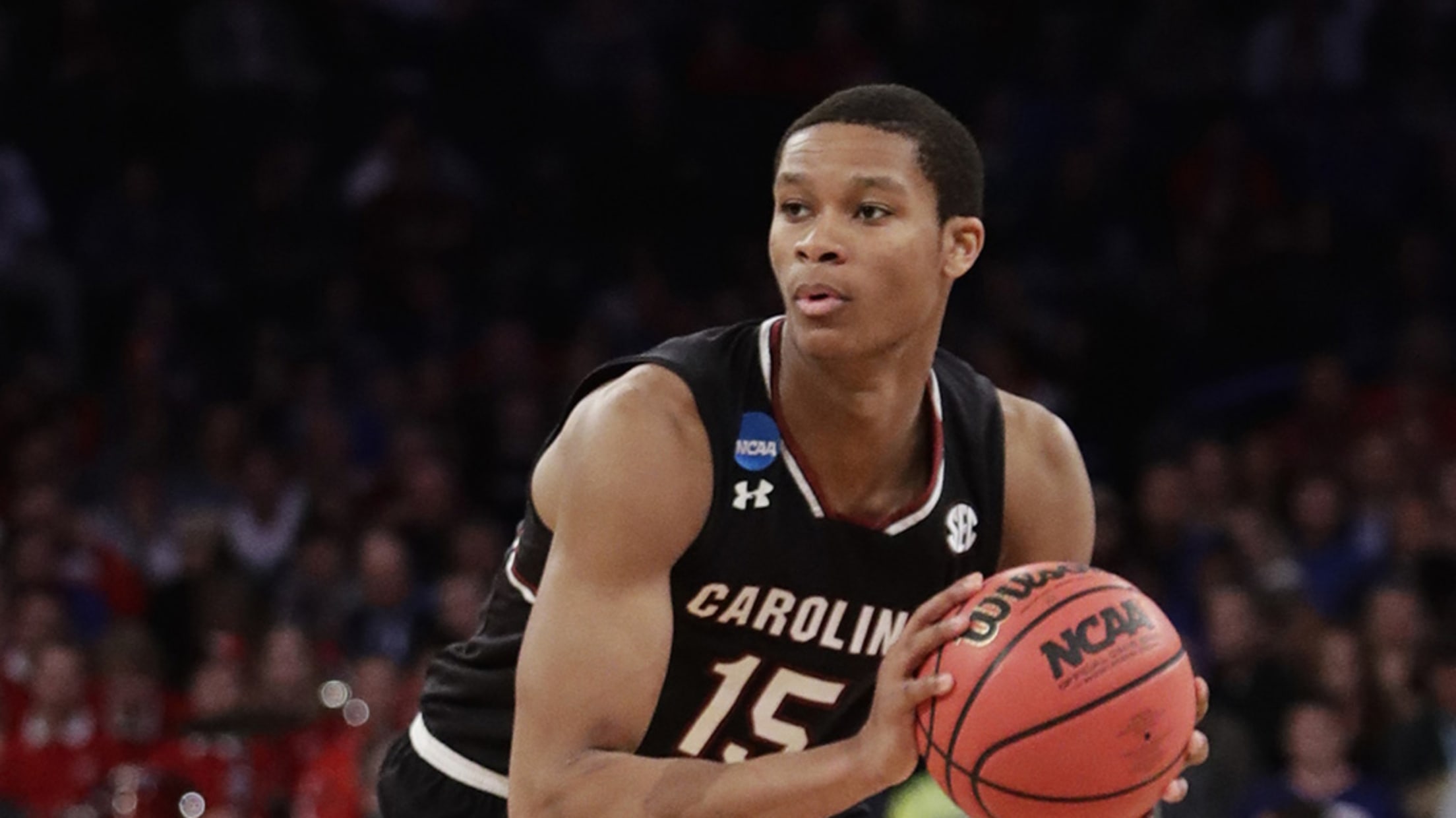 He is probably not related to second baseman Brian Dozier, but Twins fans should root for him and the Gamecocks anyway.
White Sox: First baseman José Abreu has a very adorable bulldog named Limbo.
Limbo is likely rooting for the Gonzaga Bulldogs, and so should White Sox fans.
Yankees: Not only is North Carolina the most decorated team in this year's Final Four -- just as the Yankees are arguably MLB's most decorated team -- but the last time UNC won the championship was in 2009, just seven months before the Yankees won their most recent World Series.