Let's remember all the times a pitcher very nearly threw a no-hitter in 2017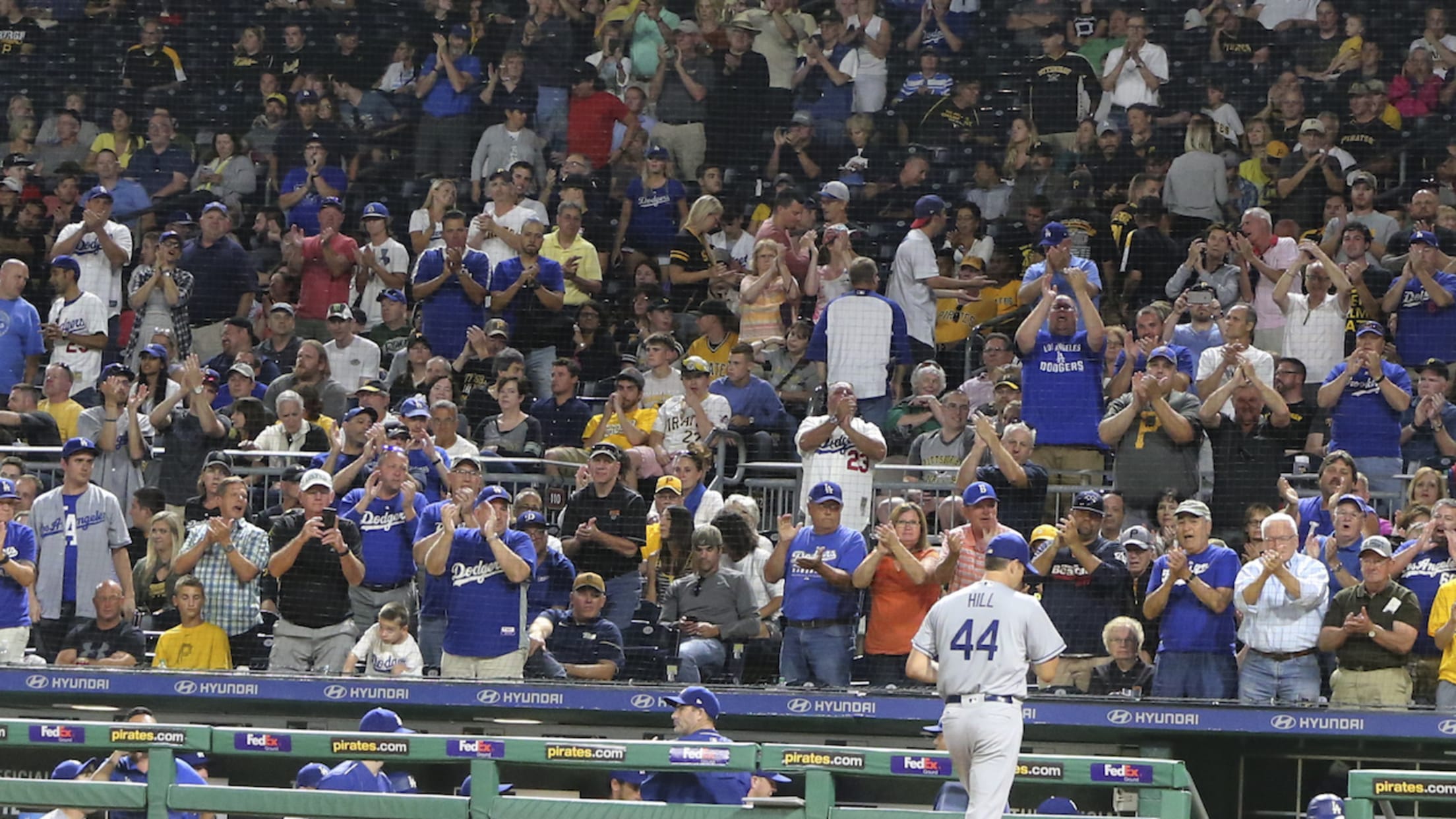 Los Angeles Dodgers starting pitcher Rich Hill heads to the dugout after retiring the Pittsburgh Pirates in the ninth inning without giving up a hit in a baseball game, Wednesday, Aug. 23, 2017, in Pittsburgh. Hill gave up a home run to the first batter he faced in the tenth, Pittsburgh Pirates' Josh Harrison, and the Pirates won 1-0 in ten innings. (AP Photo/Keith Srakocic) (Keith Srakocic/AP)
Edinson Volquez's 98-pitch gem against the D-backs in June turned out to be 2017's only no-hitter. But that number could've been much higher: Pitchers took a no-hitter into the ninth inning a whopping six times this season, only to watch their shot at history spoiled right before the finish line. (And Max Scherzer, Brett Anderson and Zack Greinke lost no-hitters in the eighth.)
Since we'll have to wait at least a few more months before we get our next #NoHitterWatch, let's celebrate the ones who came up just short this year -- starting with a guy who actually threw nine no-hit innings.
Rich Hill
Hill was nearly perfect on Aug. 23 against the Pirates. Through nine innings, he struck out 10 while surrendering no hits or walks -- Pittsburgh's only baserunner came as the result of a ninth-inning error. The famed Rich Hill Curveball, meanwhile, was in rare form:
There was just one problem: The Dodgers couldn't get him a run.
The game went to extra innings scoreless, and when Hill came out for the 10th looking to preserve both his no-hitter and the tie score, he was greeted by a walk-off homer from Josh Harrison:
Kyle Freeland
A Denver native, Freeland had plenty of friends and family in attendance as he attempted to throw the first no-hitter in Coors Field history. It wasn't the most efficient outing: The lefty walked Yolmer Sánchez to lead off the sixth, then walked two more in the seventh. Time and time again, though, he fought through -- seemingly on pure adrenaline:
He retired the first batter in the ninth, just two outs away from history. And then, on his 126th pitch, Melky Cabrera dunked a soft line drive into left field. He didn't get his no-hitter, but the standing ovation was a pretty good consolation prize:
Gio Gonzalez
It wasn't an ordinary game for the Nationals and Marlins on July 31, 2017. It would have been José Fernández's 25th birthday, and with his late friend weighing heavily on his mind -- in their hometown of Miami, after meeting with Fernandez's family earlier that day -- Gonzalez pitched the game of his life.
The lefty walked three, but he induced weak contact all day, and with some help from his defense, he entered the ninth inning three outs away from his first career no-hitter. Dee Gordon, though, led off the frame with a single:
Even though he was on the road, he still got a standing ovation as he left the mound:
Matt Boyd
There's plenty of heartbreak on this list, but Boyd is the only pitcher who had his no-hitter broken up with two outs in the ninth -- which is about as cruel as it gets.
Boyd was fantastic against the White Sox, striking out five and walking just one batter over his first eight innings. Adam Engel popped out to lead off the ninth, and a Kevan Smith groundout brought Boyd just one out away from his first no-hitter. Tim Anderson, however, had other ideas:
Mike Foltynewicz
No team prevents no-hitters like the A's: Entering play on July 1, Oakland had gone a whopping 4,138 games without giving one up -- a span of 69 no-hitters, including one against every other MLB team.
It looked like Foltynewicz was going to be the pitcher to break that streak. The righty took a 3-0 lead and a no-hitter into the bottom of the ninth, thanks to a whole lot of high heat:
With just three outs left, though, a hero emerged: Oakland rookie Matt Olson.
The Marlins' pitching staff
Wei-Yin Chen missed two months of the 2016 season with an elbow sprain. So, when he finished the seventh inning of his start against the Mariners at an even 100 pitches, manager Don Mattingly pulled him from the game -- even though he had a no-hitter going.
"It really wasn't that hard of a decision," Mattingly told MLB.com's Joe Frisaro after the game. "I'd love to see him throw a no-no. If he's at 70 [pitches] going into the eighth, or he's at a range that's closer, I'm going to give him a shot at it. But not when he's there. I can't do that to him, and I can't really do it to our club."
His teammates nearly picked up the slack. Brad Ziegler worked a clean eighth, and Kyle Barraclough got the first out of the bottom of the ninth. Alas, Mitch Haniger then stepped up and smacked a double to right: