These were our favorite tweets from the baseball world in 2017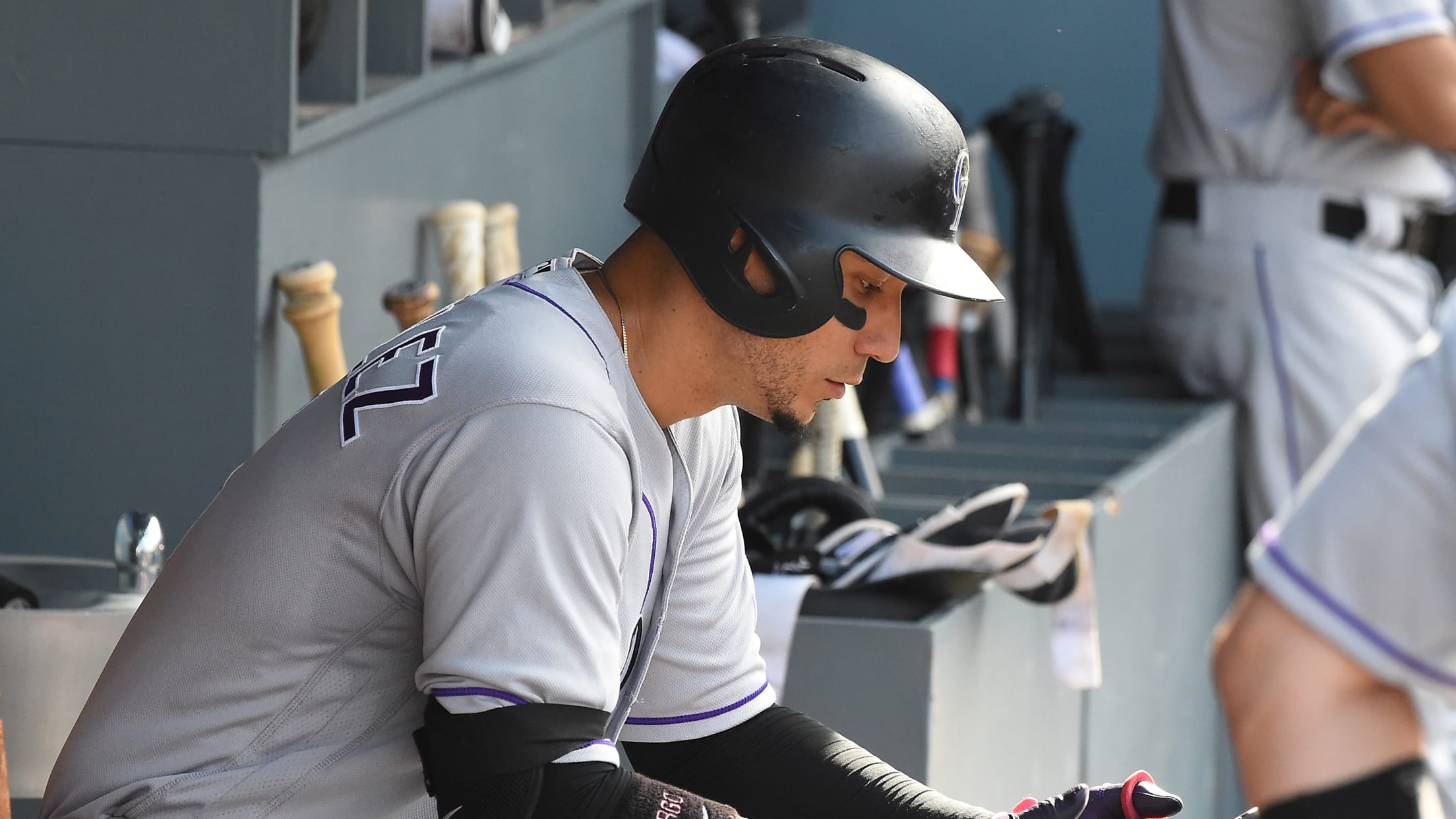 <> at Dodger Stadium on September 10, 2017 in Los Angeles, California. (Jayne Kamin-Oncea)
A lot of things happened in the baseball world in 2017, but more importantly a lot of things also happened on Twitter in the baseball world in 2017. As the year draws to a close, we thought we should take a look back at some of the best baseball tweets from the year gone by.
@JustinVerlander and @faridyu -- The Trade Deadline
Two of the most iconic tweets of the season were seen as innocent selfies at the moment they were tweeted. Both Justin Verlander and Yu Darvish were aware of the trade rumors swirling around them at the deadline, and both wanted to let their followers know that they were still safe and sound with their respective teams. Of course, we know what happened next.
Both would ultimately be traded -- Darvish just minutes later, while Verlander took a few more weeks -- and both wound up pitching in the World Series a couple months later.
10min!! pic.twitter.com/gwP7qwvh8d

— ダルビッシュ有(Yu Darvish) (@faridyu) July 31, 2017
**BREAKING** Source: I'm still in the Tigers locker room. https://t.co/2XJu9v3cHz pic.twitter.com/g86ra4u1C4

— Justin Verlander (@JustinVerlander) July 31, 2017
@Mariners -- When 280 Characters Happened
When Twitter announced its character limit would be extended from 140 to 280, there was communal uneasiness regarding how we would go about using the extra space. One thing we knew we could count on was teams like @Mariners using their newfound freedom wisely and efficiently:
┳┻|
┻┳|
┳┻|
┻┳|
┳┻|
┻┳|
┳┻|
┻┳|
┳┻|
┻┳|
┳┻|
┻┳|
┳┻|
┻┳|
┳┻|
┻┳|
┳┻|
┻┳|
┳┻|
┻┳|
┳┻|
┻┳|
┳┻|
┻┳|
┳┻|
┻┳|
┳┻|
┻┳|
┳┻|
┻┳|
┳┻|
┻┳|
┳┻|
┻┳|
┳┻|
┻┳|
┳┻|
┻┳|
┳┻|
┻┳|
┳┻|
┻┳|
┻┳|
┳┻|
┻┳|
┳┻|
┻┳|
┻┳|
┳┻|
┻┳|
┳┻|
┻┳|
┻┳|
┳┻|
┻┳|
┻┳|
┳┻|
┻┳|
┳┻| _
┻┳| •.•) This is a bad idea.
┳┻|⊂ノ
┻┳|

— Seattle Mariners (@Mariners) September 27, 2017
@TheJudge44 - Best Friends
The trade of Giancarlo Stanton to the Yankees was the biggest electric jolt to start the offseason. For Yankees fans, the thought of two enormous, tater-inducing monsters roaming the corner outfield spots in Yankee Stadium next year is nothing short of a dream. After the trade broke, Judge took to the internet machine to welcome his new teammate:
Hey @Giancarlo818....👊 pic.twitter.com/0542MWBIpv

— Aaron Judge (@TheJudge44) December 9, 2017
@Yankees -- 27 Rings
Other teams, meanwhile, opted to use their 280 to remind friends and followers just how many World Series titles they've won. Can't say we blame them.
2009
2000
1999
1998
1996
1978
1977
1962
1961
1958
1956
1953
1952
1951
1950
1949
1947
1943
1941
1939
1938
1937
1936
1932
1928
1927
1923

Wow. We've never been able to do that before! Thanks, @twitter. pic.twitter.com/4W1U7qpLlj

— New York Yankees (@Yankees) November 8, 2017
@Rockies -- Pi Day
Even for a team account as notoriously clever as @Rockies, this was a whole new level. This perfect Pi Day tribute is, sadly, Photoshopped, but it is funny to imagine Bud Black trying to explain to his players where they needed to stand for the photo to work.
What are the chances!?#PiDay pic.twitter.com/xJJz8tsAn3

— Colorado Rockies (@Rockies) March 14, 2017
@BMcCarthy32 -- Seinfeld is Watching
McCarthy appears regularly on most "Best of Twitter" lists, but this observation still takes the cake as his best tweet of 2017. Add in the whole Cody Bellinger Doesn't Know Seinfeld saga that followed, and it stands out even more.
Its ridiculous but when I start against the Mets I'm very aware that Jerry Seinfeld's mood is in my hands.

— Brandon McCarthy (@BMcCarthy32) June 21, 2017
@RedSox -- All Rise
After watching their biggest rivals enjoy the meteoric rise of Aaron Judge from unproven rookie to national superstar, it was no surprise to see @RedSox take an opportunity to poke a little fun when Jackie Bradley Jr. made an unbelievable catch to rob Judge during a July game against the Yankees.
All Rise. pic.twitter.com/gI1cAWZDAH

— Red Sox (@RedSox) July 17, 2017
@MeLlamoTrevor -- Trevor Williams Logs On
It wasn't just a stellar year on the field for Pirates rookie right-hander Trevor Williams. He made his presence known in your Twitter feed as well. Our favorites include:
Bae: Come over, babe. Nobody is home
Me: I can't. I have to pitch
Bae: But I just got Bee Movie extended version on DVD
Me: pic.twitter.com/k6UCBPQc4I

— Trevor Williams (@MeLlamoTrevor) February 24, 2017
You: "You can't possibly pet ALL the dogs in the world"

Me: pic.twitter.com/bbQqYATqAd

— Trevor Williams (@MeLlamoTrevor) September 15, 2017
I've been building my son's trust for two yrs with high-fives. Today I'm going to hit him with a "too slow". Welcome to the real world, son.

— Trevor Williams (@MeLlamoTrevor) October 6, 2017
Oh you're a big fan of the rule 5 draft? Name 3 of their songs.

— Trevor Williams (@MeLlamoTrevor) December 14, 2017
@Phillies -- Nick Pivetta Shoots His Shot
Thankfully, @Phillies didn't opt to go the Michael Scott route with this one:
"You miss 100% of the shots you don't take.
-Wayne Gretzky"
-@Phillies #WednesdayWisdom pic.twitter.com/F5Eiya7jIb

— Philadelphia Phillies (@Phillies) November 29, 2017
@MLB -- Game 5 Doctor's Note
Game 5 of the World Series was an instant classic -- an outrageous, beautiful mess of a baseball game that we will all remember for a very long time. But in the immediate aftermath of Alex Bregman's 10th-inning walk-off single, none of us really knew how to feel. After five hours and seventeen minutes of drama and chaos, it was nearly impossible to return to normal life. Luckily, @MLB did us all the favor of writing the ultimate doctor's note:
We got you, fam. #WorldSeries pic.twitter.com/8jAB725PLA

— MLB (@MLB) October 30, 2017