Watch rare footage of the Giants' final game at the Polo Grounds in vivid color
From 1891 to 1957, the New York Giants played their home games at the Polo Grounds -- a grand, sprawling stadium located just across the Harlem River from the site of Yankee Stadium. (Well, technically three different Polo Grounds -- the first two sites were eventually demolished -- but we digress.)
The team won 14 NL pennants and five World Series championships and saw some of the game's most iconic moments played out on its hallowed grass. Then, in 1957, it all came to an end. Seeking a new stadium, majority owner Horace Stoneham found a suitor in San Francisco, and that summer, he announced his decision -- the Giants were headed west.
On Sept. 29, for an otherwise anonymous season-ending loss against the Pirates, tens of thousands of New Yorkers came out to say goodbye to their beloved franchise. The New York Times captured the scene:
Thousands of fans responded to the final melancholy out by chasing their California-bound idols to the clubhouse--and carrying away everything on the field that could be moved. The mass pursuit was touched off by affection, excitement, nostalgia, curiosity and annoyance at the fact the team next year will represent San Francisco.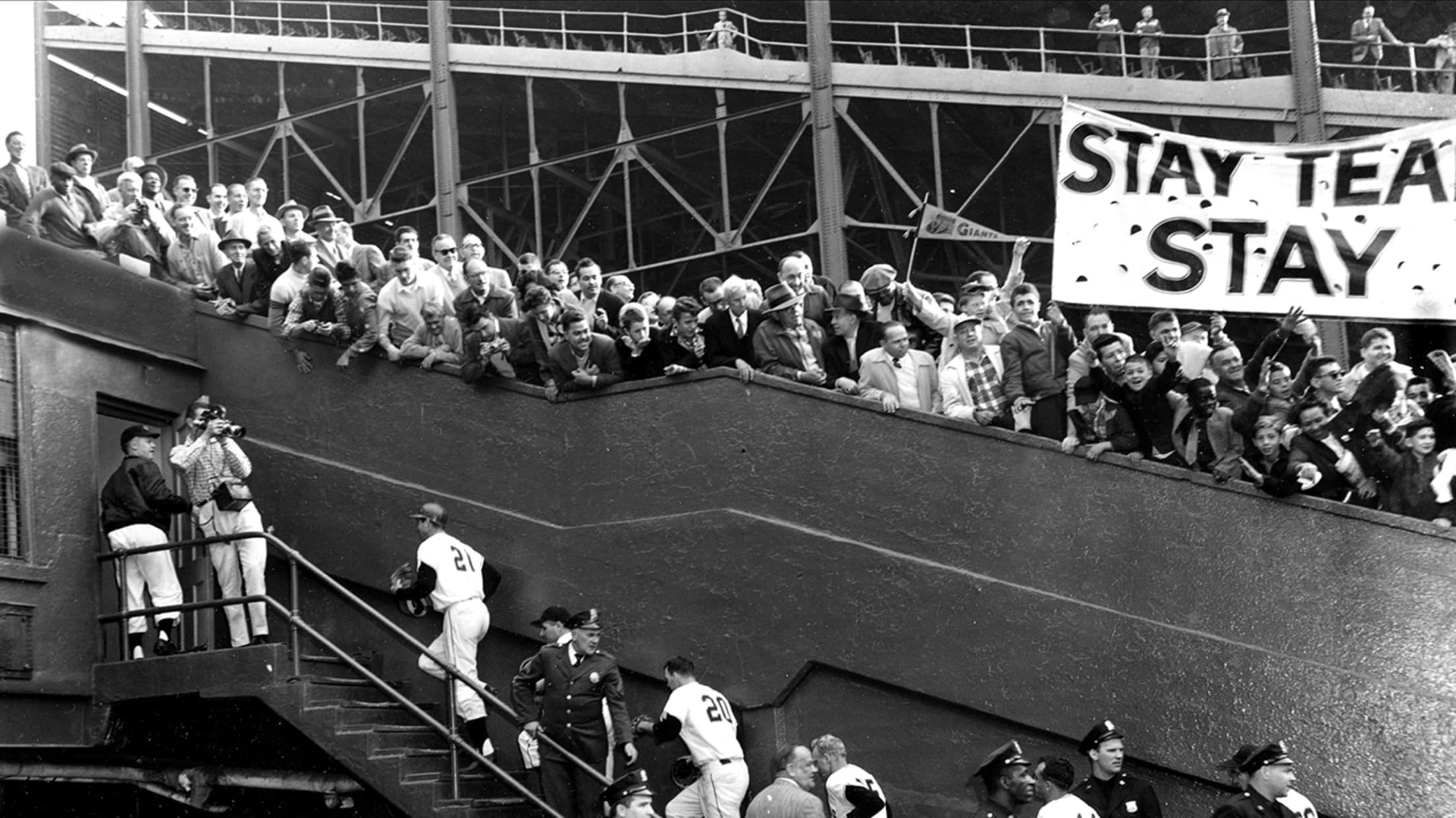 And now, we can experience the atmosphere that day like never before. The footage at the top of the post -- which includes Willie Mays signing autographs for a seemingly endless throng of fans -- was a home video shot by Moe Resner, who eventually included it in his film on the Giants' departure, "The End of an Era." Alas, it does not capture three young men somehow managing to pry Eddie Grant's monument from the depths of center field, so we'll just have to wait another day. (Don't worry, the police eventually got it back.)