We've got everything you need to see and hear from Vin Scully's final home game
We ignored the calendar. We slept with our pajamas inside out. We made sacrifices to the Baseball Gods. And yet, the day we hoped would never come is finally here: Vin Scully called his final home game on Sunday, as the Dodgers beat the Rockies with a bottom of the 10th walk-off, 4-3.
Scully's not hanging it up quite yet -- he'll call L.A.'s final series of the season in San Francisco next weekend -- but after 67 years as the narrator for the team, it's the end of an era. So, naturally, the Dodgers celebrated that ending the only way Vin would want: in style, and with plenty of smiles.
Vin's grandchildren stop by to surprise him in the booth. 😍 pic.twitter.com/L8iribaXGO

— Los Angeles Dodgers (@Dodgers) September 25, 2016
Some even took the opportunity to say thanks:
Thank you, #VIN.🎙 pic.twitter.com/7zZxxZM8ai

— Los Angeles Dodgers (@Dodgers) September 25, 2016
Of course, no Scully tribute could begin without one more "It's time for Dodger baseball" -- this time with plenty of help from Chavez Ravine:
One final #ITFDB with #VIN🎙at Dodger Stadium. pic.twitter.com/fmRyGJokHr

— Los Angeles Dodgers (@Dodgers) September 25, 2016
And Vin began his broadcast by letting the fans know that the feeling was definitely mutual: "I've always felt that I needed you much more than you needed me. And that holds true to this very day."
The Dodgers themselves wanted to get in on the act too, though. So, while each member of the lineup was stepping into the box, they took a moment to say thanks:
"Are they waving up here? Oh, that's terrific. Holy Mackerel." https://t.co/PUtj3aRfK6

— Los Angeles Dodgers (@Dodgers) September 25, 2016
Next, it was time for the historical documentation portion of the program. Because when you've been calling games for 67 years, your microphone and your scorebook are precious artifacts.
Vin Scully's OFFICIAL mic and scorebook. pic.twitter.com/xDxy0i1RAg

— MLB (@MLB) September 25, 2016
That happy ending was looking dire in the bottom of the ninth. Down 3-2, would the Dodgers send Scully off with a loss? Nope. Thanks to a massive Corey Seager home run, the game went to extras. And in the 10th inning, Charlie Culberson made the storybook ending with the NL West-clinching walk-off. Prepare to hear this call for eternity:
Scully's scorebook told the whole story: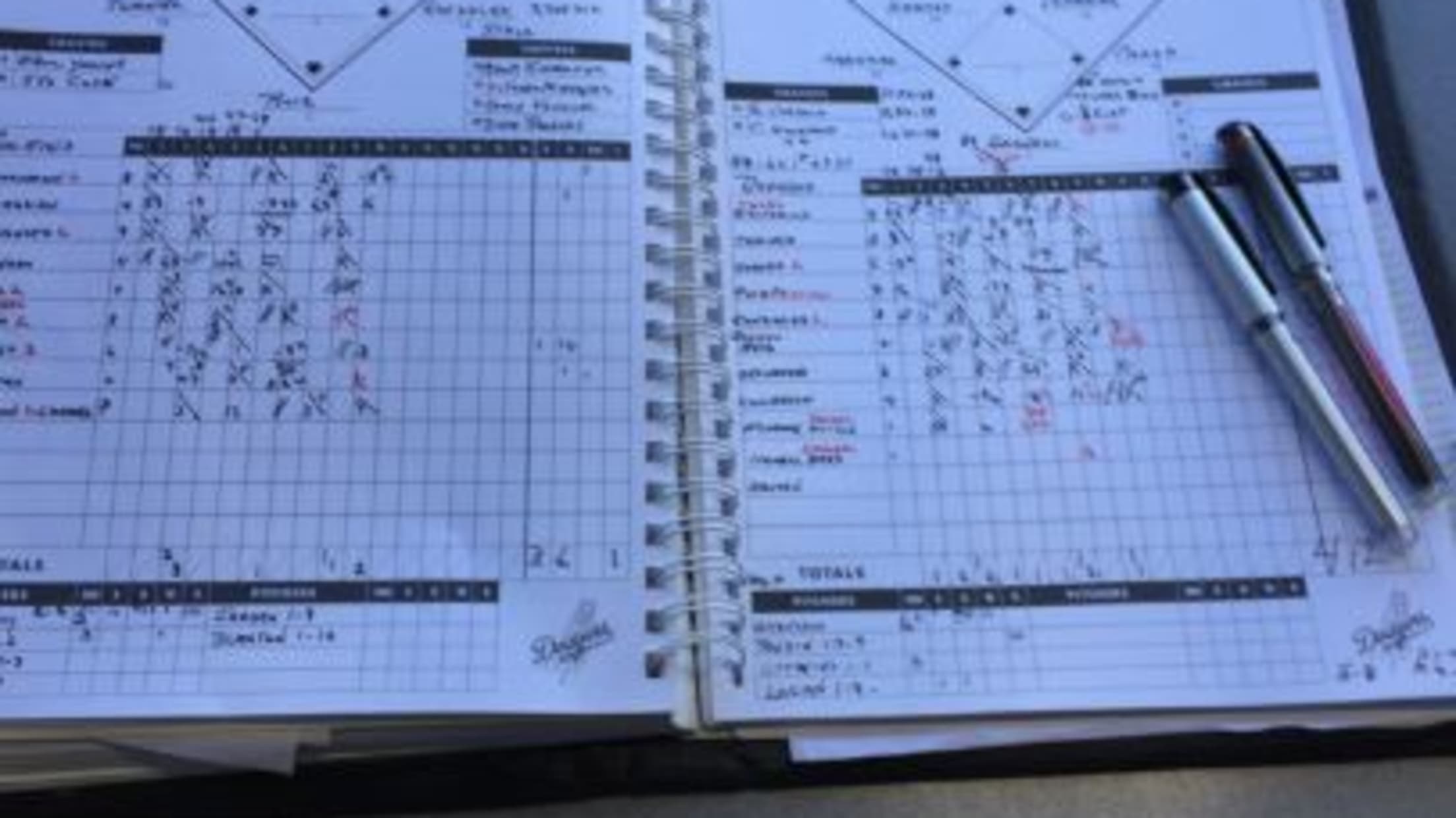 Before the clubhouse celebrations began though, the Dodgers gave Scully a fitting sendoff:
And Scully got to say goodbye to the Dodger Stadium faithful one last time. Which meant listening to him singing "The Wind Beneath My Wings."
If the tears haven't started flowing yet, well, they might start when you watch Vin walk out of his press box one final time.
Vin Scully walking out of the Dodger Stadium broadcast booth for the last time. pic.twitter.com/fkQRGNyxVg

— Arash Markazi (@ArashMarkazi) September 26, 2016