Say goodbye to Vin Scully with the best moments from the Dodgers' pregame ceremony
We never wanted this weekend to come, but sadly, it had to. With this weekend marking Vin Scully's final three home games broadcasting Dodgers games, the team -- and really, the whole city -- came together to say goodbye. While he'll still be around next week to call the team's games in San Francisco, with the Giants' radio network even airing Scully's call in the third inning on the season's final day, it just won't be the same.
So, after 67 years of service, going back to when they were the Brooklyn Dodgers and had yet to win a World Series, the Dodgers helped send Vin into retirement in style.
The Dodgers made sure the field had "VIN" sprayed onto it.
Really cool @Dodgers did for tonight's game #VinScullyDay #Respect pic.twitter.com/4GZLE5Z4ln

— Kevin Millar (@KMillar15) September 23, 2016
And players took an opportunity to take a photo with him:
Of course. #VIN pic.twitter.com/3fYGZqEjO0

— Los Angeles Dodgers (@Dodgers) September 23, 2016
And, of course, Scully wrote a letter that was every bit as touching, charming and amusing as his broadcasts:
To you, from #VIN.🎙 pic.twitter.com/DNlwUKUmMc

— Los Angeles Dodgers (@Dodgers) September 23, 2016
Colleagues and writers made sure to take part, with fellow retiring brodcaster Dick Enberg perfectly summing Scully up: "Vin is that favorite sweater of yours that you can't wait to put on on a chilly day. Just makes you comfortable every time you hear his voice."
When he came out on the field, the response was deafening.
Vin Scully walking onto the field to a standing ovation that lasted more than two minutes. pic.twitter.com/QaWbb25Q8I

— Jesse Dougherty (@dougherty_jesse) September 24, 2016
Mayor Eric Garcetti gave Scully the key to the city, Commissioner Rob Manfred, on behalf of MLB, donated $50,000 in Scully's name to the Jackie Robinson Foundation and Sandy Koufax admitted that "As many times as I've been on this field, I've never been this nervous."
Clayton Kershaw followed that other great lefty and admitted that he was also plenty nervous, thanking him for painting a picture with his words every night. Kevin Costner, star of some of the best baseball movies ever made in "Field of Dreams," "Bull Durham," and "For The Love of the Game," then took the podium and showed off his penchant for talking about baseball as if it were poetry. He also made sure to thank Vin for calling the no-hitter in "For the Love of the Game."
If you want to know the kind of effect that Vin had on fans, all you need to do is search "Vin" and "Cry" on Twitter to see the hundreds, if not thousands, of fans who miss him before he's even gone.
oh god vin isn't even on the stage yet and i'm already trying not to cry

— Lana Berry (@Lana) September 24, 2016
It was even harder for those in the crowd:
When the Vin kicks in. pic.twitter.com/7OaMII6tcH

— Cut4 (@Cut4) September 24, 2016
Though some fans ... marked the occasion in their own unique way: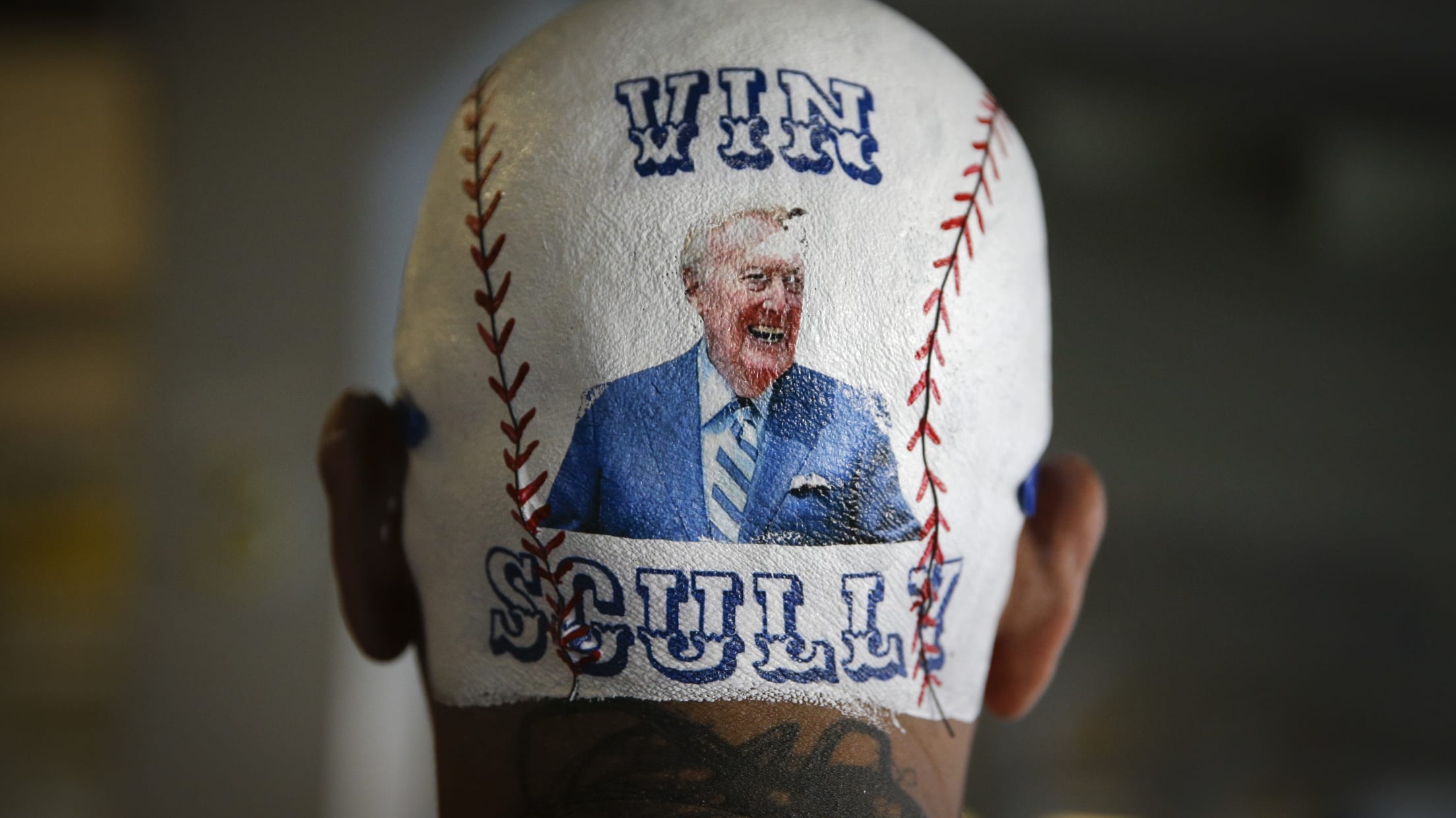 After all that buildup, the man of the hour took the mic. With 67 years of experience, Scully opened in the way only he could: "Aw, c'mon. It's only me," he said, deflecting the attention away form himself. He then proceeded to mix charm with wit, humor with emotion, as he thanked the fans and looked forward to his future.
You better believe he capped off his speech with "It's time for Dodger baseball," too:
When it came time for the National Anthem, who else should conduct the orchestra than John Williams? After all, Vin Scully is the "Star Wars," "Jurassic Park," "Jaws" and "ET" of baseball broadcasters.
Be sure to watch every Dodgers broadcast until the end of the year. While great broadcasters may come and go, there will certainly never be another Vin Scully.