Begin your Vin Scully Weekend with some of the broadcaster's funniest calls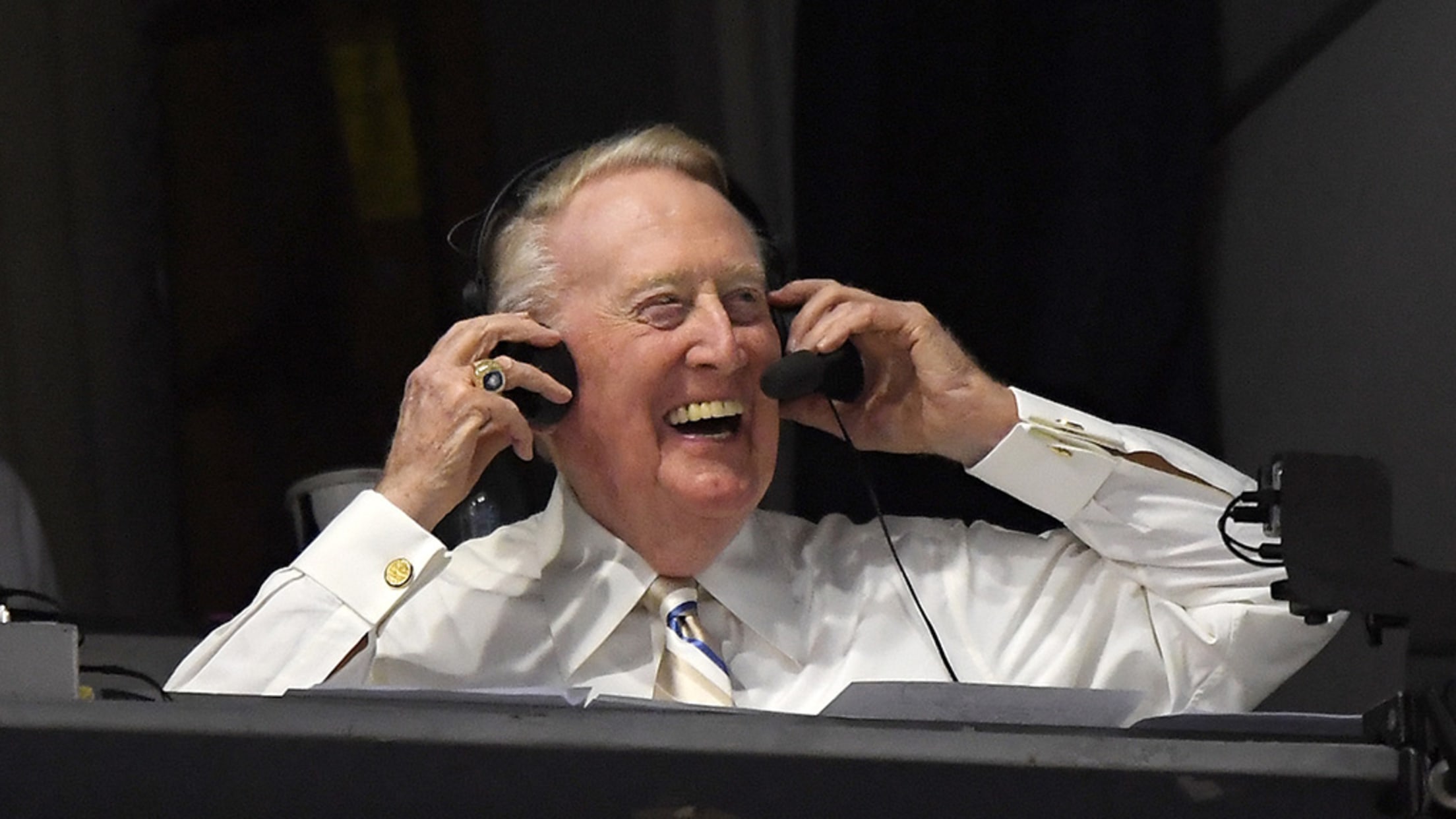 Los Angeles Dodgers' Hall of Fame announcer Vin Scully puts his headset on prior to a baseball game between the Los Angeles Dodgers and the San Francisco Giants, Monday, Sept. 19, 2016, in Los Angeles. (AP Photo/Mark J. Terrill) (Mark J. Terrill/AP)
Vin Scully's unmatched prowess at calling baseball games is well documented, as is his fondness for relaying illuminating stories about everything from the players on the field to the fans in the stands. But there is an aspect of Scully's ability that remains, in this blogger's humble opinion, underrated: His comedic chops.
Sure, Scully's gravitas can cement a call in the annals of history, but he also knows when a moment calls for levity. So, as the Dodgers get set to celebrate Vin Scully Weekend -- complete with Vin Scully Appreciation Day on Friday and his very own edition of Dodger Insider on Sunday -- we present to you 10 of his funniest calls from the past few years:
1. The beards
The date was April 7, 2015. Padres reliever Dale Thayer took the mound with the game tied, 2-2, against the Dodgers' Justin Turner at the plate. Surveying the action, Scully had something to say:
"I'm absolutely amazed ... about the beards."
2. Goodbye, Mr. Sun
Hey, what was he supposed to say during a sunset?
3. Scully goes up an octave
And now, here is Scully's impression of an umpire who just took a foul ball very close to a certain nether region.
4. Twins! (But not the baseball team)
Scully is always delighted when presented with a cute baby baseball fan. This time, there wasn't just one:
5. The definition of G.O.A.T.
Surprisingly, Scully wasn't talking about himself.
6. Scully down under
Do you think Scully does a good Crocodile Dundee impression?
7. #VinScully
In 2013, Scully was flummoxed by hashtags, but don't worry -- by 2016, he figured finally them out.
8. "What was that?"
Scully's reaction to Steven Wright's knuckleball is less baseball broadcasting and more "I just discovered an alien species."
9. Koala
Scully's 2014 trip to Australia provided a lot of good moments, but his narration of the time he met a koala bear is definitely the most adorable:
10. Selfies
Scully knows a good selfie when he sees one.