Six of the weirdest ejections in baseball history and the even weirder stories behind them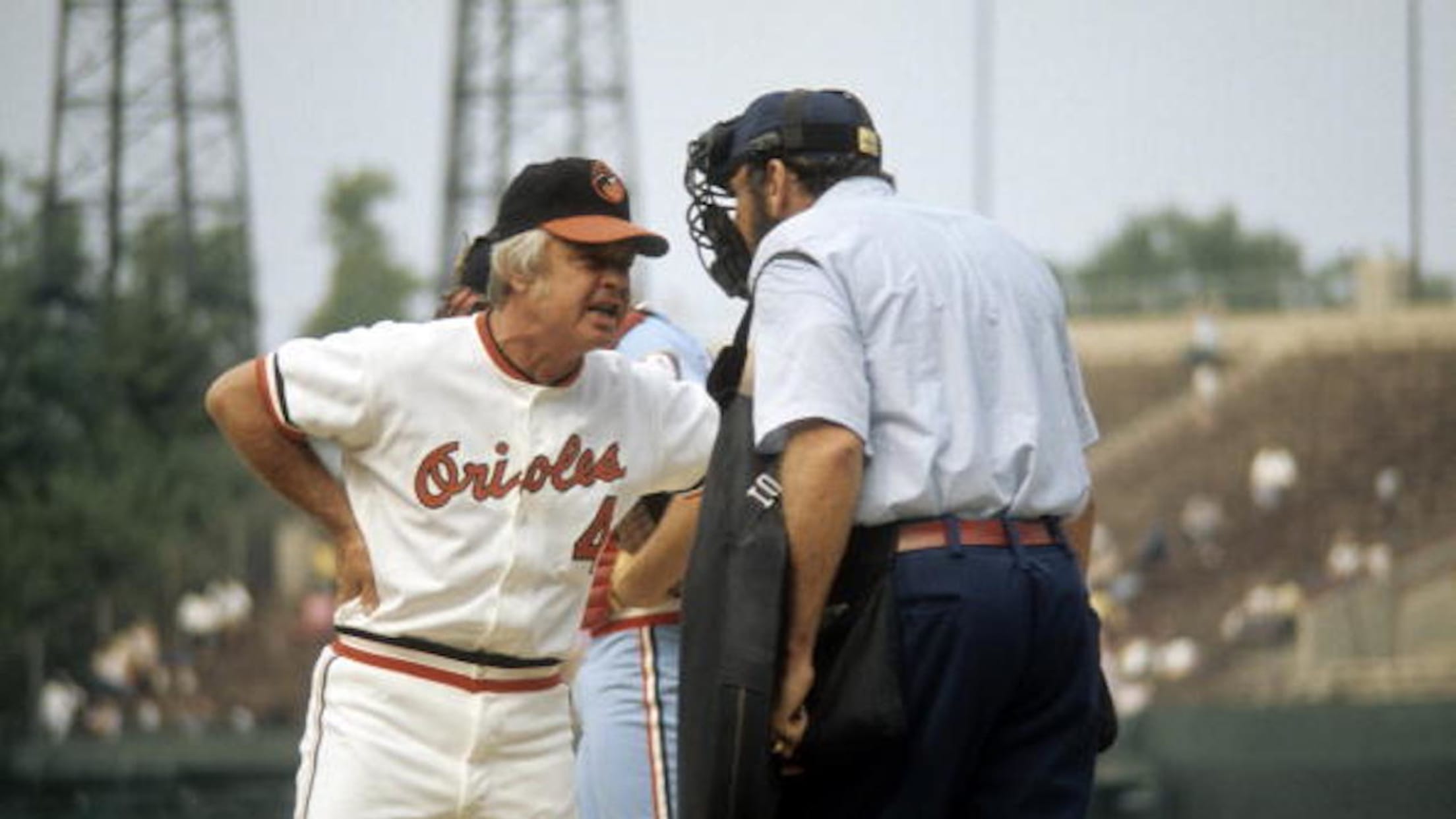 BALTIMORE, MD - CIRCA 1970's: Manager Earl Weaver #4 (L) of the Baltimore Orioles arguing with the home plate umpire during a MLB baseball game circa 1970's at Memorial Stadium in Baltimore, Maryland. Weaver Managed the Orioles from 1968-82 and 1985-86. (Photo by Focus on Sport/Getty Images) (Focus On Sport/Getty Images)
Almost three weeks ago, Adrian Beltre was ejected from a game against the Marlins for one of the most hilariously odd reasons imaginable: After umpire Gerry Davis ordered him to stand on the on-deck circle, he just went and dragged the on-deck circle to where he was already standing.
Alas, much as we do appreciate Beltre and his wide variety of shenanigans, that wasn't even the most bizarre way a player or manager has gotten the heave-ho. And to prove it, allow us to present six of the very weirdest ejections of all-time -- yes, even weirder than a man dragging an on-deck circle halfway across foul territory.
(Note: This isn't a list of the craziest responses to ejections -- alas, no Lloyd McClendon stealing the first base bag -- but rather the weirdest ways players and managers have found to get tossed in the first place.)
Earl Weaver, because of course
No list of ejections -- weird or otherwise -- would be complete without the Earl of Baltimore. Weaver was the master of the ejection: He got tossed from Spring Training games; he got tossed from World Series games; he even got tossed with a cigarette in his mouth. But in more than 15 years as manager of the Orioles, he always saved his best stuff for umpire Ron Luciano.
Their paths first crossed in Double-A in 1965, and they hit it off so well that Luciano tossed Weaver in all four games of the series. From there, the feud only grew -- the relentlessly fiery Weaver couldn't help but clash with Luciano, who was more of a happy-go-lucky kind of guy. ("He's about 3-foot-1," he once said of the manager. "I tell him to get his nose off my kneecap.")
Things continued apace when the two men reached the Majors: Between 1968 and 1976, Weaver was tossed by Luciano eight times, the last two of which somehow both came on the same day.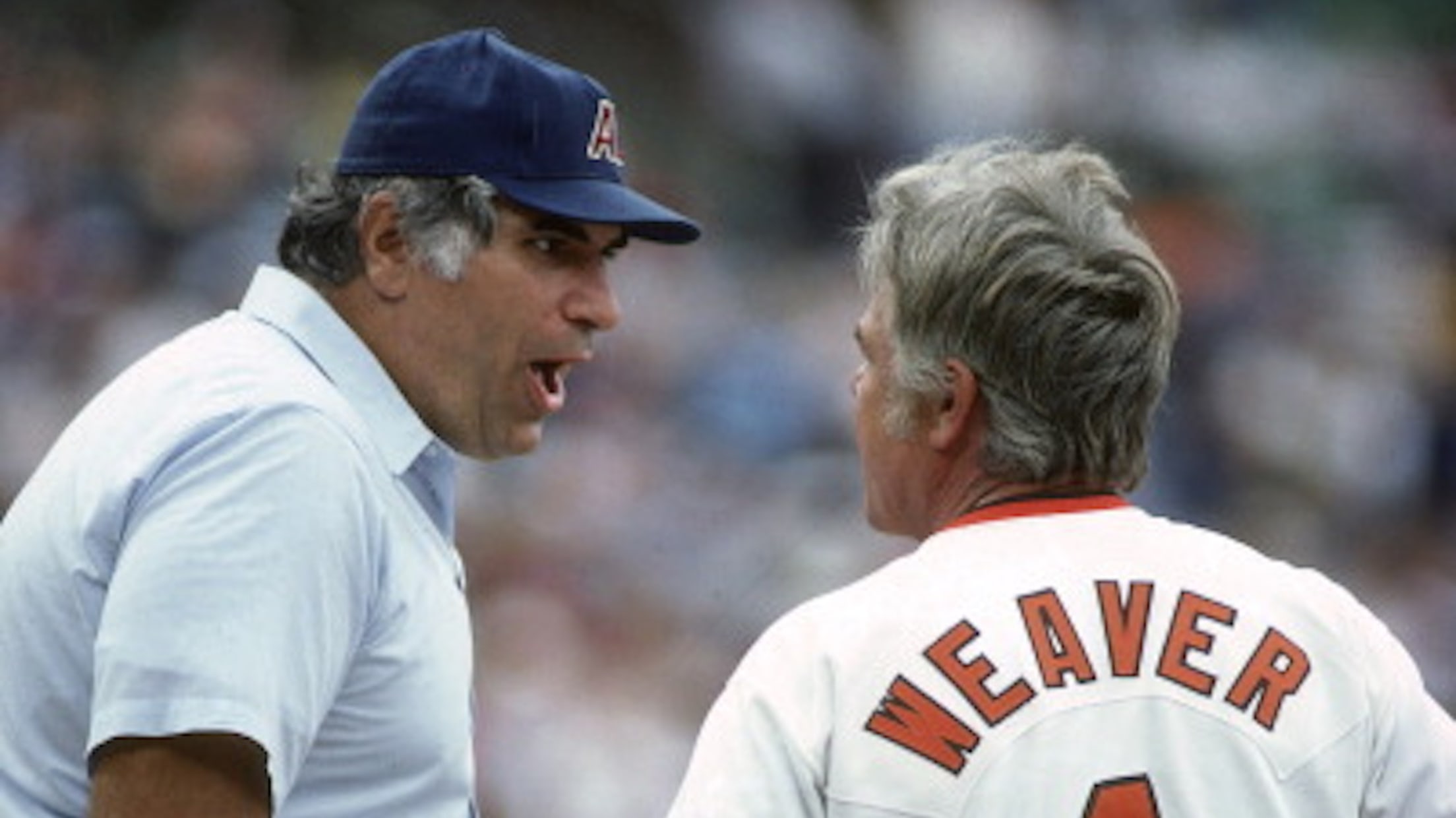 Luciano served as first-base umpire for the first game of a doubleheader between the Rangers and Orioles on Aug. 15, 1975. With Baltimore already down, 6-0, in the fourth, Luciano reversed an out call after ruling that first baseman Tony Muser had his foot off the bag. Naturally, Weaver disagreed: He stormed out of the dugout and got into it with his longtime nemesis, who eventually ejected him.
Weaver was hardly done, though. As he handed over his lineup card before the start of the nightcap, he couldn't resist getting into it with Luciano again, and was tossed before a single pitch was even thrown. Unfortunately for all of us, that turned out to be the very last Luciano-Weaver masterpiece: The American League moved Luciano off of Weaver's games for the 1976 season.
Padres manager Steve Boros makes use of video review
On June 5, 1986, veteran Padres first baseman Steve Garvey was ejected under controversial circumstances.
While Garvey was on-deck in the bottom of the seventh, teammate Bip Roberts was thrown out trying to score from third. Roberts strongly disagreed with the call, throwing his helmet down and yelling at home-plate umpire Charlie Williams -- while Garvey just happened to be walking up to the plate to take his at-bat. Williams mistakenly attributed one of Roberts' comments to Garvey and ran the latter from the game.
The whole affair didn't sit well with San Diego manager Steve Boros. But he wasn't about to get in a futile argument and add his own name to the ejection list. No, he wanted to confront Williams with proof: So, while coming out to exchange lineup cards the next day, he tried to hand Williams a video tape of the previous night's game. It went about as well as you'd expect:
Boros was ejected before a pitch was even thrown, but the Padres did win the game in 11 innings.
Jimmy Piersall cannot stop dancing
To call Jimmy Piersall a character would be a woeful understatement. Over a 17-year Major League career, the center fielder got up to all sorts of shenanigans, including but certainly not limited to dousing an opposing pitcher's offering in bug spray and celebrating his 100th homer by rounding the bases backward. Really, we have photographic evidence: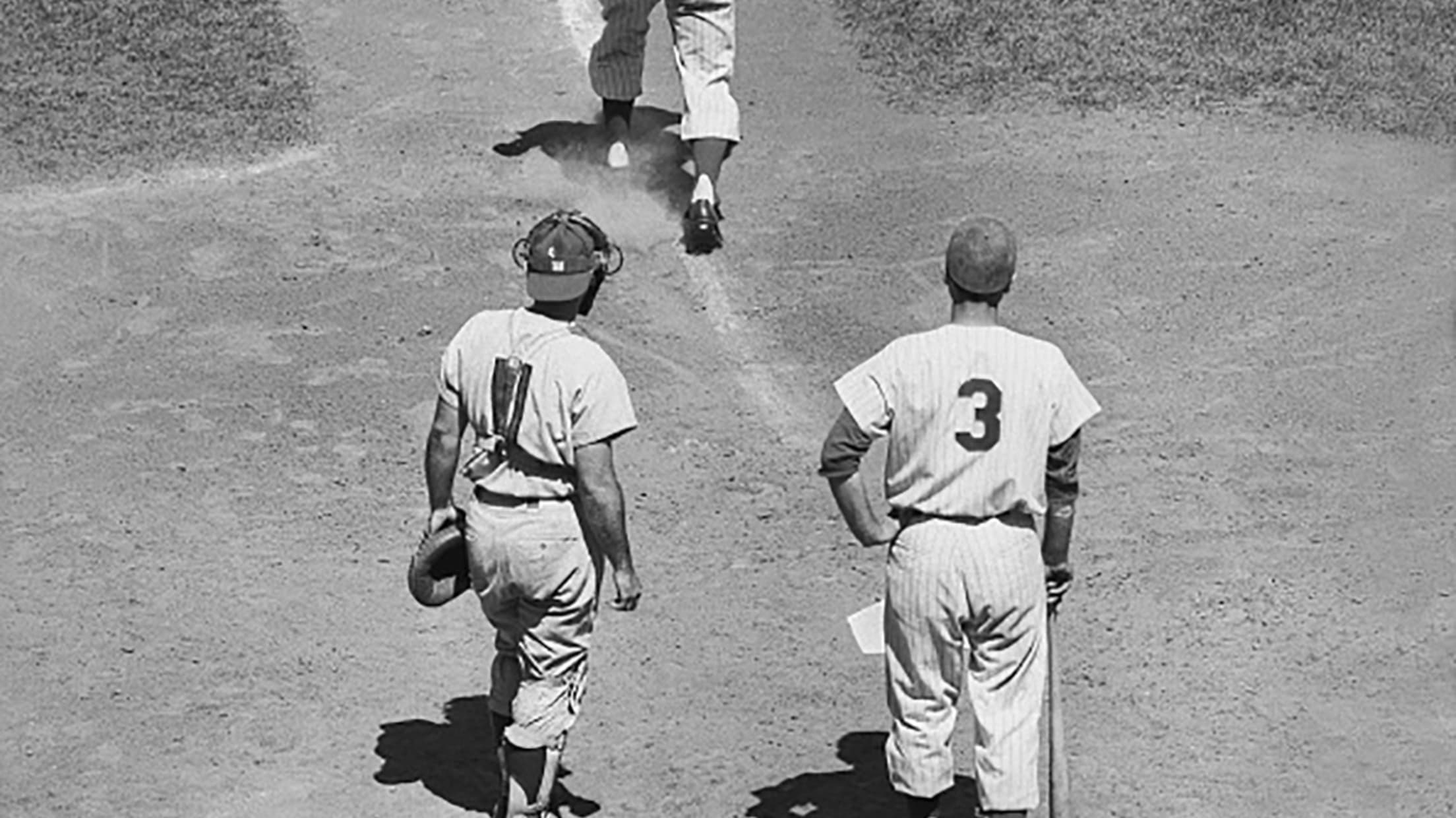 Piersall's review of his feat: "I did it good, too. I even shook hands with the first-base coach." Clearly this was a man intimately familiar with shenanigans. But on July 23, 1960, he managed to outdo himself.
With Piersall's Indians clinging to a 4-2 lead in the bottom of the eighth at Fenway Park, Ted Williams stepped to the plate representing the tying run. The situation was tense. The outcome hung in the balance. Piersall was willing to do anything he could to help his team prevail -- up to and including an outfield dance routine.
Just before the first pitch from Cleveland pitcher Jim Perry, Piersall started dancing out in center field, right in Williams' line of sight. The Splendid Splinter, equal parts irritated and confused, stepped out and appealed to home-plate umpire Eddie Hurley. Hurley ordered Piersall to stop, and when the outfielder refused, he tossed him out of the game: As it turns out, he had violated what is now Rule 4.06(b), which stipulated that "no fielder shall take a position in the batter's line of vision, and with deliberate unsportsmanlike intent, act in a manner to distract the batter."
Piersall was furious and didn't leave until he'd thrown his cap and glove up in the air. The incident didn't color Williams' opinion of him, though: He later claimed that Piersall was the best defensive outfielder he ever saw.
John Franco ... on John Franco Day
On April 29, 1996, beloved Mets closer John Franco pitched a clean inning against the Expos for his 300th career save -- at the time, he was the only left-handed pitcher to ever reach the mark. To celebrate the occasion, New York declared that its May 11 matchup with the Cubs would be John Franco Day, complete with a pregame ceremony. He would eventually play a role in the game itself ... just, uh, not the way he'd intended.
First, though, we need to back up a bit. New York had just met Chicago for a three-game series at Wrigley the week prior, and it did not go well for the Amazins. On Friday, the Mets took a 2-1 lead into the ninth only to be foiled by a walk-off dinger from Sammy Sosa:
Then, on Sunday, the Mets entered the bottom of the ninth tied at 4 ... only to again be foiled by a walk-off dinger from Sosa (off current Mariners GM Jerry Dipoto, no less):
As the team left Wrigley after the weekend, there were rumblings that Sosa's showboating had rubbed the Mets the wrong way. Tensions got even higher when Sosa homered again in the first inning on May 11, just minutes after Shea Stadium had finished honoring Franco. And that's when the beanballs started.
In the bottom of the first, Cubs starter Kevin Foster threw high and tight at Mets catcher Todd Hundley. New York starter Pete Harnisch retaliated by drilling Foster the very next inning. The whole ballpark waited for the other shoe to drop -- and during Harnisch's at-bat in the fifth, it finally came.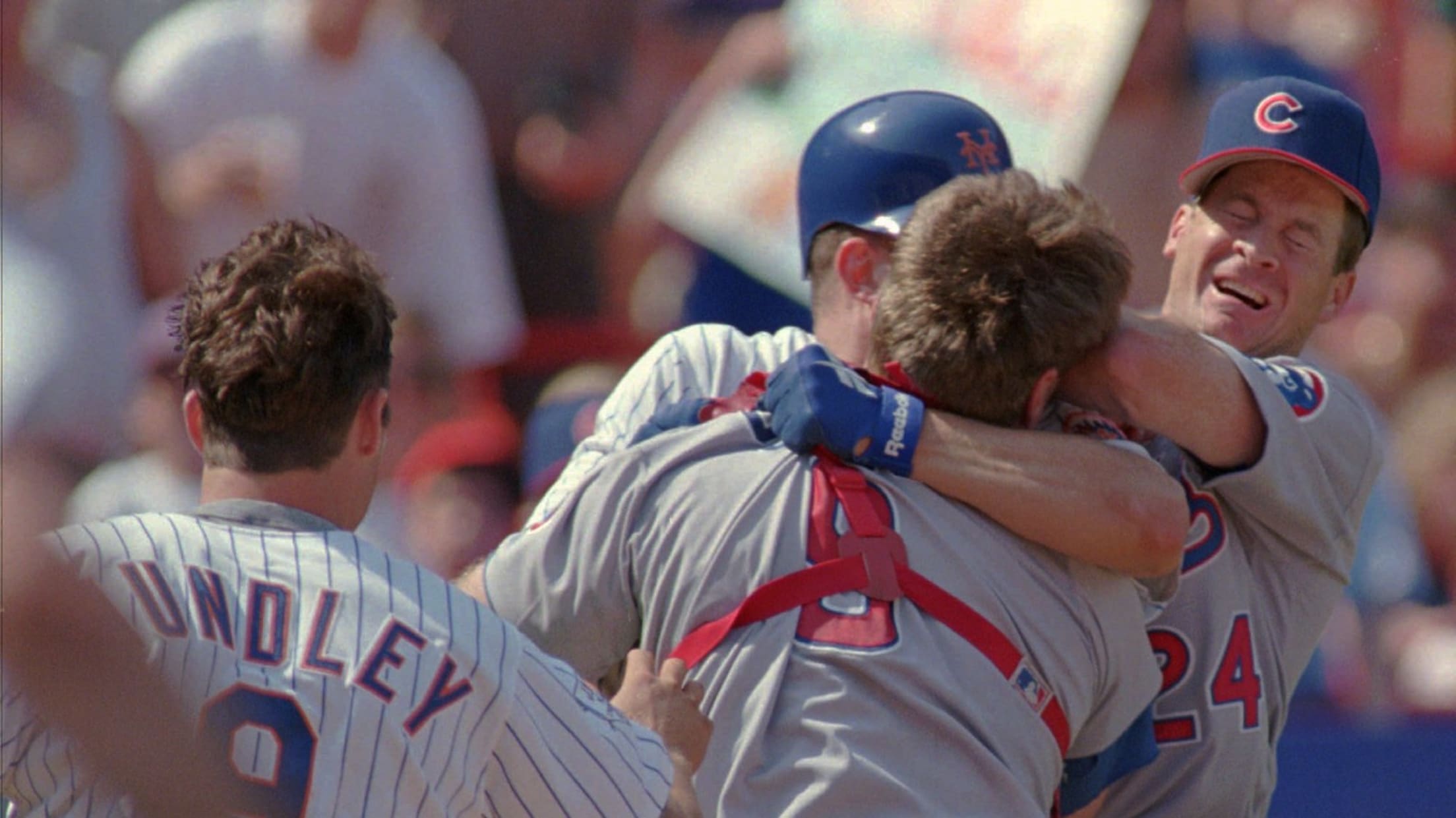 Cubs reliever Terry Adams threw his first pitch behind Harnisch's leg. The home-plate umpire issued a warning, but by then it was too late: Harnisch and Chicago catcher Scott Servais started swinging at each other, and eventually both benches and bullpens emptied.
When the dust finally settled, eight players and one coach were ejected -- including, somehow, Franco:
And, because the Baseball Gods are not without a sense of humor, the game would be decided in the ninth inning: Without their closer, fill-in Doug Jones blew the save by giving up two runs to tie the game at 6. Luckily, Rico Brogna won the game for New York with a homer in the bottom half, or else Franco might still be arguing.
Edd Roush falls asleep
"That Hoosier moves with the indifference of an alley cat." That was how legendary Giants manager John McGraw once described Reds center fielder Edd Roush. In his prime, Roush was one of the most electrifying players in the game, using his blazing speed to cover acres of space in center field and terrorize opponents on the bases. He was a lifetime .323 hitter, and swiped 268 bases over his career -- and he also once got ejected for falling asleep.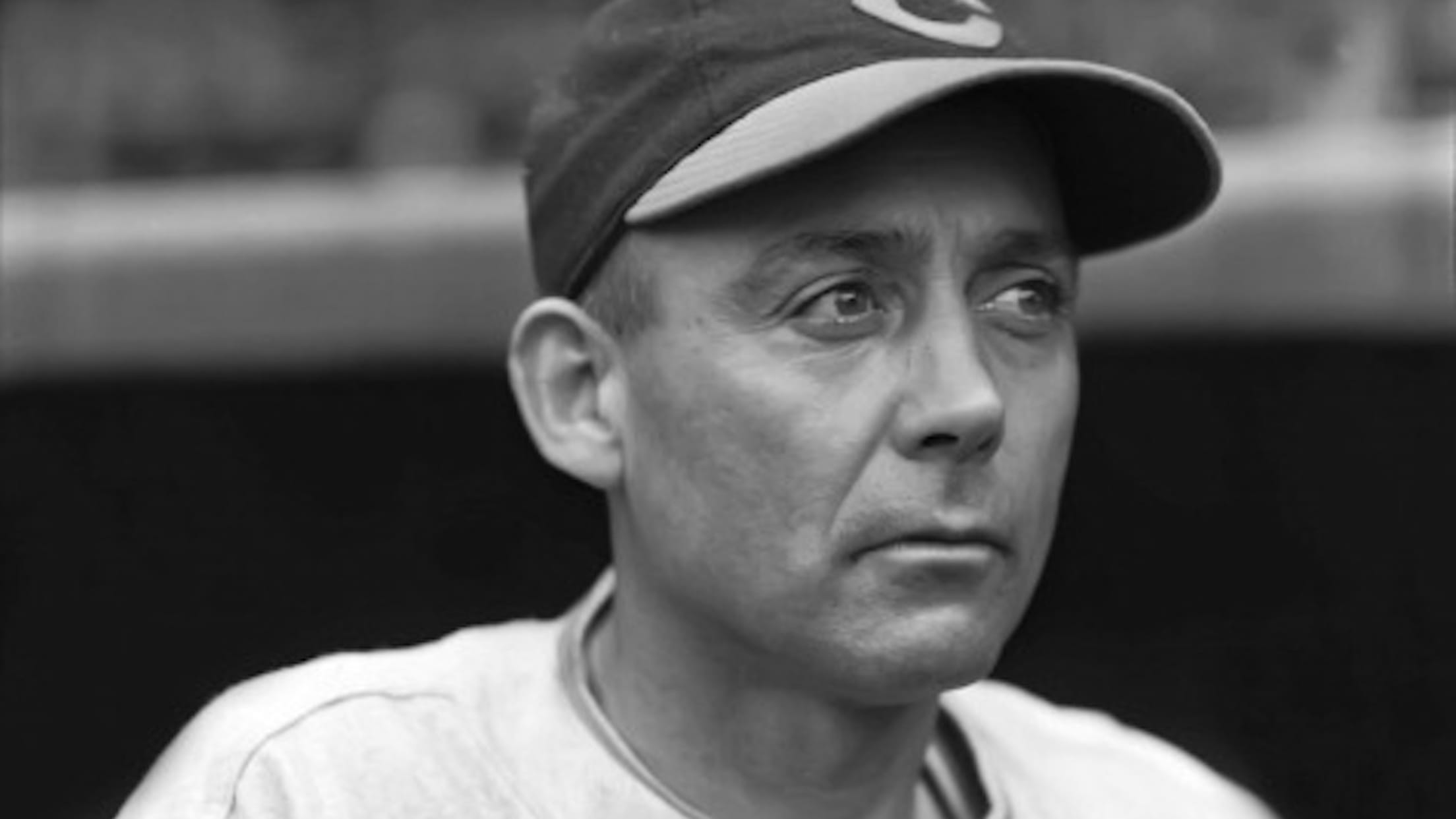 The 1920 Reds were a powerhouse, defending World Series champions who entered play on June 8 having spent all but two days in either second or first. They were locked in a tight contest with the Giants that day at the Polo Grounds, though. The game entered the bottom of the eighth tied at 4, when New York left fielder George Burns slapped a ground ball down the third-base line for a double.
Cincy manager Pat Moran had a good view of the play and bounded out of the dugout to insist that the ball had actually been foul. A lengthy argument ensued, roping in not just Moran and home-plate ump Barry McCormick but several other Reds players as well. Roush, however, was not among them: Growing bored after a few minutes of debate, the future Hall of Famer dropped his glove, laid down on the outfield grass and fell asleep.
After a while, the argument ended, with the call on the field upheld. There was just one problem, though: No one could wake Roush up. Eventually Heinie Groh jostled him enough, but by that point McCormick had seen enough and ejected him. Burns came around to score and the Reds went on to lose, 5-4, with Roush replacement Sam Crane going hitless in his only at-bat.
Youppi! makes mascot history
Ah, Youppi! Everyone's favorite ... uh, fuzzy orange thing. Over 25 years as mascot of the Expos, he engaged in all sorts of excellent mascot hijinks, from tossing water on an unsuspecting groundskeeper to conducting a children's orchestra. He was one of the very best mascots in North American sports, beloved in Montreal and beyond, but Aug. 23, 1989, he finally met his match: noted destroyer of mascots Tommy Lasorda.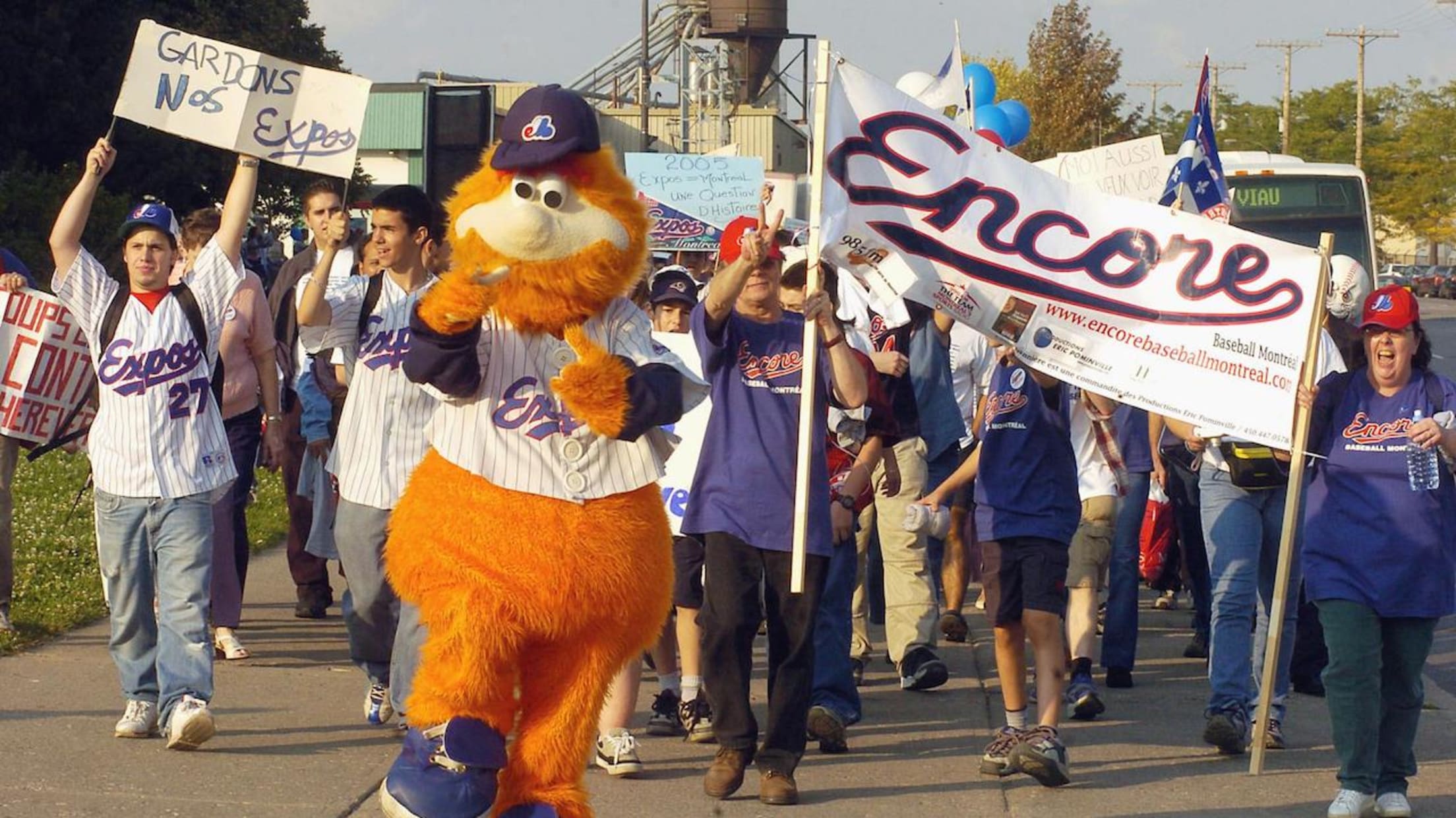 Almost exactly one year prior, Lasorda had come for the Philly Phanatic, whose crimes included bringing a Lasorda mannequin to the Dodgers dugout:
Now, with his Dodgers up north to take on the Expos, it was Youppi's turn.
The game that night was weird enough on its own -- L.A. and Montreal played a whopping 22 innings, the longest game in Montreal's history. And as the extra innings wore on, Youppi! understandably started to get tired. So he did what any mascot would do when trying to get some shut-eye: He put on his pajamas, walked onto the top of the Dodgers' dugout and laid down to go to sleep.
Alas, Lasorda did not take kindly to his new friend -- he was in the middle of managing a game, after all -- and notified home-plate umpire Greg Bonin. Bonin, understandably hazy on the particulars of the mascot rulebook, decided to eject Youppi! from the game.
Alas, he was pretty sad about it:
Finally, at around the six-hour mark, L.A.'s Rick Dempsey hit a solo homer to give the Dodgers a 1-0 win -- and free Youppi! from his exile.