Find out which ALCS players are from your part of the world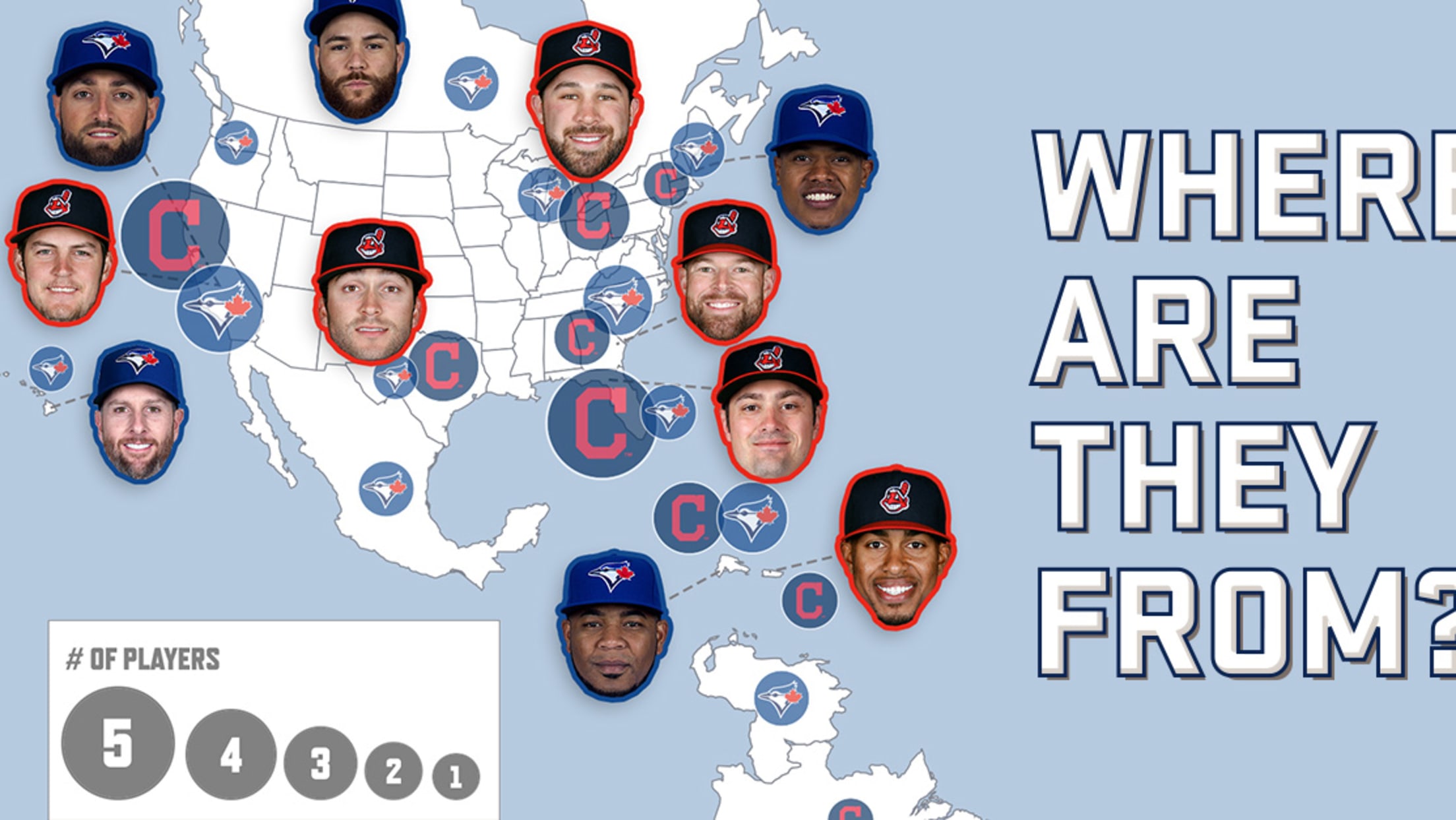 If you're a fan of the Blue Jays or Indians -- the two teams playing in the ALCS starting this Friday at 8 p.m. ET on TBS/SNET -- then you know who you're cheering for. But if not, what are you supposed to do? Who do you root for? Should you be listening to Drake or should you spend the next week dressed up as Rick Vaughn?
Well, we have a solution. We've broken down where every player from each team's 25-man roster was born. You have to cheer on a guy that grew up near you, right? Neighbors must stick together. Always.
Anyway, here's what it all looks like: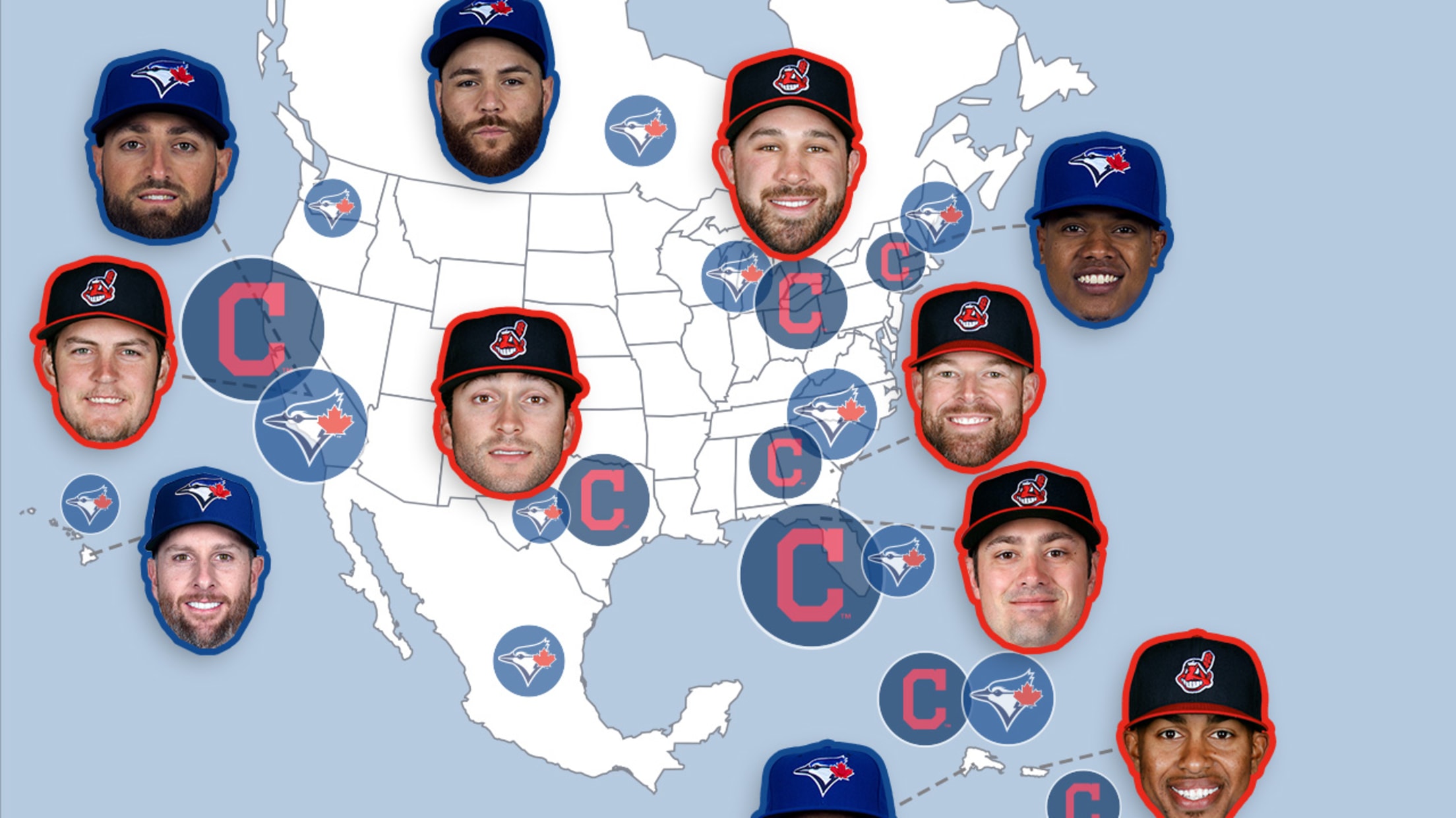 Florida -- Cheer for the Indians.
Cleveland players win this by a score of 5-2, with Mike Clevinger (Jacksonville), Cody Allen (Orlando), Dan Otero (Miami), Andrew Miller (Gainesville) and Mike Napoli (Hollywood) all hailing from the The Sunshine State. So, if you're from Florida, you should cheer on the Indians and the pride of Charles W. Flanagan High School:
You thought Mike Napoli shaving his beard was weird? Check out his high school yearbook photo...#whoareyou? pic.twitter.com/y9bkCfFtrc #TBT

— Only In Boston (@OnlyInBOS) September 25, 2014
California -- Cheer for the Indians.
The Indians win this one by a 5-4 score. Trevor Bauer was born in North Hollywood and went to UCLA -- becoming one of the best pitchers in school history. Coco Crisp is from L.A. and Cody Anderson is from Quincy, a town with a population of about 1,700. For the Blue Jays, Troy Tulowitzki's roots are in Santa Clara, while Kevin Pillar calls his home West Hills. The center fielder is also an alum of California State University -- where he once had a record 54-game hitting streak
New England -- Cheer for the Indians.
The Indians only have the only player in the series from the Northeast corner -- Connecticut's Rajai Davis -- who went to New London High School and UConn.
New York -- Cheer for the Blue Jays.
Toronto's Danny Barnes and Marcus Stroman, who once had an epic matchup with fellow local product Steven Matz, are from Long Island.
Texas -- Cheer for the Indians.
Cleveland's Jeff Manship (San Antonio), Josh Tomlin (Tyler) and Tyler Naquin (Spring) are all from The Lone Star State, while only Blue Jays reliever Ryan Tepera is from the area. Manship threw four no-hitters at Ronald Reagan High School, incuding a perfect game because he's perfect and TEXAS FOREVER CAN'T LOSE.
Southeast/Carolinas -- Cheer for the Blue Jays.
Toronto, by a 3-2 margin. Corey Kluber is from Birmingham, Ala., and Lonnie Chisenhall hails from the Crystal Coast of Morehead City, N.C. The Blue Jays' Aaron Loup was born in Raceland, La., Justin Smoak is from Goose Creek, N.C. and Melvin Upton Jr. grew up in Norfolk, Va., -- where he played travel baseball with David Wright, Ryan Zimmerman and Mark Reynolds.
Canada -- Cheer for the Blue Jays (duh).
Nobody from the Indians was born in The True North, but Michael Saunders (Victoria) and Russell Martin (Ontario) are Canucks. Martin speaks fluent French and nearly played shortstop for Team Canada in the 2013 WBC.
Pacific Northwest -- Cheer for the Blue Jays.
Darwin Barney is the only player on either team that's from this region of the United States -- born in Portland and starring at Oregon State University.
Hawaii -- Cheer for the Blue Jays.
Scott Feldman was born in Kailua and is one of just 41 players in MLB history to be from the island. Perhaps he'll have as big a postseason moment as a fellow native Hawaiian.
Great Lakes -- Cheer for the Indians (if you haven't made up your mind already).
Obviously both Toronto and Cleveland are very close to the Great Lakes themselves, but if you're still undecided in the region, you should probably pull for the Indians. Toronto's J.A. Happ and Jason Grilli both hail from the area (Happ even went to college at Northwestern, staying close to the Lakes even as he sought that higher degree), but Cleveland has three players from nearby: Zach McAllister, Brandon Guyer and Jason Kipnis.
Mexico -- Cheer for Toronto.
The Blue Jays field the only two Mexican players in the series, pitchers Marco Estrada and Roberto Ozuna. They're from south of the border, but they play north of the border. It's all very confusing.
Puerto Rico -- Cheer for Cleveland.
Not only do the Indians have the only Puerto Rican players to take the field in this year's ALCS, but one of them also happens to be one of the best players in baseball. Yes, catcher and Mayaguez, P.R. native Roberto Pérez is good, but it's not him we're talking about: It's Francisco Lindor. Incidently, he'd also be the reason to cheer for this team if you were from Toontown:
Francisco Lindor is warming up in his Space Jam jersey today: pic.twitter.com/DU0dRbsXtL

— Jordan Bastian (@MLBastian) September 6, 2016
Venezuela -- Cheer for Toronto.
Ezequiel Carrera and Dioner Navarro are both natives of Venezuela, so even though they may not play huge roles in the ALCS, Toronto has the upperhand on Cleveland -- they have no players on their playoff roster from the country. That said, incredibly talented thrower of baseballs Carlos Carrasco is Venezuelan, so if you truly do want to pull for Cleveland, you've at least got yourself the makings of an argument.
Brazil -- Cheer for Cleveland.
That's right, Yan Gomes -- one of three Brazilians to play in MLB -- is the catcher for the Indians. So, dust yourselves off from that heartbreaking 1-0 loss in the World Baseball Classic qualifiers in Brooklyn and dive headlong into Cleveland sports fandom for the next week (at least!).
Dominican Republic -- You're on your own for this one.
Both teams boast three players from the D.R., and nearly all of them household names: Edwin Encarnacion, Francisco Liriano and José Bautista for the Blue Jays, and Carlos Santana, Michael Martinez and Jose Ramirez for the Indians. You really can't go wrong picking either side. We're not sure who we'd go with either.