Here are four reasons why Andrew Benintendi is now MLB Pipeline's No. 1 prospect
MLB Network's countdown of MLB Pipeline's Top 100 Prospects on on Saturday night had a little bit of everything: drama, suspense, the satisfaction of ranking things and, of course, some really good baseball players.
There was plenty of competition at the top -- White Sox infielder Yoan Moncada and Yankees shortstop Gleyber Torres, to name just two -- but at the end of the night, only one prospect could stand alone as the best prospect in baseball. And the winner is ... Andrew Benintendi, Red Sox outfielder and stunt double of Steve on "Stranger Things":
Just what set Benintendi apart from such a stacked field of farmhands? We're glad you asked.
He can really, really hit
To call Benintendi's swing "aesthetically pleasing" would be an understatement. I mean, just look at this thing:
Of course, it also helps that the above work of art happens to be really, really good at smashing baseballs. Benintendi tore his way through three different levels of the Minors, including an .872 OPS as a 21-year-old in Double-A, before getting the call up to The Show last August.
With Boston in the midst of a pennant race, it would have been perfectly understandable for the rookie to struggle at first. Except, well, he just kept on raking: In 34 games with the Red Sox, he slashed .295/.359/.476, good for a 117 OPS+.
He can go get it in the outfield
Of course, you don't get to be the best prospect in baseball by being one-dimensional. Rest assured, Benintendi can play left field with the best of them -- combining the athleticism and instincts to chase down fly balls all over the place with the willingness to flip over walls:
He shines on the biggest stage
Not only did Benintendi walk right into Fenway Park and help slug the Red Sox to an AL East title, but he then followed that up by making some postseason history. In the ALDS against the Indians, he became just the third player in Boston's illustrious history to go yard in his first October at-bat:
He has all the intangibles
Sure, Benintendi is a great player on the field, but he's also so much more. Like, for example, an aspiring hair model: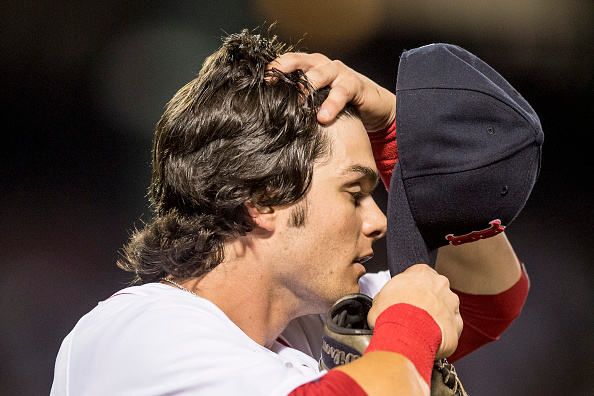 And America's foremost Michael Jackson impersonator:
Clearly, the mantle of Top Prospect is in safe hands.
Teams in this article:
Players in this article:
Topics in this article: