Five Winter Meetings blockbusters that nearly changed the course of baseball history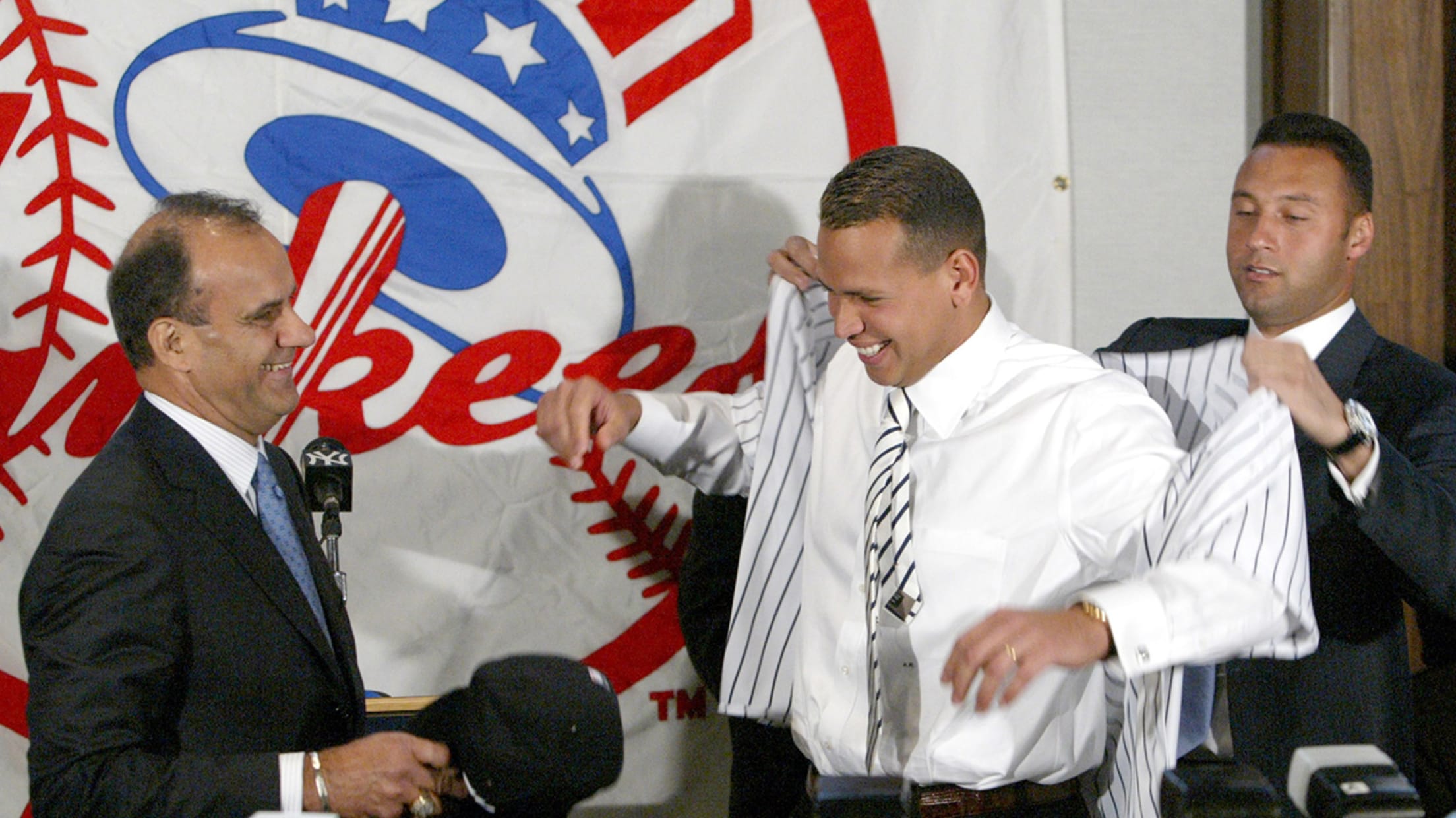 New York Yankees shortstop Derek Jeter, right, helps new Yankees third baseman Alex Rodriguez, center, try on his new pin stripe uniform as Yankees manager Joe Torre looks on during a news conference at Yankee Stadium in New York Tuesday, Feb. 17, 2004. The Yankees introduced their newest highly paid All-Star a day after commissioner Bud Selig approved the trade moving Rodriguez from the Texas Rangers to the Bronx. (AP Photo/Mary Altaffer) (MARY ALTAFFER/AP)
Yes, the season has ended, and we're months away from the return of actual baseball. But take heart! Now it's time for the next best thing: Hot Stove season, that magical time of year when everybody is available, rumors are flying and John Axford's Twitter account is the most trusted voice in America.
Of course, Hot Stove season cannot truly begin until the brightest minds in the game get together for the Winter Meetings. This year's edition will take place from Monday to Thursday in National Harbor, Md., and if history is any indication, things are going to get wild.
But while the Meetings have produced countless blockbuster signings and trades over the years, there are also plenty of moves that almost went down -- and could have altered baseball history. Here are five of the biggest.
A-Rod to the Red Sox
You know the story: The Rangers, still struggling three years after signing Alex Rodriguez to a 10-year, $252 million deal, looked to shed payroll and rebuild. The Red Sox, fresh off a historically brutal loss in the 2003 ALCS and going on 86 years without a title, hoped to acquire arguably the best player in the game to bolster an already-formidable lineup.
The two teams reached an agreement: Boston would send Manny Ramirez and pitching prospect Jon Lester to Texas for A-Rod, then ship current shortstop Nomar Garciaparra to the White Sox for Magglio Ordonez. Rodriguez, thrilled to be headed to a contender, signed his new contract. Red Sox skipper Terry Francona was so excited that he literally danced in his underwear.
There was just one problem: The MLBPA didn't love the idea of its best player taking a substantial pay cut, and it eventually called off the deal. A couple months later, Rodriguez was headed to the Yankees. But hey -- all's well that ends well.
The Braves come this close to Barry Bonds
Fresh off an appearance in the 1991 World Series and anchored by a dynamite rotation, Atlanta entered the '91 Winter Meetings on the rise -- and looking to make the big move that would push itself over the top. Luckily, just such a player had become available: Barry Bonds was about to enter the final year of his contract with the Pirates, and he could also do things like this:
Pittsburgh was determined to get something for its defending two-time NL MVP before he left in free agency. So, Braves GM John Schuerholz and Pirates counterpart Ted Simmons got to work. Before long, a deal was done: Bonds to Atlanta for reliever Alejandro Pena, outfield prospect Keith Mitchell and a player to be named later. The Braves got their star, the Pirates got pieces for the present and future, everybody wins.
... everybody, that is, except Pittsburgh manager Jim Leyland. Leyland had guided the Pirates to consecutive NL East titles, and let's just say that he was not particularly happy to be losing his best player. As Schuerholz wrote in his book "Built to Win":
"When informed of the trade, Jim went barging into Pirates President Carl Barger's office and, according to Ted [Simmons], went absolutely haywire. He said Barger came back to him and said it was a situation so troublesome to the manager and this and that, they couldn't do the deal. And ultimately it was called off."
In Barger's defense, this is not a man you want to mess with: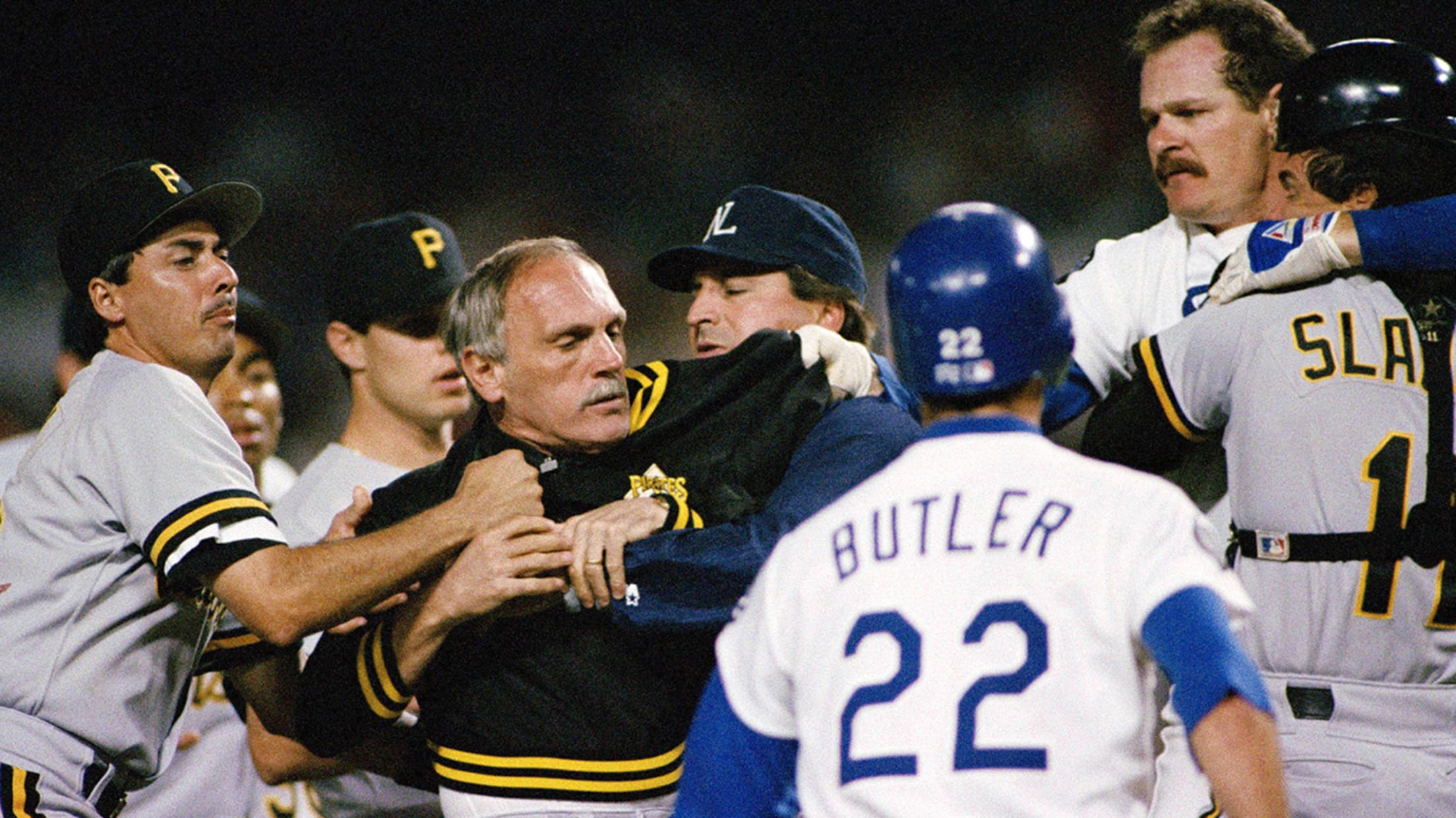 Albert Pujols nearly heads to Montreal
The Cardinals wanted to add young pitching to their roster during the 2000 Winter Meetings. They even found a trade partner, as the Expos were willing to part with Dustin Hermanson and Steve Kline in exchange for reliever Brett Reames and one other player. St. Louis just had to decide who that second piece would be: Current third baseman Fernando Tatis, or a young infield prospect by the name of Albert Pujols.
A season earlier, it wouldn't have been much of a decision at all. Tatis posted a .957 OPS in 1999, while Pujols was a relatively anonymous 13th-round pick who signed too late and couldn't even begin his career until the spring of 2000. Once Pujols took the field, though, all he did was hit, going from Class A to MVP of the Triple-A Pacific Coast League's championship series in a matter of months. It was enough to convince the Cardinals to hang on to their youngster, and the rest is history.
The Indians pass on Pedro
Cleveland came within two outs of taking home the 1997 World Series, and Jaret Wright was a big reason why: The rookie righty entered the Indians' rotation in late June, and by the end of the year, he was throwing 6 1/3 innings of one-run ball in Game 7 of the Fall Classic. It was understandable that Cleveland GM John Hart would be wary of taking offers on his promising 21-year-old.
The Expos, however, weren't just making any old offer -- they were prepared to send reigning NL Cy Young Award winner Pedro Martinez to the Tribe in exchange for Wright and Bartolo Colon. But Hart was still skeptical: Martinez was nearing free agency, while Wright and Colon had yet to even hit arbitration. He decided to pass, and a few days later Montreal had shipped its ace to Boston for Carl Pavano, setting in motion a series of events that led to the greatest selfie in American history:
Mike Trout and Miguel Cabrera, together at last
Trout and Cabrera have spent much of the past few years jockeying for the title of best player in the American League -- Miggy edged out Trout for the MVP Award in both 2012 and 2013, while the Angels center fielder finally took home the crown in 2014. And if that blows your mind, just think: They were very nearly teammates.
The Marlins decided to shop their star third baseman at the 2007 Winter Meetings, and -- thanks to possible packages around starters Ervin Santana and Joe Saunders, along with top prospects Nick Adenhart and Brandon Wood -- Los Angeles was the most likely landing spot. Alas, things hit a snag: Florida was determined to include Dontrelle Willis and his $7 million salary in any deal, and the Angels balked.
The Tigers swooped in to the fill the void, offering Andrew Miller and Cameron Maybin along with several other prospects. The Marlins took the Detroit deal, denying us the joy of watching one of the greatest right-handed hitters of all time drive in ... one of the other greatest right-handed hitters of all time.
Teams in this article:
Players in this article: