Didi Gregorius has an emoji dedicated to each player on the Yankees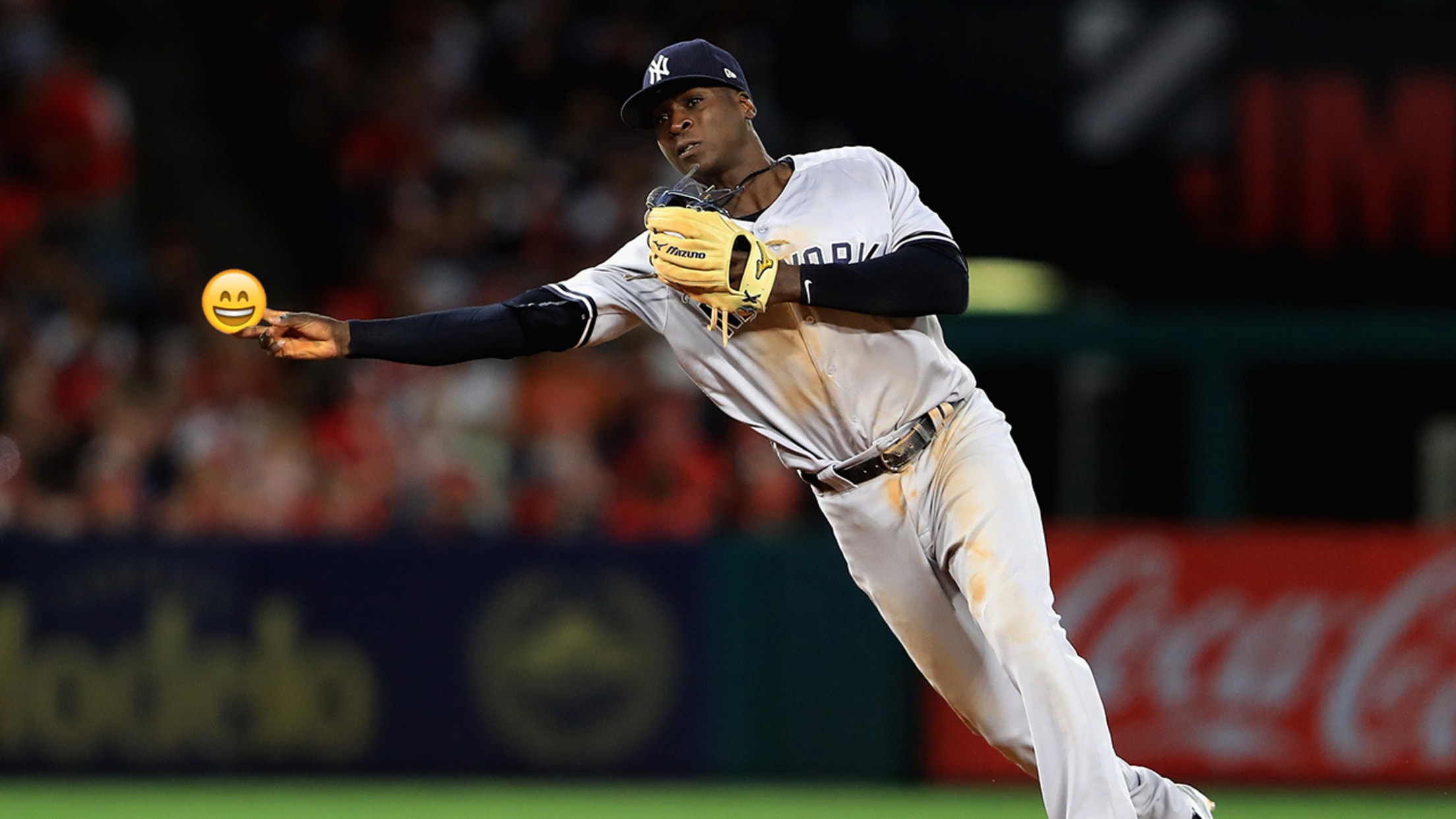 ANAHEIM, CA - JUNE 14: Didi Gregorius #18 of the New York Yankees throws out Cameron Maybin #9 of the Los Angeles Angels of Anaheim during the fourth inning of a game at Angel Stadium of Anaheim on June 14, 2017 in Anaheim, California. (Photo by Sean M. Haffey/Getty Images) (Sean M. Haffey/Getty Images)
Yankees shortstop Didi Gregorius has a strong game on the field, but it turns out he's just as strong in his Twitter game.
With the Yankees tied for first place in the American League East, Gregorius has highlighted his skills in 140 characters or less by designating a set of emojis for each player who has made an impact on this winning team.
#StartSpreadingTheNews Yankees Win great start by #BigMike going 7strong #🤡 solo hr, #🦑 Hr twice for 5rbis ... all around GREAT GAME!!!

— Sir Didi Gregorius (@DidiG18) June 9, 2017
Following each win, when he leaves the field and talks to some of the players, he'll use a hashtag devoted to Starlin Castro, Aaron Judge, Gary Sánchez and others in addition to the impact plays each made during the game.
#ThisSeason, @DidiG18 is letting his emojis do the talking. pic.twitter.com/k5ye3VHjG7

— MLB (@MLB) June 22, 2017
Sanchez gets a hashtag followed by a squid (perhaps because that's as close as you'll get to a Kraken emoji), a rhino for Chris Carter and an old man emoji for none other than Aaron Hicks -- that makes sense since he's bald. Maybe.
#StartSpreadingTheNews Yankees Win great start by 👶🏾 going 7 strong 🦑, 🌟lin, 💪🏼😐, 👨🏽‍⚖️ all with homers ... WHAT A GAME!!!

— Sir Didi Gregorius (@DidiG18) June 11, 2017
Castro gets a gold star -- both in Gregorius' tweets and in life. Young phenom Judge gets -- well -- a judge emoji, and Brett Gardner gets the clown emoji. And who does the baby face emoji belong to? Well, that's 23-year-old Luis Severino of course.
#startspreadingthenews Yankees Win great start by #CC going 8strong offense 🔥 #🦏 with the 3 run homer totaal 4rbi's on the day.. WHAT A GAME

— Sir Didi Gregorius (@DidiG18) June 8, 2017
Pitcher Michael Pineda doesn't get an emoji, but he does get called out by Didi with a #BigMike hashtag which is still cool. And Matt Holliday gets the impressive "swole" emoji followed by the "neutral face."
How did he come up with these emojis? It's rather simple.
"I've always been doing it," he said to MLB.com's Bryan Hoch. "It's something for fun." As far as why he dedicates the rhino to Carter and the clown to Gardner, he's keeping that to himself.
We can spend hours deciphering Gregorius' tweets and with all the winning the Yankees have been doing, you can expect to see and interpret the dedicated emojis as they land on your timeline.
Teams in this article:
Players in this article: