Giancarlo Stanton is reportedly a Yankee, and his new teammates couldn't be more excited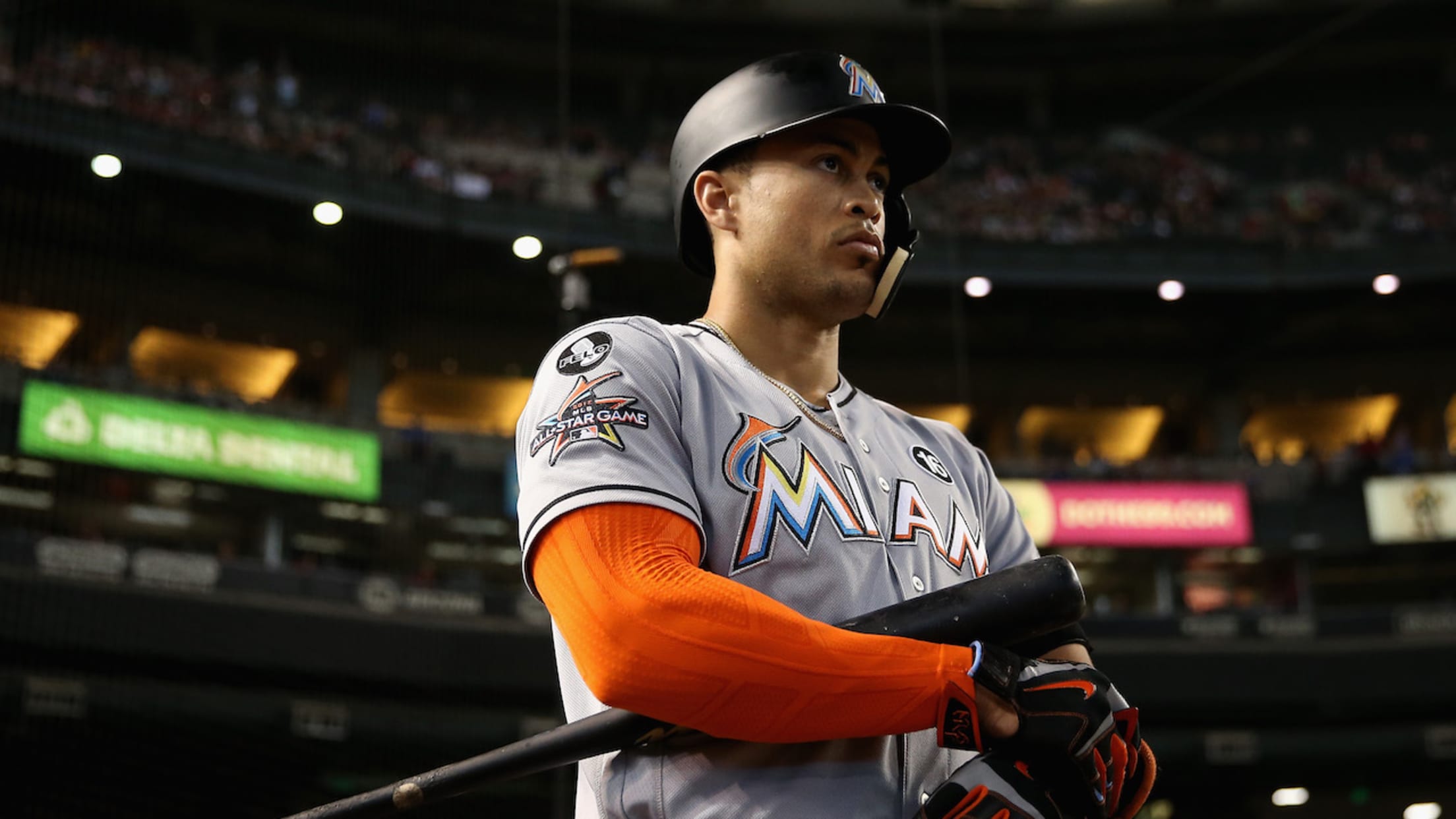 PHOENIX, AZ - SEPTEMBER 24: Giancarlo Stanton #27 of the Miami Marlins warms up on deck during the first inning of the MLB game against the Arizona Diamondbacks at Chase Field on September 24, 2017 in Phoenix, Arizona. (Photo by Christian Petersen/Getty Images) (Christian Petersen/Getty Images)
In less than a day, the Hot Stove has gone from "low and slow" to "towering inferno threatening to consume us all." First, Shohei Ohtani announced that he'd decided to sign with Mike Trout and the Angels. Then, in the wee hours of Saturday morning, a second bombshell: The Yankees had reportedly reached an agreement with the Marlins for Giancarlo Stanton, and Stanton was willing to waive his no-trade clause.
Needless to say, it was a wild few hours on Twitter -- especially if you happen to play for the Yankees. Sonny Gray was hanging on every tweet just like the rest of us:
And once the deal looked done, his reaction was about what you'd expect:
Tyler Wade couldn't believe that Christmas came early:
Early Christmas present...🤞🏼😏

— Tyler Wade (@_tylerwade) December 9, 2017
Didi Gregorius, on the other hand, was focused on some pressing lineup questions:
@AaronBoone Hey Skip am i still batting 4th ??? pic.twitter.com/oUadnUmf7i

— Sir Didi Gregorius (@DidiG18) December 9, 2017
Of course, no one's reaction was quite as momentous as Stanton's Bash Brother-to-be, Aaron Judge:
Hey @Giancarlo818....👊 pic.twitter.com/0542MWBIpv

— Aaron Judge (@TheJudge44) December 9, 2017
The prospect of not one but two gargantuan dinger-mashing outfielders in the same lineup may seem imposing. But Marcus Stroman doesn't scare quite so easily:
March 29th, 2018. 3:37PM. Opening night against the @Yankees in Toronto. I'll be ready to rock on the mound. Who's coming!? @BlueJays

— Marcus Stroman (@MStrooo6) December 9, 2017
Competition excites me. Never been scared of anyone or any opportunity. Never! #HDMH

— Marcus Stroman (@MStrooo6) December 9, 2017
All that's reportedly left is the physical. Which, well ...
There's reportedly one thing that stands between @Giancarlo818 and the Bronx. #HotStove pic.twitter.com/mXncmZbJzW

— MLB (@MLB) December 9, 2017
Teams in this article:
Players in this article: