Russell Wilson is set to become just the latest in a long line of Yankees two-sport stars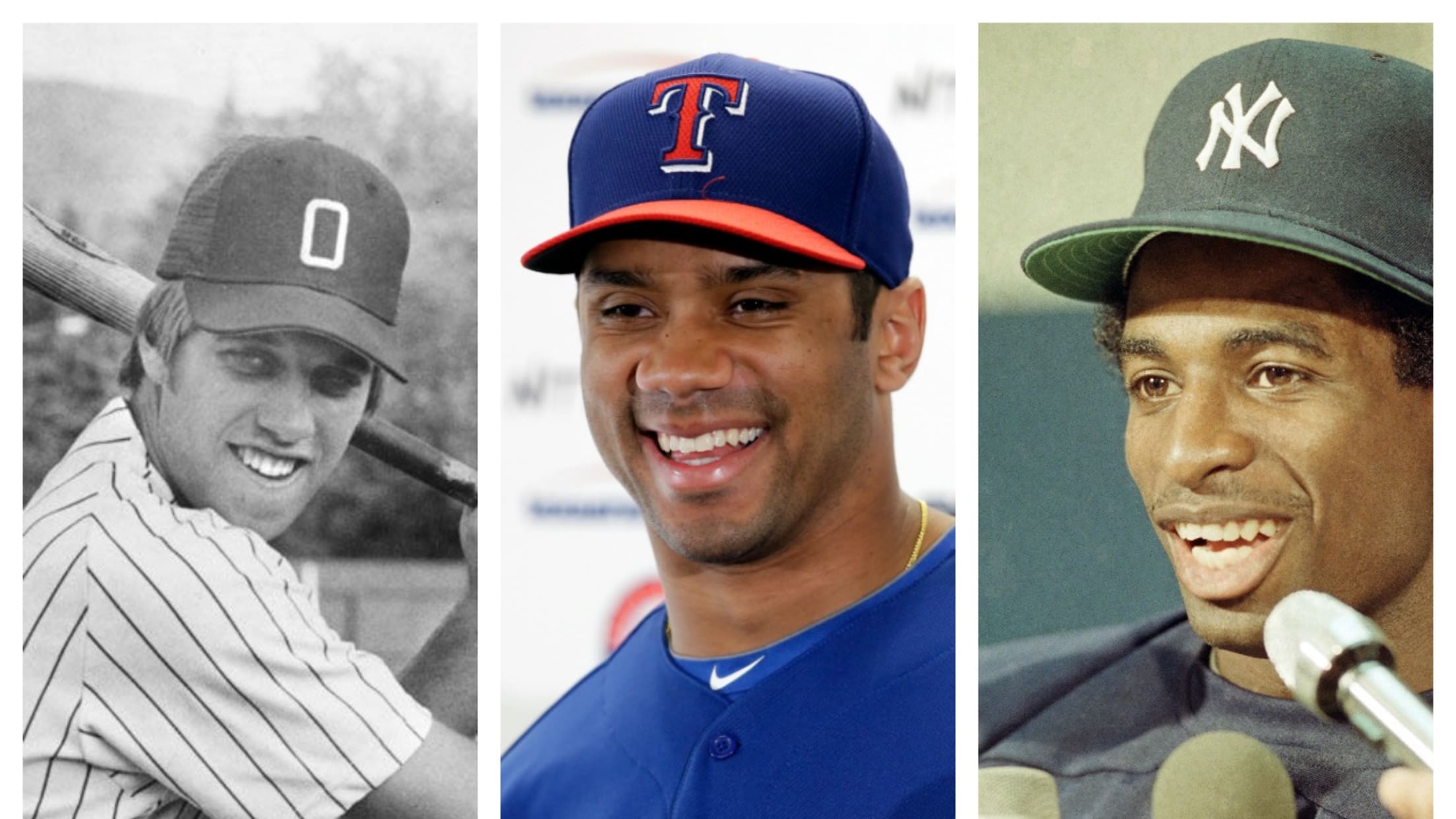 A little over a month ago, Russell Wilson was quarterbacking the Seattle Seahawks against the 49ers to close out their 2017 season. On Wednesday, he was acquired by the Yankees.
Wait, allow us to explain.
You probably know him as a Super Bowl champion and perennial Pro Bowler, but once upon a time Wilson was also a star second baseman -- good enough for the Orioles to draft him as a high schooler in 2007. He eventually settled on football at N.C. State, but his interest in baseball never waned: The Rockies took him in the fourth round in the 2010 Draft, and he spent two seasons in their Minor League system in between college football seasons. After the Seahawks selected him in the third round of the 2012 NFL draft, he put baseball aside, but Colorado still retained his rights. Then the Rangers took him in the Rule 5 Draft back in 2013, and Wilsonattended Spring Training with Texas in 2014 and '15.
And on Wednesday, he was acquired by the Yankees -- the team he'd long wanted to be a part of:
Thank you Texas...Hello New York.

Always said we'd be a Yankee Pops! #MLB @Yankees https://t.co/aMnmL3SPsZ

— Russell Wilson (@DangeRussWilson) February 7, 2018
His new teammates seem to be on board:
About to win the next World Series and Super Bowl 🤣🤣 https://t.co/sJBMRUhFka

— CC Sabathia (@CC_Sabathia) February 7, 2018
Really, Aaron Judge and Giancarlo Stanton make for a great start to a football team already:
We do have a really good O-line... 😂 https://t.co/1umB1PneWl

— New York Yankees (@Yankees) February 7, 2018
Of course, while Wilson's a unique talent, he's far from the first two-sport star to wear pinstripes. Some were drafted by New York but never signed -- names like Bo Jackson, Charlie Ward, Daunte Culpepper and Ken Stabler -- while others actually saw the field:
Deion Sanders
Prime Time was a star on the gridiron and the diamond at Florida State, presenting him with a tough choice upon graduation: Which sport would he choose? Befitting a man who once clocked a 4.27 in the 40-yard dash, his answer was "both."
The Yankees took Sanders in the 1988 Draft, and he made the Opening Day roster in 1990. He later signed as a free agent with the Braves, where he'd become the first athlete to play in both the Super Bowl and the World Series.
Hinkey Haines
While Sanders played in both title games, Haines is still the only athlete to win both title games. He played exactly one season with the Yankees, serving mostly as a defensive replacement on the 1923 team that topped the Giants in the World Series. (Haines only had two at-bats in that Fall Classic, but he did score the tying run as a pinch-runner in the deciding Game 6.)
After the World Series ended, Haines pivoted to football: He signed on as quarterback for the New York (football) Giants, who he'd eventually lead to their first NFL Championship in 1927.
John Elway
Before he was a nine-time Pro Bowler, George Steinbrenner made Elway a second-round pick in the 1981 Draft. The QB was pretty good in his one season of pro ball, too: He slashed .318/.432/.896 in the New York-Penn League, with 12 extra-base hits and eight outfield assists in 42 games. Alas, the NFL came calling, and when the Colts traded him to the Broncos after the 1983 NFL Draft, he settled on football for good.
Drew Henson
One of the most coveted athletes in recent memory, Henson played with some guy named Tom Brady as a quarterback for Michigan. He was nearly as big of a star on the diamond, though, and the Yankees gave him a six-year, $17 million deal to forgo the NFL and focus on baseball.
Henson had brief stints with the Major League club in both 2002 and 2003 but struggled, and he became the starting QB for the Cowboys the next year.
George Halas
Halas built his legacy as the founder and owner of the Chicago Bears, but his first taste of professional sports came as a Minor Leaguer with the Yankees in 1919. The fleet-footed outfielder worked his way up to the Majors, but lasted only 12 games before a hip injury effectively ended his baseball career and shifted him to football. Legend has it that he was replaced in right field by Babe Ruth, but sadly, Sammy Vick came first.
Brandon Weeden
Baseball was actually Weeden's first love: Years before he became the starting quarterback of the Browns, the big-armed righty signed with New York out of high school as a second-round pick in the 2002 Draft. His Minor League career got off to a promising start, as he posted a 2.58 ERA over two levels in 2003. But he began to struggle as he advanced through the system, and by 2006, he was out of baseball for good.
His time with the Yankees did provide us with this awesomely misspelled rookie card, though, so all wasn't for naught: