Notes: Stephenson returns; Clemente Day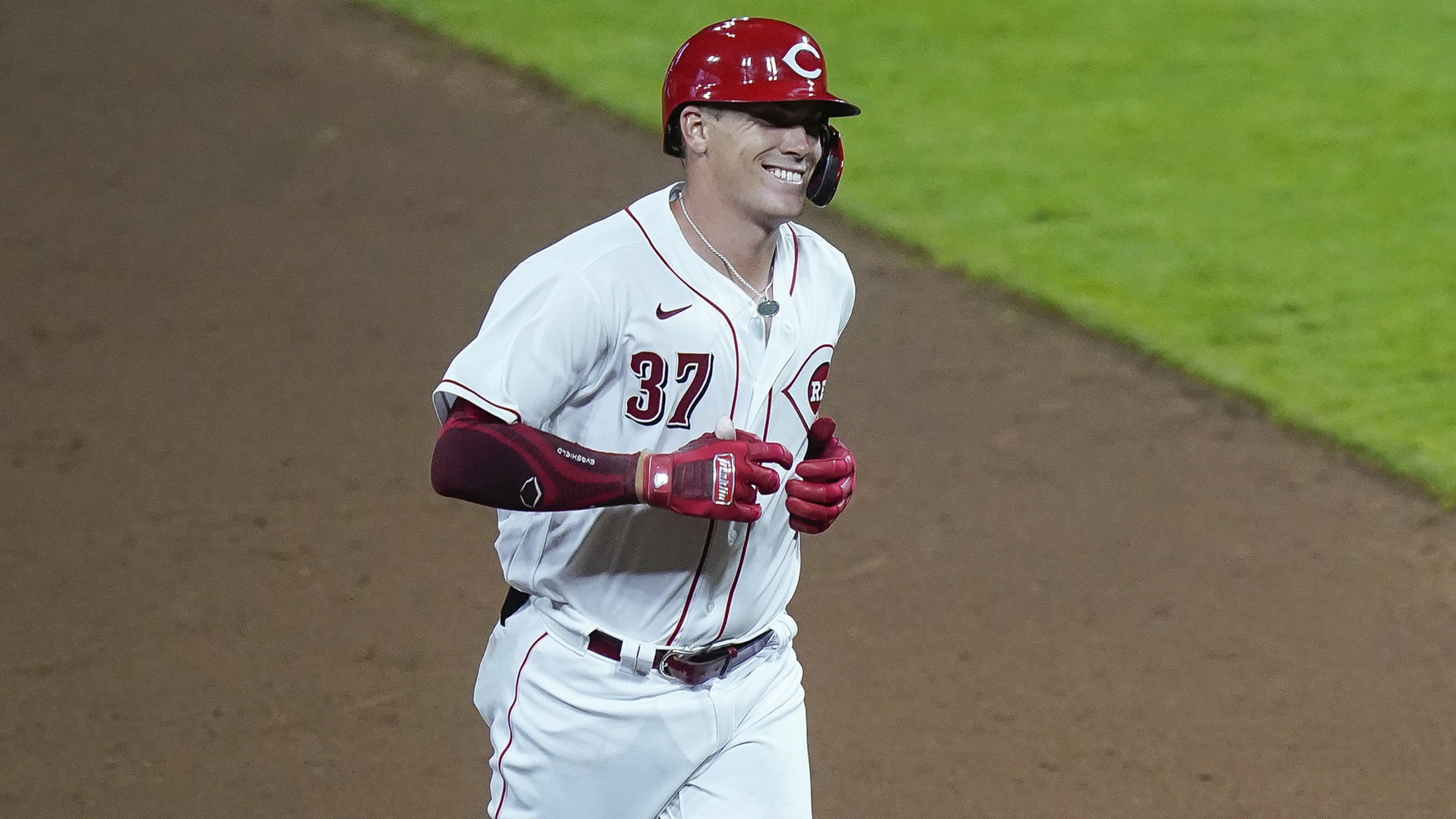 Because there is no Minor League season in 2020, Reds catching prospect Tyler Stephenson hasn't had the benefit of Triple-A at-bats, nor has he gotten the in-game reps behind the plate. Stephenson, who was recalled Tuesday for his second big league stint, found other ways to sharpen his skills. He's
Because there is no Minor League season in 2020, Reds catching prospect Tyler Stephenson hasn't had the benefit of Triple-A at-bats, nor has he gotten the in-game reps behind the plate.
Stephenson, who was recalled Tuesday for his second big league stint, found other ways to sharpen his skills. He's hit and caught with the other players at the Prasco Park alternate training site and really benefited from being on the taxi squad.
"Just to travel with the team these past road trips has been beneficial for me just to be back to catch the guys a lot, sit in the bullpen, catch guys during the game," Stephenson said on Wednesday. "That's kind of helped me move forward with these guys and understanding them as a pitching staff."
Working with catching instructor Julio Morillo at Prasco and catching/third-base coach J.R. House when with the taxi squad, Stephenson -- ranked the No. 4 prospect in the organization by MLB Pipeline -- has made strides defensively.
"A lot of early work, a lot of extra time," Stephenson said. "The catching machine, catching bullpens and especially being over there, you don't have the luxury of playing a whole lot of games because there's not as many players. That early work and the machine work is really important, and it's paid off."
Asked what his best improvement was, Stephenson felt it was pitch framing.
"Obviously, we don't have the information to see what the numbers are. But I feel like the pitching framing, since I've been over there and the past year, has improved a lot," he said. "I think a lot has to do with the work we've done. Also, I've taken the leadership role and trusting more of myself and being more vocal. I am more of a quiet guy."
The Reds still have Tucker Barnhart and Curt Casali as catchers, but manager David Bell plans to get Stephenson opportunities in the lineup.
"I guess we're one day at a time, but I would anticipate [Stephenson starting] in the next few days," Bell said.
Stephenson, 24, hit a homer vs. the Cubs during his Major League debut on July 27 while Barnhart was on paternity leave. He's hoping this could be a more permanent stay with Cincinnati.
"Obviously, I'm just going to make the most of the opportunity given to me," Stephenson said. "I'm going to enjoy every moment of it."
Gray ready after being pushed back
Reds starting pitcher Sonny Gray is ready to start vs. the Cubs on Thursday after his turn was pushed back a few days. On Sept. 1 vs. the Cardinals in a 16-2 loss, he had a dreadful night as he recorded only two outs among 10 batters faced with six earned runs, five hits and three walks allowed.
"I got a lot of work in. I threw a couple bullpens," Gray said. "I threw a bullpen on Sunday, I threw a bullpen on Tuesday. So then today off and then pitch tomorrow. I feel good. I like pitching against the Cubs. I like pitching in Wrigley."
Lorenzen, De León honor Clemente
Reds reliever Michael Lorenzen wore No. 50 as a rookie in 2015, but he switched to No. 21 before the 2016 season as a way to pay tribute to the late great Roberto Clemente. Lorenzen, who did mission work and baseball camps in Puerto Rico with the Clemente family, was thrilled that Wednesday was set aside by MLB to honor the Pirates Hall of Famer with Roberto Clemente Day.
Clemente died on Dec. 31, 1972, while trying to fly earthquake relief supplies to Nicaragua.
"I think it's been a long time coming for a day like this to celebrate the life of Roberto Clemente, and the sacrifice that he made," Lorenzen said. "He died trying to help another country in need, and so he's just meant so much to not just the community here, but obviously to his own people in Puerto Rico."
• Barnhart: Clemente Award nod is 'humbling'
"Any time you have an opportunity to make a difference in this world and you don't, then you are wasting your time on Earth."#ClementeDay pic.twitter.com/LXZywgYpyR

— Cincinnati Reds (@Reds) September 9, 2020
All Pirates players were permitted to wear No. 21 on Wednesday, and all Puerto Rican players across MLB were also given the option. The lone Puerto Rican for Cincinnati, reliever José De León, jumped at the chance, and it was emotional for him.
"Actually, it's my first time ever wearing that number, because growing up that was a sacred number. Nobody could use it," De León said.
Like most Puerto Ricans, De León grew up understanding the Clemente legacy as both a player and a humanitarian. He admitted to being nervous getting to switch from his usual No. 87 to No. 21 for a day.
"I woke up this morning and I was anxious to get on the bus and get here," De León said. "When I saw it, it was really emotional, man. I've never seen 21 that close. Lorenzen has that number, but I don't get to hold it right there close to me. That number for us, it means so much. I think I stared at the jersey for a good five minutes without saying a word. I've just got to thank the man because of everything he did. He paved the way for every guy like me that they can fulfill their dreams."
Mark Sheldon has covered the Reds for MLB.com since 2006, and previously covered the Twins from 2001-05. Follow him on Twitter @m_sheldon and Facebook.