The Jeter's Leaders Social Change Project is a week-long event that brings together all the youth in the program from New York and the Kalamazoo area for an insightful service journey to the selected area. The Leaders aim to make an impact on an area outside of their hometown. The Leaders are given the opportunity to tour the host city, visit area colleges and attend various information sessions.
2022 recap
High school students from Derek Jeter's Turn 2 Foundation make a difference in New Orleans
Jeter's Leaders work together to revitalize community space as part of Turn 2 Foundation's Social Change Project in partnership with HandsOn New Orleans and Goldman Sachs Community Teamworks
NEW ORLEANS – Aug. 17, 2022 – High school students from The Turn 2 Foundation's signature Jeter's Leaders program ventured to New Orleans to help make a positive impact on the community as part of the Foundation's 2022 Social Change Project.
The four-day initiative culminated with a service project at the Joe W. Brown Park and Recreation Center, in partnership with HandsOn New Orleans and Goldman Sachs Community TeamWorks. The Jeter's Leaders spent the day repainting tennis courts, refurbishing picnic tables, landscaping and gardening, which will benefit the local community who utilize the park and recreation center's extensive facilities. The Turn 2 Foundation also presented a donation of $10,000 to the Friends of Joe W. Brown Park.
"It's so important for youth to recognize their ability to create social change and have access to the tools they need to take action," said Derek Jeter, Baseball Hall of Famer and Turn 2 Founder. "The Social Change Project provides our Jeter's Leaders with an opportunity to give back, but it's their passion, drive and enthusiasm that make the real difference. I am so inspired by their commitment to this year's project, and I am very proud of what they were able to achieve."
This year's Social Change Project kicked off Monday, Aug. 15, with various team-building activities. As part of the initiative, the Jeter's Leaders experienced a special tour of New Orleans with Cajun Encounters, where they explored sights and learned about the city's rich culture and history. The students also convened to discuss topics to present at the 2023 Jeter's Leaders Leadership Conference – a national conference that brings together youth leaders from across the country for discussions about social change.
"Turn 2's mission has always been focused on teaching young people that they have the power to create positive change, and the Social Change Project allows our Jeter's Leaders to immerse themselves in service and make a real, meaningful difference," said Sharlee Jeter, president of The Turn 2 Foundation. "The impact truly extends beyond the confines of this event, with our students leaving inspired to give back to their local communities and make the world a better place. These young people have done an incredible job and I am so proud of their hard work and commitment to serving as leaders."
---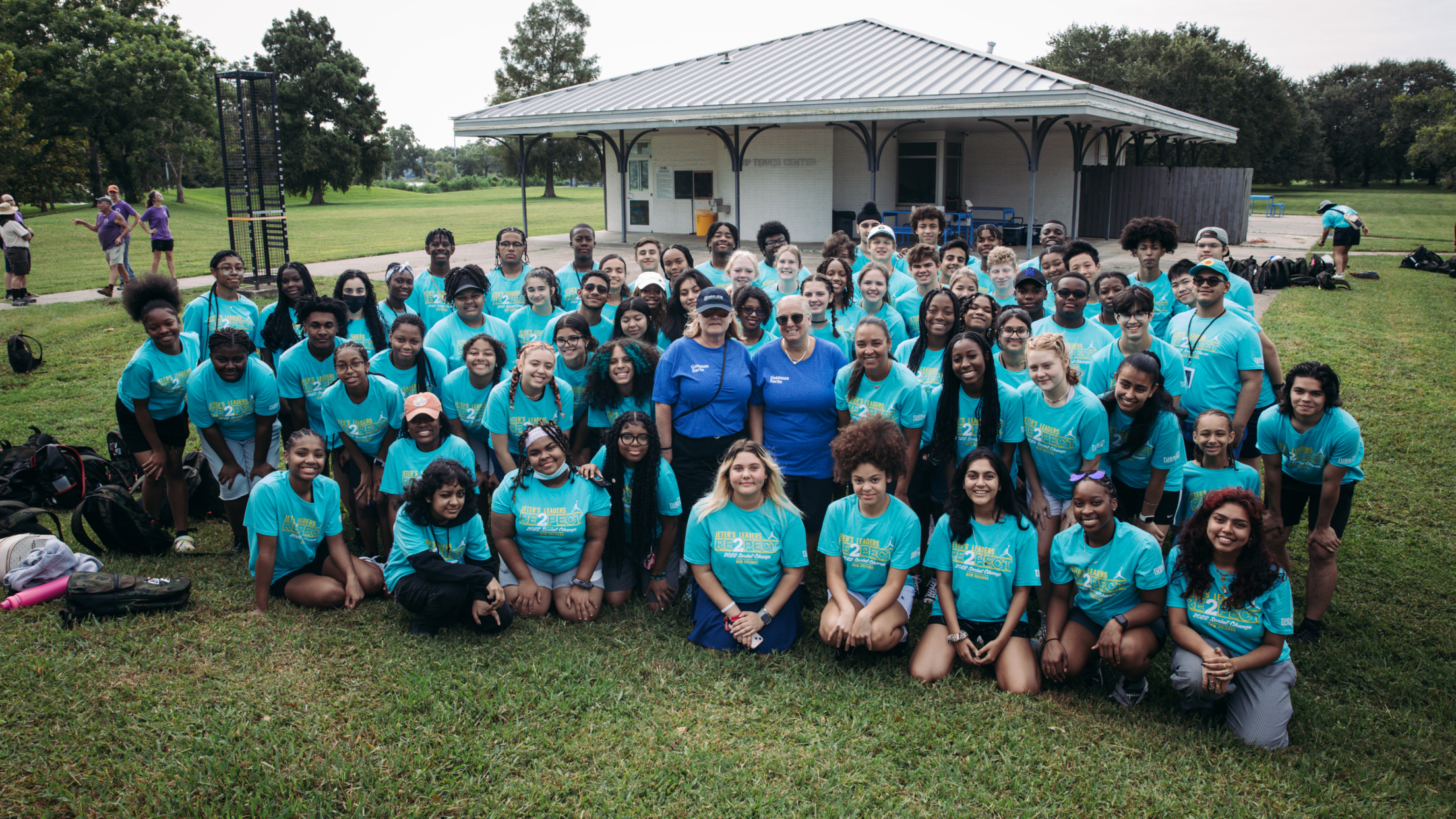 ---
Turn 2 coordinated this year's community service project with HandsOn, an organization committed to engaging, empowering and transforming New Orleans communities through volunteer services. The Foundation first worked with HandsOn at its 2010 Social Change Project in New Orleans. The service project was also in partnership with Goldman Sachs Community TeamWorks, the firm's volunteer program through which the people of Goldman Sachs contribute their ideas and expertise to drive tangible progress in communities where they work and live.
"We're thrilled to be partnering with The Turn 2 Foundation as part of its 2022 Social Change Project," said Chris Cameron, executive director of HandsOn New Orleans. "Turn 2's mission to empower youth to create positive change aligns perfectly with HandsOn New Orleans' commitment to engaging and transforming our community through volunteer service, and we're proud to be a part of this impactful initiative."
The Turn 2 Foundation's Social Change Project brings members of the Jeter's Leaders program to cities across the country where they work together to make a positive impact on the communities they visit. The Jeter's Leaders is a four-year leadership development program that fosters academic achievement, positive behavior, healthy lifestyles, and social change among high school students in New York and West Michigan who serve as ambassadors for Derek Jeter in their communities.
PAST JETER'S LEADERS SOCIAL CHANGE PROJECT EVENTS