These 10 moments from August reminded us why baseball is the greatest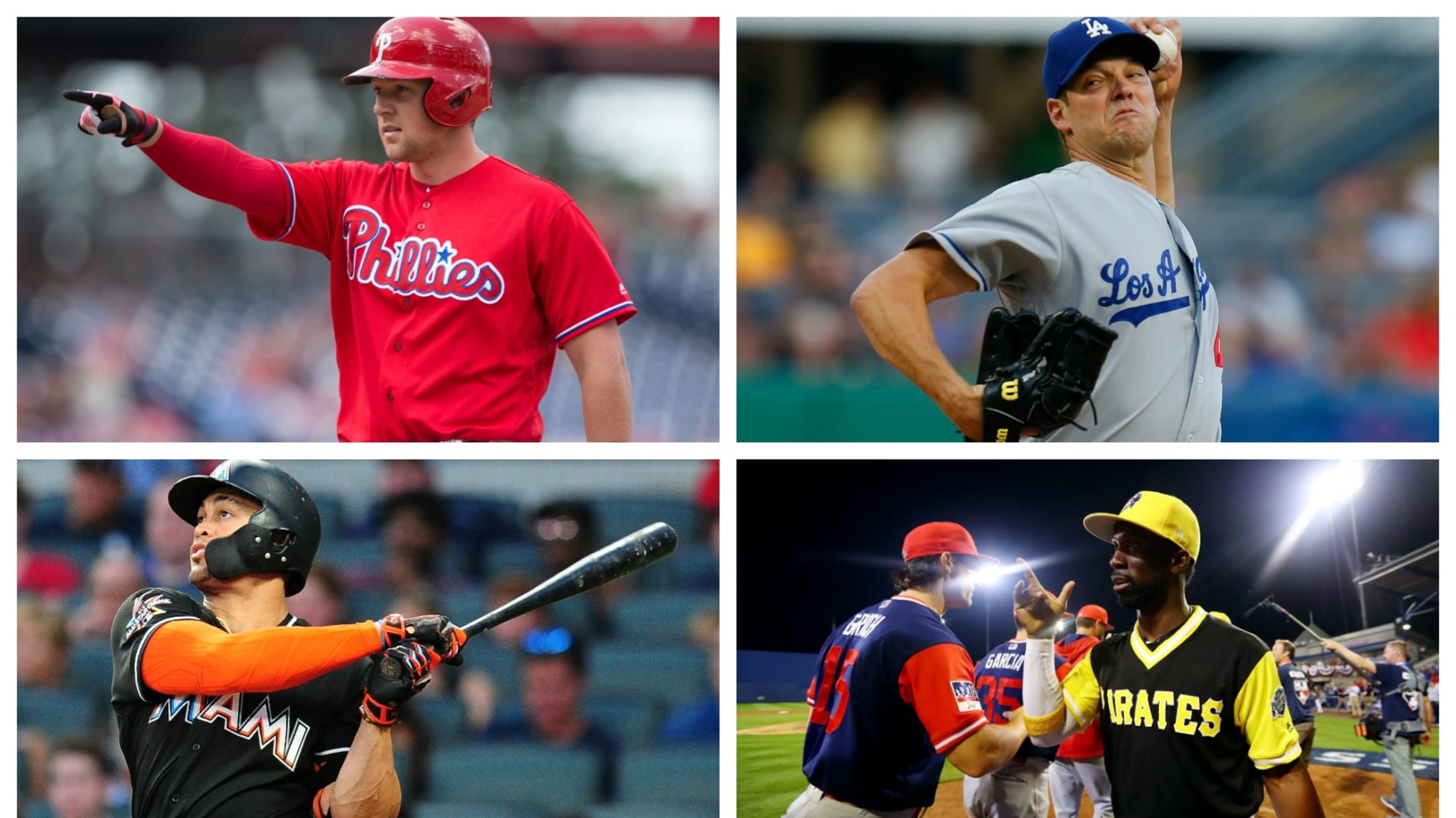 Summer is almost over. The leaves are about to change and there is only one month of the regular season left. Before we jump into the stretch run, let's look back at the 10 best moments from August.
All stats as of Aug. 31.
10. Keon Broxton saves a game
Broxton is pure excitement. Though he hasn't followed up on last year's breakout by reaching superstar status, he will still hit home runs, steal bases and, as he proved against the Cardinals, play phenomenal defense.
Let's set the stage: The surprising Brewers, chasing a Wild Card spot, are leading, 6-5, with two outs in the top of the ninth. The Cardinals have the go-ahead run at the plate in Randal Grichuk, who smashes a deep drive to center field. Broxton races back, back, back and leaps to make the game-saving grab.
Of course, when you do something like this, sometimes the reaction is even better than the play itself (though, sadly, exuberant celebrations do not affect the standings.)
9. The completely over-the-wall catch
The defining characteristic of youth is a sense of invincibility. Pennsylvania Junior Little Leaguer Jack Regenye lived up to that when he made a catch almost no adult would dare attempt. Racing back on a ball, Regenye jumped over it to make the grab.
That's the kids version of a Rodney McCray:
8. We've got a Cy Young race on our hands
At the All-Star break, it seemed like Chris Sale had the AL Cy Young Award all wrapped up. While Sale is still making batters miss, a few rough outings have opened the door for Corey Kluber.
After a dominant July, Kluber stepped it up in August. Kluber and his curveball -- or is it a slider? -- went 5-1 with a 1.96 ERA, while striking out nearly 10 batters for every walk.
That performance helped give the Indians a little breathing room in the AL Central. After entering the month with a two-game lead in the division, the team will start September with a 6 1/2-game buffer.
And Kluber is ecstatic:
7. The Little League Classic is everything baseball can be
The Little League World Series is the annual event where pre-teens get a chance to live out their big league dreams and share their pregame meme preparations:
Solid strategy. pic.twitter.com/JaxZdupMCY

— SportsCenter (@SportsCenter) August 9, 2017
This year saw the Major Leagues get in on the action as the Pirates and Cardinals descended upon Williamsport, Pa., to play a game in the cozy confines of a Minor League stadium. Even better, they spent the morning hanging around with the mini-baseballers, and Josh Harrison even wore a pair of cleats signed by Little Leaguers:
When the game was over, the two teams showed that the sportsmanship you learn at this age -- like when the Venezuelan coaches embraced the losing Dominican pitcher -- lasts forever. It was time for the handshake line:
6. Nickname madness
The Little League Classic also served as a preview for the first-ever Players Weekend, as Major Leaguers donned colorful unis and even more colorful cleats. And the nicknames -- oh, the nicknames. Considering that nicknames have been a staple of Major League Baseball ever since it started, it was a fitting event.
We were gifted with David Freese's jersey, Davehuman. We saw the Sherriff face the Outlaw. And, of course, we met "Corey's Brother," Kyle Seager.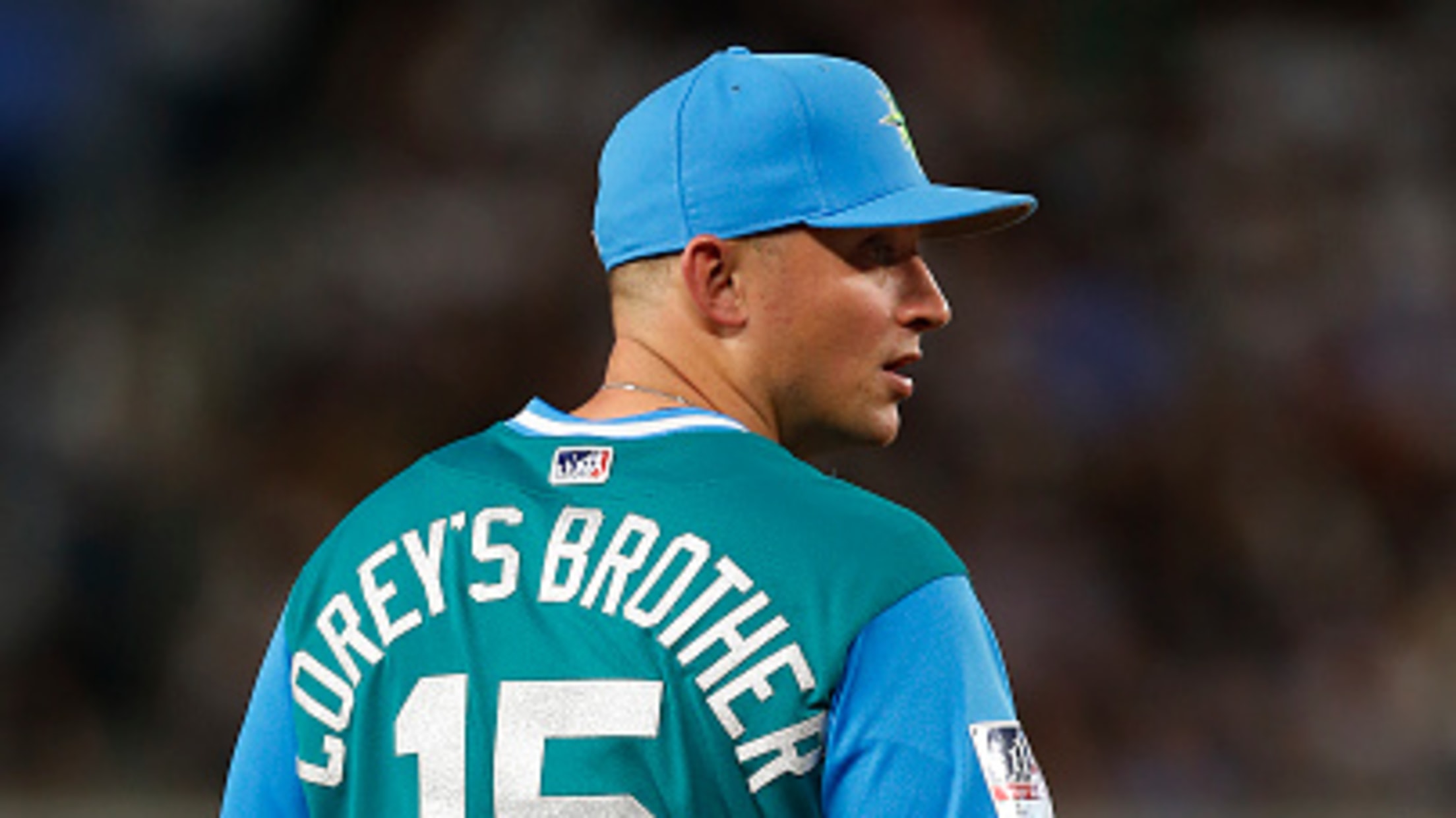 5. Byron Buxton is great now
Imagine having to prove yourself at 23. That's what Byron Buxton has had to endure, despite already displaying brilliant defensive ability in the outfield (he leads the Majors in four-star catches).
But he's managed to pull it off. Buxton hit .324/.354/.619 with eight home runs and eight steals. Yeah, those are the five-tool, can-do-absolutely-everything-on-the-field type numbers everyone envisioned when he was nearly a three-time No. 1 overall prospect in the game.
4. Rhys Hoskins can't stop hitting dingers
The Phillies' No. 6 prospect had shown signs of power in the Minors as he blasted 38 home runs in the hitter-friendly confines in Double-A Reading, and then another 29 in Triple-A before getting the call. Still, no one was quite ready for what was to come.
Hoskins hit two home runs in his fifth big league game to get him on the board, but he really took off five games later. From Aug. 19 to Aug. 27, Hoskins hit eight home runs in just nine games. The only one he failed to homer in? The second game of a doubleheader on Aug. 22.
And sure, he may have hit a good patch of luck, but hey, don't we all deserve some luck?
Along the way, Hoskins set rookie records for the fastest to hit 10 home runs, and then, sure enough, he set the record for the fastest to 11, too.
3. Joey Gallo only hits homers
Of course, while Hoskins often hits homers, Joey Gallo only hits homers. The fearsome slugger crushed 11 home runs in the month. Perhaps even more shocking, he only collected six other hits. Basically, he's the second-coming of Dave Kingman.
Just under half of Gallo's hits this season have been of the home run variety, and his homers outpace his singles. Assuming that ratio holds true until the end of the season and Gallo receives enough plate appearances to qualify, he'll join Mark McGwire and Barry Bonds as the only other players to ever pull off the feat.
Of course, if you're thinking "wait, there was someone else that hit some home runs in August," don't worry, we'll get there.
2. Rich Hill goes Harvey Haddix
With pitchers kept under strict pitch limits, and given the sheer depths of big league bullpens, the chance of a pitcher even getting the chance to pull off a Harvey Haddix was slim. After all, they would need to not only pitch nine complete no-hit innings, but they would have to remain in the game for extra innings.
That it was Rich Hill who did it is even stranger. After all, just last season he was lifted in the middle of a perfect game because the Dodgers were worried about blister issues. And yet, here we were as Trevor Williams and the Pirates managed to hold the all-powerful Dodgers offense silent.
Relying almost entirely on his fastball and darting curve, Hill carried his perfect game into the ninth inning.
Though the perfecto was lost in the ninth on an error by Logan Forsythe, Hill carried his no-hitter into a still-deadlocked game in the 10th inning.
Unfortunately for Hill, he would not join the short list of pitchers with extra-innings no-hitters. Rather, he joined Haddix and Pedro Martinez in losing the effort in extra innings. Despite Curtis Granderson nearly running through the outfield wall, Josh Harrison's ball just carried out of reach to give the Pirates the victory.
Hill may have lost that day, but every baseball fan was a winner.
1. Giancarlo Stanton can't stop hitting home runs
After closing his stance and perhaps swinging a little softer -- yes, really -- Stanton has been driving baseballs out of the park at an alarming rate. After hitting 12 homers in an All-Star-shortened July, Stanton returned to blast 18 home runs in August. Here are a few fun facts about those dingers:
- Entering this season, Stanton's career-high was 37 homers. He nearly matched that in one-third of the season.
- That mark tops the best back-to-back months by Bonds in 2001, McGwire in 1998 and Roger Maris in 1961.
- If he homered at this rate for a full season, he would hit 90 long balls across a full season.
But why read when you can just sit back and watch all 51 at once:
With one month to go, can Stanton the Destroyer keep up this hot streak? Will there be any postseason surprises? With only one month left in the season, the answers aren't far away.