These were 10 moments from July, 2017 that reminded us why baseball is the greatest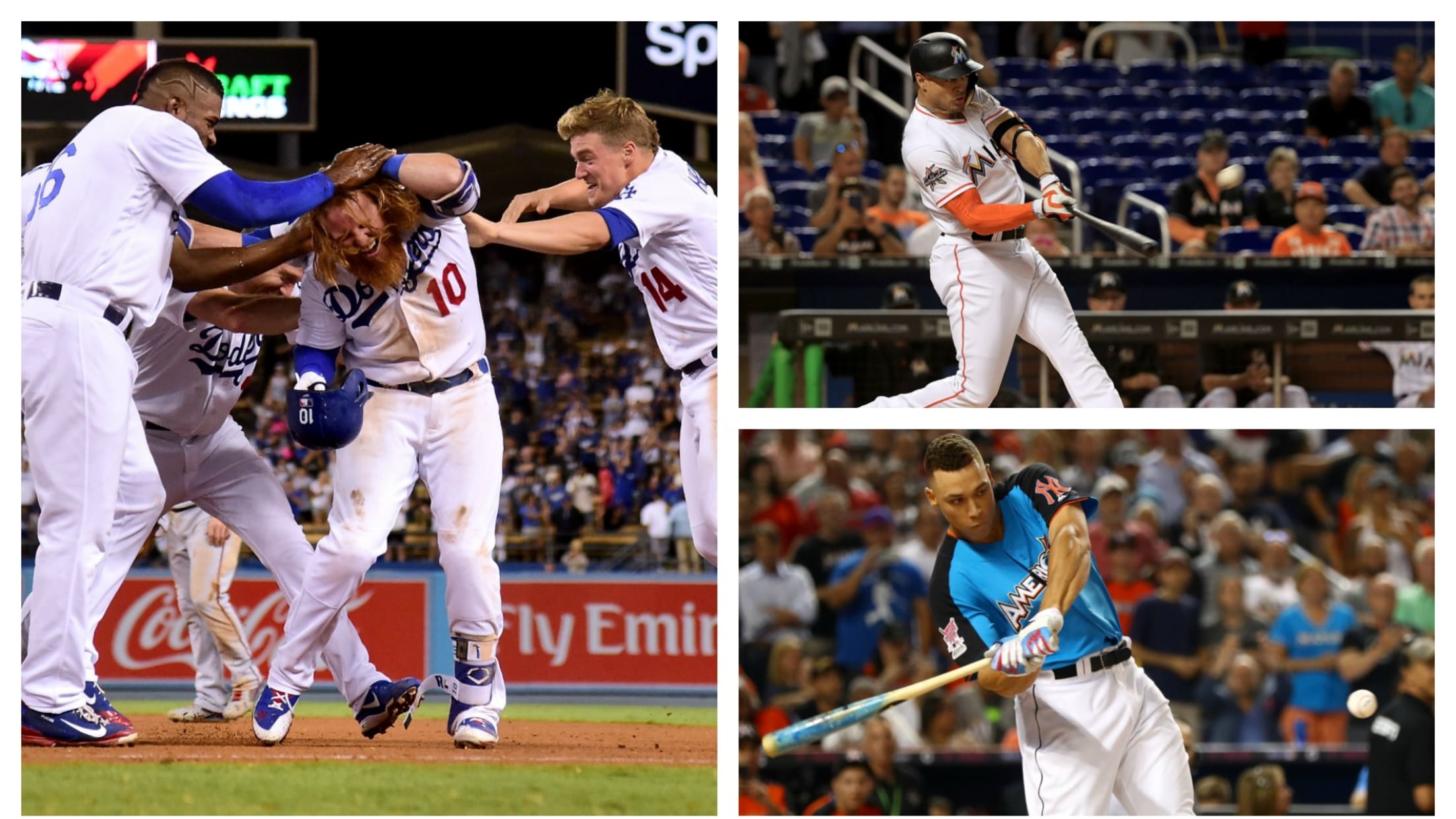 Somehow, July is already over. The season is now in the stretch run, with the buyers and sellers already having bought or sold, and the playoff race is ready to heat up. Before we dive in, let's look back at the 10 best moments from the month that was.
All stats as of July 30
10. #HugWatch in real time
Before the non-waiver Trade Deadline, every single scratched starter, every player following an opposing player on Twitter, every single facial tic is interpreted as a sign that a trade is in the works. But the biggest tip-off to a deal is Hug Watch, when a player is pulled and embraces his teammates before he leaves the clubhouse and becomes the opposition.
When Eduardo Núñez was traded to the Red Sox, the cameras captured the whole thing. It was the Trade Deadline broadcast live.
9. Adrián Beltré is still having fun
Beltre recorded his 3,000th hit -- probably punching his ticket to Cooperstown along the way -- but he didn't let the pressure of the chase get to him. He had no problem fooling around during an at-bat ...
Or even before it, like when he was told to go to the on-deck circle, but instead brought it to where he was standing:
Beltre may be one of 31 members of the 3,000-hit club, but he's far and away the greatest source of entertainment this generation.
8. Ichiro hits a 45-mph eephus
This had all the makings of a most enjoyably weird play:
- Ichiro at-bat
- Position player on the mound
- 45-mph eephus
Sure, it was just a single. But the fact that something you'd see in your local softball league popped up in a Major League game is pretty special.
7. Big Maple has a home
It's official: The Mariners have a new ace in left-hander James Paxton. A strikeout machine, Paxton went 5-0 in July, striking out over a batter an inning and kept the Mariners in striking distance of a Wild Card.
Even better: the Canadian starter nicknamed "Big Maple," has now earned his own cheering section called "The Maple Grove." Not only does it come with its very own maple tree, but Paxton has apparently been enlisted as its caretaker. Just be careful not to overwater it:
Oh, just @James_Paxton tending to the #MapleGrove. Gotta keep it watered. pic.twitter.com/UWOGq0VrJk

— Seattle Mariners (@Mariners) July 28, 2017
6. The Nationals have a new dinger bird
At first, we thought nothing of the pigeon went and landed behind home plate in the bottom of the first of the Nationals game against the Brewers. After all, baseball games are held outside. But then, Bryce Harper homered in the first and the bird stuck around -- despite baseballs, bats and human beings running every which way.
The next inning, the pigeon inspired five more balls to take flight -- four of them coming in a row. The pigeon -- this magical dinger bird -- would hang around through the fifth inning and eight dingers.

After fulfilling its duty, it soared away. Some say it was just a bird. And others ... they're not so sure.
5. Nelson Cruz gets a photo with Joe West
The All-Star Game is for having fun. After all, who doesn't recall fondly when Larry Walker flipped around in the batter's box to avoid facing Randy Johnson as a left-hander? Or when Barry Bonds tried to carry Torii Hunter away after his homer was robbed? The point is, there is plenty of precedent for removing the mask of competition and having a little fun.
Taking a page out of Ellen DeGeneres' Oscar playbook, Nelson Cruz strolled up to the plate and pulled out his cell phone to have Yadier Molina snap a pic:

Really puts a new spin on "catcher framing."
4. José Altuve can't stop hitting the ball
Every kid learns that a batter getting a hit three out of 10 times is a good hitter. The very best could hit .400 for a season. Altuve's July was closer to a coin flip, hitting just under .500 for the month. He entered the final weekend of the month hitting .484/.525/.747. Those are slow pitch softball numbers.
He hit homers. He stole bases. He was an absolute, unstoppable on-base machine.

3. Aaron Judge literally defied physics at the Home Run Derby
Though we didn't have the battle in the finals that many were hoping for as Giancarlo Stanton was upset by Gary Sánchez, we still witnessed one of the greatest displays of pure, unadulterated power in the Derby. Not only did Judge prove that his first-half wasn't some mirage as he won the Derby with a total of 47 dingers, but he topped the 500-foot mark twice.

Oh yeah, and he also hit the Marlins Park roof -- something that wasn't supposed to even be possible. Seriously: the designers checked the math and this shouldn't have been possible. But that's the world we live in: Where Aaron Judge destroys all norms.

2. Giancarlo Stanton hits endless dingers
Stanton may not have won the actual Home Run Derby, but he basically treated actual games as his own private Derby after the break. Stanton smashed 12 dingers in July -- with seven of them coming after the break. That's one less than the Giants hit as a team.
That included this shot during the Marlins' 22-run toppling of the Rangers:


Just look at that reaction. That's a guy that loves hitting dingers:

1. The Dodgers can't lose
After a three-game losing streak ended on June 6, the Dodgers decided they would never lose again. *(Okay, maybe not never, but pretty close.)
Since that game, they've had a six-game winning streak, a 10-game winning streak, an 11-game winning streak and, to wrap up the month, an eight-game winning streak. Their .870 winning percentage in July would, if projected over a full season, give them more than 140 wins in a full season.
Yes, that's absurd.
They won games on shrimp alert-filled walk-off walks:

They won games on "normal" walk-offs. Chris Taylor did his best Jose Altuve-impression, with an average over .400 for the month, while Rich Hill and Clayton Kershaw combined to pitch over 50 innings and allow only six earned runs. They now have Yu Darvish .
The team ERA was 2.65, or essentially an entire staff of James Paxtons. It's an unsustainable mark for sure, but PECOTA now has the Dodgers on pace to win 108 games.
Can the Dodgers keep it up? Will Stanton continue bashing more homers than entire teams? We'll just have to watch to find out.