These were 10 moments from July that reminded us why baseball is the most fun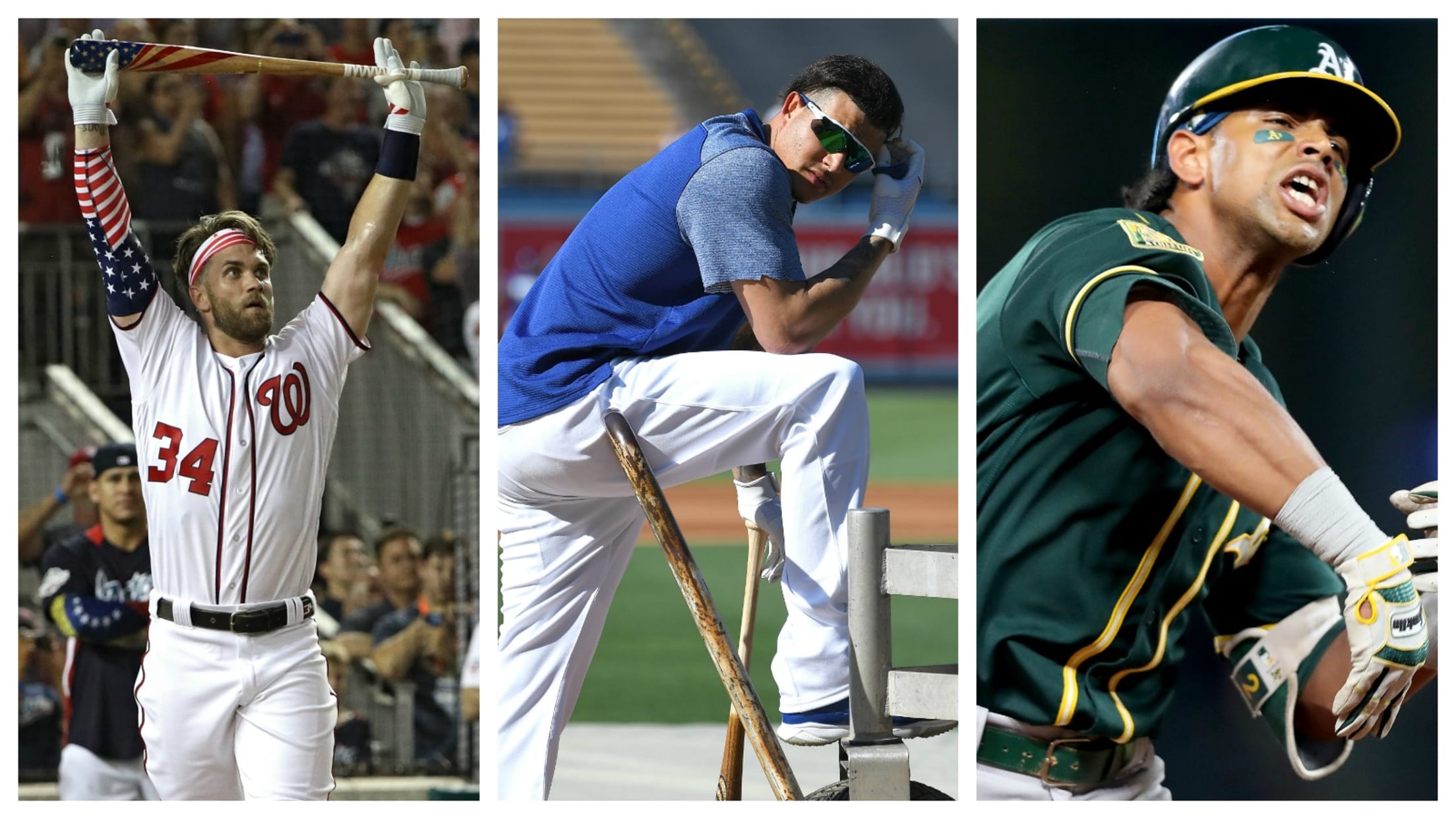 I don't know how we got here. It seems like just yesterday the season had started and now the season is almost over. It's slipped thrugh our fingers like blades of grass after they've been tested to see which way the wind was blowing.
So, before we dive headfirst into the stretch run, let's look back at the 10 best and most fun moments from July.
10. Non-Waiver Trade Deadline
If you went into a Rip Van Winkle-type sleep on July 30 and didn't wake up until Aug. 1, you may have thought you jumped five years into the future when you saw the next day's lineups. Where other deadlines feature the eye-clouding smoke of trade rumors with little spark, this year was a brush fire that cleansed every roster.
Chris Archer went to the Pirates, Jonathan Schoop to the Brewers, Brian Dozier went to the Dodgers and -- you know what -- if you need the full list just go here.
All I know is trying to keep up to date with all the moves was like going into those weird glass cases where money blows around you and you try to catch as much as you can. No matter how hard you tried, you could never get it all.
9. Ronald Acuña Jr. and Ozzie Albies are best friends
It's a simple fact that buddy comedies are the best kind of comedies made. This year, the baseball world has gifted us perhaps the perfect duo with the playful antics of Albies and Acuña. Even better, July also gave us the sweet and tender moments, too:
We all deserve best friends like this.
8. Sergio Romo plays third
Positions are merely a suggestion these days. Shifts routinely put four in the outfield, position players are taking the mound with stunning regularity and the Rays now start games with relievers. Everything is possible!
But Tampa Bay took it to a new level. While occasionally a pitcher will be moved to the least-likely-to-be-hit-a-ball spot in the outfield like the kid in Little League who preferred the sunflowers in the grass, the Rays moved Romo over to third base.
Honestly, the only weirder thing Tampa Bay could do is have an all-pitcher battery.
7. Max Kepler's throw
If we were in the glorious age of 1990s VHS, then this is the blooper that would be included on every single one. While most of the baseball we watch gives us the greatest heights of athletic achievement, every now and then, as we sit with coffee dripping down our chins and onto our shirts, we see that these are fallible human beings too.
6. Matt Chapman's throw
OK, so if we're going to laugh at one throw, we better be ready to drop our jaws for another. We'll get to the rest of the A's in a little bit, but for now let's show some love to Matt Chapman. In just his second big league season, Chapman has been regularly showing off an all-time great glove at third base.
That included this ranging-to-his-backhand snag and throw across the diamond.
5. The Nationals' amazing comeback
I'm not sure about you, but when I'm watching a game, I try to do the mental math to figure out when the lead is comfortable enough for me to relax. For once every few years there is a game like this one that proves no lead is ever truly safe.
Trailing the Marlins, 9-0, in the fourth inning, things looked bleak for the Nats. But they stormed back, thanks in part to eight RBIs from leadoff hitter Trea Turner that set an MLB record for leadoff hitters.
This is what that looks like from the cool, unemotional world of math and win probability. I have to imagine that is also an EKG for a Marlins fan:
4. Bryce Harper's Home Run Derby
Of course, there was one other Nats-centric comeback in July and it came in the Home Run Derby. When Kyle Schwarber, the man who was seemingly built to crush dingers, put up 18 homers in the final round, he was in good position to win.
When Schwarber was still leading by nine homers with less than a minute left, it was all but over. Harper then went into god mode. He bashed home runs like smashing a ball some 400-plus feet was as natural as breathing.
With the clock ticking down, Harper didn't need the bonus time he had earned for multiple 440-foot blasts. He had this thing to himself:
The Greatest Comeback in Sports History.

Don't @ us. pic.twitter.com/5pbtXoCMSf

— Cut4 (@Cut4) July 17, 2018
3. The All-Star Game of Dingers
The Home Run Derby didn't end after Harper's final blast, though. It apparently continued to the next day when the All-Star Game was held as ten -- count 'em, ten -- homers were sent out of the park.
Not only was this the game for those that miss the homer-happy halcyon days of late-'90s baseball, but the dingers all contributed to an incredibly tense -- and remarkably fun -- game.
There was the game-tying blast from Trevor Story in the seventh, the go-ahead three-run shot (complete with filmed footage by Nelson Cruz) by Jean Segura, a game-tying shot by Scooter Gennett in the bottom of the ninth -- you know what, you get it. You saw it. Now watch it all again:
2. The redemption of Kole Calhoun
Watching a player struggle as if they had shown up at the park one day with the decades of muscle memory completely lost is hard. That was what watching Kole Calhoun's first two months of the season was like. Coming off some solid, if unspectacular seasons, Calhoun's power and defense made him a crucial part of the Angels outfield. And then, at the end of May, he had a frightening .374 OPS.
Well, he's back now thanks to a blistering hot July. Calhoun changed his stance slightly and obliterated the ball with a .322/.378/.759 batting line. That included 10 home runs -- more dingers than he had hits in the entire month of May.
Perhaps the very best was his walk-off shot on July 28 to complete his narrative arc:
1. The A's make it a race
On July 1, the Mariners held an eight game lead over the A's for the second Wild Card spot. While it wasn't enough to give them the crown, it certainly seemed like they'd be pretty safe -- at the very least for a few more months.
The Oakland A's decided, nah, let's make the end of the season crazy exciting. Oakland went 17-8 in July and, when the sun came up on Aug. 1, were tied with the M's for the Wild Card. That's right, in one month there was a full eight-game swing.
They won back-to-back extra-inning walk-offs against their Bay Area rivals, the Giants, earning them this year's Bay Area Bridge trophy:
They followed that up with a sweep of the Rangers thanks to Khris Davis going absolute supernova:
While there was reason to be excited by the A's and their young, powerful lineup, the prevailing sentiment that they would need to wait a year before joining the postseason field -- especially when their rotation was decimated with injuries.
And yet, here we are. With postseason races tightening up across the league, the last two months are going to be a lot of fun.