It's been 15 years since Scott Hatteberg and the A's walked off for their 20th consecutive win
Some baseball memories stick with you forever. Hopefully, from a fan's perspective, there are more jubilant, happy memories than there are heartbreaking ones.
The night of Sept. 4, 2002, was a special one for the Oakland A's, who carried into their matchup with the Royals a highly improbable yet very real 19-game winning streak. They were one more victory away from setting an American League record. The stakes were high, the Coliseum was packed, and the A's jumped out to an early 11-0 lead.
It definitely seemed like Oakland was going to coast through the game's final few innings and wrap up the record in a laugher ... but that didn't happen, as you may have already known. Or, perhaps, you saw the dramatization in 2011's Moneyball, a film that used the story arc of the 20-game winning streak as its main dramatic point (since that A's team lost the AL Division Series to the Twins).
Anyway, back to the game. For fans at the Coliseum that evening, it was a bit surreal. To see that seemingly unbeatable A's team squander an 11-0 lead when Billy Koch served up a game-tying RBI single in the ninth was a stark reality of the unpredictableness of baseball -- as was how it ended, in storybook fashion.
Scott Hatteberg -- picked up by the A's as an ex-catcher and converted into a first baseman as a means of getting his high-OBP hitting skills in the lineup, as referenced in the Moneyball film -- came off the bench to pinch-hit for Eric Byrnes.
Hatteberg promptly stepped up and blasted a solo homer into the right-center-field bleachers off Jason Grimsley to deliver a huge 12-11 win in walk-off fashion:
It was a feat that set off a raucous celebration that looked like a group exhale after what was undoubtedly a stressful few hours:
That moment celebrates its 15th anniversary today. The call, delivered by late Bay Area radio legend Bill King, exemplifies the energetic and unique style King had in the booth, one that helped him posthumously win the Ford C. Frick Award last December. The homer was even given its own cinematic depiction in Moneyball, complete with King's original radio call for effect:
Here's the local broadcast call of the play. Soak in the drama:
In baseball, it's hard not to immediately call to mind October success and World Series titles when you think of powerful moments that stick with you ... but for A's fans in the early '00s, few moments shined as vividly as Hatteberg's triumphant homer and the unfurling of the giant "20" banner on the football seats in center field just as the homer landed in the stands.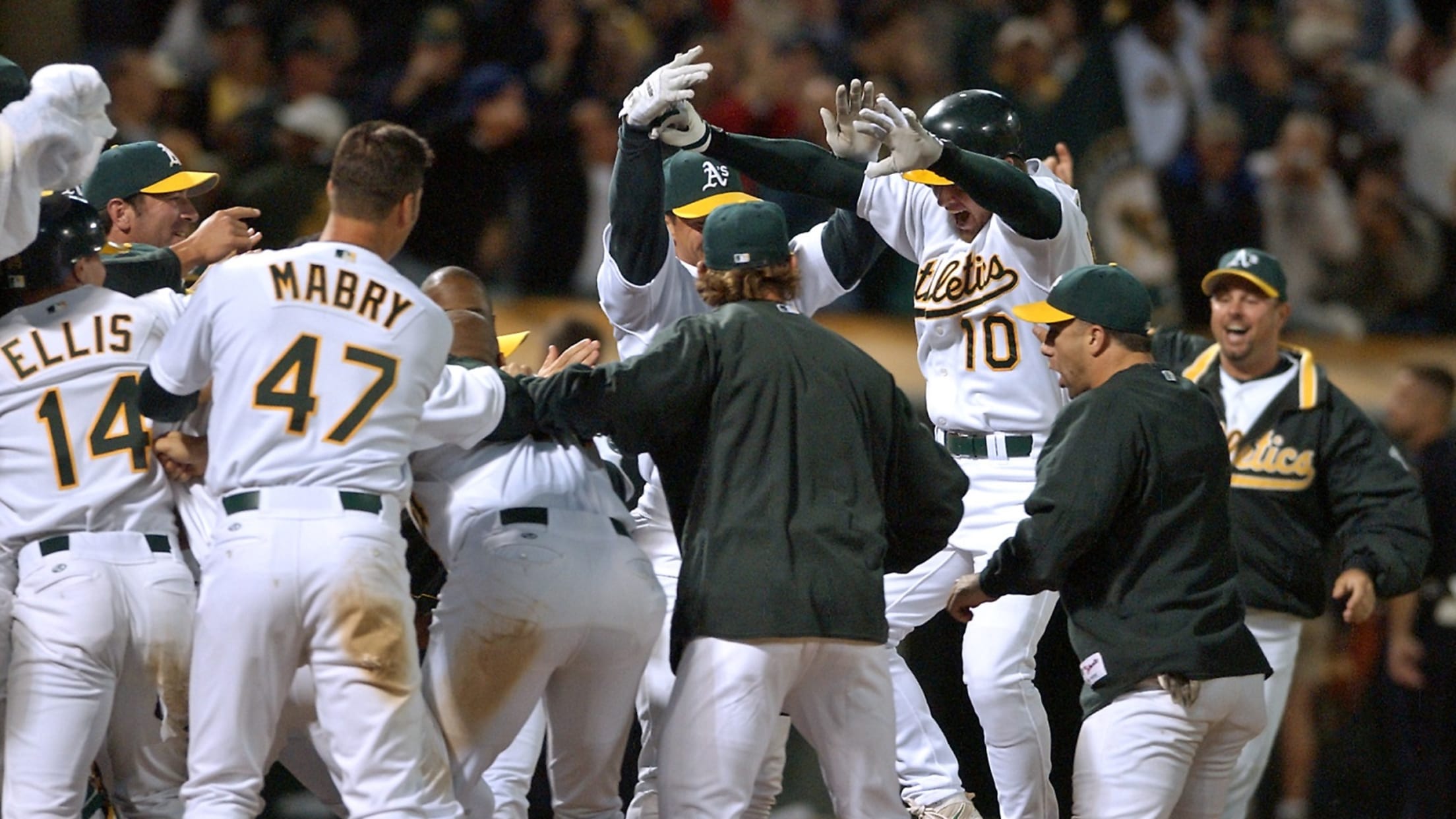 That team -- and the Moneyball-era A's squads of those few seasons -- may not have won any World Series, but the events of Sept. 4, 2002, are etched in franchise history forever. As is that 20-game win streak, probably.