15 years before the Warriors made history, the awesome 2001 Mariners set MLB's wins record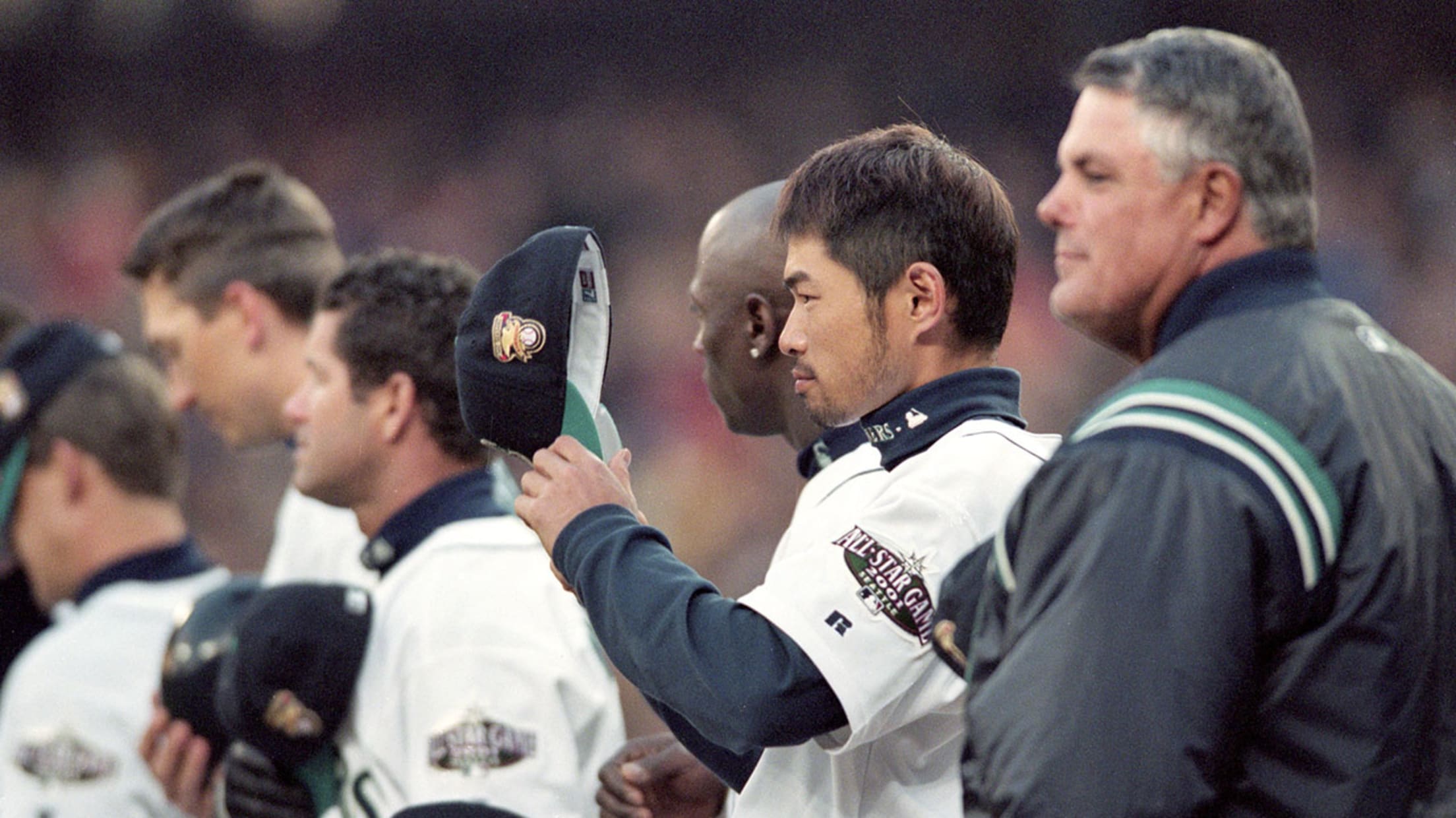 2 Apr 2001: Ichiro Suzuki #51 of the Seattle Mariners takes off his cap as he stands in line for the National Anthem before the game against the Oakland Athletics at Safco Field in Seattle, Washington. The Mariners defeated the Athletics 5-4.Mandatory Credit: Otto Greule Jr /Allsport (Otto Greule Jr)
On Wednesday night, the Golden State Warriors put a historic bow on top of their amazing 2016 season, beating the Grizzlies, 125-104, to clinch the best regular-season record in NBA history at 73-9.
Fifteen years ago, an MLB team completed a similar journey. The 1906 Cubs won 116 of 152 games, a record that stood for almost a century .... until the 2001 Mariners came along. Seattle had it all that year: Freddy Garcia on the mound, Lou Piniella in the dugout, and some rookie named Ichiro taking the league by storm.
Still not convinced of their all-time awesomeness? That's fine, we've got a few more reasons for you.
They were the best at basically everything
The Mariners' 116-46 record doesn't even begin to cover it. The M's led the league in seemingly every category: runs scored, hits, on-base percentage, team ERA, batting average against, shutouts and, just for good measure, fielding percentage.
They had a 15-game winning streak between May and June, finished the first half at 63-24, led the division by 19 games at the All-Star break, and never took their foot off the gas. In short, they were awesome, in no small part because ...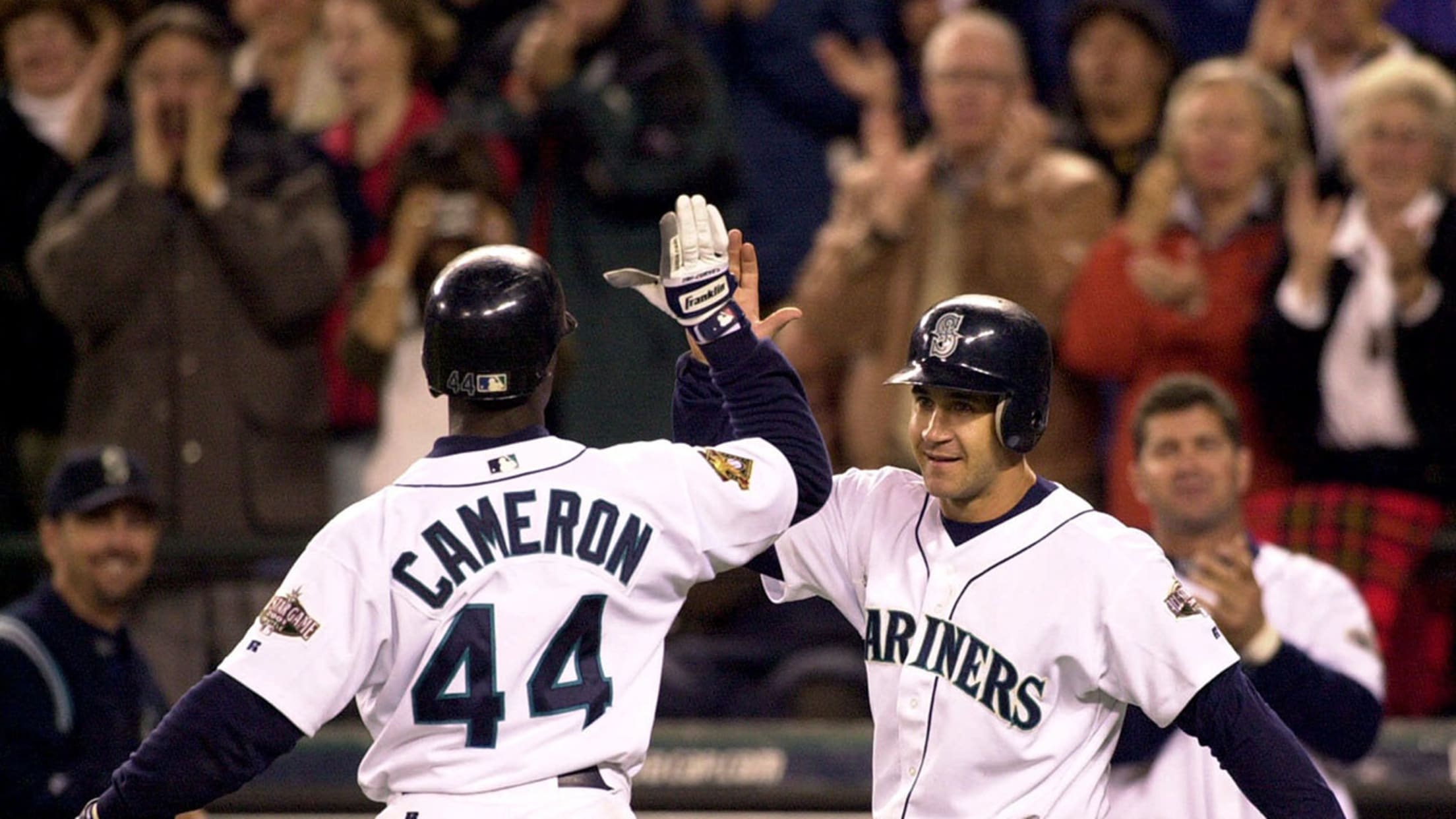 The lineup was incredibly deep, and incredibly '90s
The 2001 Mariners had traded Ken Griffey Jr. and lost Alex Rodriguez to free agency in successive offseasons. They ranked just 18th in home runs. They didn't have a single hitter in the top 10 in dingers, slugging percentage or OPS. They were also the best offense in baseball -- thanks to a lineup where everybody got on base, and nobody was an easy out.
In addition to being incredibly good, Seattle's lineup had the added bonus of being the baseball card collection your '90s self could only dream of. John Olerud slashed .302/.401/.472 and hit 25 homers; Mike Cameron realized all of his five-tool potential, hitting 25 dingers and swiping 34 bases; Mark McLemore (Mark McLemore!) stole 39; Bret Boone had a career year, driving in 141 runs and finishing third in the AL MVP vote; and Edgar Martinez was, well, Edgar Martinez: .423 on-base percentage, 40 doubles. David Bell even made an appearance.
And yet, despite all those gaudy numbers, the M's lineup belonged to someone else. A rookie from a faraway land, who would inspire odes in his honor for years to come.
They had Ichiro
With Griffey and A-Rod no longer anchoring the lineup, the Mariners needed to make a splash. So, in the winter of 2000, they won the posting process for Ichiro Suzuki -- one of the greatest players in the history of Japan at age 27. But in Spring Training, Ichiro struggled -- so much so that Piniella, who had planned on batting him third before even seeing him play, began to wonder out loud whether the team had made a mistake. And then the season started.
As it turned out, Ichiro would be just fine -- he slashed .350/.381/.457, won the batting title, and was named both Rookie of the Year and AL MVP. He could do just about whatever he wanted on a baseball field. He launched dingers:
He was a wizard with the bat:
And, of course, he had a howitzer of an arm:
15 years later, Ichiro is still going strong at age 42. Speaking of which ...
They also had Jamie Moyer, ageless wonder
Jamie Moyer's pitching career spanned, approximately, forever -- its time is a flat circle, and it will outlive us all. But for a more specific example, consider: Moyer was Seattle's No. 2 starter back in 2001 -- he pitched to a 3.43 ERA over 209 2/3 innings, and finished fourth in AL Cy Young Award voting -- at age 38. He would go on to pitch for another 11 years, because Jamie Moyer is not of this world.
But he was just the tip of the glorious iceberg that was the M's pitching staff, a mix of beloved veterans and names who would become beloved veterans. Leading the way was Freddy Garcia, who came from Houston with shortstop Carlos Guillen as the return for Randy Johnson at the 1998 Trade Deadline. Armed with a nasty mid-'90s fastball at age 24, Garcia threw 238 2/3 innings with a 3.05 ERA. Aaron Sele went 15-5, and 22-year-old rookie Joel Piniero shined in his first pennant race; he made 11 starts in 2001, and put up a 2.01 ERA.
The sweet, sweet nostalgia doesn't stop there, though. We haven't even gotten to the bullpen yet -- a group that not only included Arthur Rhodes and former Nasty Boy Norm Charlton, but also one baseball's most endearing closers.
Let's all remember Kazuhiro Sasaki
A few things to know about Kaz Sasaki:
1. He was very, very good: Sasaki saved 45 games with a 3.24 ERA while being named an All-Star in 2001, thanks to a splitter that was borderline unhittable.
2. You would absolutely watch 15 seasons of the Kaz Sasaki-Ichiro Suzuki buddy cop show, in which two fun-loving officers of the law solve crimes with a smile.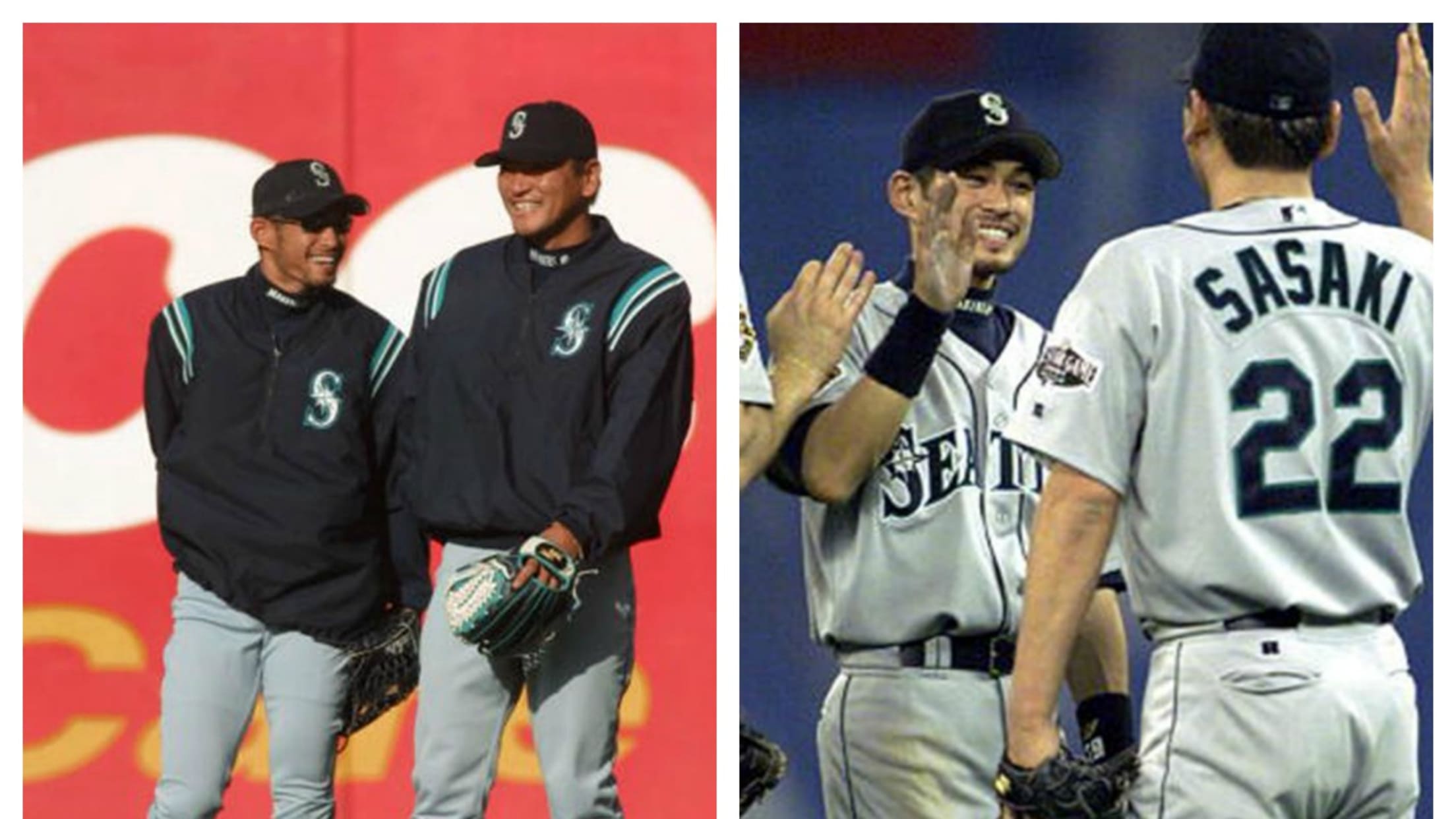 He had easily the best post-save celebration in baseball: the bow.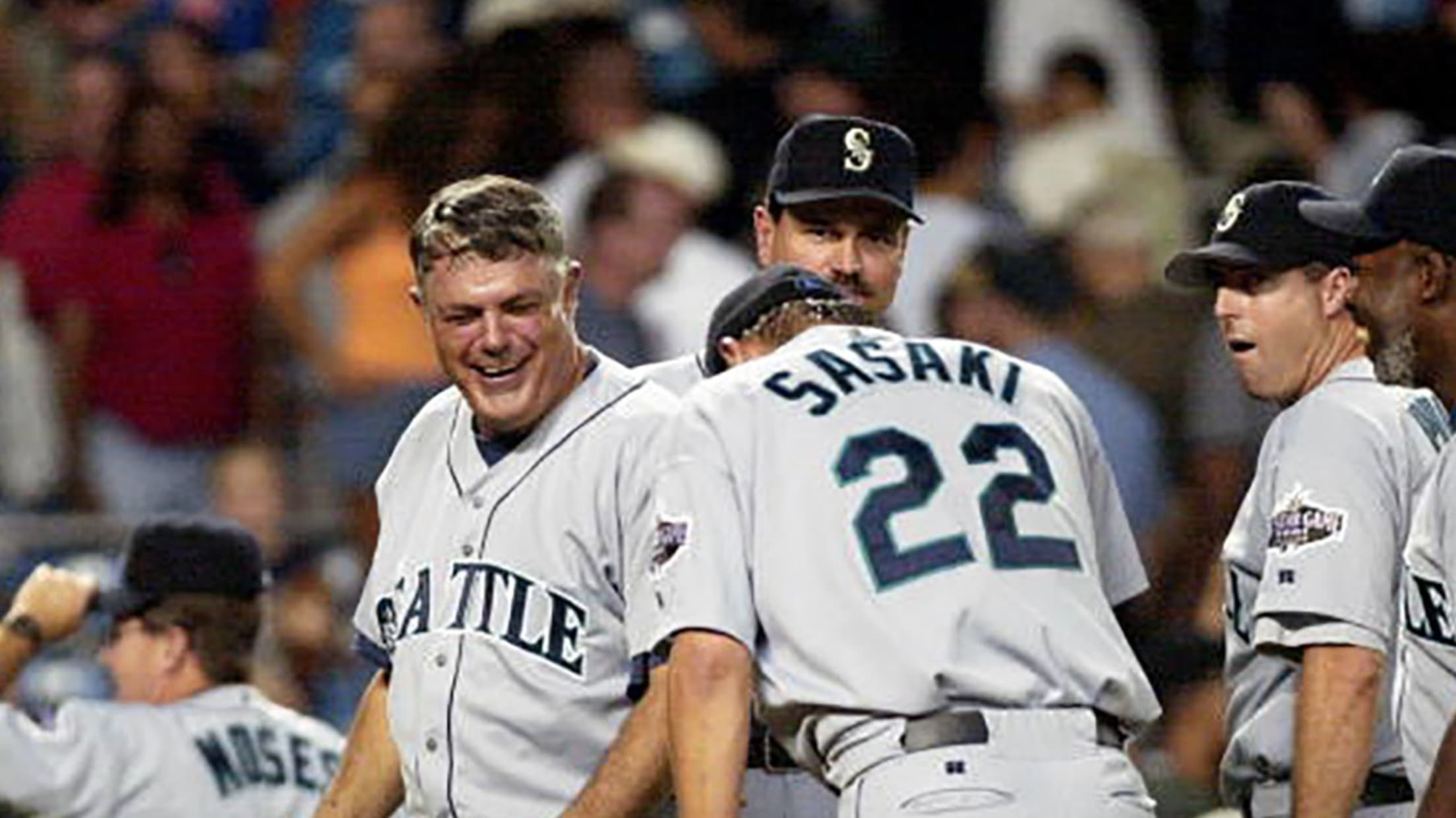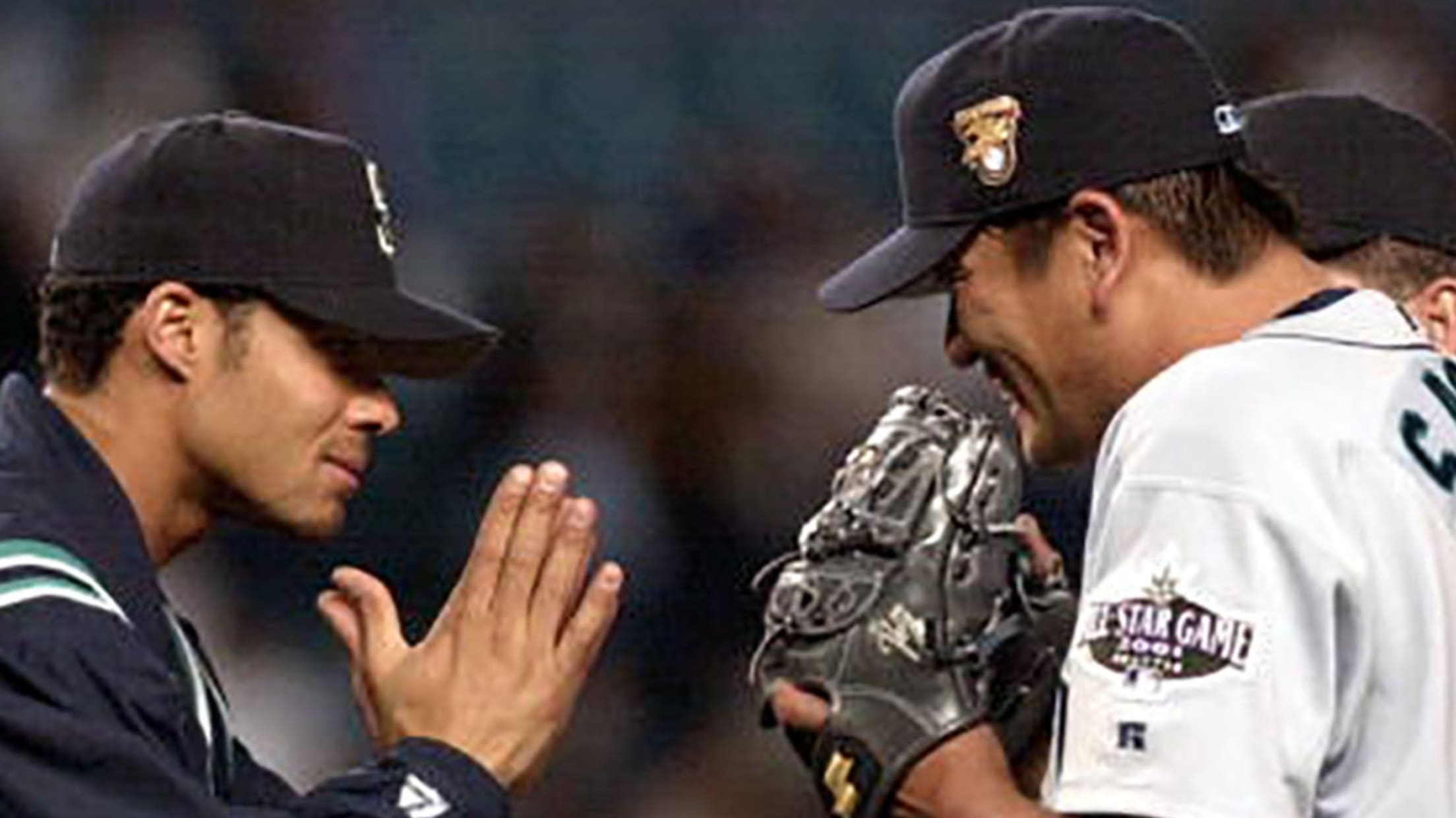 They ran the All-Star Game
The 2001 All-Star Game may be remembered for different reasons -- Cal Ripken Jr.'s final ride, for one -- but it was the Mariners' show. It marked the first Midsummer Classic at Safeco Field, and the home team didn't disappoint: Seattle sent eight representatives to the game, including four starters -- Ichiro, Martinez, Olerud and Boone. Garcia got the win, Sasaki got the save, and Tommy Lasorda managed to get out alive:
All that added up to a magical regular season in Seattle, but also a cautionary tale: After defeating the Indians in a five-game ALDS, the Mariners fell to the Yankees in five games in the ALCS. Your move, Golden State.