Five alternative ways to break a potential tie for home field advantage in the Wild Card Game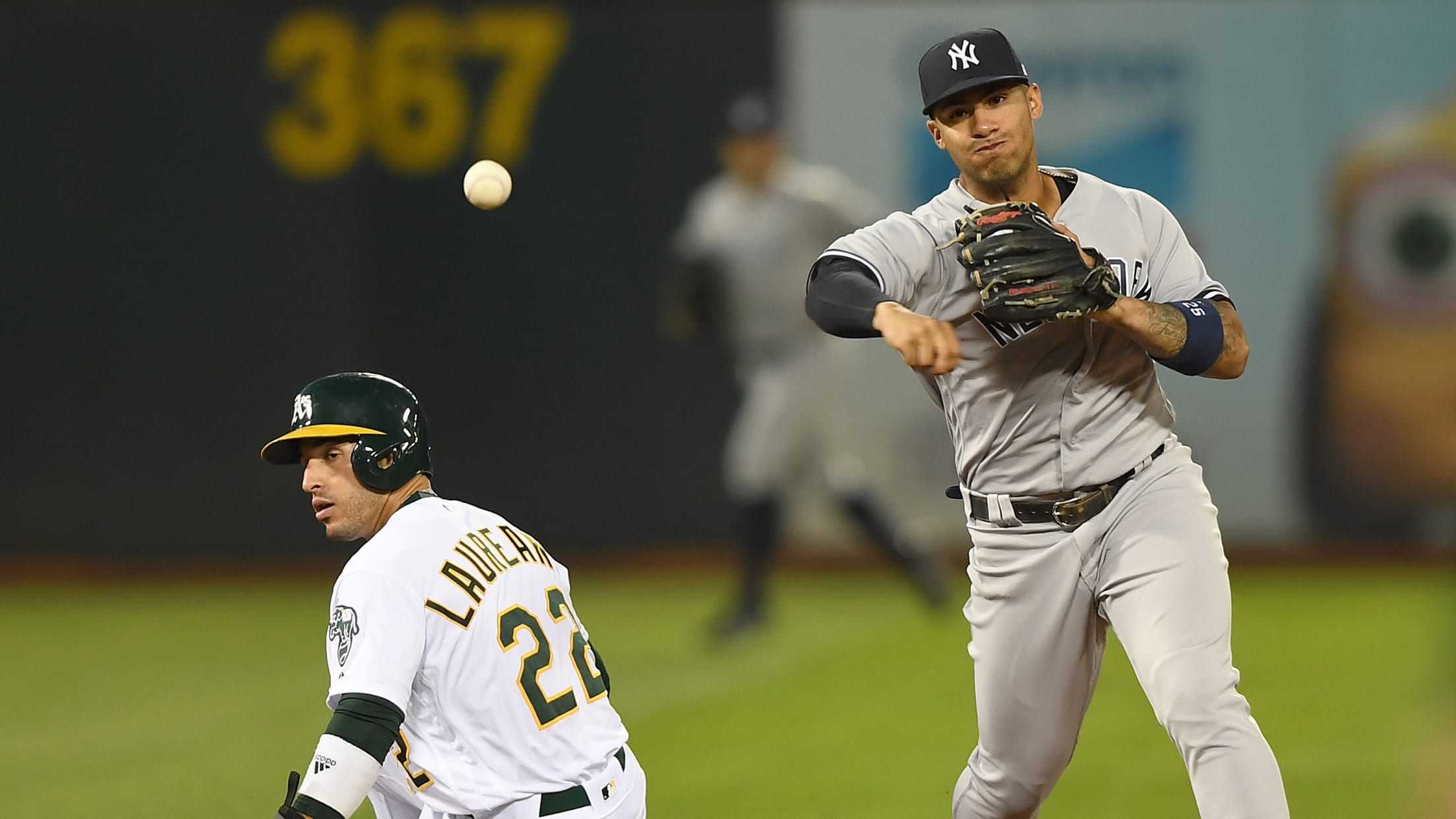 <> at Oakland Alameda Coliseum on September 4, 2018 in Oakland, California. (Thearon W. Henderson)
The BBQ's Best 5 is exactly what it sounds like: Each week, we'll pick a category around the world of baseball and talk about the five best things within that group. Today, we're highlighting the five best alternative tiebreakers.
The A's and Yankees have all but locked in their tickets to the AL Wild Card Game, but Oakland is making a late push to snatch the home field advantage from New York. There is also the chance that these two teams could end up tied in the standings, which would result in a series of tiebreaker rules, that as of today, the Yankees would win.
But what if there was a better way to break the tie and award home field that way? What are some other ways these two teams could earn the right to play the Wild Card Game in front of their own fans?
Here are our best suggestions:
1. Home Run Derby
At first glance, this may seem a bit one-sided, considering the Yankees are making a run at the record for most home runs by a team in a single season. But Oakland's 205 home runs rank third in baseball, and they currently boast the individual home run leader in Khris Davis, plus a couple guys named Matt (Chapman and Olson) who have a knack for the long ball as well. Find a neutral site -- heck, do it at some lucky high school field -- and let the dingers determine home field. The bracket would look like this:
1) Khris Davis vs. 8) Miguel Andújar
2) Giancarlo Stanton vs. 7) Matt Chapman
3) Aaron Judge vs. 6) Matt Olson
4) Stephen Piscotty vs. 5) Didi Gregorius
Who's not tuning into that?
2. Tug of war
Sure, we all know about the two titanic forces in pinstripes, Aaron Judge and Giancarlo Stanton, who are likely two of the strongest players in all of baseball. But tug of war is as much of a team competition as you're going to find. And to make things more interesting, the two teams wouldn't just put their 25 strongest players along the rope to literally pull for home fiel. No, a minimum of coaches and front office members would also be required to participate.
Just imagine: Billy Beane and Brian Cashman at the front of rope, eye to eye, not wanting to budge. Added motivation: Not only would the losing team fall into a pit of mud in the middle, they would also have to immediately board their plane to the winning team's host city covered in mud.
3. Rock-paper-scissors tournament
Why not apply the most traditional tiebreaker to one of the most important baseball games of the season? Each organization enters 32 of their most confident rock-paper-scissors competitors into a 64-person, March Madness-style bracket. But this tournament would be over in a hurry: Rather than taking a couple weeks, the 2018 Wild Card Game Home Field Advantage Rock-Paper-Scissors Tournament Jamboree could be completed in a matter of minutes.
The Yankees would likely want to re-acquire Todd Frazier for the purposes of this event:
4. Seniority
Simple as that: Always respect your elders. And in this case, the oldest player between the two rosters is Fernando Rodney, who turned 41 in March and out-seniors fellow veteran CC Sabathia by more than three years. However, Sabathia's first year in professional baseball was 1998, while Rodney's was 1999. So one could also argue that Sabathia is actually the more senior of the two, and thus the AL Wild Card Game should be held in Yankee Stadium.
Of course, the combined age of the Yankees' 40-man roster of 1,067 years old is practically juvenile compared to the rugged 1,124-year-old 40-man roster for Oakland. So maybe this one doesn't quite break the tie as cleanly.
5. A cook-off
How about we take these athletes out of their element completely and pit them against each other in a straight-up cooking competition? While most cooking competition shows involve teams of one or two chefs at most, this Chopped-style Wild Card tiebreaker would require every member of the active roster on each team to contribute to the dish in some way, truly testing the old adage of, "Too many cooks will spoil the broth."
Will Matt Chapman make the salad dressing? How will Aaron Hicks handle the secret ingredients? At what point does Zach Britton just throw his hands up and go to the ice cream machine? We can't wait to find out on Cook For Home Field Advantage Wild Card Challenge.