When did Max Scherzer become the best pitcher in the world?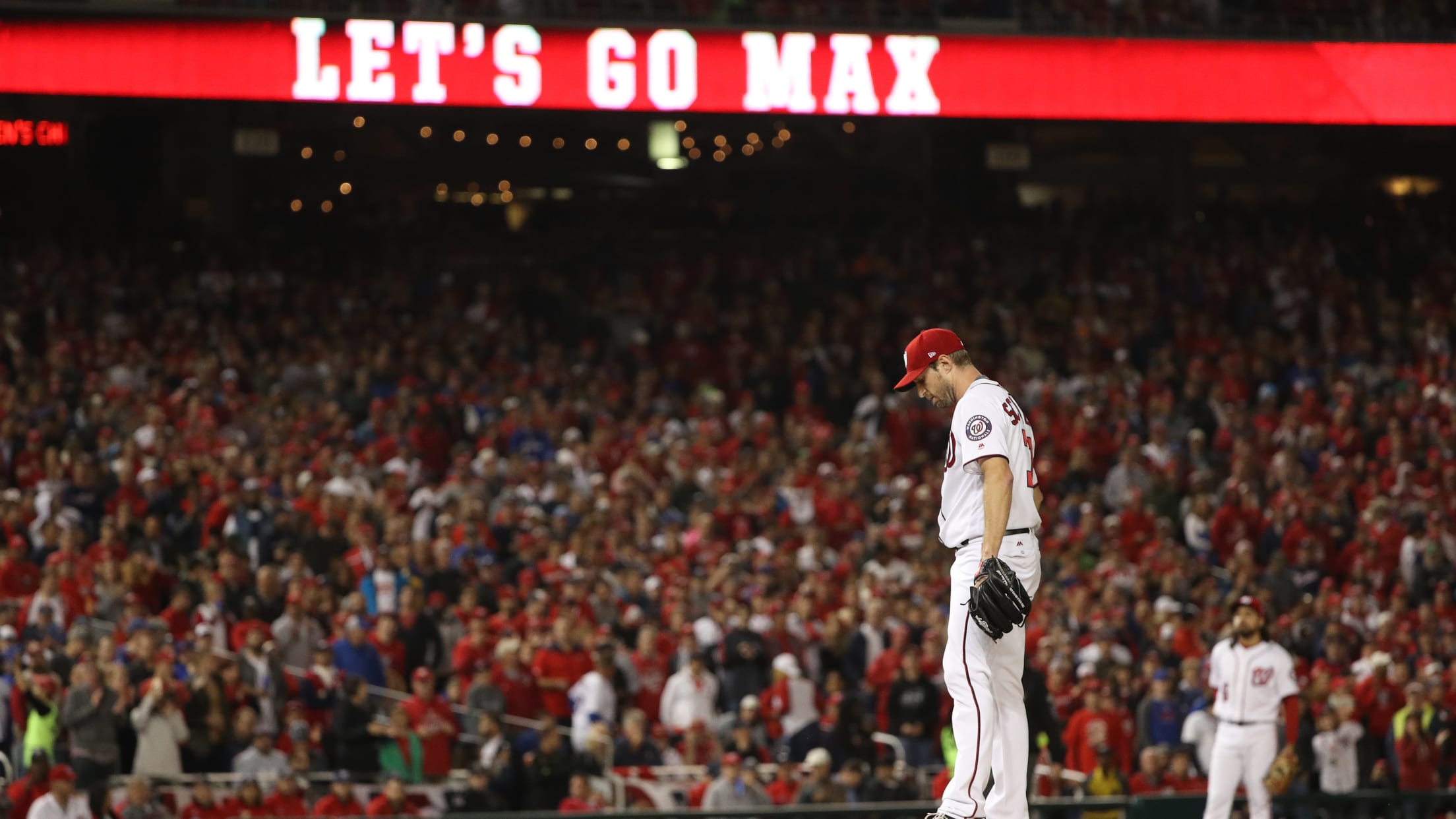 (Patrick Smith)
It's time to face the facts: Max Scherzer is the best pitcher on the planet.
It seems like every time he's on the mound, there's a tweet or At Bat alert or heterochromatic bat signal in the sky that the Nationals starter has 10 K's through four innings (he has 10 or more in 10 of his 15 starts in 2018). He leads the league in wins, complete games, innings pitched, strikeouts, K/9, HR/9, WHIP, FIP, DIP, DRIP and DROP [Note: Some of these are not real stats, but he's probably leading in them anyway, so we're leaving it].
But, when did it happen? At what point did Scherzer pass Clayton Kershaw, Corey Kluber and Chris Sale as the pitcher you want on the mound with your life on the line? Let's quickly review his career and take a look.
2008
Scherzer didn't have a fast start to his career and shoot through the Minors like Kershaw or Sale. He even spent time with the Independent league Fort Worth Cats back in 2007, but once he was called up in '08, he immediately made his presence known. He came in as a reliever and proceeded to retire 13 straight batters -- a record for the most consecutive batters set down in a big league debut:
Scherzer finished the season 0-4 with a 3.05 ERA, and had a game against the Dodgers where he struck out 11 batters in 5 innings, but he was still very far from the Mad Max we know and are frightened of today. Cliff Lee, Johan Santana and Tim Lincecum were a few of the top starters in baseball at this point -- all better than Scherzer.
2009-12
For these four seasons, from ages 24-27, Scherzer was good, but not great. He went 52-38 with a 3.94 ERA, while averaging 191 K's per season, a 1.302 WHIP and 9.2 K/9. But, his K/9 did jump into double-digits (11.1) for the first time in his career in 2012 -- almost three whole points higher than the previous year -- and he surpassed the 200-strikeout mark for the first time (231). He would never dip below these levels again.
Max was slowly, but surely, becoming Mad Max.
He also put up a huge game against the A's in 2010, giving up zero runs, two hits and striking out 14 in under six innings of work:
Scherzer then set a career high by striking out 15 in seven innings in a 2012 game against the Pirates:
Look at him totally befuddle a young, soon-to-be NL MVP Andrew McCutchen.
Still, if you were starting a team during that time period, Roy Halladay, Félix Hernández and an up-and-coming kid named Clayton Kershaw would be the guys you'd want as your No. 1. Scherzer wasn't even the best on his own team. That title belonged to Justin Verlander, who went to five All-Star games and won a Cy Young and MVP during those years.
2013
Usually when you win the Cy Young Award, you'd think you're more or less the best pitcher in baseball. And Scherzer was great in 2013 -- he led the league in wins (21-3) and WHIP (0.970) en route to his first pitching honor. He struck out 10 or more in three of his five April starts, including this dominating, 12-strikeout performance against the Mariners:
But, as even Nolan Ryan can probably tell you, wins and losses are a tricky way to judge a starter's success in one season. And, looking deeper into the numbers, there's a good chance you would've taken Kershaw (194 ERA+), Yu Darvish (277 strikeouts) and maybe Rookie of the Year José Fernández over Scherzer at this juncture. Sorry, Max, we're just trying to get you madder.
2014
Scherzer led the American League in wins again (18) along with Corey Kluber, but all in all, this season was a setback for the former Cy Young winner's quest to become the best pitcher in the world. His ERA went from 2.90 to 3.15, his WHIP rose to 1.175 and his H/9 and HR/9 both increased. Meanwhile, Kershaw somehow put up an even better campaign that year and one of the best in recent memory. Kluber had his coming-out party to win the Cy Young, and King Felix posted baseball's lowest ERA (2.14) in more than a decade.
You mad, Max?
2015
It's 2015, and Max got mad.
After signing a mammoth deal with Washington, Scherzer put up his best ERA (2.79), most strikeouts (276) and lowest WHIP (0.918) in his career up to this point. And even though Zack Greinke (1.66 ERA, 222 ERA+), Cy Young Award-winning Jake Arrieta (1.77 ERA, 215 ERA+) and Kershaw put up historically dominant seasons, Scherzer put together a mind-boggingly amazing stretch.
During his last three starts in June, his numbers looked like this: 26 IP, 3 W, 2 CG, 33 K, 1 BB, 2 ER, 6 H, 0.69 ERA, .071 OBA. He went an ungodly 52 batters without allowing a hit, helped by a one-hit, 16-K shutout on June 14:
And he followed it up with a near perfect game (1 HBP in the ninth inning) in his next start on June 20:
Scherzer saved his best for the last day of the season, pitching another no-hitter -- this time against the eventual NL champion Mets. He struck out 17 in the process:
The second no-no produced a Game Score of 104 -- the second-highest all-time, only behind a Warren Spahn no-hitter in 1960. It was hailed as one of the best games by a pitcher ever.
He became the first hurler in baseball history to have two Game Scores over 100 in one season (his one-hitter was an even 100). He also joined Spahn and Nolan Ryan as the only pitchers since 1918 to have a season of three Game Scores of 95 or higher.
All this right here -- the streak in June and this performance closing out the '15 season -- were the jumping-off points for Scherzer placing himself into the conversation as best pitcher in the world.
2016-17
Mad Max reinforced his desire to be the best pitcher on the globe by taking home back-to-back Cy Young Awards in '16 and '17. Kershaw was still great, but unfortunately, often injured. Kluber was also excellent -- especially in '17 -- but Scherzer had a higher K/9 (12.0 to 11.7), more strikeouts and with each punchout, he brought an intensity unrivaled in the game.
Especially when he reached the heights of Roger Clemens, Kerry Wood and Randy Johnson by striking out 20 Tigers batters in '16:
If you wanted to win, you wanted him on the mound. You needed him on the mound. Look at this man. He's possessed -- he is full-on Mad Max.
2018
This season has been much of the same for Scherzer, if not better. He's on pace to set career highs in wins (10), strikeouts (152), K/9 (13.6) and WHIP (0.844). Watch him finish off this two-hit, 10-K shutout against the Braves in April:
Between his back-to-back Cy Youngs, his burning desire to strike out every human being set before him, his dominant performances day after day and his ability to stay healthy -- it's hard to think there's anybody better right now. It's funny to think that 11 summers ago, he was pitching in front of hundreds of fans on the Indy league circuit.
How much greater can Scherzer become? How much madder can Max get? Only time will tell.
Teams in this article:
Players in this article: