Remembering the career of Herb Washington, the A's 'designated runner'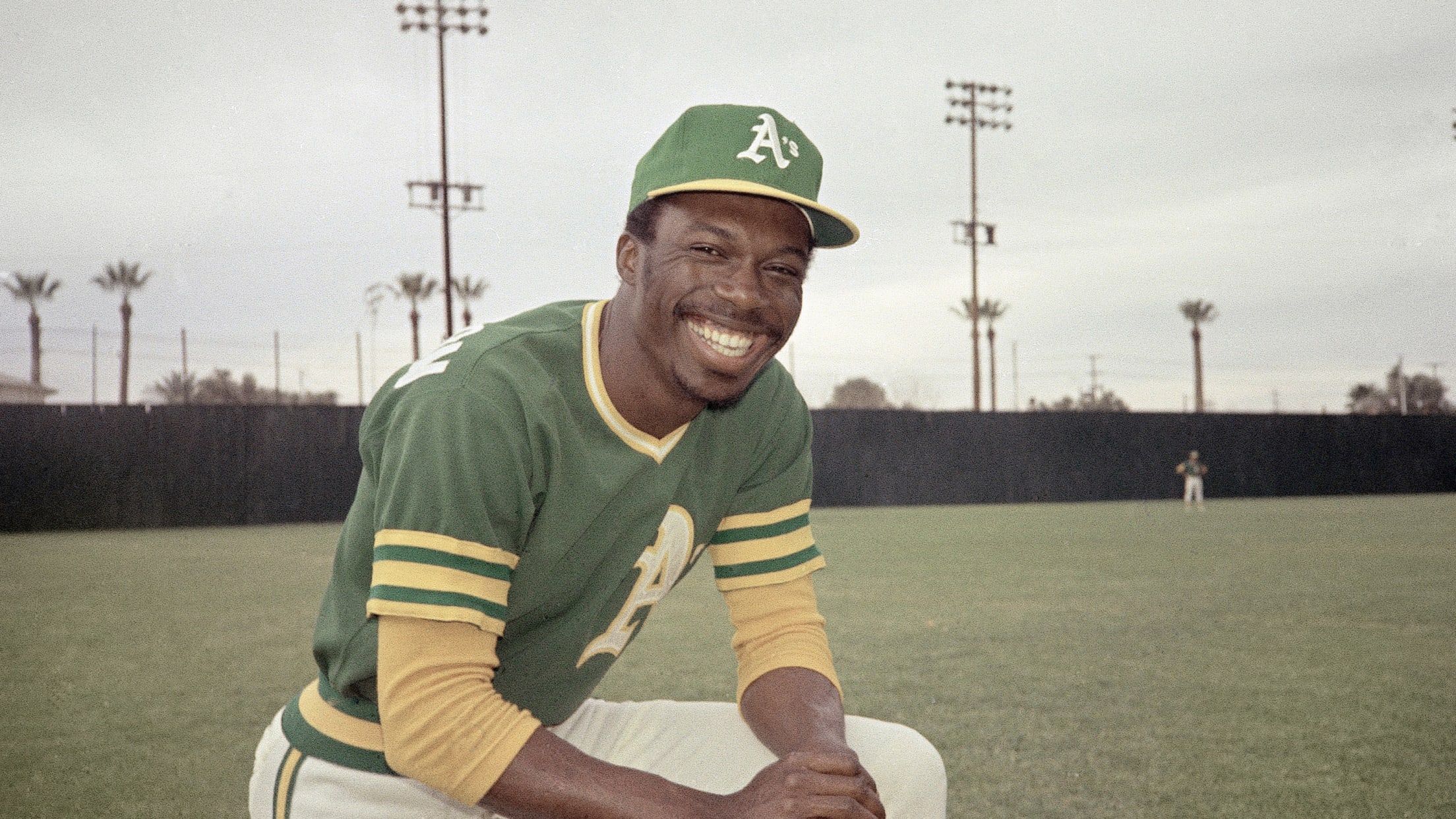 In 1973, baseball was revolutionized when the American League adopted the designated hitter. However, one AL owner had his specialization goals set even higher.
Charlie O. Finley was the man behind a tremendous dynasty. His Oakland A's became the only team aside from the Yankees to win three World Series championships in a row, a feat they accomplished from 1972 through 1974. They were led by Hall of Famers like Reggie Jackson and Catfish Hunter, and other excellent players, like captain Sal Bando and Gene Tenace.
Finley had a quirk in his rosters, though. He preferred to use the last spot on his bench for a new position that was only really used by the A's -- the "designated runner."
For several years, including the first two years of Oakland's championship threepeat, Finley used Allan Lewis in this spot. He appeared in 156 games for the A's between 1967 and 1973, and he only actually played the field in 10 of those games (akin to recent Royals speedster Terrance Gore).
With Lewis passing his 32nd birthday in December of '73, Finley wanted someone younger, so he was assigned to the Minors. The next designated runner would be a whole new experiment entirely -- imagine the Braves signing "The Freeze" to a Major League deal.
Enter 22-year-old Herb Washington. He hadn't played baseball since the summer between his sophomore and junior year at Central High School in Flint, Mich. Instead, Washington made his name as a sprinter, setting then-world records in the 50-yard dash and the 60-yard dash, while also beating 1968 U.S. Olympic hero John Carlos at the Michigan State Relays.
Washington had unsuccessfully tried to become a football player in addition to his sprinting, but Finley opened the door to a surprising alternative. Prior to the '74 season, the A's signed Washington. He would not play a game in the Minors and he would not make a single appearance in the field, or at the plate. Washington was exclusively a designated runner, the first of his kind. He knew his unique value, too, and successfully negotiated a no-cut contract:
"Finley said, 'Herbie, I want you to play baseball and be a pinch-runner.' I said, 'Mr. Finley, I'm going to need a no-cut contract. I know sometimes you just get rid of people.' He said, 'A no-cut contract? The only players who have those are Vida Blue, Catfish Hunter and Reggie Jackson! Are you telling me you're in the same league as those guys?' I said, 'No, but none of those guys can outrun me.'"

- Herb Washington

Even Washington's baseball card just said "pinch-runner."
The results were mixed. Washington played 92 games, all as a pinch-runner, scoring 29 runs and stealing 29 bases, a total good enough for seventh in the league. The downside was that he was also thrown out trying to steal 16 times, more than all but three AL players. His pure speed did aid the pennant race, such as on Aug. 2, 1974, when he pinch-ran for Bando late against the White Sox, stole second and scored the eventual game-winning run on Jackson's single.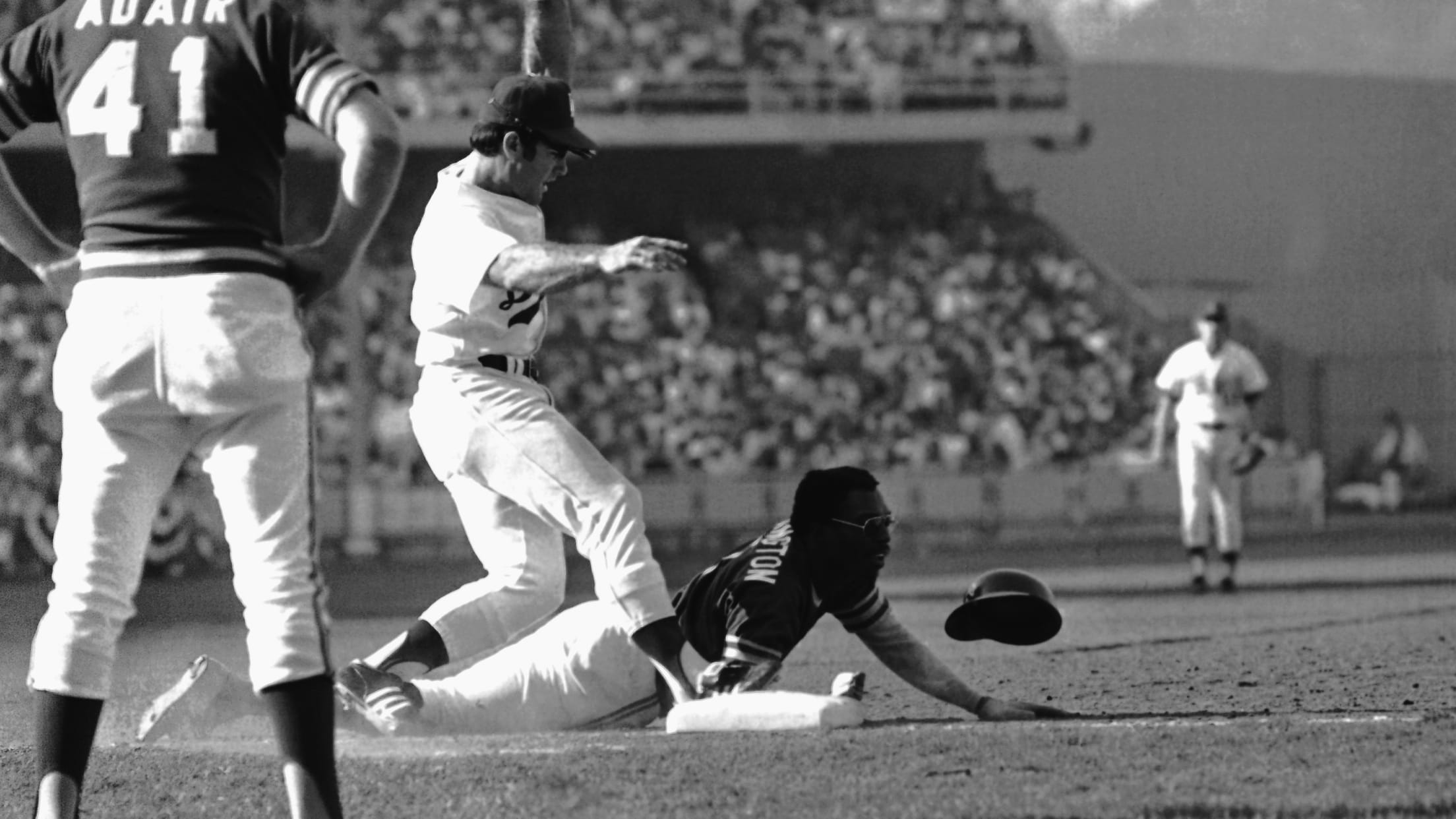 Unfortunately, the '74 playoffs did not go swimmingly for "Hurricane Herb." He was thrown out on both of his stolen base attempts during the ALCS against the Orioles. Then, Washington was called upon to make his World Series debut against the Dodgers in Game 2, coming in for Joe Rudi at first base with one out and Oakland trailing by one run. A stolen base and a single would tie it up, 3-3.
Reading pitchers' moves was always Washington's weakness, however, and Cy Young Award winner Mike Marshall had a tough one. The sprinter was caught:
The A's lost Game 2, but that was their only World Series loss in '74. They captured the Fall Classic in five games, and Washington (who appeared in two other games with no consequence) was a champion, anyway.
Washington survived one year on a no-cut contract, but with just two stolen bases through 13 games in 1975, the A's decided to let him go in early May. Although Finley still wanted a designated runner, he wanted someone who could actually play the field and bat, too.
While Washington left baseball, he remains the most famous of Finley's designated runners, and the only man to appear in over 100 MLB games without a single appearance anywhere other than the basepaths.