Confusion and chaos led to an unintended hidden ball trick with Kole Calhoun and the A's infield
Wednesday afternoon's Angels-A's game was strange. The two AL West rivals battled into extra innings, fans scaled rows of seats chasing foul balls, seagulls battled hot dogs, and there was a bizarre moment in the top of the ninth inning that demands repeat viewings.
With one out and Kole Calhoun on first base, Brian Goodwin hit a squibber up the third-base line. Matt Chapman ran over and picked the ball up, firing it to second hoping for a forceout on Calhoun. Only ... shortstop Marcus Semien caught the ball instead of second baseman Jurickson Profar while standing off the bag, so Calhoun was safe.
At that point, the chaos kicked in. In the photo below, notice Chapman (with the yellow arrow), essentially miles from his normal post on the third-base bag. Calhoun (red arrow) noticed this, too, and began running to third: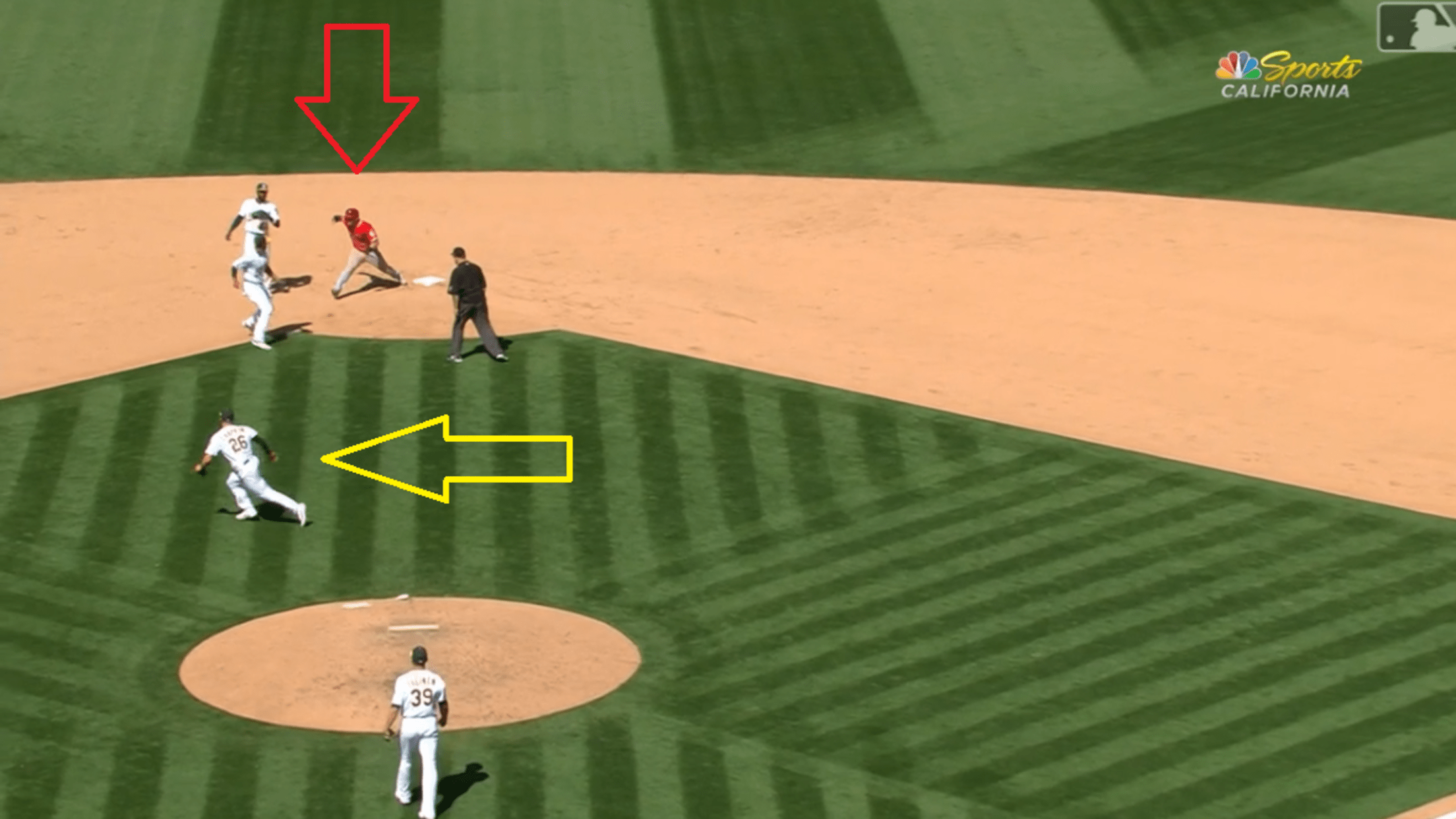 But it was not meant to be, as Semien snapped to attention and tagged Calhoun for a surprise second out which kind of worked like an unexpected hidden-ball trick:
Just a wacky sequence, right there. Calhoun and the Angels got over this odd play, plating five runs in the 11th to take the game by a final score of 12-7.
Adrian Garro joined MLB.com in 2016. Throughout his travels, both Bartolo Colon and Vin Scully have placed their hands on his shoulders. Not at the same time, though. That'd be amazing.
Teams in this article:
Players in this article:
Topics in this article: