A swarm of bees, doing whatever it is that bees do, interrupted Padres batting practice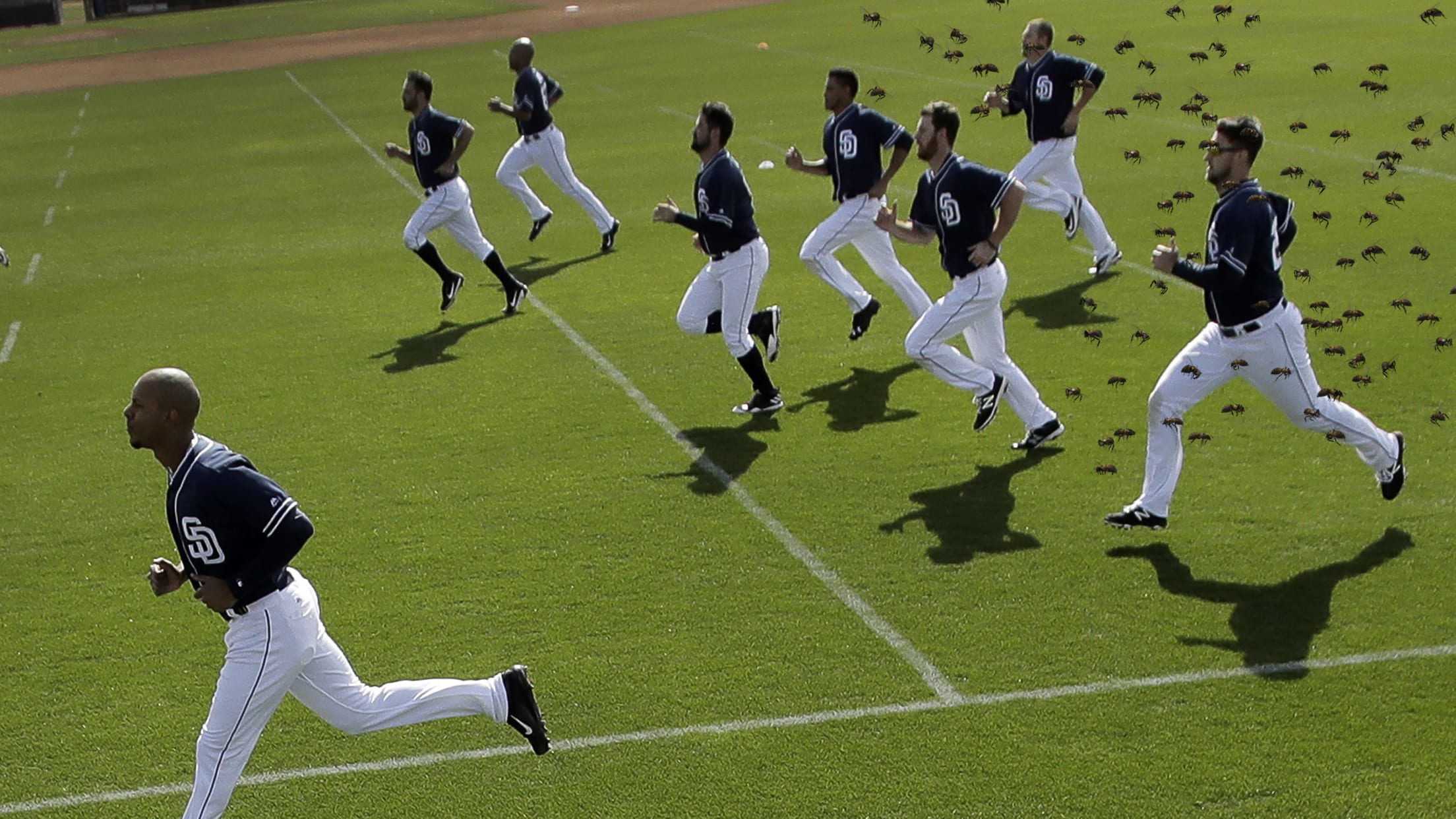 Players for the San Diego Padres run sprints during spring training baseball practice Friday, Feb. 17, 2017, in Peoria, Ariz. (AP Photo/Charlie Riedel) (Charlie Riedel/AP)
The rhythm of batting practice is almost never broken. One crack of the bat follows another, and the sound continues uninterrupted until every player has taken his hacks.
But even big league batting practice comes to a halt sometimes. It did for the Padres on Tuesday -- and with good reason:
Bees.
A swarm of hundreds of bees descended briefly upon the Peoria Sports Complex Tuesday, where the Padres were going through their morning workout. They started on the back fields where pitchers were going through fielding practice. And they buzzed their way over to the main practice field, where infielders were taking BP.
Bees swarmed the batting cage while the Padres infielders were taking batting practice Tuesday. Their reaction was about what you'd expect. pic.twitter.com/1Gkk1HTikm

— AJ Cassavell (@AJCassavell) March 7, 2017
The above video captures their reactions. And they're pretty universal.
All-Star first baseman Wil Myers was the first to notice the swarm. He ducked for cover behind the cage, and the other Padres hitters followed suit. (We'll assume this is indicative of Myers growing into his role as leader on a young Padres team.)
Rule 5 infielder Allen Córdoba was taking his cuts as the bees descend. His reaction speaks for all of us.
The minute Cordoba saw the swarm, he scampered from the cage as quickly as he possibly could. (An aside: MLB Pipeline graded Cordoba's speed as a 55 on the scouting scale. Judging from the above footage of the Padres' No. 27 prospect, he looks more like an 80-grade speedster.) The bees didn't stick around for long. And sure enough, Padres batting practice resumed after only a brief pause.
AJ Cassavell covers the Padres for MLB.com. Follow him on Twitter @ajcassavell.