Cleveland's going to the World Series thanks to Andrew Miller and Cody Allen's endless Ks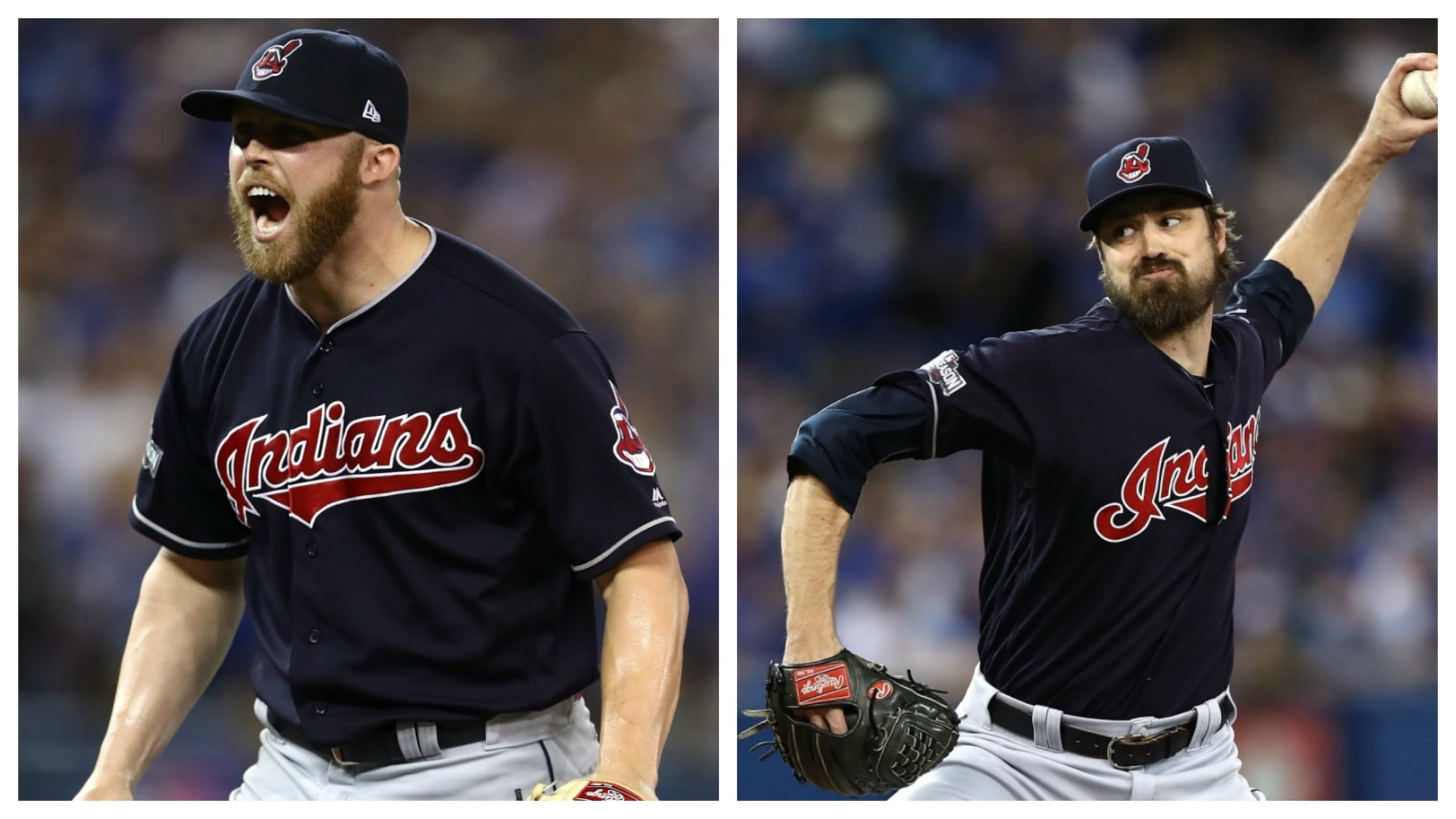 Following their 3-0 defeat of the Blue Jays in ALCS Game 5, the story of Cleveland's trip to the World Series can be told through Terry Francona's trips to the mound. Andrew Miller may have been awarded the ALCS MVP Award, but the only reason he was available to pitch the innings of greatest need was the team's closer, Cody Allen.
Miller's numbers, however, show how worthy he was of the award. He pitched 7 2/3 innings in four appearances, striking out 14 while giving up just three hits -- with no walks or runs allowed. Allen, while equally dominant, simply didn't throw as many pitches. He pitched 4 2/3 innings across four games, allowing just one hit and one walk while striking out seven batters along the way.
What made these two so strong in relief? Well:
Their stuff, obviously
The duo of Miller and Allen were a constant threat to any Blue Jays comeback. If Toronto fell behind by the fifth inning, they had to face the looming specter of unhittable sliders from Miller and knuckle-curves from Allen:
The two faced 41 batters in the series and struck out a whopping 21 of them, with Milller striking out more batters than any other pitcher -- Corey Kluber and Marco Estrada included.
And when they weren't missing bats, they still largely kept runners off the bases. While Allen walked only one batter, Miller did him one better: Only one Blue Jay even made it to a three-ball count against him.
The Blue Jays' big bats were silenced
How did José Bautista, Edwin Encarnacion and Josh Donaldson do against the two? Just 2-for-13, with seven strikeouts and one walk.
After the Blue Jays scored just one run over the first two games, John Gibbons admitted how dangerous the Miller and Allen combo was:
"They've got their big weapons in the bullpen. Miller coming in, they get to a certain point, [Bryan] Shaw came in and got a big out, and then Miller, and Cody Allen. It's a nice recipe for them."
They could appear at any time
Recent history has seen managers save their best reliever for a lead in the ninth inning. This postseason may be a sign of change in bullpen management -- especially after the Orioles lost the AL Wild Card Game without Zach Britton ever appearing. In the NLDS, Kenley Jansen threw more pitches than ever in the Dodgers' Game 5 victory against the Nationals, which supports that idea.
That meant the Blue Jays never could be certain when Miller or Allen might emerge in the ALCS.
Rather than wait for a burgeoning rally, Francona used the two in pre-emptive relief. He did it in Game 1, when Miller entered in the seventh and struck out five of six batters before giving the ball to Allen in the ninth to close out the game, and Francona repeated those same moves to the exact same effect in Game 2:
After Trevor Bauer's finger turned into a haunted house's faucet of blood in Game 3, Francona again used his bullpen creatively. With the relief staff called on for 8 1/3 IP of work, Francona flipped the two hurlers and used Miller to finish off the victory.
"I wanted Cody to go through the heart of their order, which he was going to have to, because Andrew did it the other day," Francona explained. "I thought giving [Toronto] a different look would be good. And then if we had the lead late, go to Andrew, OK, we're going to go ahead win or lose. I didn't want to use him early and not win the game, because we have leaned on him a lot."
Talking with reporters before Game 4, Francona explained that was the plan all along when the Indians first acquired Miller at the Trade Deadline:
"I was in there [during the trade talks] listening and doing some talking, just about how he would fit into a bullpen and how you could leverage him, just like we are now. So the thought was alive before we got him. We envisioned using him like we are."
They could eat innings
Obviously managers have to be careful when using their relievers during the season, but those rules get suspended in the ALCS. Needing innings to help make up for Bauer's injury in Game 3, Allen took the hill and recorded five outs:
Meanwhile, Miller recorded more than three outs in all four of his appearances. That included Game 5, when Miller pitched 2 2/3 innings -- the most he's thrown since 2011 (when he was a starter).
Not that Francona wanted to use Miller all the time. "But I guess my point is, if you do it during the game, like the way [Miller's] pitching, it's so easy to go, 'Oh, he can go one more, he can go one more, he can go one more.'" he told reporters before Game 3. "And you one more yourself into trouble."
In Game 5, however, Miller may have known he was going to pitch longer than usual: He didn't push to strike batters out at quite the same rate as he usually does. The lefty ultimately punched out only one batter in the game, which was his fewest since Oct. 2 (when he only pitched 2/3 of an inning). That's so rare this postseason, in fact, that after the game a reporter asked him if "everything was OK."
"Yeah, I trusted my defense," Miller responded. "Maybe a little bit their approach, maybe just the situation. But all that matters are outs."
Even among dominant relievers, they're special
The 2015 Royals, whose bullpen was famously dominant in the postseason, only used their two best relievers (Wade Davis and Kelvin Herrera) in the ALCS for 8 1/3 innings. Miller and Allen combined for 12 1/3 innings, but their series was one game shorter.
Legendary Yankees closer Mariano Rivera appeared in 32 postseason series during his career but only threw more than Miller's 7 2/3 IP in one of them (it was the 2003 ALCS, when he went eight frames). Rivera also never had more than eight strikeouts in a single series.
For what it's worth, Pedro Martinez made his opinion known:
No disrespect to Mariano who was the best in postseason, but #Miller is the most impressive reliever I have seen in the #postseason.

— Pedro Martinez (@45PedroMartinez) October 19, 2016
While the lefty has made 12 postseason appearances without surrendering a run, Rivera has actually pulled off that exact same streak twice. Additionally, he had a third, longer span, when he went 23 straight scoreless postseason appearances from 1998-00 -- which also happens to be the record. But hey, Miller could be on his way.
According to Francona, though, by the end of this postseason, we won't just be talking about Miller and Allen.
"That's what I try to say, and maybe I probably should say it more often, because without one or the other or all of them you're not going to get where you want to go," he said. "Andrew has gotten a lot of I think notoriety for what he's done, as he should. But I think Cody and before it's over Shaw, [Dan] Otero, will have theirs, too."
Will Miller and Allen continue their superheroic bullpen work and lead the Tribe to their first title since 1948? Tune to FOX on Oct. 25 at 8 p.m. ET to watch Cleveland in World Series Game 1.
Teams in this article:
Players in this article: