Anthony Rizzo won 'Dress Like Jon Lester' day thanks to some chicken and beer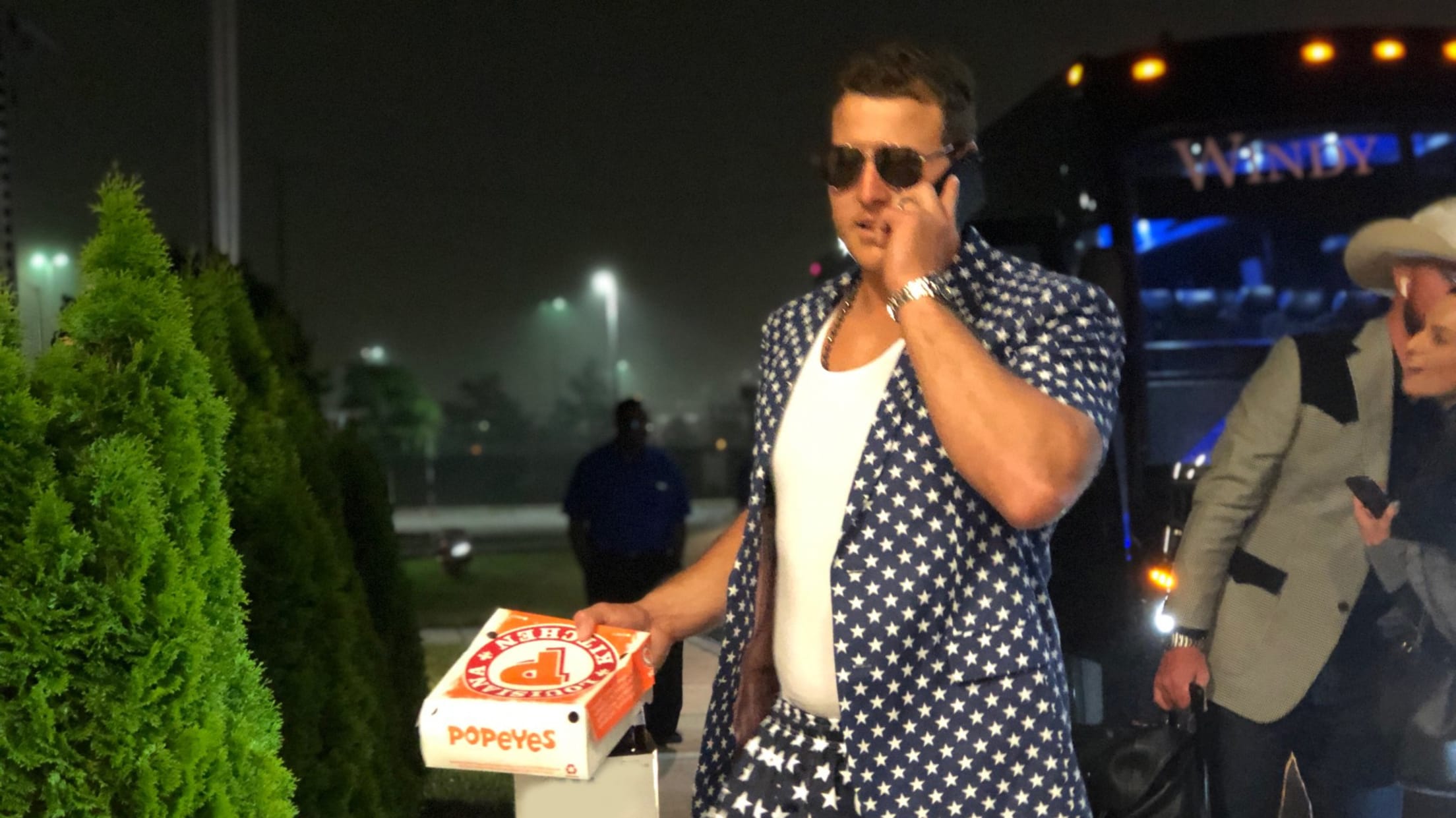 The Cubs have gotten into the habit of using road trips as an excuse to dress up in all manner of extremely good costumes. One week it's the characters from "Anchorman". The next it's Miami Vice. The next it's a full Dr. J uniform.
Their latest theme hit a little closer to home: After wrapping up a 5-1 win over the Cardinals, Chicago headed to the airport dressed like pitcher Jon Lester. For just about everyone, that meant doing their best cowboy impression. There were bull belt buckles:
Cowboy hats to the ⬅️. pic.twitter.com/jOdWiWCBeN

— Chicago Cubs (@Cubs) June 10, 2019
There were plush horses and giant hats:
Horses in the front. pic.twitter.com/yW46fRCrmT

— Chicago Cubs (@Cubs) June 10, 2019
But one man dared to stand out from the crowd. To dig a bit deeper for inspiration. To commit himself completely and utterly to trolling the hell out of his teammate:
"The Jon Lester Starter Kit" pic.twitter.com/oeDLcsOpdx

— Chicago Cubs (@Cubs) June 10, 2019
That's none other than star first baseman Anthony Rizzo, donning a star-spangled jacket and shorts -- and, of course, a box of chicken and a six-pack of beer.
Before he helped deliver a championship to the North Side, Lester starred for the Red Sox from 2006 to 2013. It was an illustrious run, full of no-hitters and All-Star appearances and World Series titles. Except, that is, for the 2011 season, when the team collapsed in September and missed the postseason entirely ... and word got out that Lester and other members of the rotation were snacking on fried chicken and beer in the clubhouse on days when they weren't pitching.
Lester apologized after the season, then two years later put up a dominant October to help bring Boston another ring, so it's safe to say that it's all water under the bridge. But hey, all's fair in love and road trips.
Teams in this article:
Players in this article:
Topics in this article: