Jose Altuve, George Springer and Alex Bregman appeared live from New York on SNL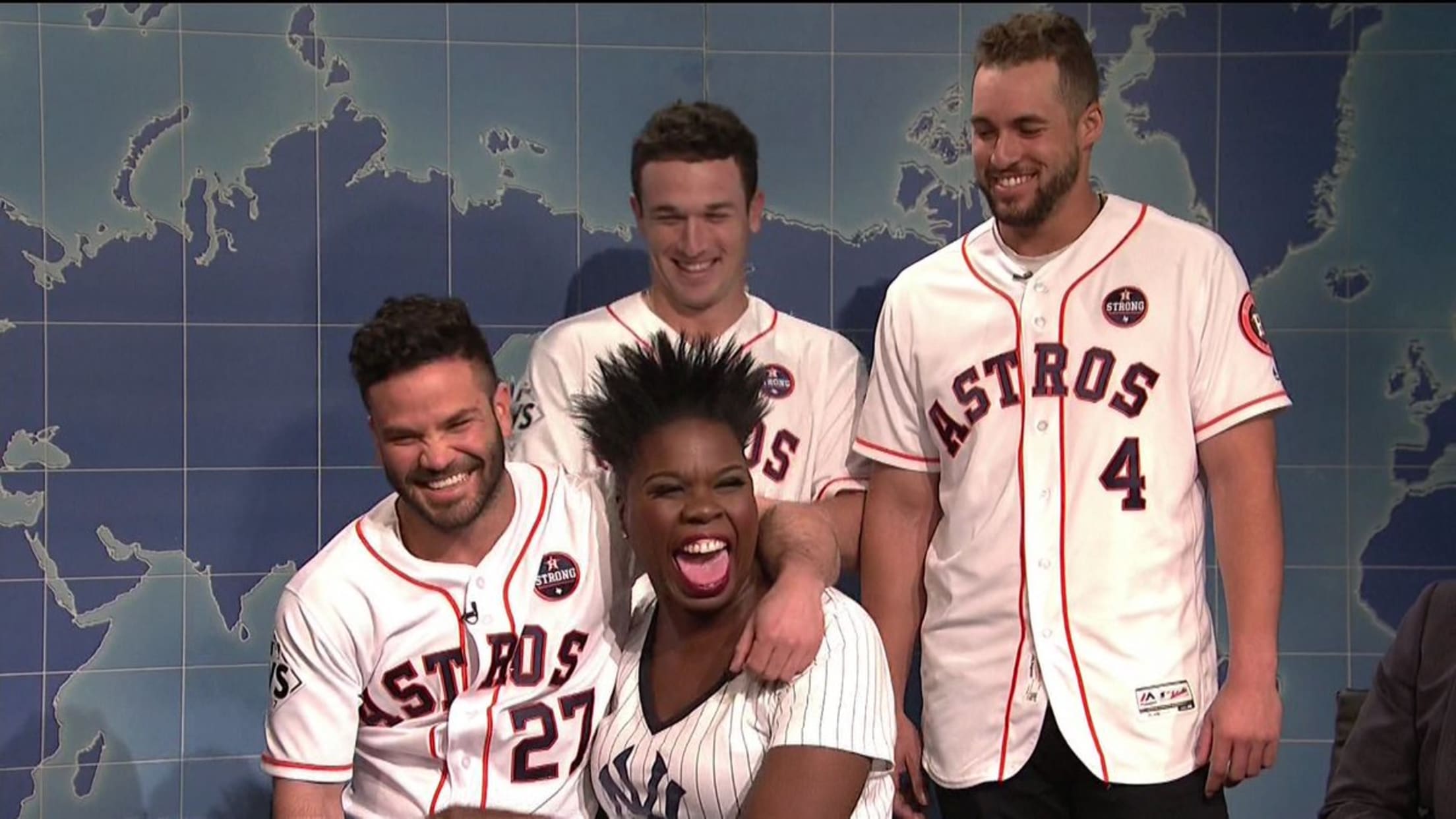 José Altuve has had a pretty wild week. On Wednesday, he became a World Series champion in Los Angeles. On Thursday, he joined Jimmy Fallon in New York for "The Tonight Show." On Friday, it was back to Houston for the Astros' victory parade.
That might seem like a lot of travel, but then came Saturday. Altuve went to Disney World in the morning with George Springer and Carlos Correa, only to then fly to New York that same day to appear on "Saturday Night Live" with Springer and Alex Bregman, a cameo teased by Bregman himself:
Headed up to NY for @nbcsnl #Leggggoooo

— Alex Bregman (@ABREG_1) November 4, 2017
Following the Cubs' lead from last year, some of the Astros made a guest appearance during the "Weekend Update" segment. During the sketch, Altuve, Springer and Bregman interrupted Yankees fan Leslie Jones' insults about the Astros to give her some free SWAG in an attempt to win her over.
Bregman presented Jones with her own Astros jersey, and Altuve gave her a baseball. "Since we already know that you don't actually watch baseball, we wanted to give you a gift," joked Springer.
Jones might have been talking about ogling Gary Sánchez and Didi Gregorius earlier in the segment, but by the end, it seemed like the Astros won her over.
Houston @astros + @Lesdoggg 💘 #SNL pic.twitter.com/qZiIRfawp5

— Saturday Night Live - SNL (@nbcsnl) November 5, 2017
Either way, the Astros definitely got the full SNL experience, standing on the stage at the end of the night with the likes of Larry David, Alec Baldwin and Miley Cyrus.
"Live from New York it's Saturday Night!"

Thanks for having us, @nbcsnl!

Photos courtesy of Will Heath & Rosalind O'Connor/NBC pic.twitter.com/08q55NkTVF

— Houston Astros (@astros) November 5, 2017
Watch the Astros' full sketch with Jones here:
Teams in this article:
Players in this article: