The best reactions from Mike Trout and other MLBers during the Eagles' 41-33 Super Bowl win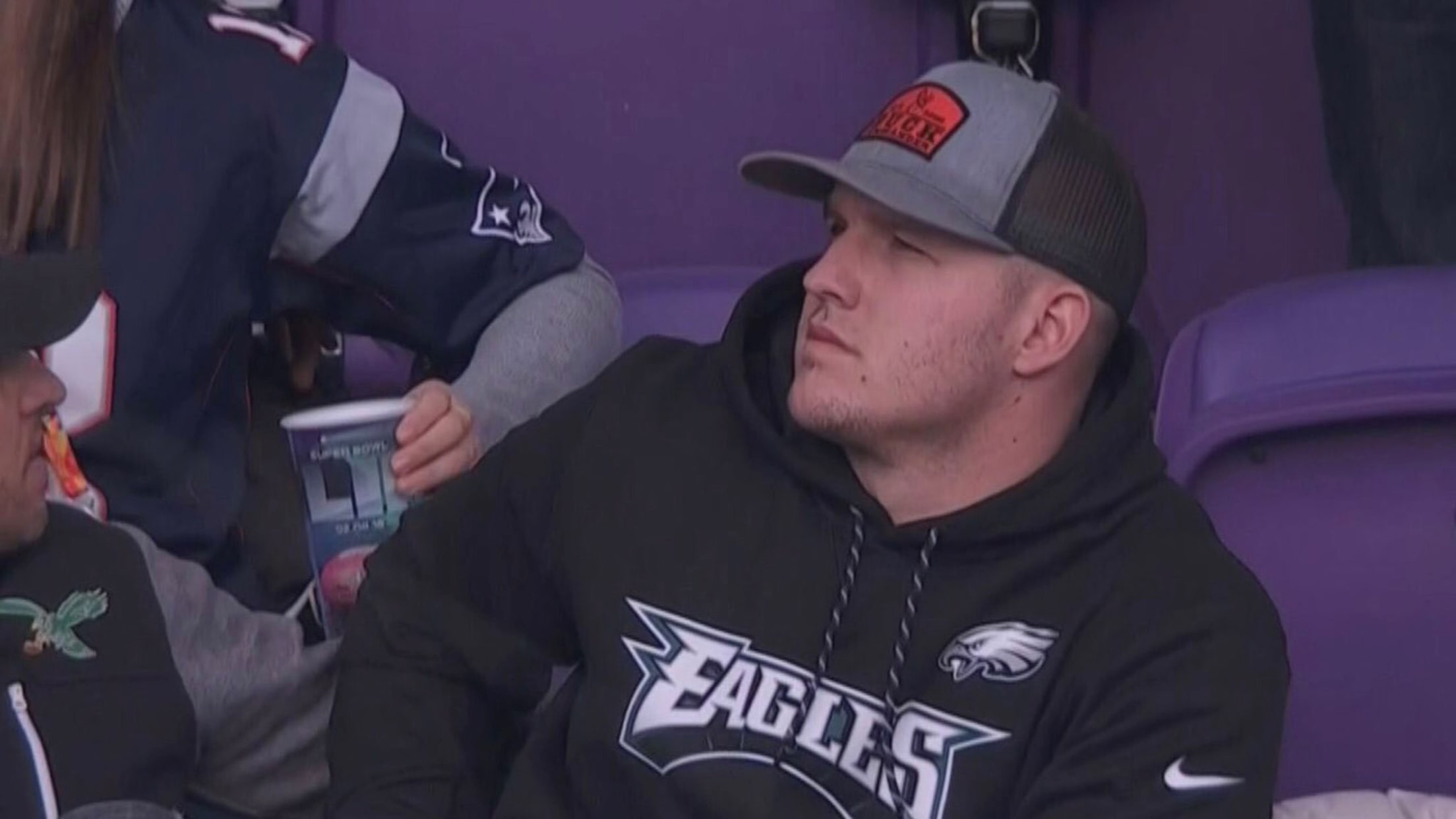 The Eagles narrowly defeated the Patriots, 41-33, in the Super Bowl on Sunday. Reactions were aplenty on social media, including many from some of your favorite baseball stars. Here are some of our favorites below:
Shane Victorino did a little #Humblebragging before the game began -- even if he didn't take a side:
So much love for the amazing cities of Philadelphia and Boston. Good luck guys, nothing like winning a ring for these two amazing sport cities🤙🏽
Who you got _______??? @Patriots @Eagles 🦅 #SuperBowlLII #SuperBowl pic.twitter.com/GAYDzaJ1Jn

— Shane Victorino (@ShaneVictorino) February 4, 2018
Mike Trout's Dad got trapped in a dog's body. Oh, sorry, he was actually wearing the Eagles' underdog mask:
🦅 We are on our way to Minnesota to bring home the win !🦅@JeffreyTrout @LevickTeal @MikeTrout @JessTara @TylerTrout @LaurenCerami pic.twitter.com/fgflSOOprX

— Debbie Trout (@DebbieTrout27) February 4, 2018
Dave Winfield collected snow:
It's an old school winter but that's OK. @MNSuperBowl2018 @WCCO @WCCORosen @exploreminn pic.twitter.com/dPvc1qc298

— Dave Winfield (@DaveWinfieldHOF) February 4, 2018
Hunter Pence was generically very excited:
#SuperBowlSunday means baseball is around the corner! RT if you're excited

— Hunter Pence (@hunterpence) February 4, 2018
David Ortiz did ... well, I don't even know how to explain this one:
Trout made himself comfortable in his seat before kickoff:
Mike Trout in the house ✌🏼#FlyEaglesFly#SuperBowl pic.twitter.com/9ArtRC4Slp

— John Clark (@JClarkNBCS) February 4, 2018
Greatest active player in the building, and so is Tom Brady. pic.twitter.com/h0tFcGdLJW

— Anthony Castrovince (@castrovince) February 5, 2018
Jose Ramirez was hoping for a Game 2:
When is Game 2? #SuperBowl

— Jose Ramirez (@MrLapara) February 5, 2018
And new Minnesota Twin Fernando Rodney acted like Fernando Rodney when he attended the game:
#MNTwins closer Fernando Rodney in the house! #SBLII pic.twitter.com/uEF4Rnw7Mg

— Dustin Morse (@morsecode) February 4, 2018
Adam Wainwright wished his best to Tom Brady:
Unbelievable game! #TomBrady is so inspiring. Thanks for pushing all us athletes to keep getting better! But... so happy for @NFoles_9 . Solid brother, great competitor... just awesome

— Adam Wainwright (@UncleCharlie50) February 5, 2018
Anthony Bass congratulated the Eagles:
Nick Foles, you just earned yourself a starting QB job next season. Congrats to Nick and the @Eagles on winning #SuperBowlLll !

— Anthony Bass (@AnthonyBass52) February 5, 2018
And Archie Bradley offered his congrats as well with a special message to the D-backs:
Congrats to the @Eagles !!! Now it's time to bring a 🏆 to ARIZONA!!!! #motivation

— Archie Bradley (@ArchieBradley7) February 5, 2018
Eagles superfan Mike Trout was very into the end of the game with a bunch of "Ertz" tweets and then this:
Let's goooooooo !!!! Champs !!#FlyEaglesFly

— Mike Trout (@MikeTrout) February 5, 2018
And it appears the Angels now want a championship of their own:
Wings 👼 to Wings 🦅... Congratulations to @MikeTrout and his @Eagles! #SuperBowl

Now, it's our turn. pic.twitter.com/hslA4vQGYC

— Los Angeles Angels (@Angels) February 5, 2018
Jessica Kleinschmidt is an associate editorial producer for Cut4 (oh that sounds fancy). She has covered baseball for half a decade.