The D-backs' Cody Decker gave Irish wrestler Becky Lynch a baseball quiz before the Royal Rumble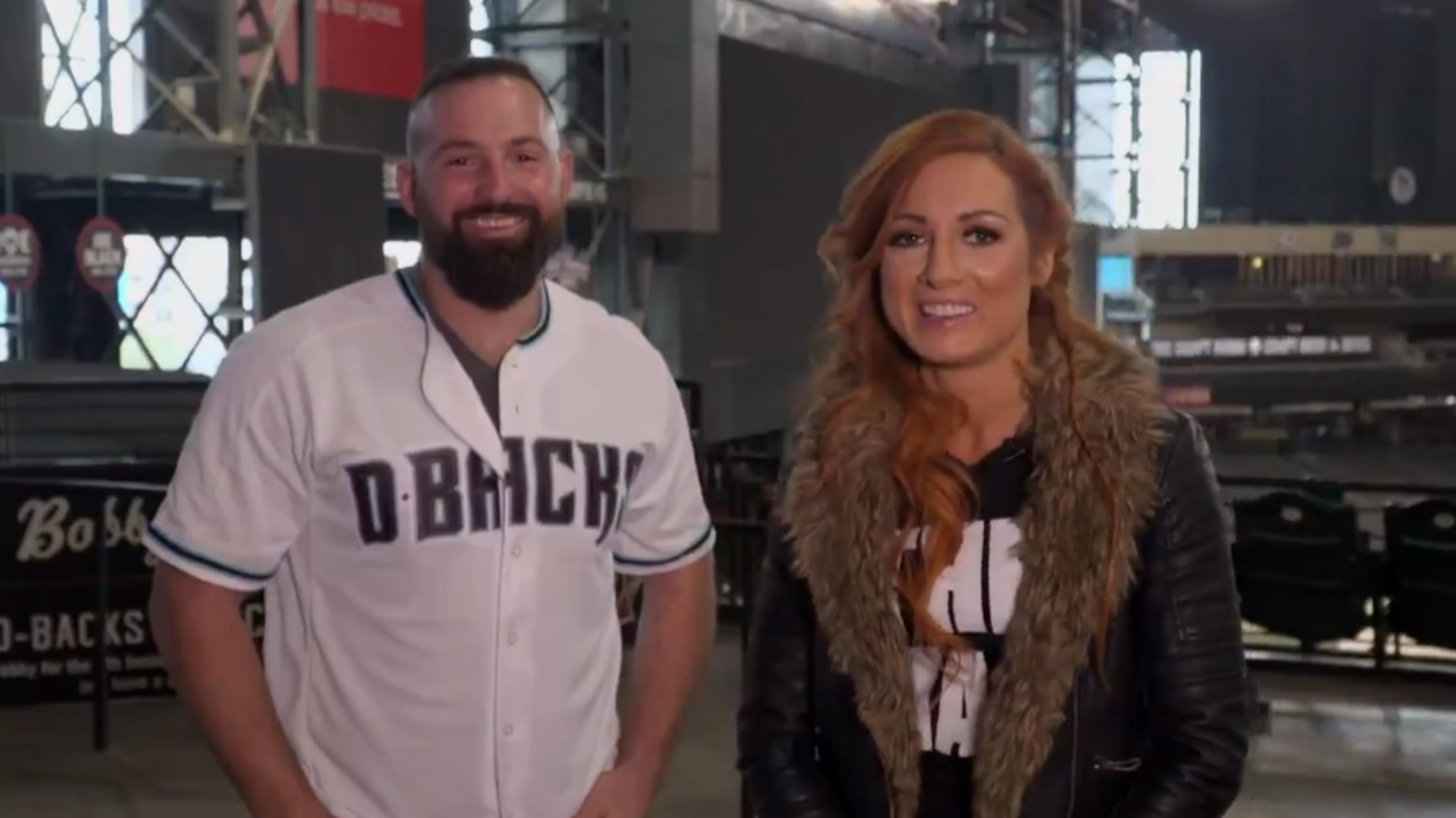 The Diamondbacks have some special guests in town for the weekend. WWE's Royal Rumble is coming to Chase Field on Sunday, and there's no doubt that the team is ready.
Ringing in the weekend. #RoyalRumble 👀 pic.twitter.com/EZTE7aFVbq

— Chase Field (@ChaseField) January 25, 2019
D-backs Minor Leaguer Cody Decker happens to be a pretty big fan, so he was more than happy to stop by the festivities on Saturday afternoon to serve as Chase Field's WWE correspondent and interview superstars like Lana and Carmella.
One of the more entertaining parts of the day came when Decker got to swap jerseys and chat with Becky Lynch about his own sport. Lynch is from Ireland, where baseball is not nearly as popular (though she's happy to talk about rounders), so Decker quizzed her on the meaning of some baseball terms:
We all know @BeckyLynchWWE is The Man in @WWE, but is she The Man when it comes to baseball knowledge? We had our Special Correspondent @Decker6 find out. pic.twitter.com/e3tVI2nRvv

— Arizona Diamondbacks (@Dbacks) January 26, 2019
Lynch nailed the roundtripper question, and her Baltimore chop guess was as well-reasoned as anyone could possibly expect. Decker didn't even know what it was, and frankly, it would be amazing to see Lynch's proposed definition play out in person.
Regardless, the interview turned out better than Decker's attempt to get some positive vibes about his hitting from Gallows and Anderson.
Always puttin smiles on people's dials
Hung with @Dbacks #GoodBrother #CodyDecker he's a #GoodKid but can't hit the broad side of a barn 😂
Thanks @steveaustinBSR for the inspiration to #BuryTheBrother #RoyalRumble at Chase Field, I'm gonna win by the way@WWE @LukeGallowsWWE pic.twitter.com/aVkrVo27bk

— Karl Anderson (@KarlAndersonWWE) January 26, 2019
Ouch. Maybe Decker can have another Royal Rumble Burger to soothe the wounds.
We've got @Decker6 as our @WWE Special Correspondent this weekend. First up, he becomes the person to tackle the #RoyalRumble Burger and gives it his expert review.

(P.S. We will also be making a donation to our good friends @PhxChildrens Hospital.) pic.twitter.com/pN2QdBoebr

— Chase Field (@ChaseField) January 25, 2019
Teams in this article:
Players in this article: