Which players who changed teams over the winter have been the best?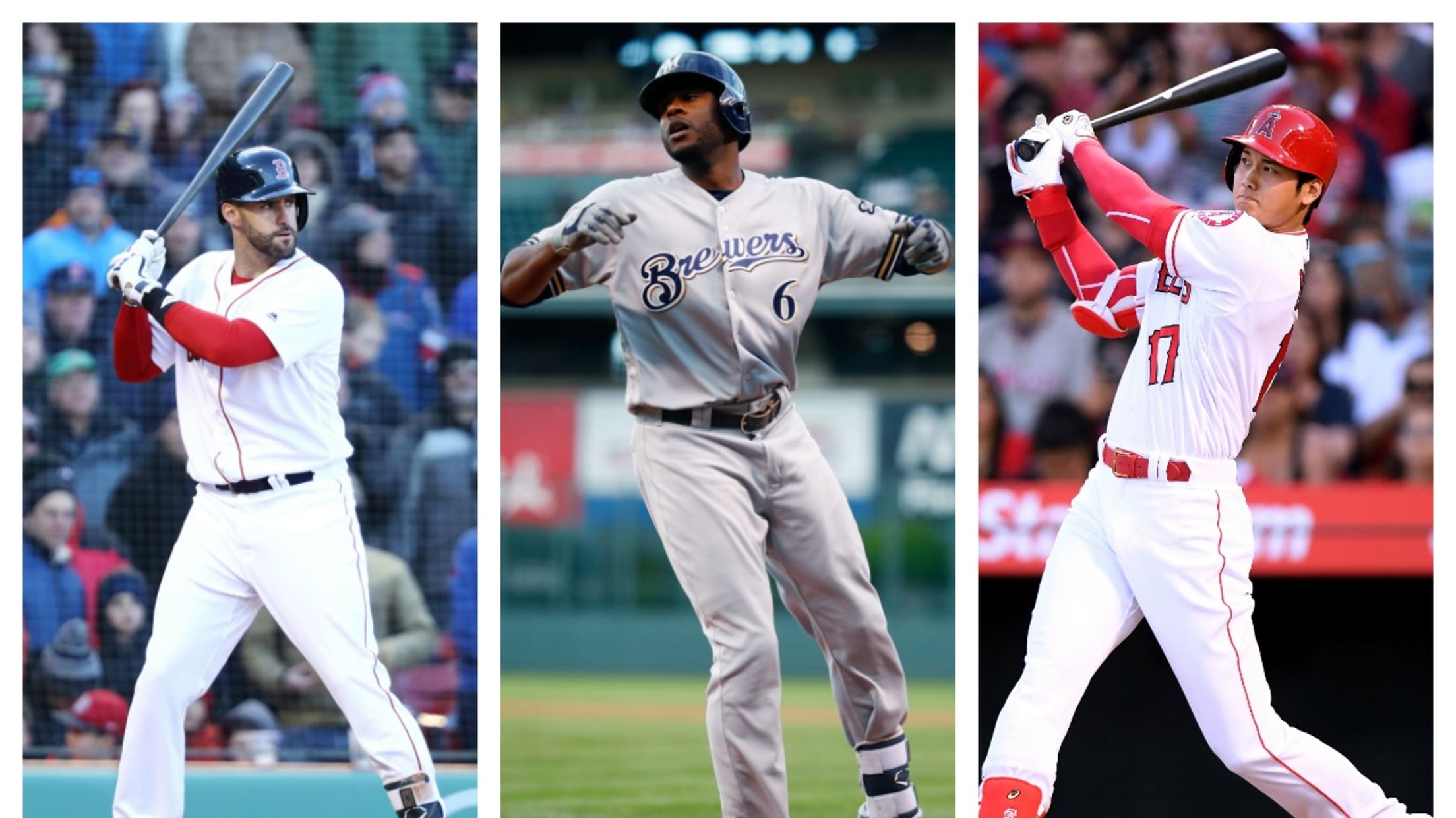 This past offseason was a wild one, with jaw-dropping trades, big names switching uniforms and players casually earning comparisons to Babe Ruth himself. But, now that the dust has settled and a few months have passed, it's time to ask:
Which players who changed teams over the winter have shined the brightest? It's time for the Old Faces in New Places All-Stars.
C: A.J. Ellis, Padres
The Padres signed the 37-year-old Ellis for his defense and leadership behind the plate, figuring that the man who was once Clayton Kershaw's personal catcher could offer some pointers to their young pitching staff. And Ellis has offered all of that so far, except he's also added a whole lot of offense: He's currently hitting .319/.422/.407.
1B: Matt Adams, Nationals
The Adams signing was a depth move for Washington last December -- a left-handed bat with some pop that the team could bring off the bench and maybe start once a week against a righty. When Ryan Zimmerman went down with a back injury in early May, though, Adams suddenly found himself the starting first baseman on a team with World Series aspirations -- and he hasn't missed a beat.
He's clubbed 13 homers in 57 games, and he's on pace to set new bests in on-base and slugging percentage.
2B: Dee Gordon, Mariners
When a team loses an All-Star second baseman, they're usually left scrambling. But in Seattle's case, they just looked to the outfield. Gordon transitioned seamlessly from being the Mariners' everyday center fielder to being their everyday second baseman, and all the while he's been, well, Dee Gordon -- slapping balls all over the field and then wreaking absolute havoc on the basepaths.
SS: Alen Hanson, Giants
Arguably no team had a bigger offseason than San Francisco. But as the season nears its halfway point, the Giants' highest OPS doesn't belong to Evan Longoria or Andrew McCutchen or even Buster Posey -- it belongs to Hanson, a 25-year-old utility man on his third team in three years.
When San Francisco signed him to a Minor League deal over the winter, he was a career .222/.263/.335 hitter. In 2018, he's been a .302/.333/.594 hitter, and he's essentially forced Bruce Bochy to find him playing time all over the diamond. More importantly, he looks exactly like a young Cutch:
3B: Colin Moran, Pirates
A former No. 6 overall pick, Moran was the centerpiece of the package Pittsburgh received in the Gerrit Cole deal. And while Cole has been setting the league on fire in Houston, Moran's been no slouch himself: The third baseman has a 108 OPS+, and that's not even factoring in the value brought by his spectacular (and spectacularly red) beard.
LF: Matt Kemp, Dodgers
L.A. acquired Kemp in a five-player deal last December, but the reunion wasn't supposed to last long -- just about everybody expected the Dodgers to trade or release him as they tried to play the free-agent market while also staying below the luxury-tax threshold.
And then a funny thing happened: the days turned into weeks, the weeks turned into months, and Kemp was still on the roster. He's been arguably the team's best hitter not named Max Muncy in 2018 and has had a lot to do with the Dodgers' vault up the NL West standings.
CF: Lorenzo Cain, Brewers
Cain flew under the radar a little bit, remaining on the market until late January. But once he found a home in Milwaukee, he's set about reminding everyone just how good he can be. He can hit (an .832 OPS), he can run (16 steals) and watching him go get it in center field is still one of the most electrifying few seconds in baseball.
RF: J.D. Martinez, Red Sox
After his torrid stretch run with the D-backs and the $150 million contract Boston shelled out, it's safe to say expectations were high for Martinez. All he's done is lead the league in dingers -- but why tell you when we can show you?
DH: Shohei Ohtani, Angels
Ohtani was on pace to end up on this team at two different positions, but sadly he's been sidelined by an elbow injury for the last few weeks. We do have some good news, though: According to Angels GM Billy Eppler, the two-way sensation has been cleared to begin a formal hitting progression in the not-too-distant future.
In that spirit of cautious optimism, allow us to present some Ohtani dingers:
SP: Miles Mikolas, Cardinals
Mikolas wasn't on any top free-agent lists heading into the offseason. There's a good chance you didn't even know where he'd played last (he spent 2015-2017 with the NPB's Yomiuri Giants). But the righty honed his arsenal during his time in Japan, and he's been a revelation so far for St. Louis to the tune of a 2.69 ERA.
What's his secret? He basically doesn't walk anyone: Mikolas has allowed just 12 free passes in 97 innings this year, good for an NL-leading 1.1 BB/9. If you were facing a pitcher that once ate an entire lizard, you'd be trying to get out of there as quickly as possible, too.
RP: Héctor Rondón, Astros
This one could go in a lot of different directions -- Brandon Morrow with the Cubs, for instance -- but Rondon gets the nod here for how important he's been to Houston's bullpen. With Ken Giles struggling, the team had a hole at the back end of the bullpen, and Rondon has been lights out: 30 innings, 38 K's, five saves and a 1.50 ERA.
He also spends just about every second on a baseball field extremely pumped up, which is always fun.