Seven over-30 players who are putting together their first All-Star-caliber seasons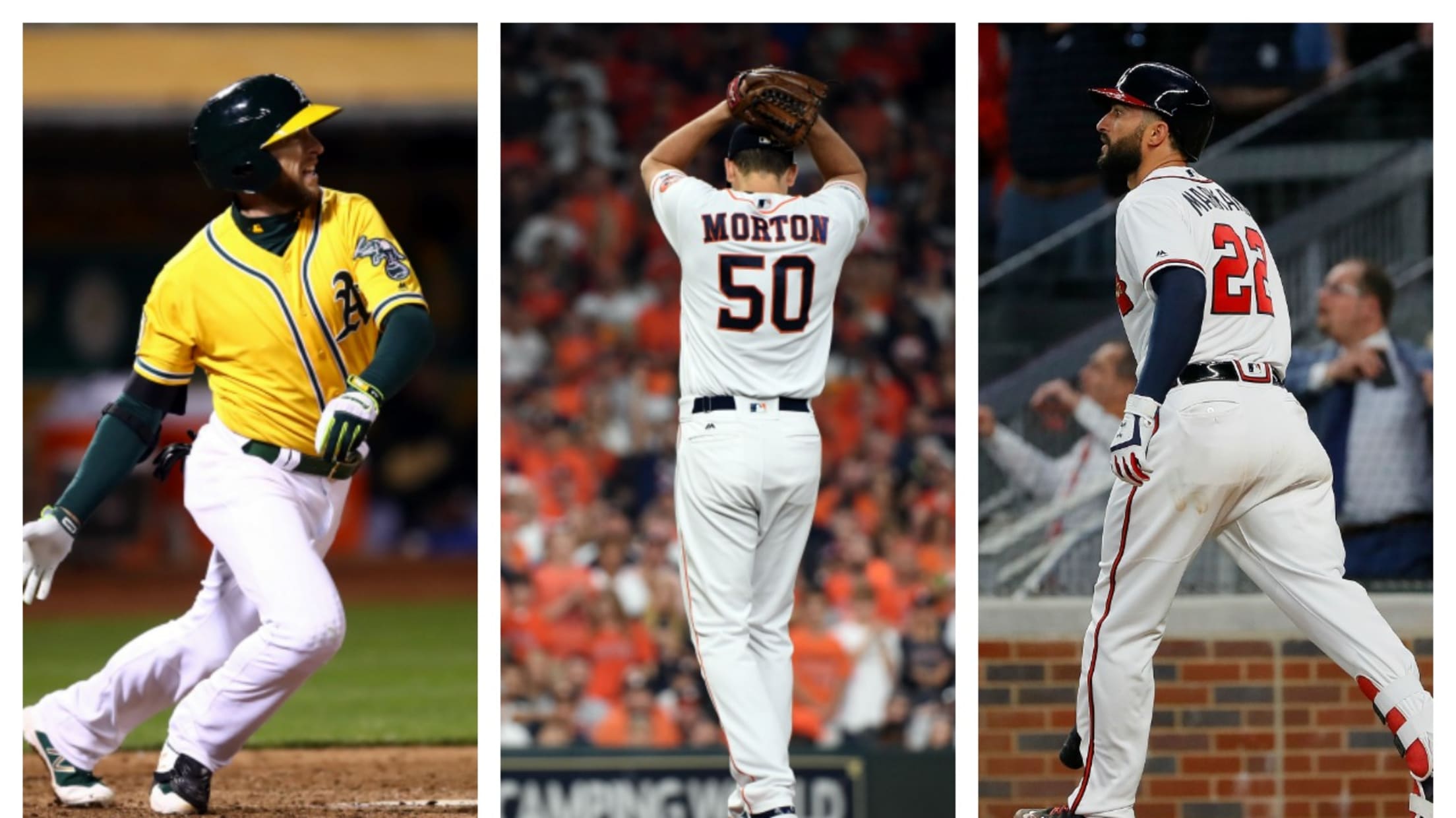 We're now exactly three weeks away from the 2018 All-Star Game. The brightest stars in the game are about to descend on Nationals Park -- household names and all-time greats like Mike Trout, Jose Altuve and Max Scherzer. But this year's Midsummer Classic will also feature some pleasant surprises who have managed to reinvent themselves later in their careers.
So, as proof that age truly isn't anything but a number, allow us to present seven players who are putting up their very first All-Star-caliber campaigns. Because really, it's never too late for your breakout year. (And if you'd like to help any of them get to D.C., make sure you vote in the 2018 Camping World MLB All-Star Ballot right here.)
Jed Lowrie, age 34
OPS through 2017: .740
OPS in 2018: .803
For most of his first decade in the Majors, Lowrie struggled just to stay on the field, with injuries limiting him to an average of 89 games played from 2008-2016. Then, last season, something clicked: He finally stayed healthy, and the results were a sea of line drives and a tidy .277/.360/.448 line.
How would he follow up his career year? Lowrie's on pace for his best OPS+ ever, and he's already just five dingers shy of his previous career-high. No wonder he sits in the top five of AL second base voting.
Nick Markakis, age 34
OPS through 2017: .780
OPS in 2018: .882
Entering the spring, Markakis could arguably have laid claim to being the best active player never to have made an All-Star Game -- always good for 15 homers and a lot of walks and solid outfield defense, but never putting together that one splashy season.
Until 2018, that is. Markakis has been one of the best hitters in baseball for the upstart Braves, slashing .328/.392/.490 eight homers and a whopping 25 doubles.
Now, the best player never to make an All-Star Game is the leading vote-getter among NL outfielders.
Charlie Morton , age 34
ERA through 2017: 4.41
ERA in 2018: 2.74
Really, Morton's breakout began last October, when he morphed from "just OK sinkerballer on his third team in three years" to "fire-breathing dragon":
The righty's done his best to prove that postseason run wasn't a fluke in 2018, posting a 2.74 ERA with 109 K's over 88 2/3 innings as part of the best rotation in baseball.
Francisco Cervelli, age 32
OPS through 2017: .732
OPS in 2018: .876
Cervelli had only appeared in 100 or more games twice over 10 big league seasons prior to 2018. As the starting catcher in Pittsburgh, though, he's taken off: He's currently hitting .257/.390/.486 -- all at or near his career bests -- and he's already blown past his previous career-high for homers in a season.
And if watching a veteran blossom into one of the best catchers in the NL hasn't sold you on Cervelli's All-Star candidacy, just imagine what the most expressive face in baseball could do on national television.
Mitch Moreland, age 32
OPS through 2017: .756
OPS in 2018: .937
We've been waiting for this for years now. Moreland just looks like a slugger, standing 6-foot-2 and 230 pounds. After starring in college at Mississippi State he proceeded to mash his way through every level of the Minor Leagues.
For a while, though, Moreland couldn't quite put it together, performing at just an average level over his first eight seasons in the Majors. In 2018, though, he's hitting everything, setting career highs in average, on-base percentage and slugging percentage. He's even hitting triples now, which is how you know things are getting weird:
The results? He's behind only José Abreu in AL first-base voting, and he's even got a new nickname: Mitchy Two Bags.
Adam Ottavino, age 32
ERA through 2017: 3.97
ERA in 2018: 0.79 (no, that's not a typo)
We first noticed Ottavino back in April, when the righty -- who'd up to that point been a solid but unspectacular piece of the Rockies bullpen -- started busting out sliders that we can only assume have been banned in several countries:
Don't worry, Major League hitters haven't figured that banana slider out either: Ottavino has been possibly the best reliever in baseball, allowing just three earned runs while striking out 54 in 34 1/3 innings for Colorado.
Daniel Descalso, age 31
OPS through 2017: .677
OPS in 2018: .865
Baseball is just weird sometimes. The best OPS+ of Descalso's career had been 93, but this year, he's at 125. He'd only posted a slugging percentage over .400 once, but in 2018, he's at an even .500. His previous high for extra-base hits in a season was 31, set with the Cardinals back in 2008, but through 69 games with the D-backs this season he's already got 25 -- thanks in part to eight homers, which is, yes, on pace to shatter his career high of 10.
The best part? He's done all of that while also doing the things you're accustomed to seeing Descalso do -- i.e., he's already played six positions for Arizona in 2018, including pitcher. Who knows, maybe he can catch at the All-Star Game.