If you had to field a team with one player at all nine positions, which player would you choose?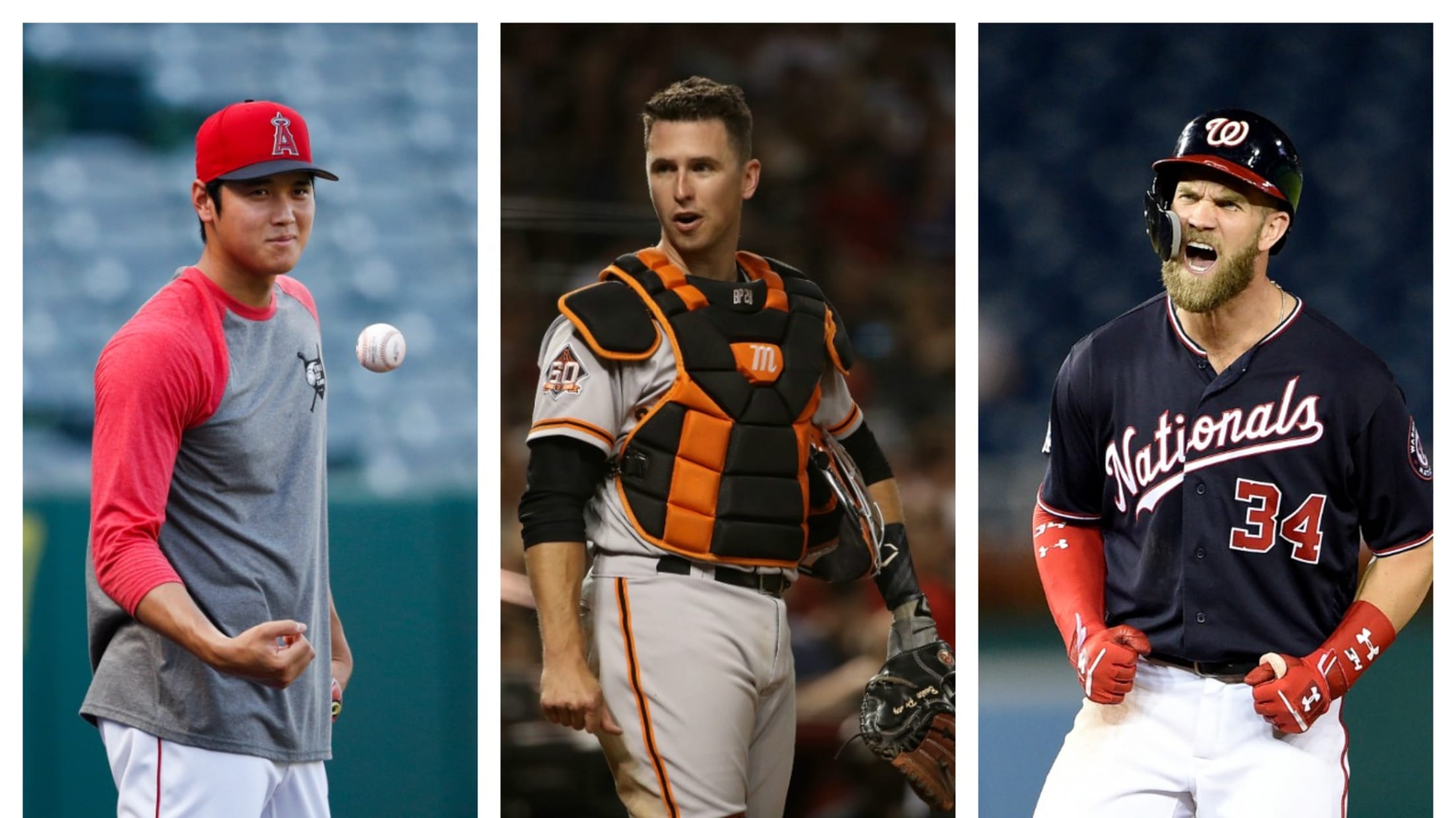 Baseball is a pretty specialized sport: The skills that allow you to succeed at second base are pretty different than the skills that allow you to succeed in center field, and those skills are definitely different than the skills that allow you to succeed as a pitcher or catcher.
But what if you didn't have nine different players to rely on? What if you had to fill every position on the diamond with clones of just one player -- who would you go with? We've assembled nine contenders for the title of baseball's ultimate Renaissance man below. (And if we left out your favorite be sure to let us know on Twitter @Cut4.)
Shohei Ohtani
Cons: He has no real experience at catcher or in the infield.
Pros: He's a talented hitter and pitcher, and hitters don't have any chance of putting stuff like this in play consistently:
Plus, if a slew of passed balls and/or errors turns things into a slugfest, there's always that .890 OPS to fall back on.
Mike Trout
Cons: Hasn't played anywhere other than the outfield since he was a junior in high school.
Pros: I mean, he's Mike Trout. He currently leads the Majors in walks, on-base percentage and OPS to go along with 30 homers and 21 steals, and he's got the size and speed of a tight end -- do you really think there's anything on a baseball field he can't be awesome at?
Besides, before Millville High School moved him to the outfield as a senior, he starred at both shortstop and pitcher, so we're confident that this arm will play up:
Willians Astudillo
Cons: He's posted just a .699 OPS over his brief stints in the Majors.
Pros: Perhaps you've already heard of Willians Astudillo, Baseball Folk Hero, but if not, here's a quick refresher: The Twins fan favorite stands an extremely stout 5-foot-9, 225 pounds, he hardly ever strikes out and he can play every position on the diamond. That's not an exaggeration -- in his first eight games with the Twins this season, Astudillo has played everywhere from catcher to center field to pitcher.
Can he hit at the Major League level? He's a 5-foot-9 Swiss army knife, who cares if he can hit.
Madison Bumgarner
Cons: Has only ever pitched.
Pros: To be fair, he's one of the best pitchers in the game, and he could probably field any ball put in play just by glowering at it. And before you suggest that Bumgarner is merely a good hitter "for a pitcher," please 1) consider that, as a senior in high school, he hit .424 with 11 homers while leading his team to a state title and 2) ask yourself how many other pitchers can swing like this:
Jed Lowrie
Cons: No catching or outfield experience, and at just 6 feet tall, he might not have the velocity to make it work as a pitcher.
Pros: Lowrie's like Kevin Costner's seven iron in "Tin Cup": Unassuming on the surface, but it just feels like he can do anything you ask him to. He starred at second base for Stanford, and he's now playing all over the infield for the A's while hitting .276/.356/.477. If you want to bet against him, be our guest.
Bryce Harper
Cons: Strictly an outfielder during his Major League career.
Pros: Harper's been ensconced in right field for the Nats for so long that it's easy to forget how versatile he really is. Remember that famous Sports Illustrated profile? The one that hailed him as the next LeBron? That was about Bryce the catcher -- and a whole lot else:
"Still only 16, Harper stands 6'3", weighs 205 pounds, has faster bat speed than Mark McGwire in his prime and runs so fast that he scored on wild pitches six times this season from second base. As a catcher he picks off runners from his knees, and when he pitches, he throws a fastball that has been clocked at 96 mph."
He's got catching experience, which is a huge plus, and you know he's got the bat. We're willing to bet that the guy who made this throw can figure it out on the mound:
Daniel Robertson
Cons: No catching experience, and he has all of 162 Major League games under his belt.
Pros: Robertson had a strong case already: He's played all four infield positions plus left field in parts of two seasons with the Rays, and he's got an impressive 124 OPS+ so far in 2018. And then, on April 7, he went out and threw a perfect inning against the best team in baseball -- with a pretty wicked changeup to boot:
Buster Posey
Cons: Has done nothing but catch and play first with the Giants, and he's now 31.
Pros: Posey is another star with more in his repertoire than you might think. He's more or less defined the catcher spot since debuting back in 2009, but he actually committed to Florida State as a shortstop -- and before that, he made his biggest mark on the mound. In 13 starts for Georgia's Lee County High School, Posey posted a 12-0 record with a 1.06 ERA and 108 strikeouts (!).
Mookie Betts
Cons: No pitching or catching experience to speak of.
Pros: We could tell you about Betts' versatility, that the Red Sox originally drafted him as a middle infielder and only experimented with him in center after Dustin Pedroia signed an eight-year extension back in 2013. But really, putting Mookie on this list isn't about being rational: it's about watching him rob a homer, steal two bases and go yard in the first three innings of his first home opener and saying "yeah, that's who I'm putting my money on."
Teams in this article:
Players in this article: