Celebrate the wildest World Series game this year with a blow-by-blow recap of the later innings
World Series games never go quietly into that good night. And the Astros' 7-6 win in Game 2 of the World Series presented by YouTube TV more than lived up to that.
It started in the eighth when Alex Bregman hit a ground rule double into right field. Puig nearly made the catch, but it bounced off his glove and into the crowd. His reaction was swift, to say the least:
That ended Brandon Morrow's night and Kenley Jansen and his 0.00 ERA in nine postseason innings this year took the mound. Though Bregman came around to score, the Dodgers still held a 3-2 lead. And there hadn't been a run charged to Jansen since Sept. 22. What was there to worry about?
Well, Marwin Gonzalez, it turns out. The Astros' Swiss Army knife of a super-utility player hit a Statcast-estimated 398-foot home run that just cleared the left-field wall. It was only the 10th tying or go-ahead homer in the ninth inning in baseball history.
Dodgers fans thought they had a walk-off win in the bottom half, though, when Cody Bellinger hit a deep fly to right. The crowd cheered and leapt to their feet. Bellinger tried to will the ball over the fence by carrying his bat around first base ... but the ball died at the warning track.
José Altuve and Carlos Correa would have a bit more luck in the top of the tenth, though. Altuve gave the Astros the lead with a shot over the left-field wall -- his sixth homer of the World Series -- and Correa followed with the same. The shortstop celebrated this stake into the hearts of the Dodgers fans by tossing his bat into the air and giving a Yasiel Puig-like tongue to the Astros dugout:
It was a homer worthy of celebration: Altuve and Correa combined as the first players to ever go back-to-back in extra innings in postseason history:
Jose Altuve and Carlos Correa are the first players in World Series history to hit back-to-back home runs in extra innings.

— Joe Trezza (@JoeTrezz) October 26, 2017
Even if the flip was inadvertent:
"I don't know why my bats are so slippery," said Carlos Correa when asked about his bat flip.

— Ben Reiter (@BenReiter) October 26, 2017
Puig didn't mind it, though. "I loved it," the outfielder said after the game. "It was a little bit higher than the bat flips I normally do, but he was happy and that's the way you should play in the World Series. Not everybody gets to play in a place like this, so it's good. It's good that he plays like that and it's good that Latino players are able to contribute."
But this game wasn't over yet, oh no. Puig then cut the Dodgers deficit to one with his own booming home run. Still trailing, he chose not to flip his bat, opting instead to gently set it atop the Earth:
With two outs, pinch-hitter Logan Forsythe then drew a walk. With Enrique Hernández at the plate, Ken Giles unloaded a wild pitch that allowed Forsythe take second. Hernandez -- the hero of Game 5 of the NLCS -- singled into right field. There was no one that was going to stop Forsythe from rounding third -- no matter how good Josh Reddick's arm was. The throw was on time, but Forsythe was just able to slide in with a belly flop ahead of the tag:
But the game would change -- thanks to the sleeveless shirt-inspired pump-up antics of one Justin Verlander. There's Justin Verlander and then there's sleeveless Verlander:
Cameron Maybin then singled to lead-off the 11th and -- in a moment of glory everyone in America will enjoy -- stole second. That meant free Doritos Ⓡ Locos tacos for everyone.
Getting into scoring position proved pointless, though, because it was dinger time. This isn't a typo by the way -- it was actually time for more dingers. George Springer hit a two-run homer to give the Astros a 7-5 lead.
Once again, the Dodgers weren't ready to call it a night. Corey Seager hit a hard-liner that looked tricky, but Maybin ran it down.
Justin Turner worked a nine-pitch at-bat before liniing out to Alex Bregman.
With two outs, Charlie Culberson -- the surprise inclusion in the NLCS and a player with six career homers to his name -- went deep. Because this game was the equivalent of Oprah giving out a car mixed with Nic Cage yelling "Bees!" mixed with that kid in "Matilda eating cake," except with homers, naturally Culberson hit a tater. And he celebrated by pretending to be an airplane: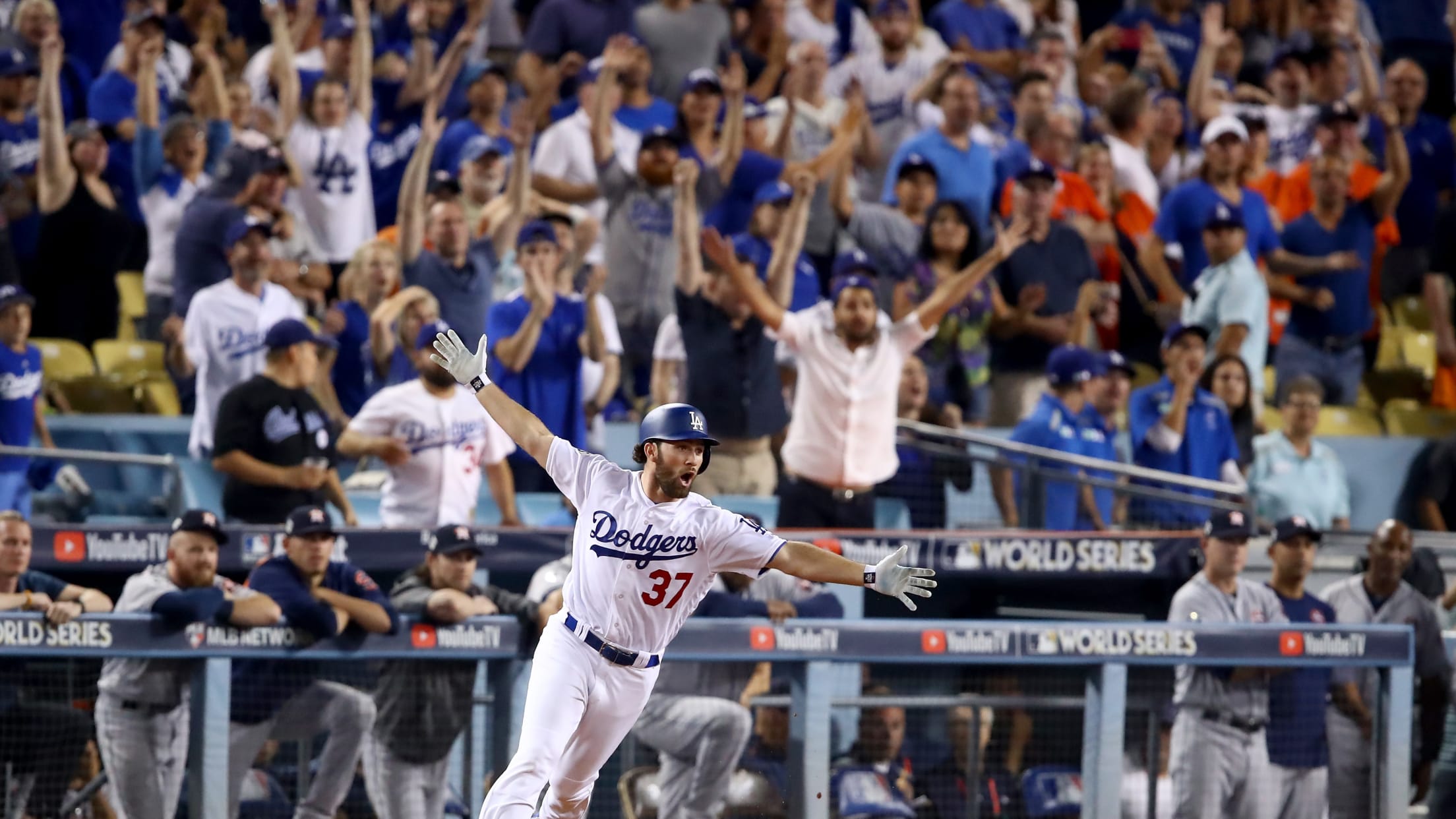 Seriously -- 16 runs have scored in the first two World Series games. 15 of those runs have come off homers. Eight homers came in this game with five coming in extra innings. Both of those are records.
Culberson's dinger would bring us full circle, , with Puig back at the plate. Would he send the game into the 12th? He fouht hard against Chris Devenski and worked the count full. But on the ninth pitch of the at-bat, he went down swinging. Finally, this game was over.
Even Verlander, who had been out of the game for hours by the time it ended, had to react:
What a game! 🤢🤢🤢 #EARNHISTORY

— Justin Verlander (@JustinVerlander) October 26, 2017
But, just like a zombie, the World Series cannot die (at least after two games). And these teams will climb out from under the buckets of dingers to bring back more wild moments as they now take the series to Houston. Tune into Game 3 of the World Series presented by YouTube TV on Friday on FOX (7:30 p.m. ET air time, 8 ET game time).