The top of the ninth in Rockies-Brewers NLDS Game 1 was some intense baseball theater
The Rockies and Brewers put together a pretty epic Game 1 of the National League Division Series on Thursday night, the type that makes you really appreciate the little intricacies of the sport -- unless you're a fan of either team, in which case it was probably too intense.
Clinging to a 2-0 lead, the Brewers headed to the ninth looking for a win behind closer Jeremy Jeffress, but he got in some immediate trouble thanks to back-to-back pinch-hit singles from Gerardo Parra and Matt Holliday.
That brought up Charlie Blackmon, who promptly lofted a line-drive down the right-field line that landed for an RBI double ... or did it? After some confusion, and a replay review, it was confirmed to be a foul ball.
But it was so close:
*holds fingers really close together.*

That's how close @Chuck_Nazty was to an RBI double. Game of inches, man. pic.twitter.com/QFgPiS6Bdc

— Cut4 (@Cut4) October 5, 2018
In those brief few seconds of action, the vibe at Miller Park changed dramatically ... from excited anticipation to a feeling of unease. But then the near-RBI double was taken away, only to have Blackmon then hit an RBI single anyway, pulling Colorado to within 2-1.
Then, another emotional swing, after DJ LeMahieu's chopper to short was missed by Orlando Arcia, loading the bases with nobody out. A sacrifice fly from Nolan Arenado tied the game, wiping away the two-run lead the Brewers had since the third inning.
Brewers fans were concerned:
The Colorado dugout was pumped:
A rundown on a David Dahl grounder and a strikeout of Trevor Story kept the Rockies from taking the lead, as Jeffress was able to finish the inning without any further damage ... and finish the up-and-down flurry of emotions that was the top of the ninth inning.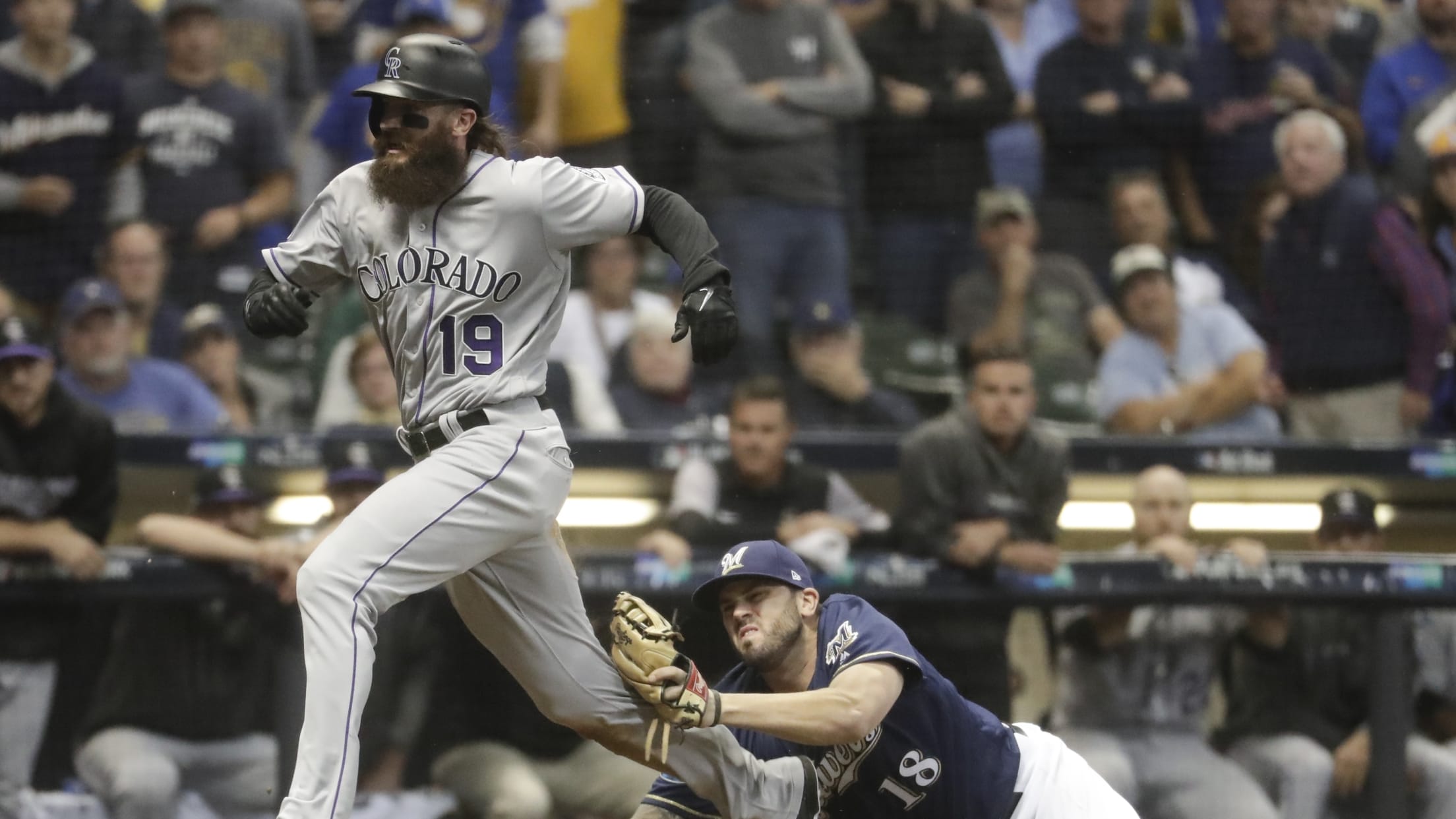 The game headed to extras, where Mike Moustakas gave the Brewers a 3-2 win and a 1-0 series lead with a two-strike, two-out, walk-off single to right field. More emotions!
After the game, Rockies manager Bud Black recalled Blackmon's fair-or-foul line drive, noting that he couldn't quite tell from his vantage point in the dugout:
"I don't know if they superimposed it really close or not, but I have not looked at it since the game ended. I just saw what I saw on the scoreboard."
"I saw one angle, down the line, and from there, you could not, without a doubt, tell that it was a foul ball," said Blackmon. "So there must have been another angle. I can only hope. But I don't really think that made a big difference in the game."
On the other side, Brewers manager Craig Counsell spoke to his team's resilience, and how reliever Joakim Soria held the Rockies at bay in the tenth after their ninth-inning rally:
"You know, it's a punch that knocks you back a little bit, right? But Soria came out and has a good inning. We get back to the top of the order with [Christian] Yelich leading off, and just the toughness of his out makes you feel good about what's coming up that inning. We had Grandy coming up. We had lefties coming up what we knew was going to be right-handed pitching."
This contest was a perfect example of the condensed tension and anxiety that only comes with postseason baseball, and you'd better believe we'll see more of it for the next few weeks ...
Teams in this article:
Players in this article: