The outpouring of love toward Chris Davis after his first hit of 2019 will make you smile
It finally happened. After a grueling 0-for-54 slump that spanned the end of the 2018 season and the start of 2019, Chris Davis got his first hit.
No one likes to struggle, and you'd be hard-pressed to find someone who was actively taking joy in watching Davis' schneid. It was high time for it to end, and even though the hit put the Orioles ahead on Saturday, you could hear the Red Sox fans at Fenway Park giving him a nice round of applause for his two-run single.
It's over! pic.twitter.com/wcorVDLOTS

— MLB (@MLB) April 13, 2019
That was nothing compared to the sheer joy displayed on the Orioles' faces. Simply put, they were ecstatic.
That's what being a great teammate is all about -- sticking by your friends through thick and thin.
Davis appreciated it. "Obviously, I've been looking forward to it for a while, but there's no way to really put into words kind of what I was feeling really when I looked back at our bench and saw the guys going crazy," he said after the game.
It doesn't even matter that the Orioles' roster has changed over quite a bit since Davis' last hit in September 2018. They're all baseball players too, and they know what it's like to go through the pain of a slump.
It's a human emotion that you don't need to wear spikes to understand. We all endure tough stretches, and we all do our best to power through.
So, you can easily imagine that the legion of Orioles fans on social media was also thrilled to see the streak end.
YASSSSSSSSSSSSSSSSSS 🎉🎉🎉🎉🎉🎉🎉 #ChristDavisBack pic.twitter.com/BHJpfD6O0n

— Cespedes Family BBQ (@CespedesBBQ) April 13, 2019
I didn't expect to be this happy when it finally ended, but here I am, also joyous.

— Camden Chat (@CamdenChat) April 13, 2019
CHRIS DAVIS GOT A HIT!?!? THANK THE BASEBALL GODS!

— Dan J. Glickman (@DanJGlickman) April 13, 2019
Even fans of other teams were excited. Just ask this random Astros fan who was at the game and cheering Davis on.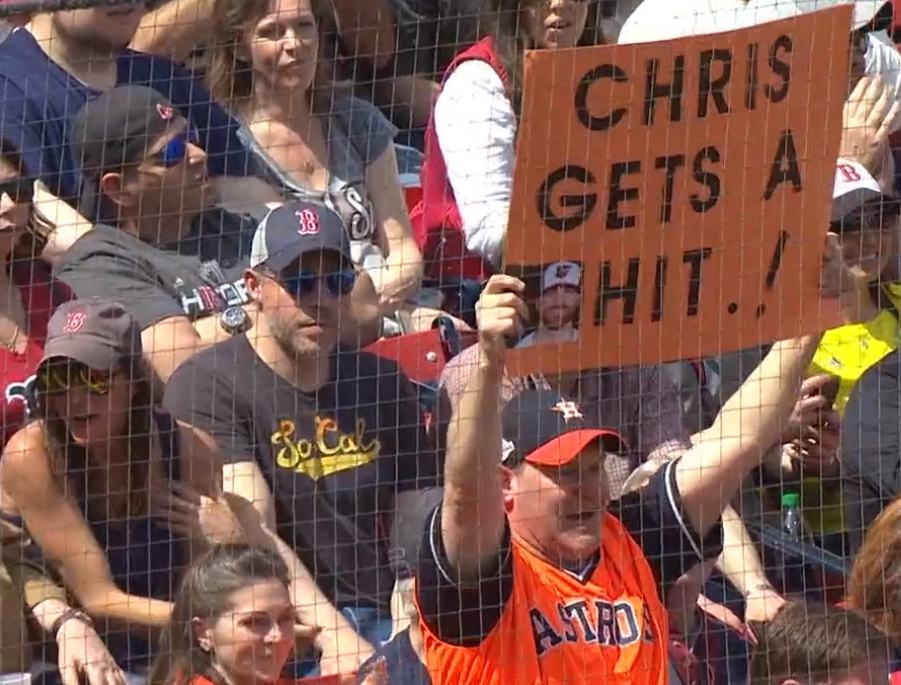 Chiming in on Twitter, fellow veteran Evan Longoria said it best while offering his kudos.
I'm not going to say congrats bc as a player I know there is a lot of work to do but....sleep a bit easier tonight Chris Davis. This game will drive you insane, don't let it. Always pulling for guys to succeed. #thisgamewillhumbleyou #baseball #keepswinging

— Evan Longoria (@Evan3Longoria) April 13, 2019
This hit was only the first step on Davis' hopeful return to form. The raw talent that turned him into one of the game's elite sluggers of the 2010s has not vanished entirely. There's still something in there that could keep him a respectable player.
At the same time, it's good to see that Davis still has his sense of humor intact. You couldn't escape the feeling that after enduring all those hitless at-bats, he was going to ask for the baseball when he got his first hit.
Get him that baseball!

Gotta love Chris Davis' sense of humor. pic.twitter.com/yryd4K5qrI

— MLB GIFS (@MLBGIFs) April 13, 2019
Davis was just glad to get back to driving in runs.
He liked the feeling so much that he did so again in the fifth inning, when he notched hit No. 2 on an RBI double.
Fingers crossed that we'll soon see the return of Davis' ridiculous home run power, too.
Andrew Mearns is a writer for Cut4 whose baseball obsession was born from the shattered dreams of Mike Mussina's perfect game attempt in 2001. He has a startling memory of World Series highlights that barely functions as a party trick.
Teams in this article:
Players in this article:
Topics in this article: