Chris Paddack lived up to his beef with fellow rookie Pete Alonso by striking him out in their first showdown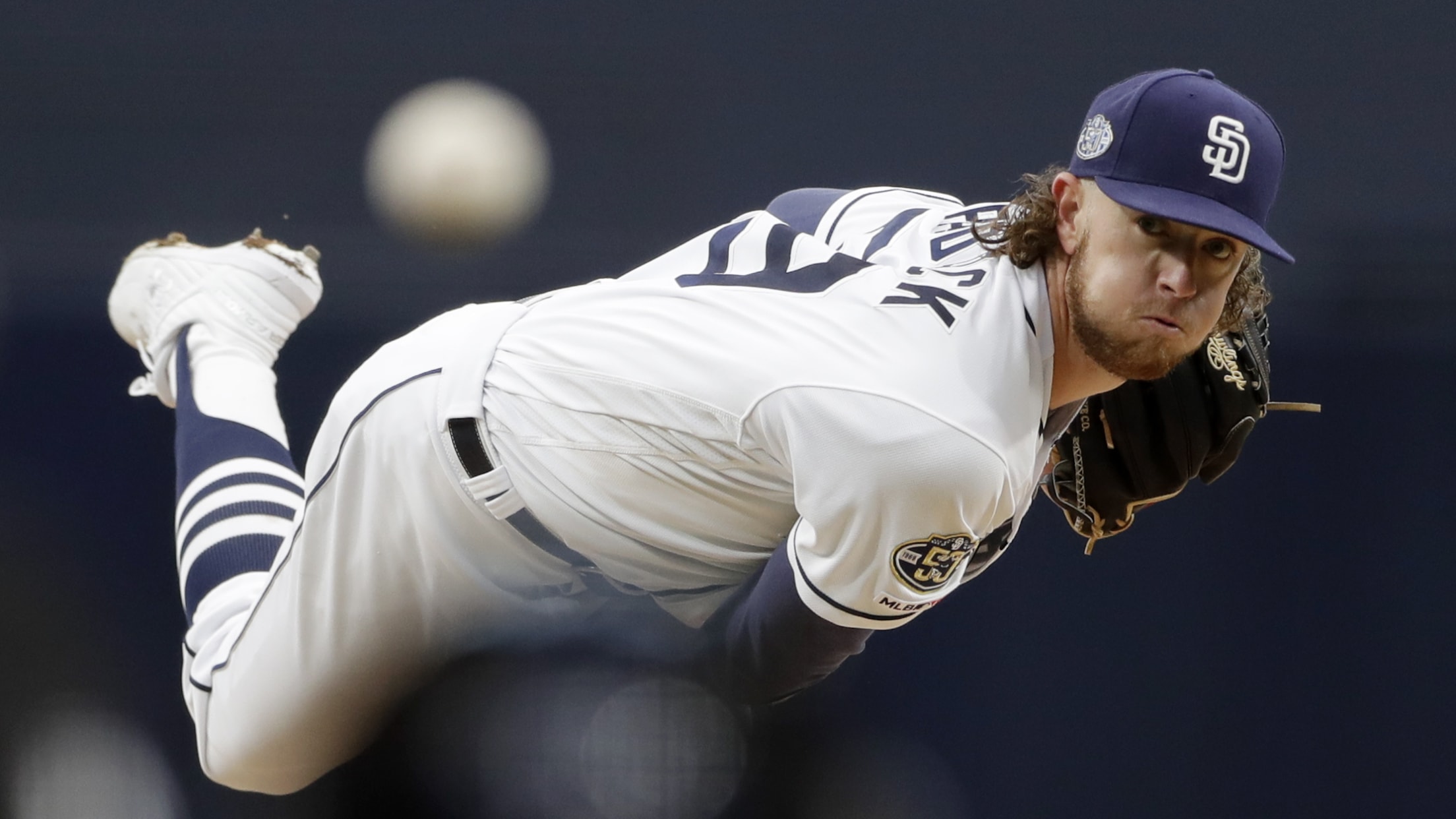 The race for the National League Rookie of the Month in April was hotly contested, as both Chris Paddack and Pete Alonso turned in stellar debuts. In the end, Alonso's nine homers and 1.024 OPS in 29 games were enough to give him the nod over Paddack, who had a sterling 1.91 ERA and 35 strikeouts over six starts.
Paddack respected Alonso for his performance, but he made it clear that when the Padres faced the Mets on Monday night, he was determined to prove who was the superior rookie.
Chris Paddack isn't ready to concede "Best Rookie in the NL" honors to Pete Alonso just yet 🍿 pic.twitter.com/M12sqreWYA

— SNY (@SNYtv) May 6, 2019
As they said in the Old West, "Them's fightin' words." It works even better if you imagine Paddack saying that in his cowboy hat.
In round one of the rodeo between Paddack and Alonso, the pitcher emerged victorious by striking him out on just four pitches -- a sequence that featured his fastest pitch of the young season.
"I'm coming for him."#Padres rookie sensation Chris Paddack was talking a big game before his matchup with #Mets rookie slugger Pete Alonso tonight, and he backed it up, striking him out on 4 🔥 pitches, with strike 3 being the fastest pitch he's thrown in #MLB so far. pic.twitter.com/KBIovqqUdV

— MLB Pipeline (@MLBPipeline) May 7, 2019
Gas.
You can bet that Paddack was fired up about winning that contest, but he knows that as a starting pitcher, he couldn't pour everything into one showdown. There would almost certainly be another opportunity for Alonso to strike back.
In the second go-around, Alonso fared no better. Paddack was even more merciless, complementing his heat with a vicious curve to start the at-bat. Once again, Alonso went down on strikes.
Start with the hook. End with the heat. pic.twitter.com/CVR1IHTjfg

— MLB (@MLB) May 7, 2019
Once again, Paddack topped his previous 97-mph high fastball with an even faster pitch to Alonso. The first baseman managed to make contact in his last at-bat against Paddack, but he could only ground out.
Paddack ended up outdueling Jacob deGrom with 7 2/3 shutout innings of four-hit ball with 11 strikeouts in a 4-0 Padres win. There's no doubt that their fans are loving the youngster's fire and competitive spirit. He is all about the challenge.
Chris Paddack, Overpowering 97mph Fastball...pitching with emotion. 🔥🔥🔥 pic.twitter.com/jZZtYWulv8

— Rob Friedman (@PitchingNinja) May 7, 2019