The Dodgers pulled out an intense, historic Game 5 win thanks to closer Clayton Kershaw (!)
Baseball in October is on another level sometimes. What went down at Nationals Park in the Dodgers' 4-3 victory over the Nats on Thursday night in Game 5 of the National League Division Series? Well, that was almost incomprehensible in its total absurdity.
The Nationals drew first blood when Danny Espinosa singled to right field in the second inning (a rare feat for him, actually), staking Max Scherzer to a 1-0 lead:
Joe Blanton relieved Rich Hill and escaped a third-inning rally to keep the deficit at one -- something that would loom large later. Blanton sailed through 1 1/3 innings of work, being replaced by rookie phenom Julio Urías in the fifth (more on that later).
Scherzer, to his credit, was dealing for most of the evening. The Dodgers didn't actually pick up a base hit until Josh Reddick did so in the fifth inning. By the time his night was completed, Scherzer had tossed six-plus innings of five-hit, one-run ball, collecting seven strikeouts on the night.
The Nats tried to up their lead, 2-0, on a Ryan Zimmerman double in the sixth inning, but Jayson Werth was out by juuuuust a little bit at home plate:
Momentum seemed to be on the Dodgers' side afterward -- and by their side, we actually meant in Joc Pederson's game-tying homer and ensuing celebration in the seventh:
And the boys in blue were far from done in the inning. They rallied for four runs against FIVE Nationals pitchers, punctuated by a big Justin Turnertwo-run triple. However, that 4-1 lead was quickly trimmed to 4-3 in the bottom of the frame. Thanks to a dinger by Chris Heisey -- the first pinch-hit postseason long ball in Nats/Expos history:
After rookie lefty Grant Dayton gave up the homer, Dodgers closer Kenley Jansen was called upon to keep the team in front. Would he try to get the nine-out save? Before the ninth, after Jansen had held the Nats scoreless for two innings, some whispers began circulating ... what's that? Who's that heading down to the bullpen?
Why, it's Clayton Kershaw!
Kershaw heading to bullpen.

— Ken Gurnick (@kengurnick) October 14, 2016
Yes, the Dodgers' ace who already started Games 1 and 4 of this series, was warming up, maybe for the ninth inning.
Game 4 was two days ago, and he threw 110 pitches in it.
He's only had one day of rest.
With one out in the bottom of the ninth, Jansen walked Bryce Harper and Werth. He was winded, obviously, so manager Dave Roberts made the gutsy call for Kershaw.
There he was, coming in to relieve an exhausted Jansen (who had thrown a career-high 51 pitches in 2 1/3 innings, also a career-high, while spectacularly keeping the Nats at bay).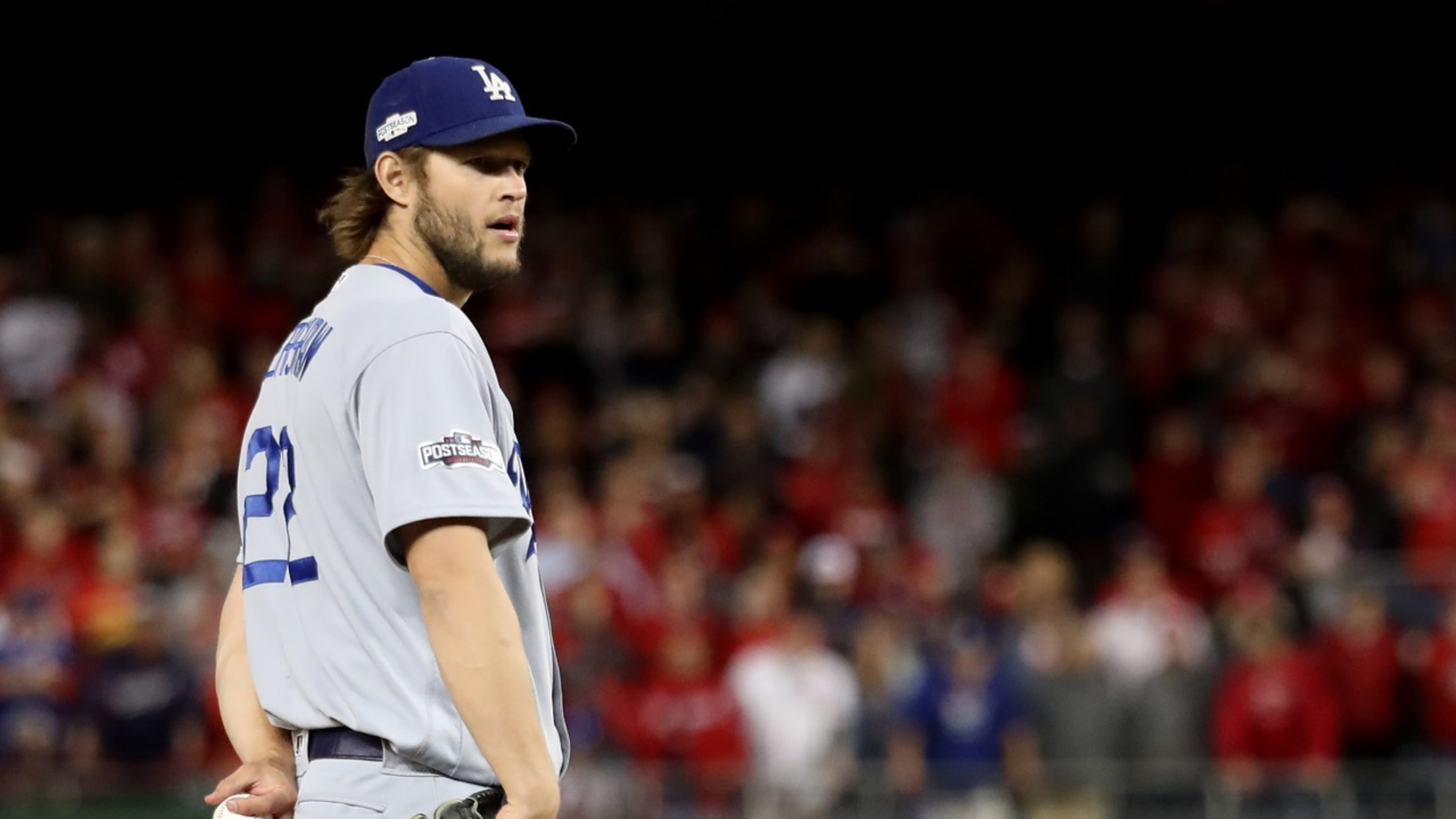 Everybody was watching, especially the team in waiting:
October 14, 2016


The Dodgers' postseason nemesis, Daniel Murphy, was due up, with the potential NLDS-clinching run on first base and one out.
Kershaw to face Murphy.

— Ken Gurnick (@kengurnick) October 14, 2016
Drama.
At that point, the Dodgers had used Hill, Blanton, Urias, Dayton, Jansen and Kershaw -- a collection of pitchers that, when looked at in a certain way, is quite eye-popping:
LA P:

-in indy ball last yr
-retired in 2014
-age-19 season
-rookie traded for CReed
-catcher
-THE BEST PITCHER IN THE WORLD ON 1 DAY REST

— Mike Petriello (@mike_petriello) October 14, 2016
Kershaw retired the dangerous Murphy on an infield popup, leaving Dusty Baker disgruntled:
And that brought up the Nats' last position player, Wilmer Difo. No matter for Kershaw, who fired off a filthy curveball for a strikeout, leading to a raucous mound celebration ...
That went on for a while ...
There was also a warm embrace between Kershaw and Jansen, and it definitely looks like Kershaw is saying, "I've got your back, man!"
But wait, there's more! This was the first save Kershaw has ever recorded in his career at the big league level -- but it wasn't his first overall:
Clayton Kershaw's 1st save since his 1st professional season for GCL @Dodgers in 2006.
Against: GCL Nats
Catcher: Kenley Jansen#postseason pic.twitter.com/Ffyum0HalS

— MLB Pipeline (@MLBPipeline) October 14, 2016
Yes, Jansen -- a catcher-turned-reliever who actually had two at-bats in this series -- caught Kershaw's very first save.
Talk about taking things full circle.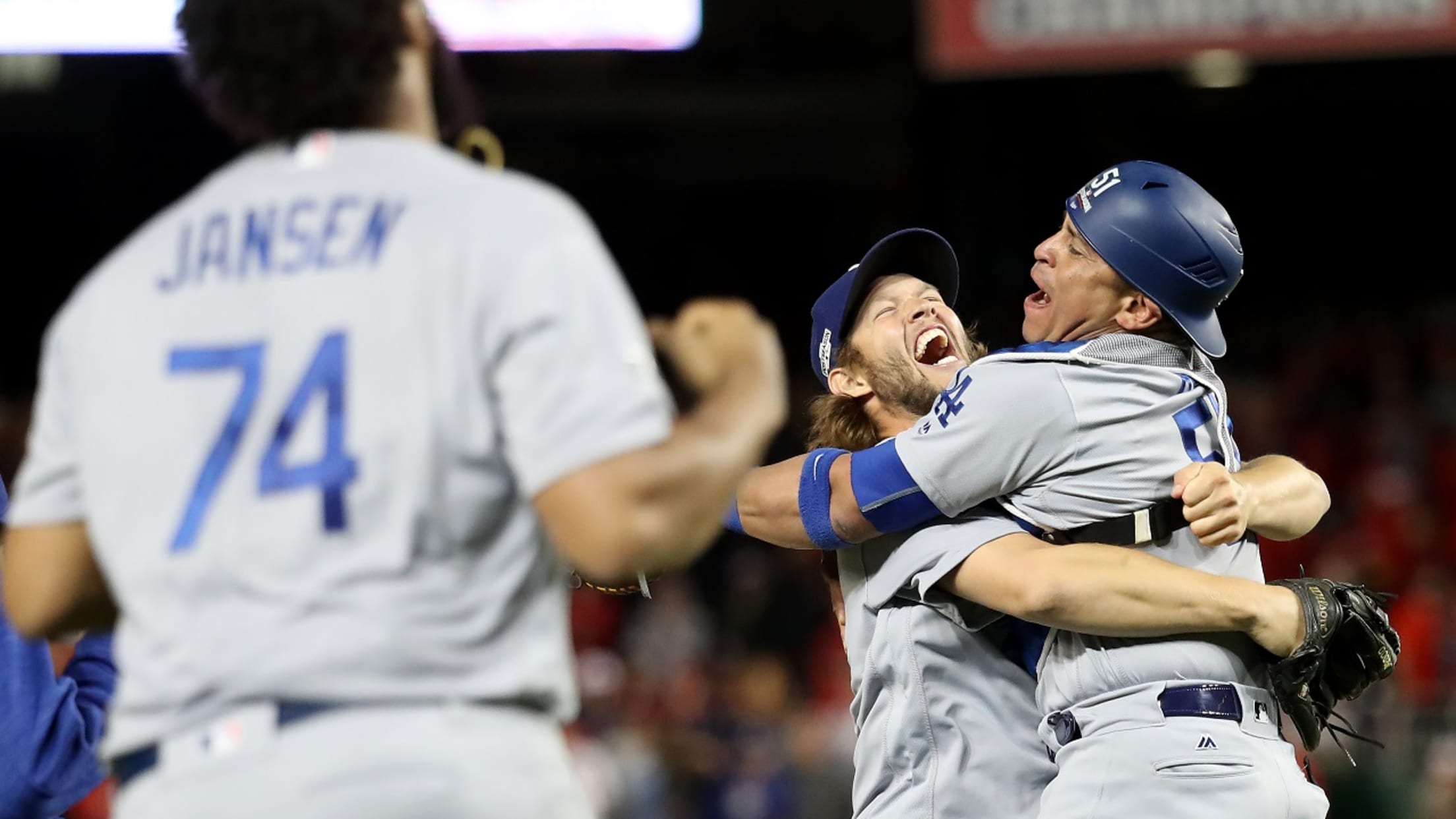 As if all of this wasn't already enough to make your head spin on its axis, it also made MLB history thanks to 20-year-old lefty Urias picking up the win:
According to @baseball_ref, nobody younger than Julio Urias (20 years, 62 days) has ever won a postseason game since 1903.

— J.P. Hoornstra (@jphoornstra) October 14, 2016
See what's in store for this heavyweight NLCS showdown on Saturday, when the Cubs and Dodgers open up Game 1 at Wrigley Field (8 p.m. ET, FS1).
Teams in this article:
Players in this article: