This summer's biggest blockbuster is Cody Bellinger and Christian Yelich's near-daily home run derby
Look, I get it. Going to a baseball game comes with special routines, distractions and reasons to not be in your seat at all times, eyes glued to what's going on in the field. And at home, watching on TV, that's an even dicier proposition, what with phone calls, dogs barking, neighbors coming over, kids yelling and so on. It can be tough to watch with rapturous attention. But I urge you to try.
Because doing anything but watching intently might rob you of one of this season's most exciting and ongoing pleasures: watching the Dodgers' Cody Bellinger and the Brewers' Christian Yelich mash homers. The pair of NL MVP candidates have pitted quite a battle against each other this season, and it's one that continued on Monday night.
In Los Angeles, Bellinger absolutely obliterated a three-run blast against Cardinals right-hander Michael Wacha in the first inning. The swing was so, so good -- as most Bellinger swings are -- and the ball sailed 419 feet into the second deck Loge Level seats. It was a blast.
HOW, @Cody_Bellinger?! pic.twitter.com/MaD0F5BUiX

— Los Angeles Dodgers (@Dodgers) August 6, 2019
Watch this one again. And this time, notice the two guys returning to their seats just behind the St. Louis dugout.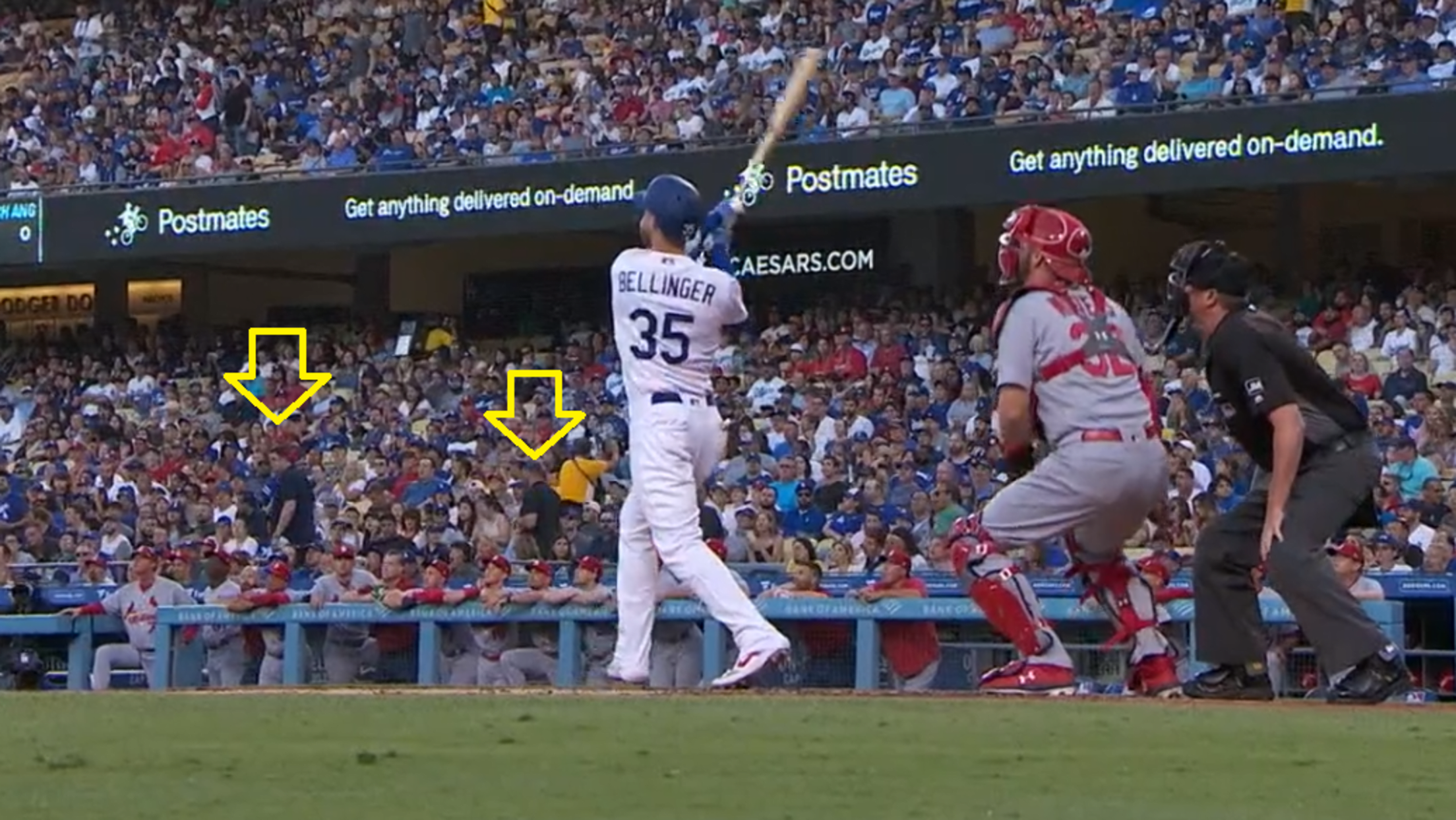 That gorgeous crack-of-the-bat sound got 'em, and they swirled their heads around to see what Bellinger had done this time.
Had they been in their seats, they'd have witnessed this homer in all its glory -- but hey, catching most of it counts, too.
After Bellinger returned to the Dodgers dugout, he seemed in awe of his own home run. That's how great it was.
Meanwhile, at PNC Park, the Brewers beat the Pirates, 9-7 -- aided greatly by two more homers from Yelich, who demonstrated yet again why he's also a can't-miss slugger this season. First, an effortless opposite-field job:
That didn't take long. @ChristianYelich blasts HR #38 to give the Brewers a quick 1-0 lead in the 1st. #ThisIsMyCrew pic.twitter.com/Ixzt2G4iOC

— Milwaukee Brewers (@Brewers) August 5, 2019
And later, Yelich walloped a tater that landed in the river beyond the right-field bleachers:
That's a new high-water mark for the MVP. #ThisIsMyCrew pic.twitter.com/OZwLfjTi9P

— Milwaukee Brewers (@Brewers) August 6, 2019
That's Yelich's 39th dinger this season -- a career high for the Brewers' outfielder. And, for purposes of his battle with Bellinger, it gave him a two-homer lead (for now) on the Dodgers' wunderkind.
Perhaps most remarkably, Monday marked the 11th time this season that both sluggers have hit homers on the same day. No, really.
For the 11th time this season, @ChristianYelich & @Cody_Bellinger have homered on the same day ...

Who is your #MVP? pic.twitter.com/eB1BXUkPHQ

— MLB Stats (@MLBStats) August 6, 2019
Keep it up, fellas. And those of you watching at home or at the ballpark: Enjoy this. Enjoy all of it.
Teams in this article:
Players in this article:
Topics in this article: