Edwin Jackson's 149-pitch, eight-walk no-hitter was a reminder of baseball's unpredictability
Earlier this month, veteran right-hander Edwin Jackson signed a Minor League deal with the A's -- his 13th organization. When he takes the hill for Oakland Monday night against the Tigers, he'll tie Octavio Dotel's record by appearing in a game with 13 different clubs.
As wild as that fact sounds, a true testament to Jackson's resilience and ability to keep kicking around in what would be his 16th season in the Majors is, it's arguably second to a fateful night Jackson had in Tampa Bay in 2010.
On June 25 of that year, Jackson took the mound at Tropicana Field for an Interleague game between the D-backs and the Rays. 149 pitches and eight walks later, he threw a no-hitter, just the second in Arizona history, in the D-backs' 1-0 victory. In doing so, Jackson proved that it's possible to "labor" through a no-hitter, considering he threw 70 pitches through the first three innings. 70.
Tampa Bay ended the game having left nine runners on base, probably not something you see often with no-hitters. Just look at this line score: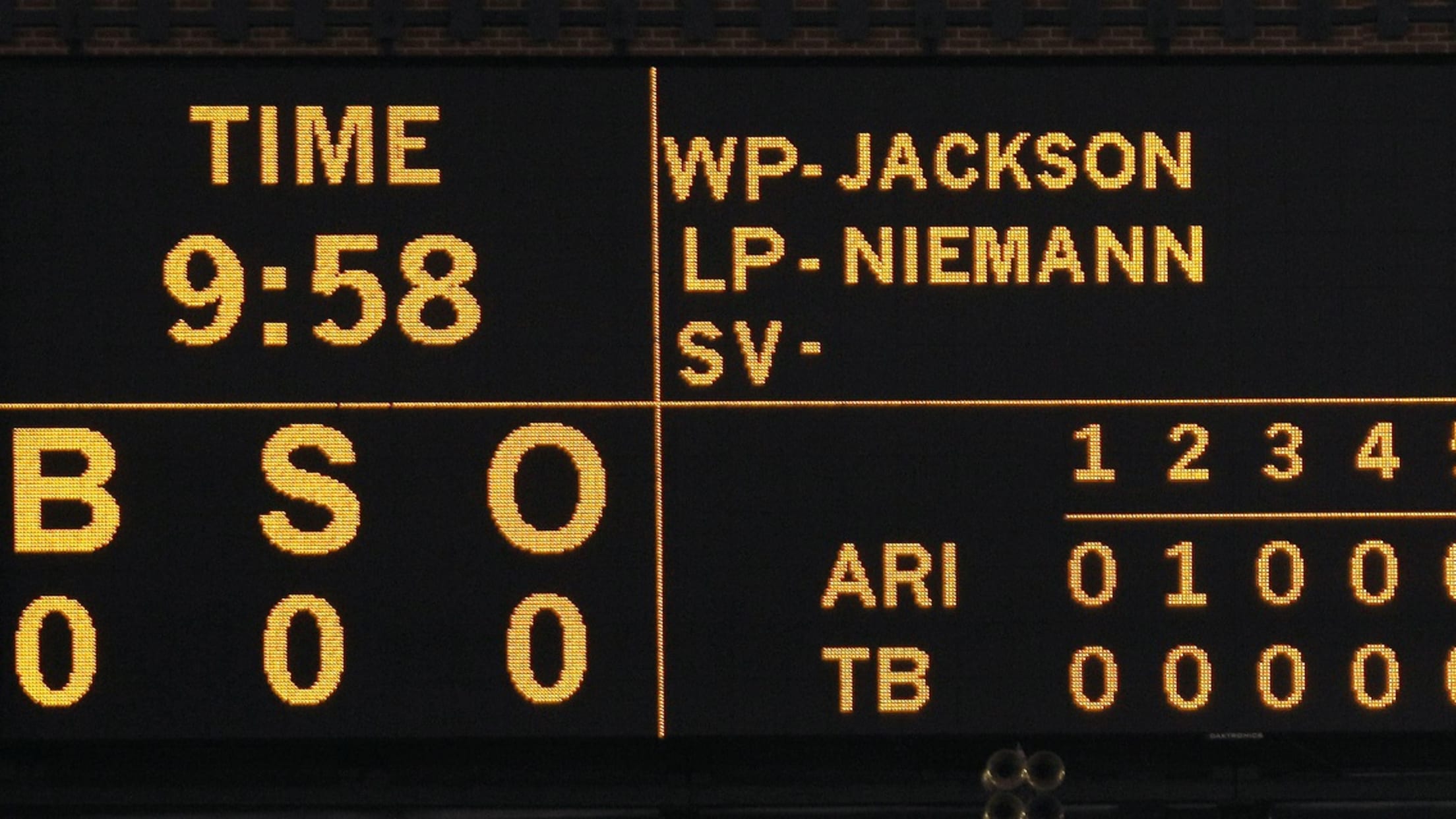 Jackson wiggled his way out of jam after jam, frustrating the Rays each time they reached base, via walk or hit-by-pitch (in the case of Melvin Upton Jr.). After that 70-pitch marathon in the early frames, Jackson settled down a bit, retiring 13 of the next 14 batters before the thought of a no-hitter came into proper focus.
And that pitch count! 149 is unheard of these days, but Jackson told reporters after the game that he pled his case with then-D-backs manager, AJ Hinch:
"It's one of those moments where I tell [Hinch], 'I'm not coming out until I give up a hit or home run. You want to skip my next start, that's fine. Give me an extra day [off], that's fine.
"It's one of those opportunities that doesn't come every day. And for me to come out of that game without giving up a hit, it would have been 'What if? What if I would have stayed in?' I'm glad it didn't have to be a what-if situation."
It all ended on a Jason Bartlett grounder to shortstop Stephen Drew in the ninth inning, capping off Jackson's memorable and extremely unorthodox bit of history:
Jackson's was the fourth no-hitter of 2010, following Ubaldo Jiménez's against the Braves and perfect games from Roy Halladay (against the Marlins on May 29) and Dallas Braden (against the Rays on May 10, a few weeks before Jackson's no-hitter).
Eight years later, Jackson's afternoon stands as still just the second no-hitter in Arizona history, with the first being Randy Johnson's perfect game against Atlanta in 2004.
That two pitchers could share a spot in franchise history despite wildly different outings -- one battling shaky command for a no-hitter, the other with an absolutely dominant pitching performance -- goes to show the gloriously unpredictable nature of baseball, doesn't it?
Teams in this article:
Players in this article: